| DIY |
Cabinet Counsel
| February 17, 2021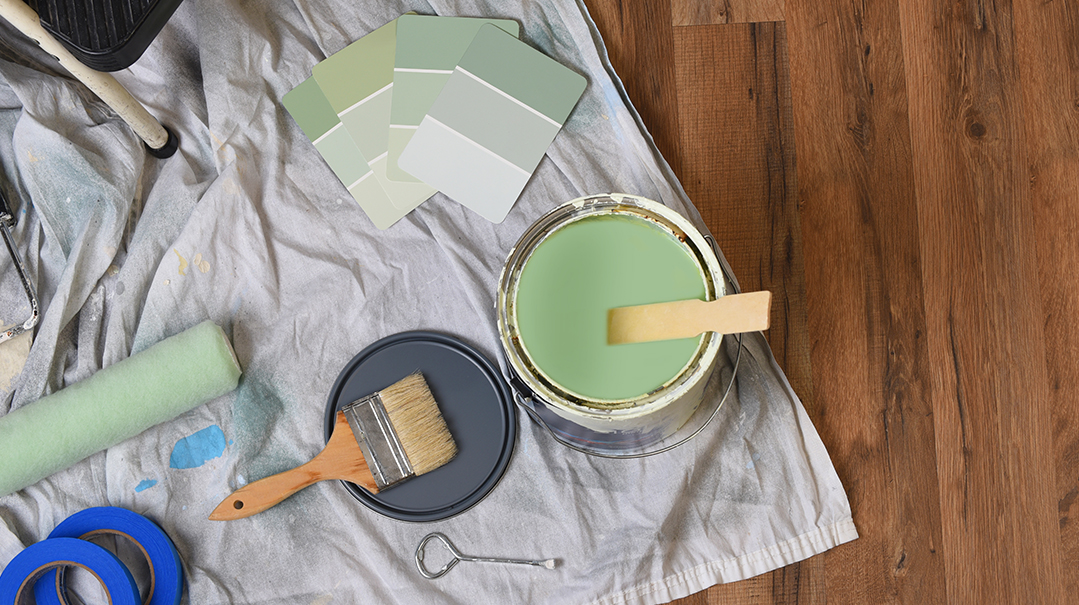 Repainting your kitchen cabinets provides just the facelift your kitchen needs
When your kitchen needs updating but a gut job is not in the cards, the next best option is to paint the cabinets. A few coats of a paint have a way of completely reinventing a space, and this is often my first suggestion when faced with tightly budgeted projects.
In my decades as a designer, I've come across industrious clients who have expressed interest in tackling this project themselves. I tell them to consider the labor and the materials expense, and then break it down for them. Let me show you how.
The Supplies
Sanding sponge: $2+
Drop cloth: $3+
Painter's tape: $4+
Primer: $17+/gallon
Paint color: $25+/gallon
2–2½-inch bristle brush: $4+
Mini paint roller: $8_
Every space is subjective because of the diverse factors involved. Square footage, floor plan, and quality of supplies can all affect the final costs.
To repaint professionally, you're looking at around $1,200–$1,700 for a low- to mid-range painter.
Since you aren't paying for labor, DIY'ing the project will generally be less expensive, but expect to spend more time shopping around for things like primer and drop cloths. For the purposes of this article, I've tallied the absolute minimum way to spend on this project.
Important note: Sheens matter. A flat will generally be more affordable than an eggshell or satin finish — and given that you'll need a minimum of two coats, you might be buying more than one can. Each brand has its own unique formula and amount of pigmentation that corresponds directly to cost; higher pigmentation means a heftier price tag, for example. One gallon covers about 400 square feet, so use that to determine how much you'll need for your kitchen cabinets. When in doubt, overestimate!
Execution
Cabinet Cleanout
Remove existing hardware and take the doors off the hinges. With a sponge and cleanser, scrub the cabinet and the frames, making sure they have no kitchen debris.
Even Does It
Sometimes, because of wear and tear, your cabinet will lose its even finish. Use your sanding sponge to even it out. If your cabinets are wood, wipe along the direction of the wood grain.
Prime Time
Apply a fast-drying primer, which will conceal imperfections and block future cooking stains while making it easier for your paint to adhere to the cupboards. Let your base coat dry, then go over the cabinets with the sanding sponge again — a little less aggressively than the first time. You want to be sure any creases and air bubbles are totally gone.
Just Add Color
Use the fine-bristle brush to get into the small corners and details like molding, and use a mini roller for flat area. (Be sure to follow this up with a brush to get rid of roller marks.) Start with the inside of your cabinets, then move on to the doors. Any kitchen cabinet job should have two coats of paint — let each coat dry thoroughly (about 24 hours) before lightly sanding and applying the second round.
Let the paint settle for about 48 hours before reattaching the doors to the hinges and screwing on the pulls and knobs.
Then enjoy your kitchen's new look!
Tova Jankelowitz is a Yerushalayim-based designer with over 25 years of experience.
(Originally featured in Family Room, Issue 013)
Oops! We could not locate your form.
>