| Man With a Pan |
Bungalow Cooking at Its Best
| September 20, 2022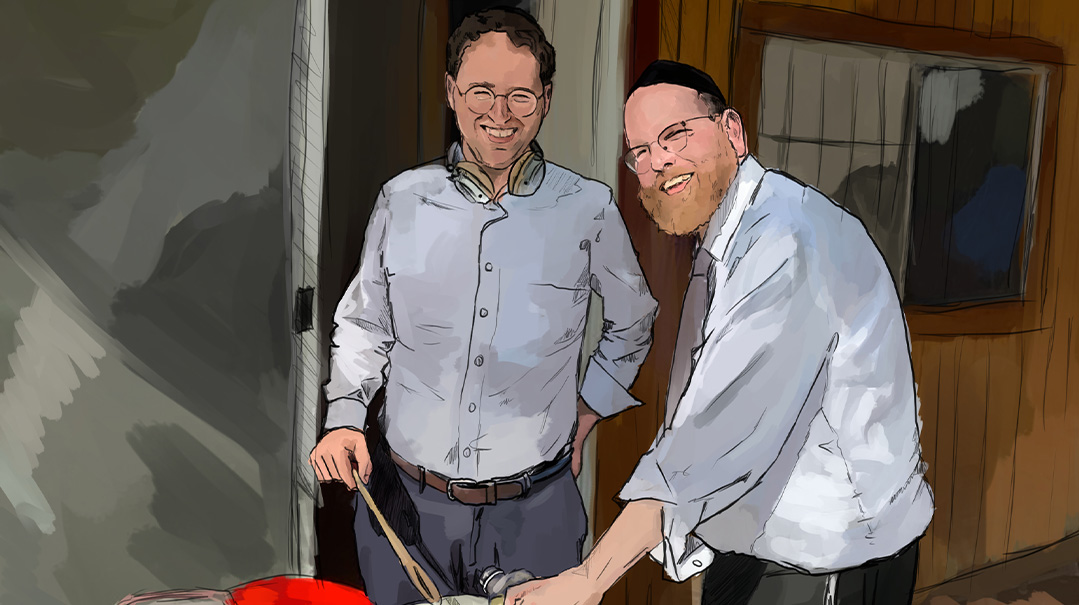 Illustration by Lea Kron
The Men
Rabbi Avrohom Sebrow and Raphael Katz
Cooking for 3 families
Monticello, NY
My brother-in-law Raphael Katz doesn't live too far away from me, yet practically the only time we spend Shabbos together is during the summers at Pine Knoll in Monticello. Our wives decided that it would be a great idea if we collaborated on Man with a Pan. We both tentatively agreed but never really committed.
One day, my wife announced, "This Thursday I'm going into the city and you guys are making Shabbos!" So the challenge was on.
I inquired about the rules, and my daughters shared what they believed to be the most important one: "Thou shall not be a lame man with a pan." My wife shared two more rules. One will be mentioned at the end of this article. The other was that I had to write an article detailing our experience.
That wasn't a major issue, as I have published articles before. Raphael, however, who is more experienced in the kitchen, bemoaned that he was paired with me, "a man with a pen," instead of someone with better culinary skills.
Getting Started
The first step was to develop ready-to-use excuses if the Shabbos meals were not up to par. I complained that I was feeling under the weather. Raphael complained that one of his toddler twins had kept him up all night on Wednesday.
Next, Raphael and I had a meeting at which we hashed out a tentative menu and divided up the cooking duties.
The gefilte fish was on my list. It was easy to prepare by following the instructions on the package. It became gourmet when I used freshly ground pepper instead of plain pepper. We decided that for this Shabbos we would serve salmon alongside the gefilte fish. However, the raw fish was delivered to our bungalow colony very close to Shabbos. Also, instead of a few slices of salmon, a whole side was delivered. Another brother-in-law, Chaim Yeshaya Katz, offered to cook it using a charcoal grill exclusively reserved for fish. Raphael seasoned the salmon and Chaim Yeshaya cooked it.
The chicken soup was assigned to me. I knew which vegetables my wife usually uses for the soup because I mostly do the shopping for my family. I bought the same vegetables, leaving out the parsnip because of personal preference. I did buy a turnip, however. I discovered that some extended family members had never seen a turnip before! (No, it's not a type of radish.) I also bought turkey necks in place of chicken because I knew from previous shopping experience that my wife preferred them.
I was pretty sure that my wife used chicken soup mix to flavor her soup. How else can you get chicken soup to taste like chicken soup? I just didn't know how much to add. Trying the direct approach, I asked my wife. I was pleasantly surprised to discover that she only adds salt!
My mother-in-law advised me that it's better to add too little salt than to add too much, as salt can always be added but can't be removed. I put in some salt and intended to add more before Shabbos. However, the soup pot mysteriously disappeared from my bungalow on Friday morning. I totally forgot about adding the extra salt until it was served Friday night, at which point I loudly declared, "Oy, I forgot to add the rest of the salt."
My mother-in-law piped up, "The soup was warming up in my bungalow today. I tasted some and it was perfect!" Praise from a mother-in-law! That made this whole project worth it!
Main Dishes
Raphael was assigned the task of preparing the main dishes for the Friday night seudah. He chose to serve London broil. It was delicious but looked so raw that it could have mooed. My brother-in-law says that I don't appreciate fine cuisine. He explained that it was cooked overnight using the sous vide method, then seasoned with salt and pepper and seared to perfection.
He also polled the family members who would be joining us for the Shabbos meals, asking if they preferred barbecue chicken or breaded chicken. In the end, he decided to make everyone happy and prepare both, but we had no bread crumbs. My wife offered him cornflakes instead. Using a hammer and a ziplock bag, he converted the cornflakes to crumbs.
What makes the Man with a Pan articles so interesting is the mistakes that are made by inexperienced cooks. Perhaps the biggest fiasco occurred with the potato kugel, which was assigned to me. One of my daughters volunteered to help. The issue we ran into is the difference between "tsp" and "tbsp." The latter is three times bigger than the former, but the salt was added using a teaspoon!
The error was discovered after the kugel was already half-baked and had formed a crust. With no alternative, we removed the kugel from the oven, added the missing salt, and mixed everything together again. We then returned the pan to the oven to finish baking. Although we were nervous about how it would be received, the potato kugel was a hit! Family members liked the extra crust mixed into the body of the kugel. Perhaps this will start a new trend!
Raphael's list included a salt-and-pepper kugel. It was perfectly prepared without error (show-off). I decided to add a sweet lokshen kugel to the menu, since my mother, a"h, always used to make sweet kugels. However, I discovered the cooked lokshen in the fridge on Friday afternoon and realized that I had forgotten to prepare the kugel! My wife emphatically declared that our family does not cook for Shabbos on Friday afternoon, so the lokshen was reserved for the following week for soup.
Finishing Touches
Raphael likes to prepare his cholent without potatoes (which seems sacrilegious). He is adamant that potatoes devastate cholent by absorbing all the good flavor, but begrudgingly agreed to add a solitary potato for my son, whose favorite part of the cholent is potatoes. The flavor was perfected by adding fresh garlic, meat, meat, and more meat. Most of the eaters didn't even notice the missing potatoes.
Since it was my father-in-law's birthday, it was decided that I would bake a cake for the occasion. I had a nice chocolate cake recipe that I used 25 years ago in my yeshivah. I followed the instructions but ran into a snag when it came time for the baking. The oven in my bungalow does not regulate temperature properly. It has two settings: hot and not so hot. I decided to bake the cake in my mother-in-law's bungalow, but I discovered that the oven there was in use and was set at 400 degrees. The recipe called for baking at 350. I decided to bake the cake at 400 and subtract some time. Fortunately the cake turned out fine.
The task of decorating the cake was left to another daughter. (I can't be expected to do that too!) The idea was to stack two 9-inch round cakes and prepare a birthday cake with homemade icing. But when my daughter turned the pan over, the cake was still hot and promptly fell apart. She made an executive decision to prepare mini trifle cups containing chocolate cake crumbs, chocolate mousse, and cream. We served it for dessert on Shabbos day. (Chaim Yeshaya, of the smoked salmon fame, came by Friday night for a taste of the dessert and was turned away. I'm not sure if he's forgiven us yet.)
Final Roundup
Overall, the experience was very positive. I have one major question, though. My wife insists that the participants of Man with a Pan have to leave the kitchen as clean as it was when they started. I don't believe that's actually one of the rules and would like confirmation one way or the other. Do the participants usually submit a list of the cleaning supplies they used along with the menu? Maybe there should be a separate feature for Man with the Mop or Man with Spic and Span.
The Wife's Take
This was the perfect week for Man with a Pan! In the bungalow, we usually split the Shabbos cooking three ways, and two of us went into the city for a Thursday night wedding only to return upstate on Friday afternoon. It was a relief to know that Shabbos would be taken care of by our husbands.
The food was delicious, as we expected. Maybe it was all the kavanah that went into the chicken soup, but it was super flavorful. The sous vide London broil was perfectly done, and the two varieties of chicken were both delicious. We have to try the new method of potato kugel again, as the crispy bits were a nice surprise.
The dessert was quite a hit. The chocolate cake is a family favorite, but turned into mousse cups…even better!
The Plan
Friday Night:
Wife-Made Challah
Store-Bought Dips
Gefilte Fish + Grilled Salmon
Breaded Chicken + Barbecue Chicken
London Broil
Grilled Vegetables
Potato Kugel
Lokshen Kugel
Peach Cobbler
No Dessert (we were too full)
Shabbos Lunch
Challah
Leftover Dips
Caesar Salad
Deli
Cholent with Kishka
Mousse Cups with Chocolate Cake Crumbs
Yeshivah Chocolate Cake
This is a moist and fluffy chocolate cake recipe that I used to bake while in yeshivah. It makes a Bundt and a 9-inch (23-cm) round pan or a 15-inch (38-cm) long loaf cake. My wife bakes professionally and uses this recipe for all her chocolate cake bases. So here you have it — a trade secret!
4 eggs
1½ cups oil
2½ cups sugar
4 Tbsp vanilla extract
3 cups flour
2 tsp baking powder
2 tsp baking soda
½ tsp salt
2 cups water
1 cup premium cocoa powder
Preheat oven to 350°F (175°C).
Mix together eggs, oil, sugar, and vanilla. Add the rest of the ingredients. Pour batter into a greased Bundt pan and a 9-inch (23-cm) round pan or a long loaf pan.
Bake for about an hour until a toothpick comes out clean with crumbs.
(Originally featured in Family Table, Issue 811)
Oops! We could not locate your form.
>