| Man With a Pan |
Brothers with a Plan
| October 19, 2021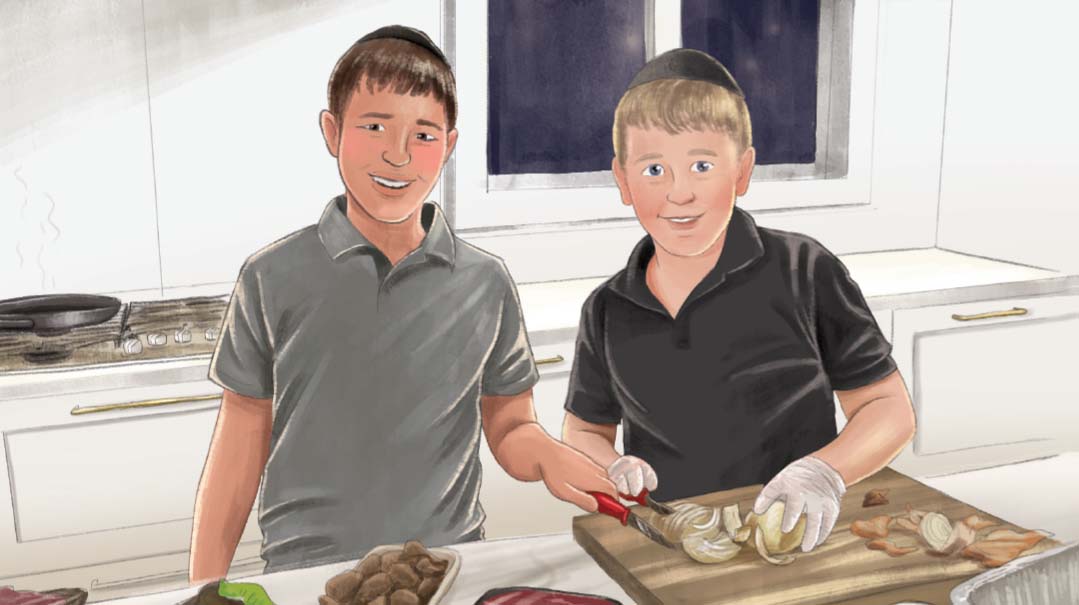 Illustration by Lea Kron
The Team
Yosef and Shlomo Helfgott,
12 and 10
Yeshiva Darchei Torah
8 family members
Lawrence, NY
We've always been putter-in-the-kitchen kind of kids. Whenever our mother has something doing in the kitchen, we're involved. So when we saw the Man with a Pan column, we thought, Hey! How cool would it be if we actually cooked Shabbos for Mommy? And that's how this all started…
It was hard to find the best week to take on this huge task because we were in sleepaway camp and then school started right after, and then it was Yom Tov season. Once Yom Tov was over , we started to tackle the project.
Our mother mentioned that menu planning came first. Who knew that?! So on Sunday night we sat down to decide what we'd be cooking and which dish we'd each make. Considering we're in school, we had to figure out which day of the week we should prepare each dish. Let's just say, that night was a long one…. We compared notes, confirmed recipes and methods (is this what Mommy does every week?!), and then the fun began!
Our mother told us when she could take us to the grocery store, and we each had to write up our own grocery lists.
Yosef's View
I'm in seventh grade in Yeshiva Darchei Torah, and one of my hobbies is cooking. I enjoy the steps along the way, and my favorite part is making the food look nice before I serve it. I'm also kinda, I guess you'd say, very focused when I take on a task!!
Monday we had a half day of school, so it was a perfect time to get some ingredients in the house. Luckily it was nice weather and I was able to walk to Seasons and take care of the chicken. I prepared and even fried the chicken and froze it. Since I had extra batter, I added onions and made fried onions too (those were a surprise). It felt really good to start cooking and knowing I had some food already prepared. Most of my other dishes had to be prepared fresh, except for the chocolate cake, which I baked on Wednesday.
By Thursday night, my sleeves were rolled up, and I peeled all the potatoes, chopped onions (ouch, my eyes!) for the cholent, and seasoned the salmon. While I was prepping, Shlomo was too! We were able to run our questions by each other. Our goal was to give our mother a full break. Our grandmother stopped by Thursday night to provide some moral support. She told us that everything was looking just right… and since most of Mommy's recipes come from Bobby, that was reassuring! It was exciting, and should I say maybe a little overwhelming too?!
Friday morning, I woke up earlier than usual to put up the cholent before yeshivah. I did ask my mother to give it a mix while I was in yeshivah. (Thanks, Ma!) When I came home, I made the kugel and decided I'm making it every week because it's so easy! I pulled out the foods I'd prepared and set them out on the counter and quickly broiled the salmon. And then exhaustion hit me, and I decided this is never happening again! No wonder this is a job for mothers!
But then Bobby stopped by to taste and gave me a thumbs-up for a job well done. Yay!!
Now I feel accomplished and excited to serve the food in just a few hours. Shlomo, we got this!
Shlomo Speaks
I'm in fifth grade in Yeshiva Darchei Torah, and will do anything for a good time. "Let's cook Shabbos for Mommy" sounded like a breeze and a blast. That is, until big bro Yosef had me sitting down and making sure every item was on a list on Sunday night! Who's thinks about this stuff on Sunday?? Holy moly macaroni, what had I gotten myself into??
"Okay, Yosef, I promise I'm not going to forget anything" was the quote of the week!!
I was excited and confident about the foods I was going to make. The week before, I made sure to notice what went into Shabbos cooking, knowing we didn't want to bother our mother with questions. I decided that once I started, I'd do "9-1-1 Bobby," and hopefully one of our grandmothers will be sitting by the phone!
Wednesday night, the chicken soup was up and running because we eat our soup starting Thursday. I already got feedback that it was tasty and yummy. Yay! All geared up with goggles and gloves, I got into onions by Thursday night, since I needed a bunch for liver and minute steaks (I left some peel on the onion, ooops!! Some team players, whom I won't mention by name, explained to me that that's not how to do it, but I decided let's add a little crispiness to our onions; I mean, why not?). I prepared the steaks and labeled the pan in advance for Friday. The liver needed a quick sauté and into the container it went.
Friday morning came and I pulled out our menu and took everything out of the fridge before I left to school, so we were well on our way.
When I came home from school, I starting making plans with friends, and then I realized, "Yikes! I can't go. I've got the rest of Shabbos to finish up." I had to get food in the oven, boil the eggs, prepare the Israeli salad, and make the apple crisp. I got some butterflies in my stomach when I realized Shabbos was coming and I wasn't finished yet. But I managed to get it all done with time to spare.
Right before Shabbos, as I was leaving to shul, my mother asked me where the minute steaks were and I panicked, thinking they were still in the fridge, but luckily I had my lists to refer to (thanks, bro!) and had had them in the oven and ready right in time.
I'm dressed and ready for Shabbos and really proud. Yosef, we did it!
Our Takeaways
We didn't realize how busy we'd be leading up to and even during the meals with the food prep. It was nice to finally be done and get the pressure off. The feedback was so much fun. Everyone enjoyed the food. Mom said she tasted our love — what does that mean?
Everyone said that the chicken soup was really tasty. Our sister Sarit loves the green vegetables, and she was happy to see that Shlomo was generous with those! The beer-battered chicken was a huge hit! It was "crunchy and tasty and the onions were an awesome surprise," said Tatty. Our sister Michal loved the crumbs on the apple crisp — who doesn't? Layla really enjoyed the kugel, and to top it off, baby Ariel couldn't get enough of Yosef's cholent!
The eggs could've used a drop less mayo, and the salmon could've been a drop softer… We'll know for next time. (Are we doing a next time? This was lots of work!!)
The main conversation revolved around us cooking for Shabbos. It felt pretty amazing!
Our mother kept saying that it was so nice to just show up to the Shabbos meals and for the food to be so good. We made sure to let her know, "Ma, this is not happening again anytime soon!" We can't believe our mother does this every single week. And somehow when Mommy cooks it's not the table topic at the meal; it just shows up and is yummy.
Mommy's Note
I was really excited over the idea of the boys making our Shabbos and then being featured in the magazine. This was a fun and exciting experience for them and for everyone in our family.
It was cute to see how they figured it all out, each in his own way and together as partners. I enjoyed seeing the foods they each picked to make… I could've predicted how they'd split the jobs up.
It was quite an experience waking up Friday morning to the smell of Yosef's cholent already on the stove, and I enjoyed seeing all the food Shlomo prepared sitting on the counter. Overall everything was really tasty and presented nicely. The chocolate cake was moist and yum and Shlomo's minute steaks hit the spot, even with crunchy onions that may have had some peel on.
Boys, you did a fantastic job! The kitchen is all yours, anytime. 🙂 I'm always happy to show up like a queen!
The Plan
Friday Night:
Sourdough bread
(Mommy)
Salmon, Dips, and Coleslaw
(Yosef)
Liver and Rice
(Shlomo)
Chicken Soup
(Shlomo)
Beer-Battered Chicken
(Yosef)
Potato Kugel
(Yosef)
Apple Crisp
(Shlomo)
Israeli Salad
(Shlomo)
Minute Steaks
(Shlomo)
Chocolate Cake
(Yosef)
Shabbos Lunch:
Fish
(leftover)
Salad
(Shlomo)
Eggs and Liver
(Shlomo)
Cholent
(Yosef)
Potato Kugel
Beer-Battered Chicken
(Yosef)
Store-bought Sorbet
Potato Kugel
5 eggs
¾–1 cup oil
5 lb (2¼ kg) Yukon gold potatoes
1½ Tbsp salt
Preheat oven to 450°F (230°C).
Heat oil in oven. Half the potatoes get placed in a food processor with the shredding blade and half with the S blade. Transfer to a bowl. Add the remaining ingredients, including the hot oil, and mix well.
Transfer to a 9×13-inch (23×33-cm) pan and bake until golden on top. Lower oven heat to 350°F (175°C) and bake for another hour and a half to two hours.
Sautéed Liver
1 lb (450 g) kashered livers
1 onion, diced
oil, for sautéing
paprika, garlic powder, and salt, to taste
Sauté onion in oil till translucent. Add paprika, garlic, and salt. Add livers and mix.
(Originally featured in Family Table, Issue 764)
Oops! We could not locate your form.
>