| Bakeaways |
Biscotti | October 28, 2020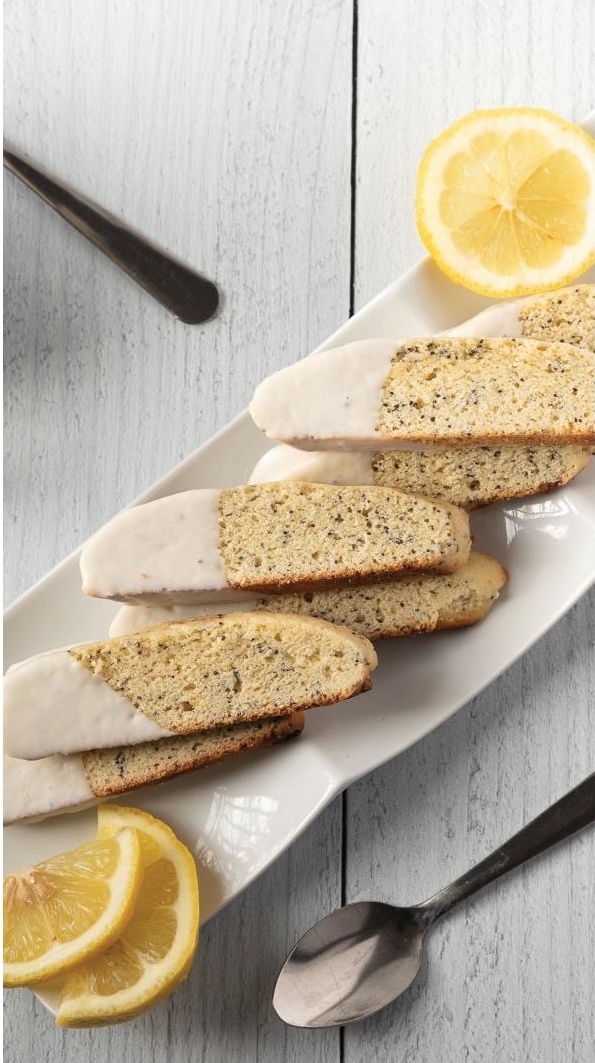 When I was given the topic of biscotti for this column, I figured it was a no-brainer. Like most of you, I've baked many versions of biscotti throughout the years. They're always a popular treat and so simple to make, with a variety of flavor combinations.
But once I started reading up on them, I realized that what I've been baking as "biscotti" is more similar to chocolate chip sticks, as the end result is usually thick and chewy. Authentic biscotti are a traditional Italian pastry. They're baked twice to yield a dry and crispy cookie, and they're the perfect treat to dunk in a cup of coffee or tea.
Since biscotti are made with less butter and sugar than most cookies, they're considered a healthy cookie. Mandelbread is the Jewish take on biscotti — with a little added oil.
Flavor Suggestions
Add your flavors just after the flour is mixed in and incorporate thoroughly.
Lemon poppy: Add the zest of 1 lemon + 1 Tbsp poppy seeds.
Almond cranberry: Add 1⁄2 cup sliced almonds + 1⁄2 cup dried cranberries.

Caramel pecan: Add 1⁄2 cup caramel chips + 1⁄2 cup chopped pecans.
Double chocolate: Use 1⁄4 cup less flour than the recipe calls for and add 1⁄2 cup cocoa powder + 1⁄2 cup chocolate chips.
Tips: Before the second baking, you can sprinkle the biscotti with some turbinado sugar or cinnamon sugar for some added sweetness and crunch. Alternatively, dip the cookies in chocolate when cool.
Biscotti improve in flavor after a day or two, so they're the perfect dessert to prepare ahead. Keep in an airtight container for up to two weeks. Biscotti freeze beautifully as well.
Basic Biscotti
YIELDS APPROXIMATELY 30 COOKIES
4 Tbsp cold butter or margarine, cut in pieces
3⁄4 cup sugar
2 large eggs
11⁄2 tsp vanilla extract
2 cups flour
1 tsp baking powder
1⁄2 tsp salt
Preheat oven to 350°F (175°C) and line a baking sheet with parchment paper. Using a stand mixer, cream butter and sugar. Add eggs and vanilla. Mix in flour, baking powder, and salt until combined.
Divide dough in half. With slightly wet hands, form into 2 logs approximately 1½ inches (4 cm) wide and 8 inches (20 cm) long. Place on prepared baking sheet. Bake for 20 minutes.
Allow cookies to cool for at least 20 minutes, then cut into slices on the diagonal, approximately ¼ inch (½ cm) wide. Lay cookies on their sides and bake again for 10 minutes.
(Originally featured in Family Table, Issue 715)
Oops! We could not locate your form.
>