| FamilyTable Feature |
BEHIND THE SCENES OF RECIPE DEVELOPMENT with Miriam Pascal | December 4, 2019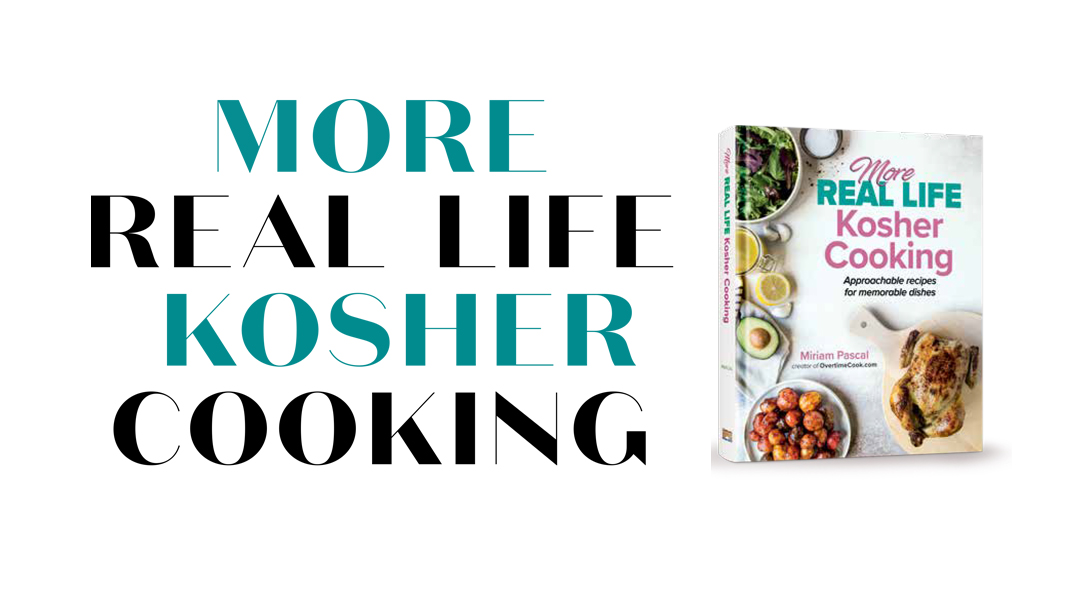 B
y far the most frequent question I get about my job as a recipe developer and cookbook author is "Where do you get your ideas from?" It's a great question, and the short answer is... everywhere! But to really understand the question, I need to explain a bit about the cookbook writing process. I've said this in the past, but I'll say it again: you wouldn't believe how much thought and planning goes into a well-rounded cookbook. Because when it comes to recipe inspiration, there are two kinds.
Some recipes happen unintentionally, from any number of sources. Sometimes it's a dish I eat at a restaurant, sometimes it's an almost empty fridge on a night when I'm too tired to grocery shop. Sometimes a fully formed idea just pops into my head, and sometimes a dish is inspired by a completely different dish that I see or taste. Occasionally, a recipe comes about because I'm curious what would happen if I combined two things, and believe it or not, sometimes a recipe happens because an ingredient is on sale and I bought a ton of it. a Once, I even dreamed about a cake recipe! I woke up and made the first version of what would become the Butterscotch Swirl Bundt Cake in this book. The other kind of recipe inspiration is the intentional sort. Often these recipes are both more challenging and more satisfying to create than the first kind.
Because a cookbook needs to have a great assortment of dishes, I'll find myself, for example, looking at the outline and thinking, I need another good pareve salad that doesn't require any major prep work so people can throw it together quickly. That's how I created the Sweet and Spicy Citrus Salad, which I've been making ever since. In other cases, my followers will request a recipe for a specific occasion or ingredient, and I'll say to myself, Oh yeah, I should create one! Another source of "intentional" recipe inspiration is a specific cooking challenge.
It's important to me that all my guests have plenty of food that fits their diet plan, so, for example, the Roasted Mushroom Minute Steak recipe in the book was created for a family member who can't have wine, sugar, or any form of sweetener. I always take the "real life" part of my cookbook title very seriously, so when I was brainstorming ideas for my bread section, I immediately thought about what kind of bread I buy most frequently. And that's how my recipe for Quick and Easy Whole Wheat Sandwich Bread came into existence. As a non-fish eater, I've always struggled during the Nine Days (why does pasta have to be so fattening?!), so some recipes in my book, like my Vegetarian Chili, were born simply out of hunger during that time.
Sometimes I try to fill a void — like for meatball recipes without any tomato products, hence my recipe for Meatballs in Asian Peanut Sauce. Other recipes, like the Spinach Chicken Burgers, happen because I'm on a diet and looking for a tasty dinner option, while others are created out of necessity, like needing a stovetop potato dish that can be made on Yom Tov, when my oven is off . That's how my Glazed Potatoes recipe became a family favorite. There are recipes that have quite the backstory. A while back, I read a book set in Asia. The author went into great detail about the various dishes that the characters were eating, specifically all kinds of delicious Asian noodle dishes. I finished the book and found myself super-hungry, so I created my Asian Garlic and Ginger Udon Noodles recipe! Some recipes come out pretty well the first time I try them, while others need a whole lot of work and multiple attempts. Sometimes a recipe doesn't come out anything like I wanted it to, but it's even better! When I first made my Quadruple Chocolate Brownie Cake, I expected more of a light and fluffy chocolate cake. It came out of the oven with a crackly, brownie-like top. I cut into the dense, brownie-like cake and figured I'd serve it anyway. After everyone finished their second and third pieces, I knew I had a winner recipe that would go straight into my cookbook — I simply had to change the name!
Another time I visited a friend for Shabbos, and we went together to a gourmet food shop. I spotted an interesting-looking product, Raspberry Honey Mustard Sauce, and I started turning the package over and over, hoping that if I looked hard enough, a hechsher would appear. Eventually, I admitted defeat, but then I realized I could make my own. Then it occurred to me that it would make for a really delicious roast recipe. So I got to the kitchen and played around a bit and came up with my Raspberry Honey Mustard Silver Tip Roast. And that's the long answer to the question of where does recipe inspiration come from! I hope it gives you a little insight into my cookbook process, my brain, and my passion for food and sharing recipes!
Happy cooking, Miriam
The Backstory:
Barbecue Beef Lasagna 
This recipe started as Barbecue Beef Pizza that I made for my father's birthday party. At a meal with probably 15 other dishes, it was gone before I even finished serving! Everyone immediately asked for the recipe, which I happily shared. "Just brown some ground meat and add barbecue sauce. Then spread a mixture of equal parts barbecue sauce and mayo on a pizza crust, top with the meat, and bake at 375° until the edges are browned." Easy, right? Too easy, I felt. It was time to make it into a "real recipe." One day it hit me: Barbecue Beef Lasagna! The perfect way to turn a dated appetizer into a family favorite dinner. And that was that!
Peanut Butter Crinkle Cookies 
To be perfectly honest, this recipe doesn't have a really dramatic or exciting backstory. One day, a couple of nieces and a nephew came over to my house. I suspect they just wanted nosh (which I obviously gave them), but I invited them in to do something with me. They unanimously settled on baking, so I went to the cabinet and found some peanut butter. The idea formed pretty quickly in my head. And the cookies were simply perfect on the very first try, even with multiple kids "helping" me make them! We baked one tray, about a dozen cookies. Each kid got a few and they all went home. I went to the mixer to finish baking the cookies, but I realized that I didn't want to torture myself that way. These cookies smell insanely good as they bake, and smelling them while being on a diet is really tough! So I texted my neighbor and asked if she wanted some cookies. When she said yes, I replied that the catch was she had to bake them herself. She got cookies straight from the oven and I didn't have to torture myself with a fresh-baked cookie smell in my house. Win-win!
Roasted Vegetable Soup 
This was one of those very unintentional recipes. It started with a fridge full of produce that I had neglected for too long. I never even planned to make a soup at first. I just chopped everything up and roasted it. It was a cold and rainy day, and I was in the mood for soup. So when the tray came out of the oven, I figured, why not? I put it all into a big soup pot, added a box of broth, and boiled it up. Once I blended it, it became the most perfectly satisfying soup, that was, as a bonus, pretty healthy. But I realized pretty soon that depending on the vegetables I used, specifically the color and quantity of bell pepper, the color of the soup changed. For general purposes, it didn't matter all that much, but we wound up making the soup two or three times for the photo shoot, until I was satisfied with the color!
Rainbow Salad 
Avid followers of my blog may recognize a version of this dressing from a completely unrelated recipe (Grilled Corn and Peach Salad). I loved the dressing and started making it for other salads as well, and I knew I wanted to use it for a more year-round recipe. The earliest versions of this salad were more on the sweet side. They had avocado, mango, and dried cranberries, and not much else. But I knew it needed a little oomph to take it over the top. Inspiration first came in the form of sweet potato chips. It was a great way to add both crunch and a little savory/ salty element. Then I decided to take it a step further with crispy fried onions. I soon realized that this was a situation of "more is better" and used both!
(Originally featured in FamilyTable, Issue 670)
Oops! We could not locate your form.
>