| Man With a Pan |
A Multicultural Cooking Experience
| November 23, 2021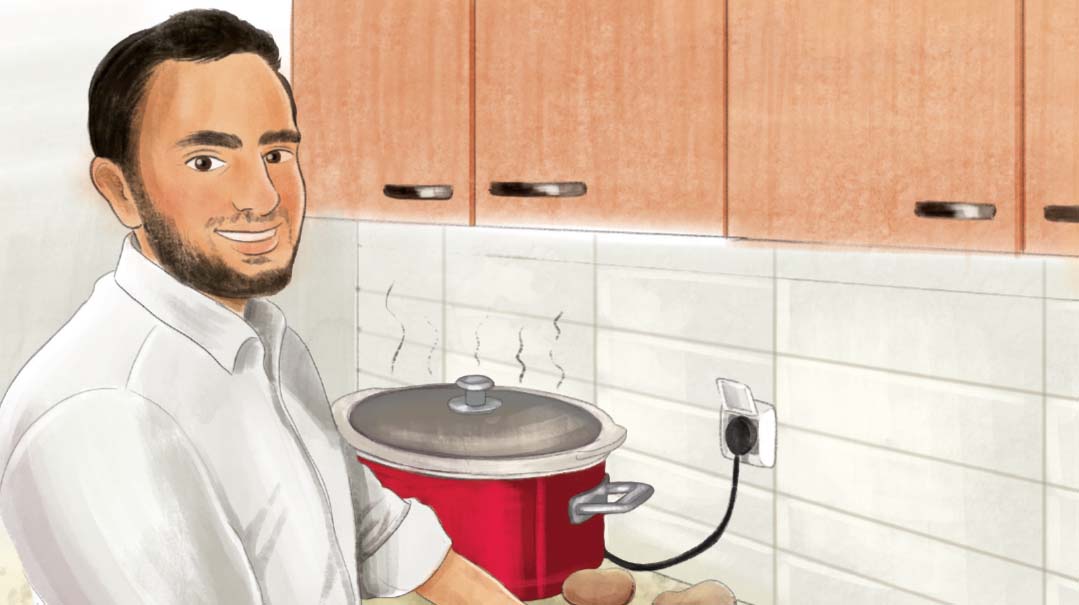 Illustration by Lea Kron
The Man
Aaron Leibert, age 25
1 child
Cybersecurity
Ramat Bet Shemesh

I did it! I cooked a whole Shabbos for Man with a Pan! It was a great experience, and as I sit down to write this, I'm both exhausted and exhilarated.
Before I share my menu, let me mention that I'm from Seattle. Seattle is a five-hour flight from the East Coast and a two-hour flight from LA. It's in Washington, but not that Washington, the other Washington. We have several shuls, several schools, and no meat restaurants.
Wait... What?! No meat restaurants?? So what type of restaurants do you have?
I'll explain. The Seattle Jewish
community isn't large enough to sustain multiple restaurants, so the restaurants must serve the non-Jewish
population as well. Because Seattle is a city with a high percentage of vegans and vegetarians, our kosher restaurants reflect that. We have an Indian vegetarian and an Asian vegan restaurant, as well as a pizza store. (That's why Seattle is on the map, by the way. What type of city would we be
without a kosher pizza shop?)
Seattle is home to an Ashkenazic community as well as two Sephardic communities, one from Turkey and one from Rhodes. That being said, I grew up on a wide variety of foods and tastes. We ate Indian food, stir-fried tofu at the Asian place, and a wealth of Sephardic food at our neighbors' houses.
Growing up with such a diversified palate, I wanted to incorporate some of these flavors into my cooking for Man with a Pan. I think I succeeded, but let's find out!
Jumping In
We decided to invite my in-laws and my brother-in-law for Friday night, and on Shabbos day we were having a couple new to the neighborhood. I'm not sure if having guests gets you more points in Man with a Pan, but it certainly upped the ante of what I needed to prepare.
I'm out the whole day from early morning, working as a penetration tester followed by learning, and arrive home at seven. By the time I did the shopping, had dinner, and started to cook Thursday night, it was already pretty late. I decided to only make a few things that night and leave the rest for the next day. (Yes, I do procrastinate, why do you ask?)
First I made a roasted garlic, tomato, and red pepper dip. The inspiration for this was a recipe my wife makes, but apparently women don't always have recipes for what they cook, so I was left to make it up and imitate it as best as I could. Thankfully, I seem to have a flair for knowing the right flavor combinations, so this dip came out quite delicious.
Next I made roasted potatoes. There are a lot of different seasonings for roasted potatoes, but have you ever tried lemon on your potatoes? I found that I really enjoy fresh lemon slices on everything from fish to chicken and even roasted potatoes. The recipe is simple: cube the potatoes. Toss with olive oil, sliced garlic cloves, and cubed pieces of lemon (with the rinds). Add salt and pepper to taste and roast!
That was all I had time for on Thursday night because it simply got way too late.
Showtime
The first thing I did Friday morning was put up the dafina. For those who don't know, dafina is the Moroccan version of cholent. I call it "deconstructed cholent" because that's what I thought the first time I ate it. Everything is cooked in the Crock-Pot but served separately. The recipe I followed is from Danielle Renov of Peas Love & Carrots fame. It's a delicious combination of meat, large chunks of potatoes, and chickpeas, with rice and wheat grains on the side. It all stews together, but you can eat exactly the parts you like and leave the others.
Once the dafina was up, I started on the soup. It was based on the Hawaij Meat Soup from Peas Love & Carrots, but I switched it a bit because I didn't have all the ingredients, and playing around with recipes is always fun.
So far I had the side dish and the soup for Friday night, but I needed to make the main dish.
My choice was inspired directly by a dish that I loved growing up. Whenever we went to the Asian vegan restaurant in Seattle, I would order Mandarin Crispy Tofu, which is a delicious dish of battered and fried tofu sticks, served with an Asian teriyaki sauce. It's literally amazing, and I would prefer it to a chicken dish any day (but that doesn't leave the pages of this magazine, okay?). My in-laws eat healthy and consider tofu to be a normal food, so I knew they would be fine with it.
To complement the Mandarin Crispy Tofu, I made a sesame-oil-infused basmati rice. Rice is a wonderful accompaniment to many foods, especially Asian foods. And last but not least, I made a blueberry cobbler for dessert. My daughter's birthday was Shabbos, and blueberry cobbler is just about her favorite food. My daughter helped me mix the blueberries and sugar (I hope that's not cheating!).
Next up was a red cabbage and mango salad with a vinegar-based dressing to serve with the first course, and some balsamic grilled chicken breasts just in case we needed more food. (The chicken breast marinade is a simple balsamic vinegar, olive oil, salt, pepper, garlic, and onion powder, and then grill it until the chicken has grill lines but is still moist.)
Friday is the day off here in Israel, so we went on a fun outing in between all the Shabbos prep, but I still had some time to whip up some of the yummy techinah we have here in Israel. You buy tahini paste and combine it with your own spices and flavorings until it's just the way you like it.
I also made a jalapeño dip. I like anything spicy, so my jalapeño dip is not the mayonnaise kind. (Besides, my wife dislikes mayo — especially in dips.) The real way is just pure jalapeños roasted with olive oil, garlic, and salt and pureed. Leave in the seeds for a real kick!
Finally, dessert for Shabbos day was brownies and strawberry ice cream. My mother in-law invented an amazing pareve ice cream recipe that tastes just as good as dairy ice cream. I'm not going to reveal any trade secrets, but the ice cream involves a 1.5 horsepower blender and multiple times blending and freezing.
My Critics
When we finally sat down to the seudah on Friday night, I was pretty tired out.
We started with challah, roasted red pepper dip, and jalapeño dip, along with the red cabbage salad. Next we had the hawaij meat soup, which had a delicious sort of sweetish flavor but with a sour twist. My in-laws liked the soup, and even my brother-in-law, who's a firm believer that any soup other than chicken soup with matzah balls has no place on a Shabbos table, said, "You know, it's actually good," and then he had doubles! (As an aside, hawaij goes very well on salmon, but that wasn't on the menu this week.)
After the soup we had the Mandarin Crispy Tofu, lemon garlic potatoes, and sesame-infused rice, along with the grilled chicken. Believe it or not, the tofu was just as good as the chicken, if not better, and my family agreed. We finished most of the tofu, while there was still plenty of chicken left. (If you're still a bit apprehensive about tofu, I don't blame you, but please give me a call and I'd love to give you a taste! It really is delicious, even for non-vegetarians and vegans.)
My daughter loved the blueberry cobbler for dessert, saying, "Abba, it's very decent!"
On Shabbos day, I kept it relatively simple. We had the same dips and salads as Friday night plus dafina. Thankfully, our guests enjoyed the dafina just as much as we did — it's quite a universal dish.
I sliced the leftover chicken breast and made it into a chicken salad for Shabbos day. I had also prepared a taco salad, but I had forgotten to buy salsa! I found that mixing my tomato pepper dip with a little mayo made for a creamy dressing that was close enough to the real thing. All in all, I'm happy to say that both the food and company were enjoyed by all and nothing flopped!
I really enjoyed cooking for Man with a Pan. I'm grateful for the opportunity to pay tribute to the foods and flavors of my youth, and it's given me a deeper appreciation for the nuances and traditions of Jews around the world. But perhaps most of all, I'm grateful for the opportunity to have given my amazing wife a well-deserved Shabbos off.
And if you're ever in Israel, feel free to stop by!
The Wife's Take
Aaron is a great cook, but I loved seeing him use his imagination for this Shabbos and cook everything from A to Z. My favorite dishes were the hawaij soup and the Mandarin Crispy Tofu! It was so nice to have a break from cooking, and I will definitely have him do this again!
The Plan
Friday Night:
Challah
(my wife's; it's the best)
Roasted Red Pepper Dip, Jalapeño Dip
Hawaij Meat Soup
Red Cabbage and Mango Salad
Mandarin Crispy Tofu
Balsamic Grilled Chicken
Lemon Garlic Potatoes
Sesame-Infused Rice
Blueberry Cobbler
Shabbos Lunch:
Challah
Roasted Red Pepper Dip, Jalapeño Dip
Taco Salad
Dafina
Balsamic Grilled Chicken Salad
Brownies and Strawberry Ice Cream
Mandarin Crispy Tofu
1 lb (450 g) tofu, cut into cubes
oil, for frying
Batter
1 cup flour
½ cup potato starch
2 tsp baking powder
1 tsp baking soda
1 cup water
Sauce
1 cup brown sugar
⅓ cup vinegar
6 Tbsp soy sauce
garlic powder, to taste
1½ Tbsp potato starch, dissolved in 4 Tbsp water
To make the batter: Mix all dry ingredients. Add water and stir to blend. It should be runny, but thick enough that the batter clings to the tofu to create a crispy layer around it. Dip tofu in the batter, then fry or deep-fry in oil.
For the sauce, mix the sugar, vinegar, soy sauce, and garlic powder in a small saucepan over medium heat. Add the dissolved potato starch mixture and stir until the sauce thickens. Pour the sauce over the tofu immediate before serving.
Serve hot and enjoy!
(Originally featured in Family Table, Issue 769)
Oops! We could not locate your form.
>