| Family Room |
What's Trending in the World of Kitchens? | May 3, 2022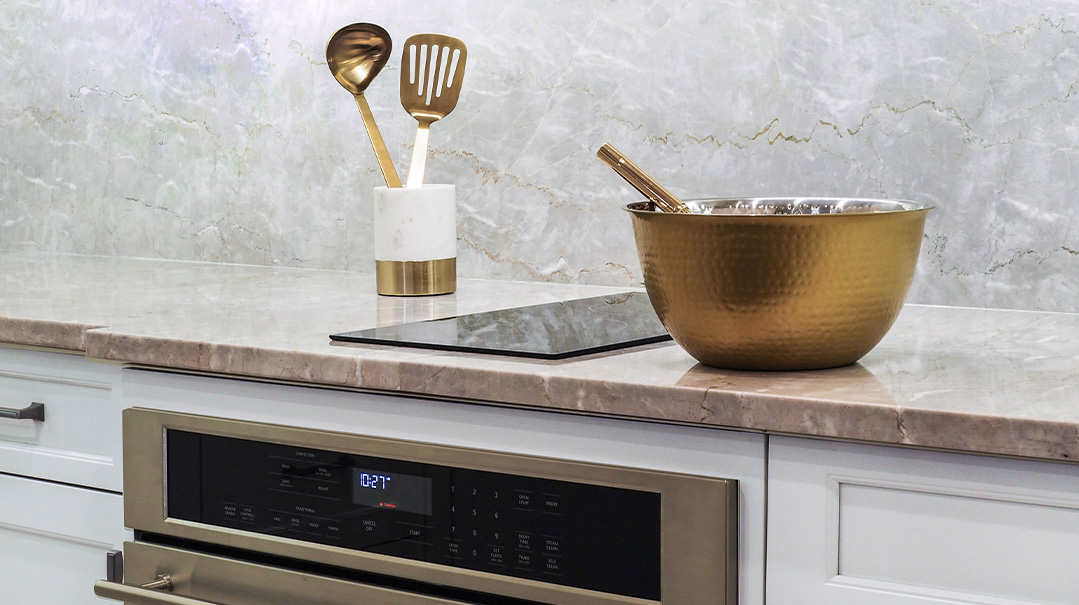 With Pinterest pinnings and Monday mood boards, we know that kitchen design is a crowd favorite. But designing a kitchen is not for the faint of heart. With the myriad choices available today, the style options, color palettes, and the wide range of appliances — along with budget limitations — the entire endeavor can be overwhelming, to say the least.
We reached out to Minda Baez of Signature Designs to guide us in what's trending, what's a waste of time, and what is timeless in the complex world of kitchen design.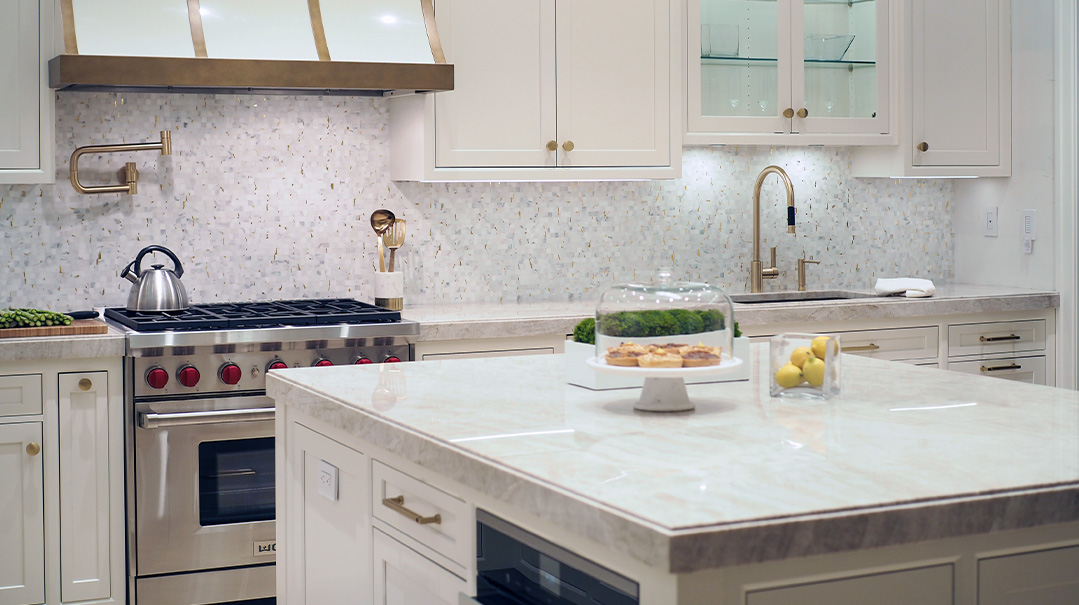 Successfully creating the feel of a rustic retreat in middle of Manhattan!
Let's Talk Trends
"To start with," Minda says, "we're seeing more painted finishes instead of wood grains and stains. People are loving a simpler, cleaner room, done in neutral colors with accented islands and butler's pantry cabinets. And for the stove, metal hoods are all the rage, in varying colors, patterns, and shapes."
And what's out for now, gone with the winds of style change? "Tuscan kitchens," Minda says. "Busy backsplashes and ornate detailing."
What advice would Minda give to someone starting on a kitchen reno?
"First," she says, "take inventory of everything that needs to fit in your space. That's something only you can know. Identify your style and function needs by collecting inspiration pictures and whittling them down to what resonates with you. And of course, remember that good planning is key to a successful project, so order cabinets, materials, and appliances before you even start construction."
With her experience, what mistakes has Minda seen? "To put it succinctly: People trying to design a kitchen on their own. Professionals are here for a reason — use them. Yes, it may seem cheaper to tackle it and DIY, but the mistakes that could occur will just cost more in the long run. Also," she adds, "not planning properly for all the appliances — even where a large pot will fit on a stove."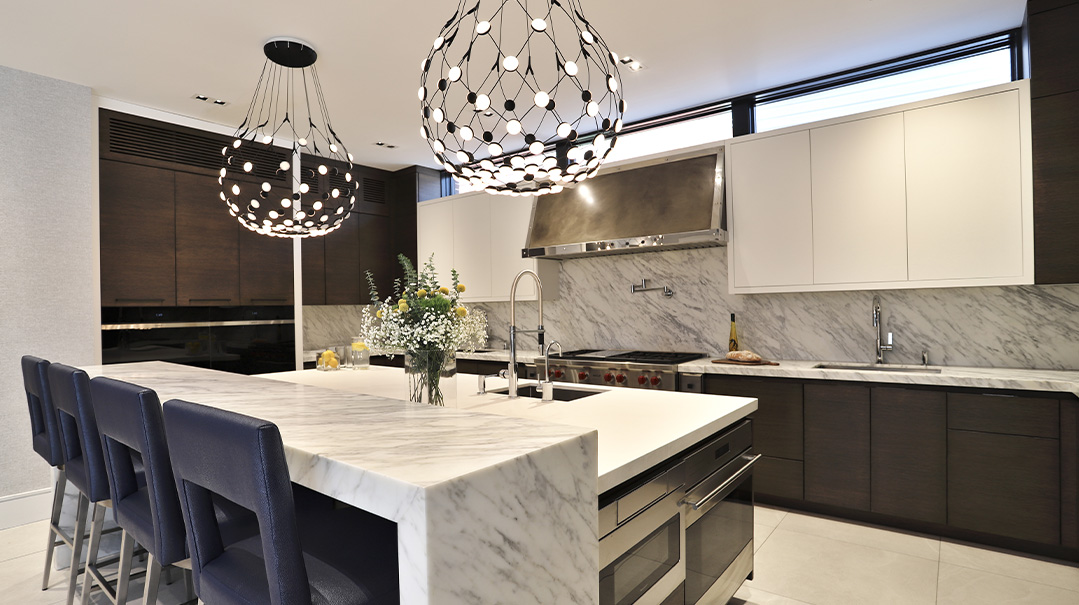 Full-scale kitchen design by Minda Baez
A Time to Splurge, A Time to Save
"Splurge where it will count aesthetically," advises Minda. "Splurge on the island cabinets and countertop, but save on the perimeter. I'd also say to go big when it comes to a statement light fixture over the island, and the stove hoods. A great hood can serve as a focal point for the whole room."
And where to save? "Skip the plywood construction. Quality pressed wood is wonderful and not as expensive," says Minda.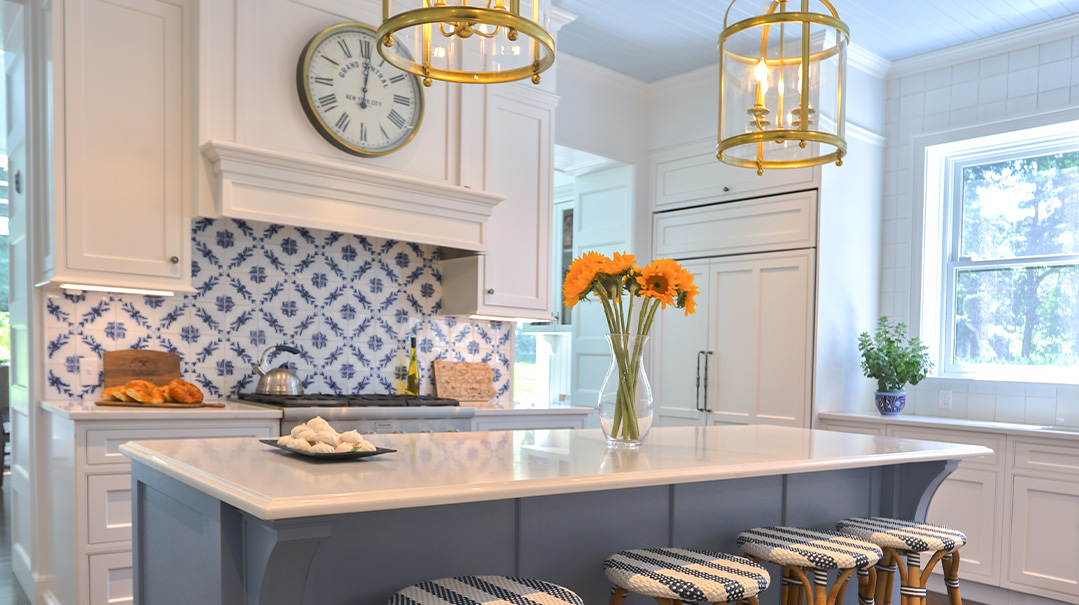 Unexpected Suggestions
"There are products that can take your kitchen from meh to amazing," says Minda. "Try charging drawers and dishwasher drawers for convenience. Under-cabinet lighting and outlets will give the room that soft glow without detracting from the ambiance with visible wires and outlets, and you'll never regret an induction cooktop for the dairy side, which so often gets sidelined, even though most of us use dairy at least once or twice a day."
But some items are just space wasters. "I've found that pot fillers — that pretty faucet by the stove — are a waste of both space and utilities. If the sink is far away, then it makes sense, but don't put one in out of laziness. They can create unnecessary messes if turned on with no pot underneath. Built-in coffee makers are also not worth the hype."
Finally, hardware makes a huge difference, notes Minda. "Don't skimp there. It's the accessory that can take something from basic to beautiful, like a statement piece of jewelry on a simple dress. Just remember: Design is important. It really is, trust me. But function matters so much more."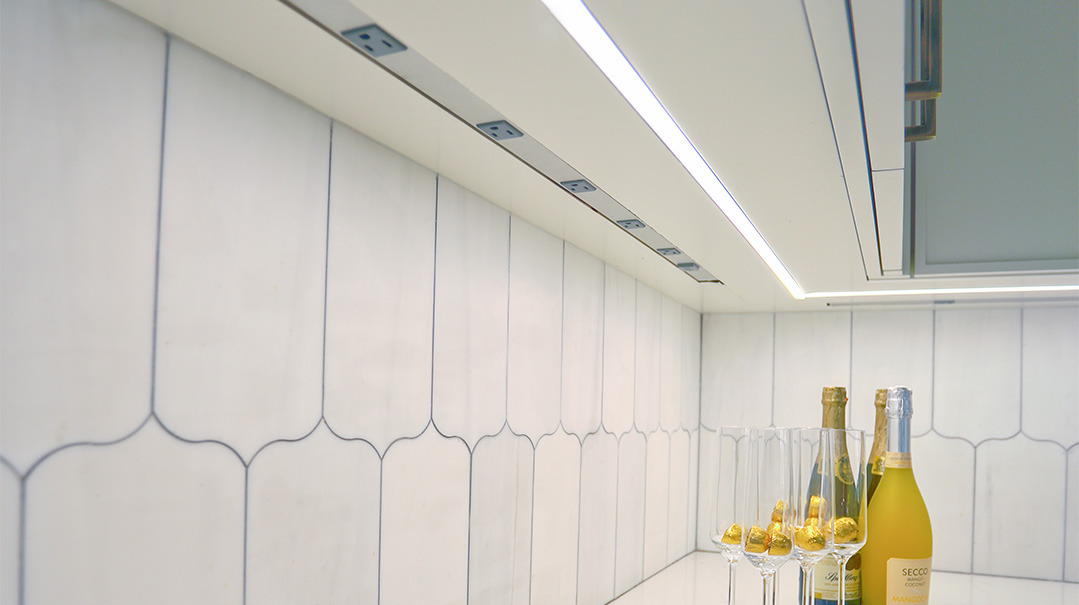 Under-cabinet lighting elevates a space
A Minda Baez Specialty
With Minda, you can expect the unexpected. "We once designed a Manhattan modern apartment to look like a rustic retreat. We used reclaimed wood, real authentic terracotta floors, barn doors, and plastered walls. It was quite the new experience, but our client was so happy with the results, and so were we. We input rustic beams, purchased mainly from Restoration Hardware for that old leather look. We installed a fabulous farmhouse kitchen… in the middle of Manhattan. The wooden floors were scraped to appear worn. We worked off photos they gave us, and we did everything from soup to nuts. It was liberating and exciting, and we would do it again in a heartbeat.
"This particular client loved to travel and requested an authentic Italian bathroom with no tile, just stucco. I think we really exceeded expectations on the whole endeavor."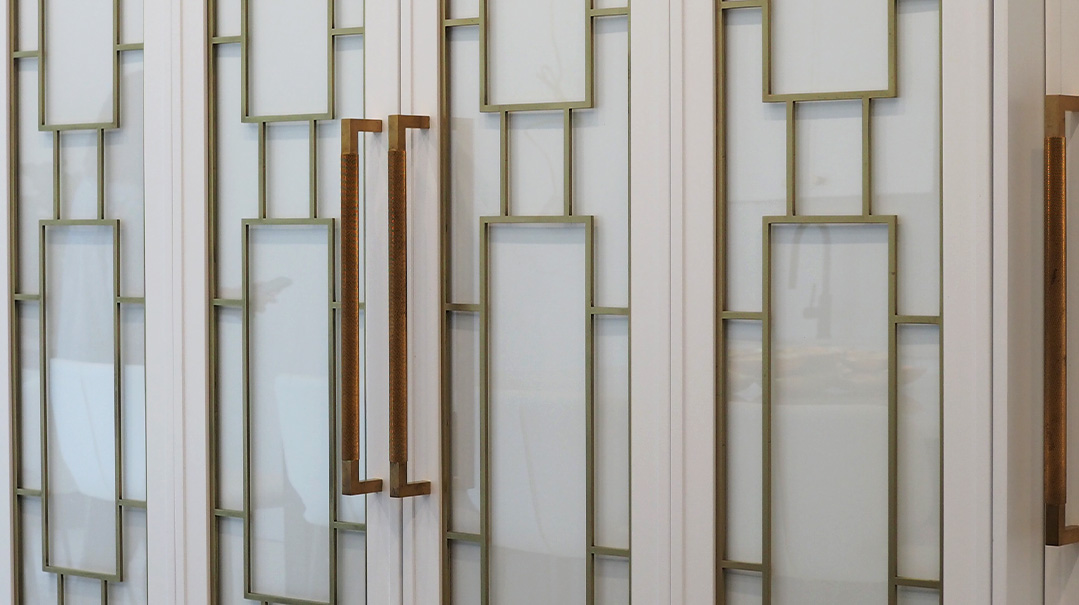 Hardware acts as the jewelry in a kitchen
Rapid Reno Tips
Minda offers the following tips when starting out on a kitchen renovation:
>Hire a designer.
>Know your aesthetics and budget.
>Read your contract and carefully review drawings.
>Ask questions.
>Expect bumps in the road: A stop order to construction, delayed shippings, out-of-stock items, discontinued tiles or colors. We're in middle of a project; we picked the tile a year ago and have worked around that choice, only to find out recently that the tile was discontinued! It can happen…
>Move out during construction.
And good luck. Hope your new kitchen is everything you dreamed it would be!
Minda Baez is passionate about design and about the unique character of each client, and has made a career of creating spaces of distinction. Her devotion to client needs has secured her a legacy of devoted customers.
She is a graduate of one of Asia's most acclaimed interior design academies and immigrated to the United States after achieving recognition in the field of interior design, applying her exceptional skills to exclusive residences in the Philippines and Hong Kong. Prior to joining Signature Interior Designs, Minda was a senior designer at Hashimoto/Platz Interior Designs, where her list of projects included residences in Trump Parc, Olympic Tower, and the United Nations. In 1995, she was named partner and, since then, has also held the title of vice president. She can be reached at mindab@signaturedesignsny.com.
(Originally featured in Family Room, Issue 27)
Oops! We could not locate your form.
>