| Magazine Feature |
The Bridge Builder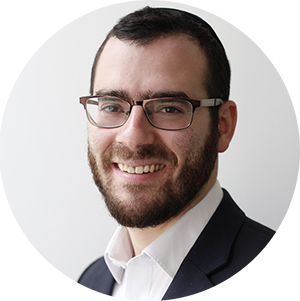 | July 19, 2022
Rav Simcha Kook created a consensus in Rechovot and beyond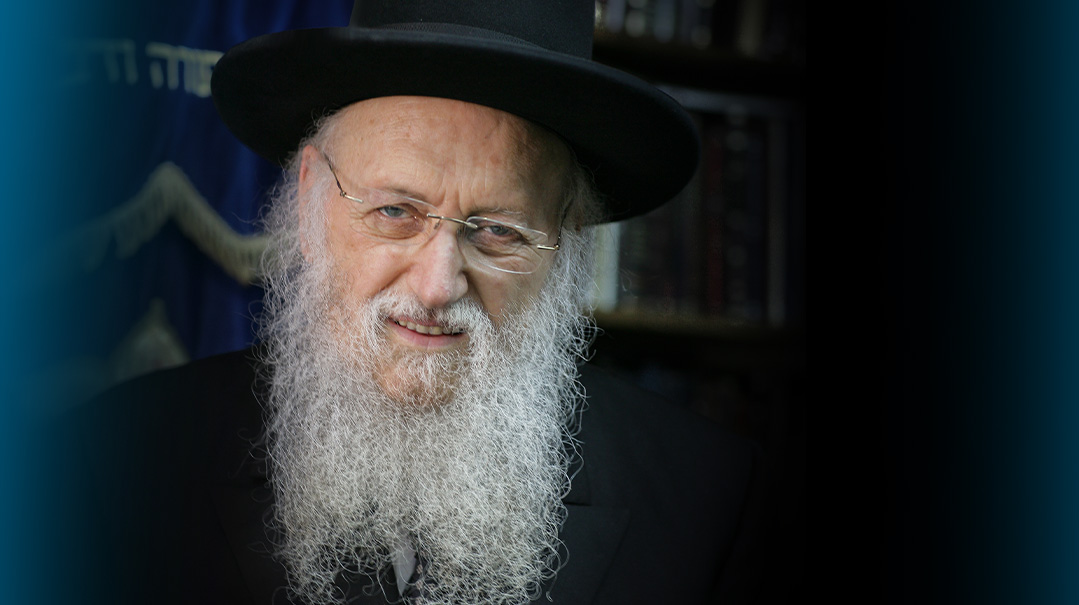 Rosh Hashanah was already a memory, the Yom Kippur spirit was in the air, but as rabbis all over the world prepared their Kol Nidrei derashos and answered sh'eilos about fasting, Rav Simcha Kook headed for Rechovot's high schools.
Over almost five decades at the helm of the central Israel town, the Chief Rabbi — a fixture at every public event from a kollel siyum to the inauguration of a new police chief — had made a special effort to reach the town's youth.
Yet that year, with the snow-white of his beard marking the onset of old age, the grueling task of speaking at the city's many schools proved too much.
"We'll put off the last few visits until after Yom Tov," Rav Kook told his longtime assistant, Rabbi Nachman Fogel.
The next morning, Rabbi Fogel — a soft-spoken Vizhnitzer chassid who'd acted as the mazkir of the Rechovot Beis Din since 1973 — was surprised to hear that the venerable rav had changed his mind.
"I met a high school student on the street, and he told me that last year, he'd fasted on Yom Kippur because of the speech," Rav Kook explained.
"I realized that I have to make the effort to speak in the rest of the schools, just in case there's one student who'll be encouraged to fast."
It was that sense of responsibility that made Rav Simcha HaKohen Kook, who was niftar last month aged 92, a giant.
Descended from a princely rabbinic heritage, Rav Kook's innate nobility made him a consensus figure across Israeli society, trusted equally by Rav Shach and l'havdil, leading secular politicians.
Rechovot's chief rabbi was a man who encompassed many, often varying, worlds. He was a pioneer of chareidi Torah institutions, fierce defender of the Jewish right to the Land of Israel, equally at home talking to scientists and falafel store owners, a bridge-builder who was never afraid to take a stand.
Yet beneath the velvet and steel that alternated in his public persona, was one constant: "He never saw the rabbinate as a profession," explains Rav Aryeh Kook, a son and rosh yeshivah at Rechovot's Yeshivas Meor HaTalmud, which his father founded. "All of his different roles were an expression of his wish to serve Hashem and His people.
"As he often said about himself, echoing his great-uncle Rav Avraham Yitzchak HaKohen Kook: 'I'm a servant to a holy people in the Holy Land."

"I'm just a servant to a holy people in the Holy Land." Rav Simcha Kook was the chief rabbi of a mixed city, lived in a secular building, and was nasi of a string of mosdos. For him, it was all about service and making a kiddush Hashem
Holy Revolutionary
The local dignitaries who assembled to welcome their new rabbi to Rechovot in 1972 had no inkling that he was something of a revolutionary.
Then in his forties, Rav Simcha Kook had been a rosh yeshivah in Netanya when tragedy struck: His older brother Rav Shlomo — then Rechovot's chief rabbi — was killed along with his wife and two children in a car accident that shook Israel.
The municipal leadership of this secular town that played host to the prestigious Weizmann Institute soon discovered that the new rav had an expansive view of his duties.
At the top of his list was Shabbos.
"When he first came, businesses were open throughout the town center," says Rabbi Nachman Fogel, who served at Rav Kook's side almost from day one. "The Rav used to say that the holiness of Shabbos is the first reference to kedushah that appears in the Torah and is therefore the source of all holiness, which makes Shabbos the most basic of all responsibilities of a rav."
With his eye on the goal, Rav Kook played the long game. He met with the mayor, and then each member of the city council in turn, using his compelling oratory to persuade them of the supreme value of Shabbos. In each case though, the result was the same. Privately they were won over, but they wouldn't cross their secular voters to close down the entertainment venues on Shabbos.
Simultaneously, the rabbi met with business owners, trying to convince them to close on Shabbos, but that approach also had only limited success.
Then Rav Simcha Kook made his dramatic move.
"One day he invited the mayor and the city council to his office," Rabbi Fogel continues, "and began to speak to them emotionally about Shabbos as the crown of Creation. The Rav was a riveting speaker — to this day, the emotion and power of those words echo in my ear.
"There was an absolute silence and sense of elevation as he spoke. People sat there with tears in their eyes, and when he finished, they left the room, without a word to each other."
With the speech still ringing in their ears, Rav Kook went on the offensive. He met with the mayor and put forth a bold proposal: He urged him to close the entire city center on Shabbos and move the entertainment venues to an area on the edge of the city.
With Shabbos closures a religious-secular flashpoint across Israel, it was a historic compromise — one that set a precedent far beyond Rechovot.
Over the years, the move paid further dividends. "Today, there is nowhere in the city open — the only chillul Shabbos is in the industrial zone," says Rabbi Fogel.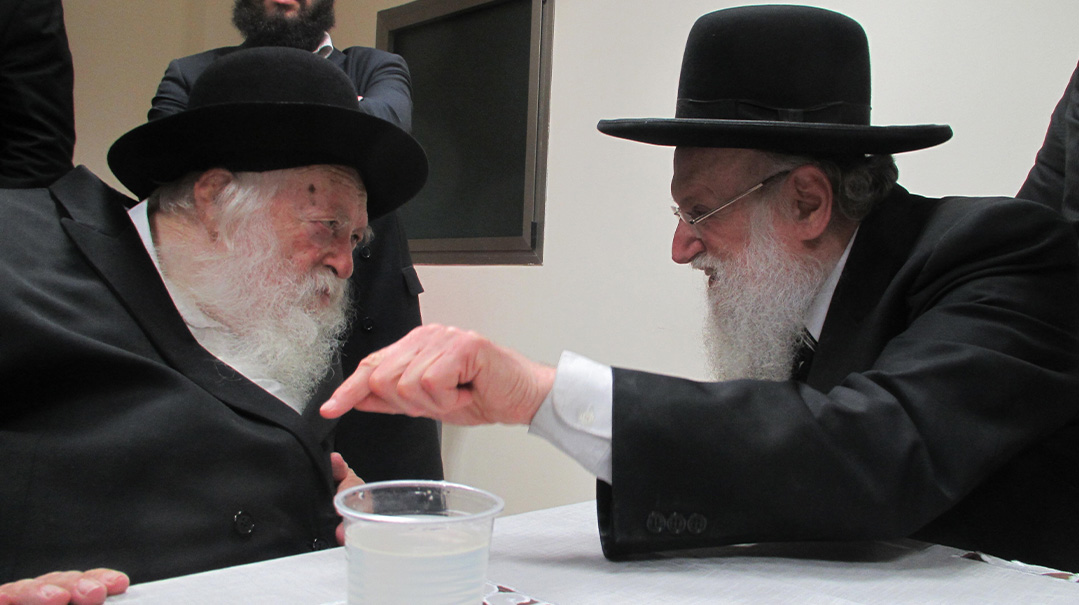 Rav Kook was equally at home with the gedolim of the generation, running his flagship yeshivah, or connecting to secular Jews who felt their souls begin to ignite
I Loved Him
To understand Rav Simcha Kook's success in appealing to his city's secular residents, look no further than Shuki Forer.
The man who served as Rechovot's mayor from 1998 until 2008 is avowedly secular — his son Oded is currently Israel's Agriculture Minister and a member of Avigdor Lieberman's secularist Yisrael Beiteinu party. At the same time, Shuki's own working relationship with his town's rav developed beyond the professional realm.
"I loved him," he says simply.
With a keen grasp of human nature, Rav Kook appealed to the respect for tradition that lay under the irreligious exterior of some of the city's leaders.
"My great-grandfather, who was from Brisk, built the town's first house, and my other great-grandfather studied in Volozhin," says Forer. "The Rav spoke about Brisk's link to Volozhin, which his own family was connected to. He felt that his becoming rabbi here was closing a circle."
Rav Kook's relationship with Shuki Forer was by no means exceptional, says Rabbi Fogel.
"The rav was revered in the city in an unusual way. The police, Kaplan Hospital, the Weizman Institute, or the kibbutzim around wouldn't arrange a big event without his involvement. Every new head of a local school knew that one of his first jobs was to meet the rav."
In Shuki Forer's case, the bond that developed with Rav Kook led to a long-standing Friday parshah shiur that the Chief Rabbi delivered for the mayor and 20 to 30 friends and municipal officials.
It also meant that on Forer's watch, Shabbos was protected.
"Rechovot is a city that has respect for Jewish tradition," he says. "There was one mayor who tried to open up entertainment venues on Shabbat, and Rav Kook burst into the city council room when they were meeting to debate it. He spoke very strongly against the move, explaining the importance of Shabbat, and they dropped the idea."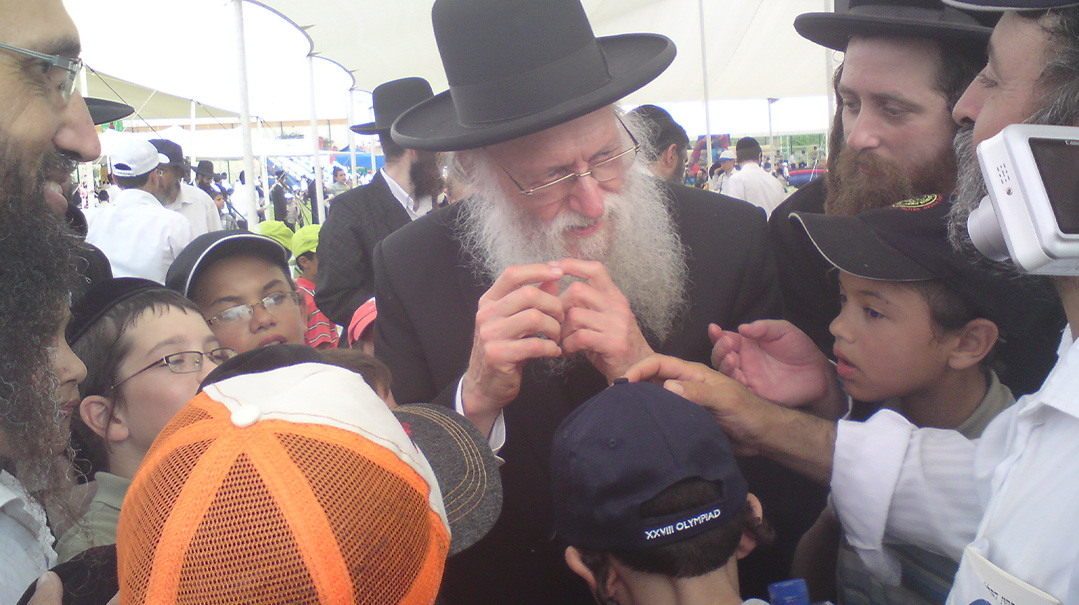 Rav Simcha Kook's ability to bridge differences was born at the interface of different worlds. His father, Rav Rafael, who served as chief rabbi of Teveria, was a nephew and close follower of Rav Avraham Yitzchak HaKohen Kook, the legendary first Ashkenazi chief rabbi of Mandate-era Palestine and a leading talmid of the Netziv.
Chassidus was also part of his heritage: His mother, Rachel, was the daughter of Rabbi Simcha Mandelbaum, a leading Stoliner chassid who was a prominent figure in Yerushalayim's Old Yishuv. Alongside his business acumen, Rabbi Mandelbaum was active in promoting settlement of Eretz Yisrael. He was a founder of Kfar Saba, now a large city in central Israel, as well as Yerushalayim's Bayit Vegan neighborhood. Born in August 1930, Rechovot's future chief rabbi was named after his chassidic grandfather, who had passed away a few months before.
Young Simcha's first memories were of his home in Beit Mandelbaum, the large apartment building that his grandfather had built where Meah Shearim abuts East Jerusalem on land bought from the Muslim Waqf in an attempt to widen the Jewish footprint in the city.
That building was blown up by the Jordanians in the War of Independence, but it embodied the chinuch Rav Simcha received in the Kook-Mandelbaum home: a fusion not just of Torah paths, but of love for Eretz Yisrael.
In an era where the lines between Israel's different religious groupings were not as sharply drawn, a young Simcha was sent to Kfar HaRoeh, a Bnei Akiva-affiliated yeshivah. That, in addition to the Kook name, commanded him the respect across the dati-leumi world that made him a unique consensus figure.
But it was in Yeshivas Chevron that he imbibed the sense of responsibility for the wider Jewish people that became his rabbinical trademark. A hallmark of the group of bochurim of which he was part — including Rav Baruch Mordechai Ezrachi, a good friend — was the seriousness with which they discussed their future plans to work for the Jewish People.
The rosh yeshivah, Rav Yechezkel Sarna, gave a vaad about Shabbos for an entire year, whose influence was felt in Rav Kook's later battles in Rechovot.
After his marriage to Nechamah Kabalkin, he joined the kollel for rabbinic training at Machon Harry Fischel, and was then appointed rosh yeshivah of the Bnei Akiva yeshivah in Netanya.
Torah greats from across the spectrum appreciated the dynamic rav, including the Sanz-Klausenburger Rebbe, with whom he developed a close bond during his years in the coastal city.
"My father developed a very close relationship with Rav Shach, and he chose him as his emissary in the rabbinic and wider world," says Rav Aryeh Kook, "because, as Rav Shach once wrote, it was my father's 'warm heart for every holy cause.' "
Those holy causes could be as diverse as fighting the Sharon government's plan to destroy the shuls of Gush Katif during the 2005 pullout — a plan that Rav Kook thwarted by appealing to the Supreme Court — or convening a rescue committee when hearing about the plight of Yemenite Jews threatened by Islamic State terrorists.
"When other people speak about Shabbos, secular politicians understand that they're really talking about more funding," Rav Shach commented. "When you speak about Shabbos, they hear Shabbos."
It was also the Ponevezh Rosh Yeshivah who gave Rav Kook advice about staying true to himself in the world of public activism.
"As a chief rabbi, you need to go and talk to whoever wants to, even the far-left Peace Now organization. Speak to them about what they want, but always bring them up to your level. And when you come home, spend some time with yourself remembering who you are."
Rav Kook took that time necessary for introspection very seriously, and at 4 a.m. he would rise and pour out his heart to Hashem for assistance in his daily routine.
"Rav Elyashiv said about him that some rabbanim's ruchniyus declines due to the pressure of their rabbinate, but my father grew in stature precisely because of it," Rav Aryeh says.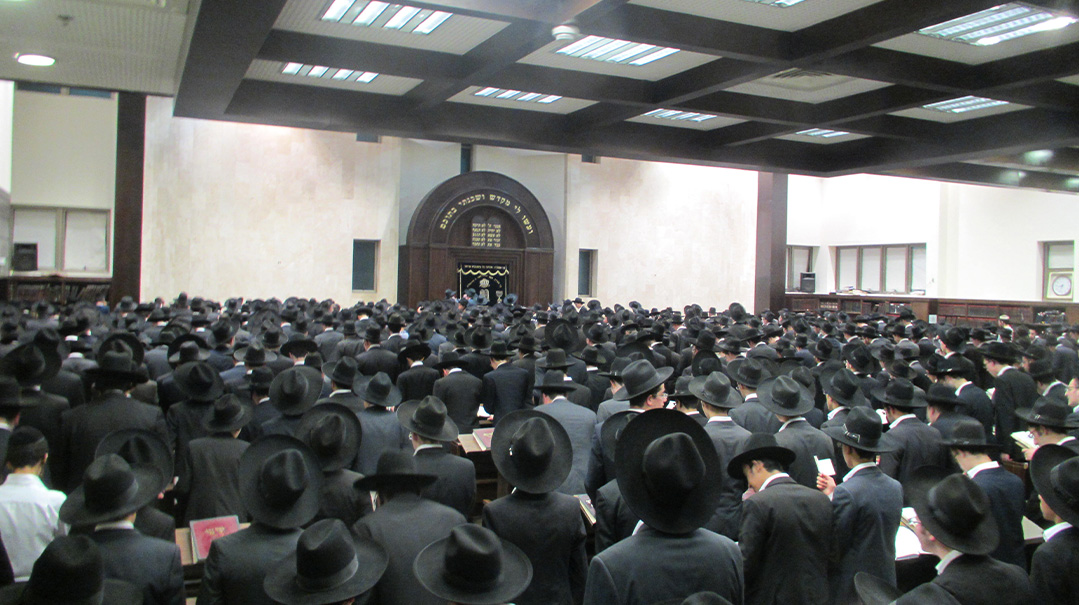 Yeshivas Meor HaTalmud
Lone Lighthouse
Head into the center of Rechovot, opposite the historic shul built by the city's founding fathers of Volozhin fame, and you'll see an edifice that bears witness to Rav Simcha's spiritual drive. The campus of Meor HaTalmud, the 500-strong yeshivah that Rav Kook founded, is hard to miss.
Bringing high-level Torah study to the city was the second plank of his mission statement as chief rabbi. His brother Rav Avraham Yitzchak still serves as rosh yeshivah. While his cofounder Rav Chaim Zelivansky passed away in 1995, Rebbetzin Zelivansky continues to run the administration of the yeshivah. Rav Simcha Kook, for his part, traveled the globe to ensure the yeshivah stayed afloat and was the driving force behind the institution's every critical decision — starting with its location.
"This building used to be a maternity hospital," says Rabbi Fogel. "It cost an enormous amount, given its location. The same money would have gone a lot further on the edge of the city, but the Rav only wanted this place. 'I want the yeshivah to be like a lighthouse for Rechovot,' he said."
That choice was very much in line with Rav Kook's philosophy when it came to choosing where to live himself.
"Our home, where my parents raised us nine children, was in a secular building in a secular part of town," says Rav Aryeh. "My father wanted to have an influence on the people around him, and indeed many of our neighbors became more observant over time."
The dimensions of the yeshivah building were based on another intriguing calculation: the comparative size of the town's famous science facility.
"My father used to say that when Mashiach comes, he'll see the Weizmann Institute at the entrance of Rechovot, and ask 'Is this the yeshivah?'
"When he hears it's a science facility, Mashiach will say 'If that's for science, imagine how big the yeshivah must be!'
"So, when the chanukas habayis for this large yeshivah building took place, my father spoke and said, 'Now I can finally greet Mashiach.' "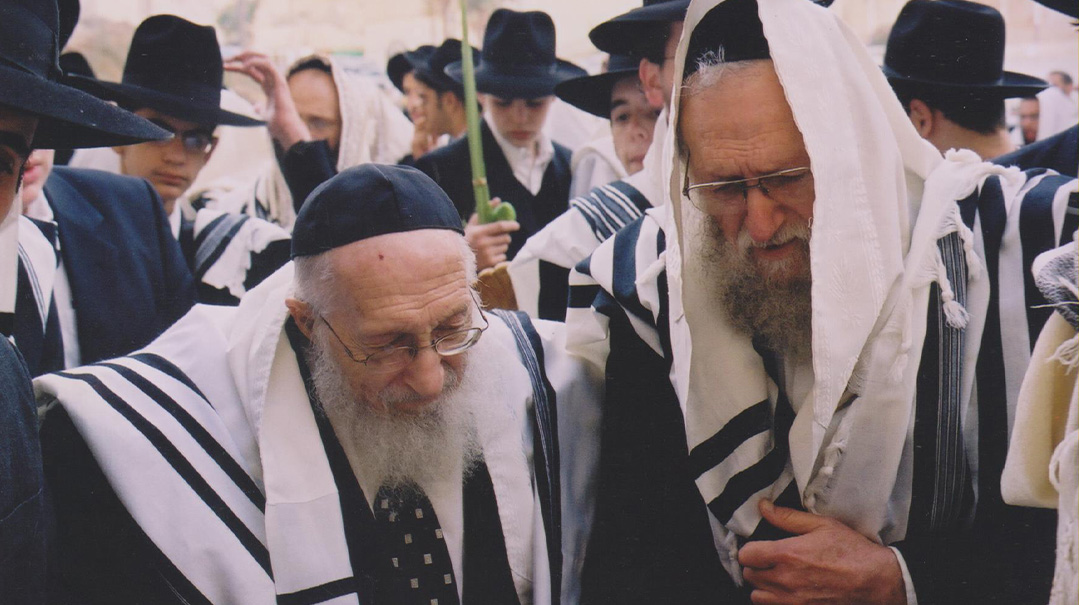 Over the years, another yeshivah developed. Toras Rafael, named after Rav Rafael Kook — Rav Simcha's father — was based in Yerushalayim, and Rav Kook became the nasi of both.
The fundraising burden brought Rav Kook to America and Britain, where he left an indelible impression on many of the people he interacted with.
Agudah Chairman Shlomo Werdiger was one of them. "Rav Kook was a derhoibener mensch — a prince of a man," he says simply. "People would become his chassidim simply because of his humility.
"I remember that once he came to our house for Shabbos, and I [was hosting] my mother-in-law who was old and wasn't feeling well. Rav Kook refused to start the seudah until she came down."
For three decades, Toronto's Mordechai Mandelbaum hosted Rav Kook and his rebbetzin. At first, the visits were up to 48 hours, but as his fundraising burden grew, the couple came for longer periods, which proved to be edifying for their hosts.
"I was able to do shimush in so many areas of halachah, where Rav Kook was very clear," recalls Mr. Mandelbaum. "He was very careful with brachos, for example, and had many chumras."
The Mandelbaums saw close-up the intense love for Eretz Yisrael that the Rav had absorbed at home.
"He was a very sophisticated person, and so once when he had a spare day, I offered to take him to see Niagara Falls. I knew that he'd appreciate the chance to see the niflaos haBorei, and he was receptive to the idea. But then he thought for a minute and said, 'I don't want to go. Eretz Yisrael also has waterfalls, and I don't want to see anything that has more grandeur than those.' "
That love for Eretz Yisrael led Rav Kook to espouse notably hawkish views in opposition to the land-for-peace formula at the heart of the Oslo Accords. He also supported the efforts of organizations such as Ateret Cohanim, which work to buy land around Yerushalayim from Arab owners to increase the Jewish population in contested areas in the eastern part of the city.
When the rebuilt Churvah shul in Yerushalayim's Old City, which had been destroyed during the War of Independence, was opened in 2010, Rav Kook was chosen as the rav. From a walkway high up on the building's cupola, Har HaBayis is visible. He stood there looking out at the site of the Mikdash, and his yearning was almost tangible.
"When my father said the words 'U'mipnei chataeinu galinu mei'artzeinu' in Mussaf, I had to support him so that he shouldn't collapse from tears," says Rav Aryeh Kook. "Afterward, he turned to me and said, 'I felt like a son who desperately wanted to return home, and the father told him that it wasn't yet time.' "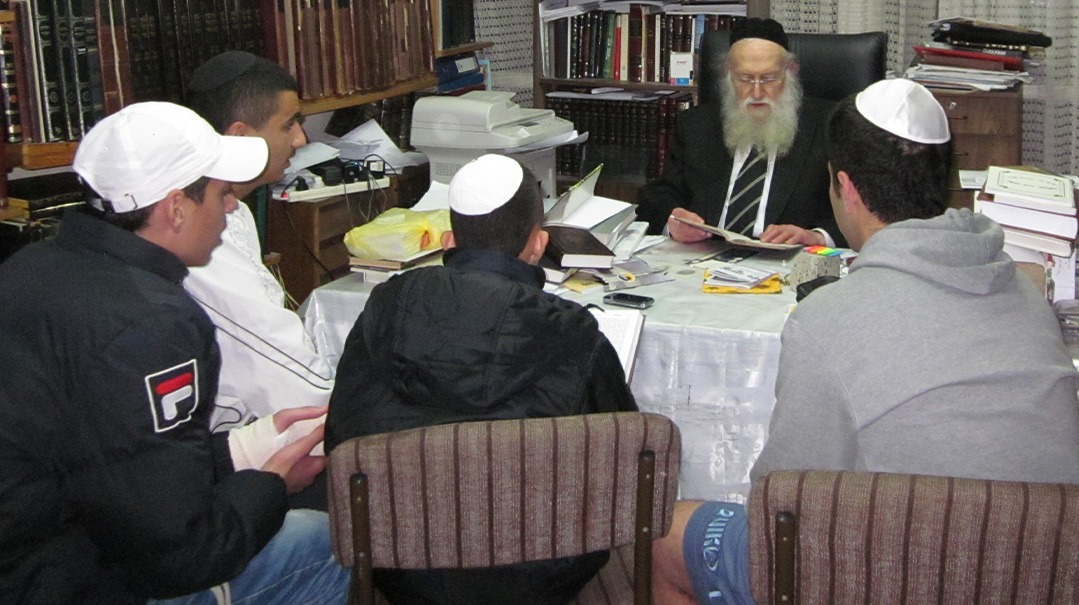 Red Lines
The long-distance travel that Rechovot's chief rabbi undertook into his late eighties gave his loyal fundraising assistant, Reb Yanky Shneck, an opportunity to see the Rav's greatness up close.
"People normally relax on long flights and end up passing the time in different ways," he says. "In all the 18 years I traveled with him, he never spoke about anyone, despite the fact that he was involved in major political and communal issues. He would only speak what was strictly necessary about others."
Rabbi Schneck relates that Rav Kook used his last kochos to fundraise for his mosdos. He'd quote Rav Nosson Tzvi Finkel ztz"l, who would say that the only reason he was still alive was because of his fundraising efforts on behalf of the Mir.
Despite the fact that Rav Kook was supremely dedicated to fundraising for his institutions, he had strict red lines when it came to money. He never took a penny from the yeshivah, and if he used the dining room for a family event, he always paid for it.
On one memorable occasion, says Rabbi Schneck, Rav Kook lost out a significant donation to prevent the appearance of a conflict of interest.
"We had an appointment to see Rabbi Shulem Fisher a"h, a chareidi philanthropist who owned a large chain of supermarkets. The day before, the Rav told me to cancel the appointment.
"Reb Shulem owns a store branch in Rechovot, which I give a hechsher to," he explained. Holding his white beard, Rav Kook said, "It could be a case of 'shochad,' and I've avoided something like that my whole life."
TO Rav Dovid Stein, the rabbi of Beit Chatam, an English-speaking community in Rechovot, that yashrus was at the heart of his success in Rechovot. Rav Stein, who had a long-standing daily chavrusa with Rav Kook, says that, "if stores that he provided hashgachah to tried to give his children presents for their bar mitzvah, he would take the checks and rip them up."
Personal dedication was the second ingredient that made Rav Kook such a legendary rav. He would go to Kaplan, the local hospital, on Erev Yom Kippur and make the rounds to answer questions about fasting. He would check the mikvaos himself, and try to persuade businesses not to sell chometz on Pesach.
"Then there was his caring," says Rav Stein. "He was able to empathize with others' problems in a unique way. He took it to heart — and people responded in kind."
Rav Kook's links with the Anglo community in his city were likely all the stronger for his own extensive connections in North America. Binyamin Rose, familiar to readers of these pages as Mishpacha's longtime news editor, got to know the Rav when he made a pilot trip from America in 1992 to check out Rechovot. He remembers how the Rav's open-mindedness struck him.
"We told him that we were from Miami Beach and were considering making aliyah in the next year or two. He asked us a few questions about ourselves, and then told us there were two English-speaking Orthodox kehillos in Rehovot. He described both and asked which one we felt we would be most comfortable in.
"What impressed us about Rav Kook that day was the gentle manner in which he guided. He didn't stereotype us. We were all dressed modestly, but casual — I was even wearing blue jeans — but he didn't stereotype us and try to steer us to a more modern community. He offered us the option of exploring the more chareidi of the two kehillos, and that's the one we eventually chose."
Beyond looking past externals, Binyamin Rose remembers the impression made by Rav Kook's aristocratic appearance.
"I used to attend his Shabbos Shuvah and Shabbos Hagadol shiurim in the main shul," he says. "It was often distracting, because the crowd was overflowing, and this was in the days when air conditioning was somewhat of a luxury in Israel. So, the shul's windows were always open and the outside noise could make it difficult to hear. But I would go anyway, because he had such an aura about him.
"I used to look at him and think to myself that when Mashiach comes and the Beis Hamikdash is rebuilt, Rav Kook would be a candidate to be the Kohein Gadol."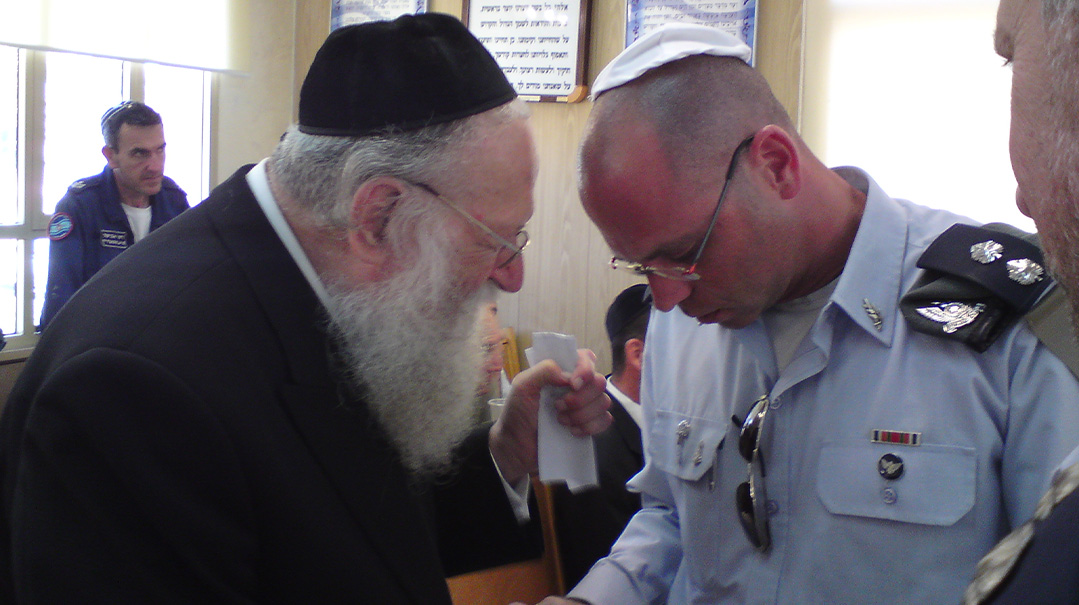 The Breakthrough
If they'd lived to see him, the Volozhin yeshivah graduates who founded Rechovot in the late 19th-century might have recognized Rav Simcha Kook as a figure plucked from an idealized version of the shtetl, circa 1880.
He was a rav of shining countenance, with a faithful shammas by his side, who dispensed Torah wisdom, ruled the city's affairs, reconciled warring religious and secular factions, and tipped the balance on behalf of Shabbos observance.
But of the lifetime of anecdotes that Rabbi Nachman Fogel has stored away about the man he reverentially calls "the Rav," an early memory seems to strike him as a particularly compelling example of the wisdom that characterized Rav Simcha Kook.
"It was the Rav's first year in office, and the secretary of a nearby kibbutz came to him with the story of a man who wanted to get married, but refused to listen to the Rabbanut's instructions that he do tevilah for conversion.
The 27-year-old had been hidden in a convent in Europe during the war, but the only evidence that his parents were Jewish was the nuns' word. After the war, the child was raised in a kibbutz, but he was an emotional wreck — aggressive, with no feelings for others.
When he came to see Rav Kook with the kibbutz official, the man was very angry. "I was good enough to fight in the Six Day War, and now I'm not Jewish enough to get married?" he challenged the Chief Rabbi.
In his calm way, Rav Kook sat the man down and began talking softly to him about the Holocaust.
"So many parents prayed for their children, like your parents prayed for you. And yet you've never been able to repay them at all. You've never been able to even make them a cup of tea.
"Now, you have a chance to do what they would have wanted," said Rav Kook. "Before you set up a Jewish home, go the mikveh and declare that you believe in the Creator of the World."
Suddenly, the young man softened and said, "I'll do it."
When he emerged from the mikveh, Rav Kook hugged him and started to cry, and so did the chassan.
"The kibbutz official turned to me in wonderment," recalls Rabbi Fogel. " 'We've spent lots of money on psychiatrists to break through his shell, with no success,' he said. 'Even when his friends died in the war, he didn't cry. And now, the Rav has managed to release his emotion after just a few minutes.'
" 'This rabbi,' concluded the kibbutz official in what could have been a tribute to Rav Simcha Kook's entire life, 'is a miracle-worker.' "
(Originally featured in Mishpacha, Issue 920)
Oops! We could not locate your form.
>