| Family Room |
Simplifized Jr.: Practical concepts to organize the children's room
| June 17, 2020

A
hhhh... The bedroom. A haven, a quiet room to relax, a place for each person to call their own... Wait, that's not what it's like in your home? Read on to find solutions and systems that you can incorporate to create a more blissful space in your children's rooms.
Scenario 1:

Guestroom Double-up

 
Setting 
Shaina Socialstein, age 16, loves having her own room, her space, and her privacy. However, all that comes to an end every few weeks when the Socialsteins host guests. Sometimes it's Shaina's grandparents, other times it's extended family members or even complete strangers needing lodging for a simchah. Each time, Shaina is ousted from her room and schleps along all her personal items. Her jewelry shelf becomes a mess, as everything is pushed aside to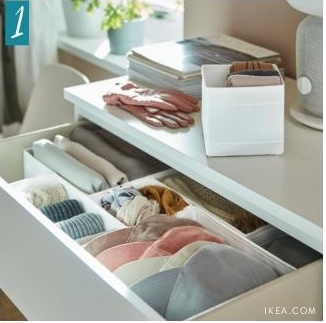 make room for sheitel heads and whatnot. "I even have to empty out some drawers so our guests have space for their things!" Shaina complains. 
Challenge 
To make it easier for Shaina to remove her essentials from her room and put it all back again neatly. In addition, we'd like to create an empty shelf for guests' wigs and personal items, and to give a home to all guest-related toiletries so it's not a scramble to set up the room each time. 

Solution 
Set up the drawers as temporary/permanent homes for Shaina's belongings. How do we do that? 
1. Place containers inside the drawers to make for easy removal. They can then be laid out in a different room until Shaina's room is available again. Then, 1-2-3, place the bins back into their designated drawers.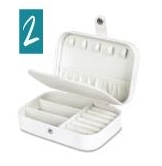 2. A lidded jewelry organizer (Amazon, $13.99) allows Shaina to keep her jewelry on the shelf, and if need be close the organizer and carry it along to her temporary quarters or just push it to the corner of the shelf. 
3. Fill a guest box (mDesign, $15.99) with travel toiletries and place inside a decorative basket along with hand towels and bottles of water. Keep this basket on top of Shaina's closet until it's needed.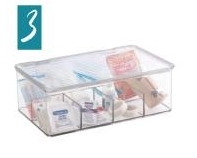 Scenario 2: Short on Space 
Setting
The Farsquished family has been living in close quarters for eight years and has grown into a family of six. With four children sharing one bedroom (a bunk bed, a crib, and a half high-riser), everyone is feeling the lack of space and the subsequent mess. On top of that, the family plans on moving to a more spacious home soon and doesn't want to invest on expensive space-saving solutions. "We just want it to be functional! Oh, and on a budget too…" says Mrs. F.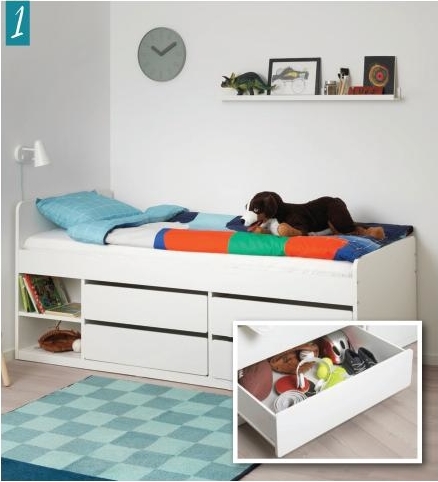 Challenge 
To maximize space in the room and allow Mrs. F. to easily access and maintain clothing and hair accessories that come along with four girls under the age 
of seven, and to satisfy the girls who want their "prizes" visible. 
Solution
The Farsquisheds must sort through everything in the bedroom and eliminate anything that is not in current use, such as out-of-season and between-sizes clothing and extraneous toys that can be stored elsewhere in the home. Once anything that's remaining is deemed necessary, there are a few space-saving solutions that can realistically reshape the bedroom.
1. Replace the half high-riser with a Släkt bed, which comes with under-bed storage (IKEA, $279) for an easy way to maximize the fl oor space. Designate those drawers for items the girls can access on their own such as pajamas and T-shirts (that'll empty out dresser drawers and create instant organization). Then bring the new bed along to the new home!
2. Double hanging space with an adjustable closet hanging rod (Amazon, $14.97). Since the children's clothing is still small, the space below it can easily be utilized.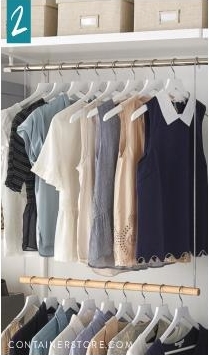 3. Contain those beloved knickknacks and odds and ends. By choosing one size basket per child, preferably one with a lid, we create a limit of how much can be kept. These baskets can be kept on the floor of the closet. "Yay! We can reach our prizes!" say the four Farsquished children.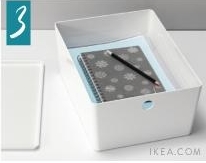 4. A sectional basket (Amazon, $13.99) on top of the dresser is perfect for hair accessories. Decorative, organized, and only Mommy can reach it!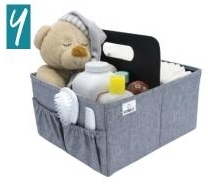 Scenario 3: Playroom Run Amok 
Setting 
Shmueli Shpieler, age seven, spends all afternoon long in the basement, building, crafting, and playing games. He also has his own toys, like Lego and stuffed animals, that he likes to keep separate in his room. With monkeys on the windowsill, elephants on top of the dresser, and cars littering the carpet, his room has begun to resemble a playroom more than a bedroom! Poor Shmueli. "Nothing like stepping on loose Lego pieces at seven a.m.!" he complains. 
Challenge 
To create homes for Lego and stuffed animals so Shmueli's room can function as a bedroom and a neat place to continue playing. 
Solution 
Sort Lego into sets, stack the instruction manuals, and collect all the stuffed animals from every corner of the room, making sure to check under the bed and on top of the closet — you never know where a stray lion may be lurking. 
1. Loose Lego pieces and manuals are best stored in underbed storage containers (nothing too deep!), making that perfect piece a lot easier to find (Homz, $49.98).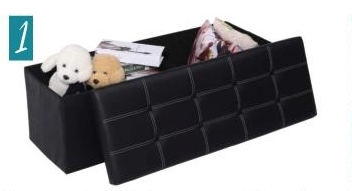 2. Place a free-standing ottoman with storage at the foot of the bed (Amazon, $43). Shmueli can keep only as many stuffed animals that can fit. One or two favorites should be put on his bed.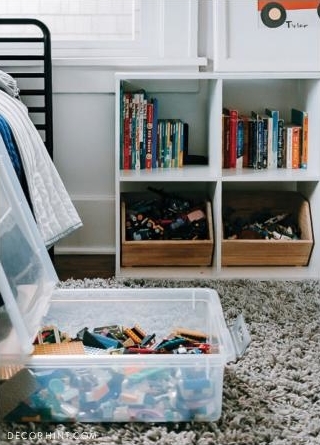 3. Lego sets that are at least partly built should be set on a large tray (make your own for $10 with Lego peel-and-stock base plate from Walmart), which can be placed on the dresser or a closet shelf when not in use and brought out again when Shmueli is ready to play.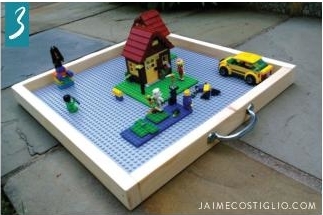 (Originally featured in Family Room, Issue 005)
Oops! We could not locate your form.
>