| Hostable |
Pulled Beef Mini Tacos
| June 3, 2020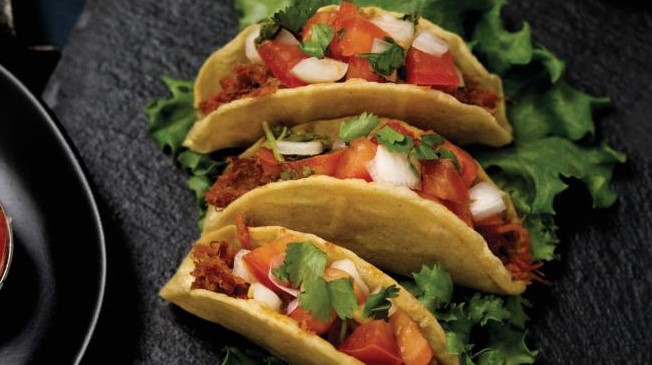 My mother is an amazing cook — a real balabusta with fl air. As a kid, I was almost afraid to help her out. She just seemed to have this understanding about all the tools to use, the ingredients that work and the ones that don't.
As I grew older, I realized that it's just about gaining the knowledge as you go. With my mother's encouragement, I set off to find out that the kitchen was my oasis.
I've learned with time that everyone eats with their eyes. When the food looks appealing, the dish disappears in the blink of an eye. Even basic dishes like salad can benefit from thoughtful presentation — this makes them seem more appetizing.
This dish will wow your guests and have them begging for more, without much effort on your part. I use a cheat sheet for it, Jack's pulled beef with Del Campo mini tacos. The beef is savory and soft and the tacos are oh, so crunchy!
I like to pair these mini tacos with black mini slate cheeseboards from Amazon, which are one of my favorite serving dishes. I dress them up differently each time, usually depending on what I have around the kitchen. You can use lime slices, pico de gallo, guacamole, or even something as basic as spicy mayo to decorate the plate. Some herbs are always a nice finishing touch.
Don't be afraid to try something new and see how it goes! It might seem daunting, but it doesn't have to be much effort.
Serving Tip
Use Jack's pulled beef in meat salads, over mini potato kugels, or on fl at bread. Be creative and plate it on wood boards or white plates. Add some pico de gallo to any of these dishes for some beautiful and fresh color.
Products and Pieces I Love 
Even my mother-in-law is impressed by this dish — don't tell her my tricks. 😉
Pico de Gallo
YIELDS 1 POUND
1 cup finely chopped onion (about 1 small onion)
1⁄4 cup lime juice
3⁄4 tsp fine sea salt, or more to taste
11⁄2 lbs (680 g) ripe red tomatoes (about 8 small or 4 large), chopped
1⁄2 cup finely chopped fresh cilantro (about 1 bunch)
In a medium serving bowl, combine the chopped onion, lime juice, and salt. Let it marinate for about 5 minutes while you chop the tomatoes and cilantro.
Add the chopped tomatoes and cilantro to the bowl and stir to combine. Taste, and add more salt if the flavors don't quite sing.
For the best flavor, let the mixture marinate for 15 minutes or several hours in the refrigerator. Serve as a dip, or transfer carefully to your serving dish to avoid serving too much watery tomato juice with your pico.
Pico de gallo keeps well in the refrigerator, covered, for up to 4 days.
Change it up: Add a diced avocado or jalapeño to the mixture.
(Originally featured in Family Table, Issue 695)
Oops! We could not locate your form.
>