| On Our Own Terms |
Pitzuchei Mashiach  
| September 14, 2021
Pitzuchei Mashiach is a snacker's paradise and so much more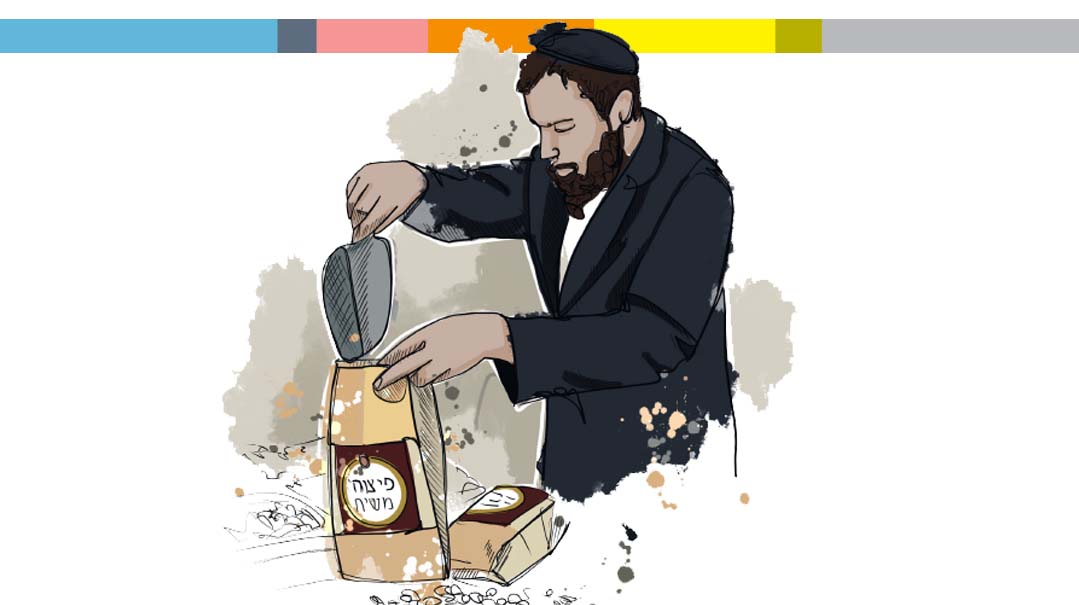 Illustrations: Marion Bellina
Named for: the founder's father
If you've never stopped in Pitzuchei Mashiach, you're missing out on an essential Israeli chavayah.
Fifty-five years ago, Tzvika Baruch opened the first Pitzuchei Mashiach store in Geula at 22 Malchei Yisrael Street, naming it for his father, Mashiach Baruch. Pitzuchim refers to nuts and seeds, a highly popular snack with Israelis on long Shabbos afternoons and really, any time. The store has seen tremendous success, and today Baruch owns four Pitzuchei Mashiach stores in Jerusalem and one in Beitar Illit with a business partner.
Pitzuchei Mashiach is a snacker's paradise and so much more. All products are prepared and packed fresh in the Malchei Yisrael store, and the variety and ambience make a loyal enthusiast out of anyone who steps foot into Pitzuchei Mashiach. The store is stocked floor to ceiling with hundreds of nut varieties, chocolates, candies, spices, wines, halvah, and dried fruit, drawing foodies, wine aficionados, children, and parents searching for Shabbos treats. American bochurim and seminary students scour the aisles for the perfect Shabbos gift, for themselves or their hosts.
Word on the street — and in an open letter to seminary students printed in a frum publication — is that Pitzuchei Mashiach is hallowed ground, best left to black-hatted and yarmulke-topped Yidden, and avoided by American seminary girls, who can have the juice bars all to themselves. But most people are of the opinion that it's open to all, and seemingly, the owner agrees. After all, the chain offers a special discount card for both yeshivah bochurim and seminary students.
(Originally featured in Mishpacha, Issue 878)
Oops! We could not locate your form.
>