| On Our Own Terms |
Maxwell House Haggadah   
| September 14, 2021
The Maxwell House Haggadah is the most widely used Haggadah in the world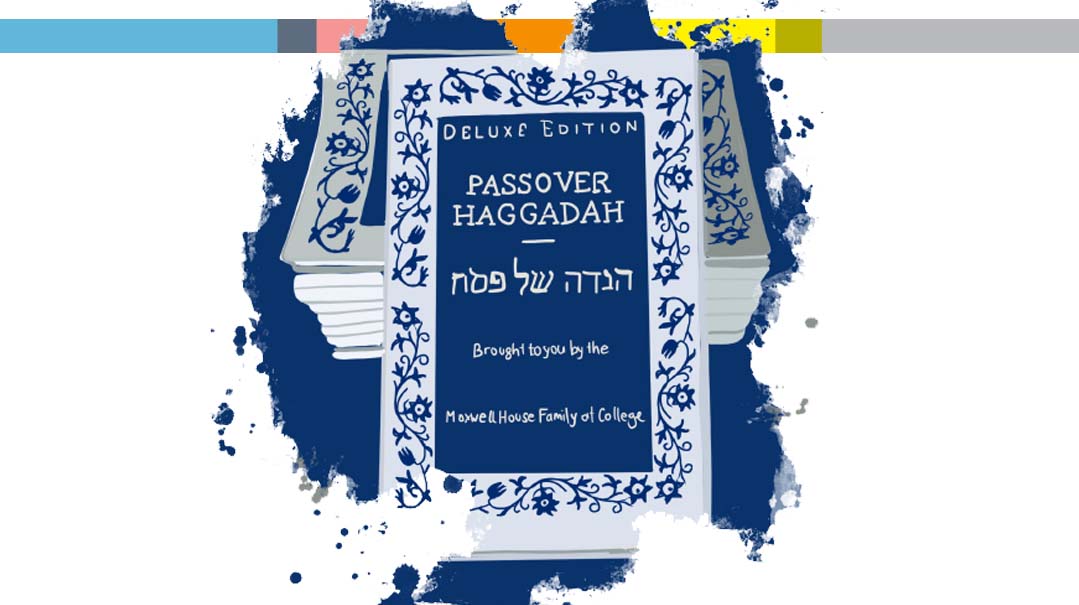 Illustrations: Marion Bellina
Named for: the coffee company that published it as a marketing tool
What would a pre-Pesach shopping trip be without stopping to wonder at the stacks of Maxwell House Haggados piled high near the matzah-ball mix and macaroons at your local supermarket?
These Haggados are a genius marketing gimmick by Joseph Jacobs, an advertising executive hired to promote Maxwell House coffee in the early '20s. Jacobs thought major manufacturers should specifically target the Jewish consumer base to increase business. He worked with kashrus expert Rabbi Betzalel Rosen to ensure and reassure the Jewish community that coffee beans weren't kitniyos — it's a fruit, not a bean — and could be used on Pesach. Prior to this, most kosher stores put their coffee away with the chometz.
Next, Jacobs decided to produce and distribute the first clear, concise Haggadah courtesy of Maxwell House, offered free with a can of coffee. The Haggadah debuted in 1934, and copies made their way to the four corners of the earth, from military bases to secular kibbutzim to Russian refuseniks — all of whom had access to very few Jewish books and cherished the connection to their heritage through this slim, paperback booklet.
The text is credited to Wolf Heidenheim, author of a Hebrew-German siddur produced in the 1800s. English text and transliteration were included in the Haggadah, making it relatable for people from a wide range of Jewish backgrounds. Distribution at local grocery stores around the country made the Haggadah easily accessible and an iconic Pesach tradition.
Did you know
Over 60 million copies have been printed since the '30s, and the Maxwell House Haggadah is the most widely used Haggadah in the world, with more than 4,000 versions in print today. One million new Haggados are printed annually.
The Maxwell House Haggadah is the longest-running consumer promotion in the US.
Slight updates to the text were made in the 1960s, and in 2011 the Haggadah got a full-blown makeover with modern text, images, and graphics.
(Originally featured in Mishpacha, Issue 878)
Oops! We could not locate your form.
>