| On Our Own Terms |
Miami Boys Choir     
| September 14, 2021
On Chol Hamoed Pesach in 1995, 15,000 people attended the Miami Experience 5 Concert at the Nassau Coliseum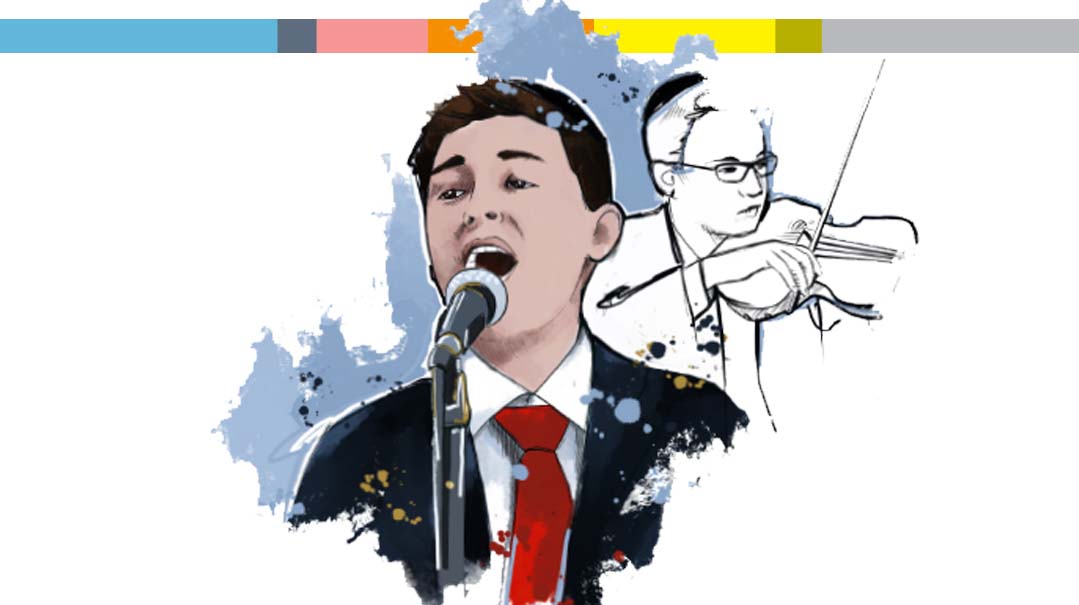 Illustrations: Marion Bellina
Named for: city of origin
Miami Boys Choir, or MBC, was founded by Yerachmiel Begun in 1977 and is still going strong today with Miami Radio, the Yom Tov channel, and live concerts. For those who grew up in the '80s and '90s, hearing MBC brings back more than childhood nostalgia — the rhythms and beats of MBC's well-loved songs release a unique foot-tapping, soul-stirring energy, from their upbeat "Lo Yisa Goy" to the sweet longing in "B'siyata D'Shmaya."
Begun founded MBC in Miami Beach, where he lived at the time,  and although he moved the choir to New York several years later  when he moved to Brooklyn, it retained the name. The choir quickly rose to popularity, and as each album and concert was released, excited fans watched in fascination as the lights shimmered on young performers singing and dancing with classy costumes and choreographed dance moves. Miami Boys Choir became a household name that meant great music and riveting performances.
Miami Boys Choir is most well known for Miami Experience, live shows that often featured several MBC groups. Before Miami Boys Choir, Jewish concerts typically had a lineup of a few performers, so it was unique that Miami Experience featured just MBC. In their earlier years, the choir put out cassette and VHS tapes, and, changing with the times, began selling CDs and DVDs in the '90s. Twenty-first century MBC offers digital streaming, subscriptions, and a range of CDs from the '70s through recent performances.
Bottom line: If your childhood vacation memories don't include sitting around with your siblings, cousins, and neighbors watching Miami Experience on a big screen (or live!) and noshing on Super Snacks, you seriously missed out. But it's not too late: MBC is still recruiting, singing, producing, and performing live at massive venues, with their latest show at the Cure Arena in Trenton, New Jersey, this past April.
Did you know
In 2007, MBC put out its first a cappella album with several generations of choir members.
On Chol Hamoed Pesach in 1995, 15,000 people attended the Miami Experience 5 Concert at the Nassau Coliseum in Uniondale, New York.
Many world-famous Jewish singers got their start in Miami Boys Choir, including Yaakov Schwekey, Ari Goldwag, Yitzy Spinner, and Mordechai Shapiro.
MBC's 2005 album Revach sold over 15,000 copies in the first few weeks.
In 2000, MBC traveled to Israel to perform at various landmarks and holy sites in Jerusalem to produce their album Yerushalayim Can You Hear Our Voice, featuring soloists Duvie Shapiro, Chanina Abromowitz and Isaac Benishai, among others.
(Originally featured in Mishpacha, Issue 878)
Oops! We could not locate your form.
>