| On Our Own Terms |
J2 & BJ2 Pizza
| September 14, 2021
The NYC Daily News called BJ2 pizza the best pizza in New York City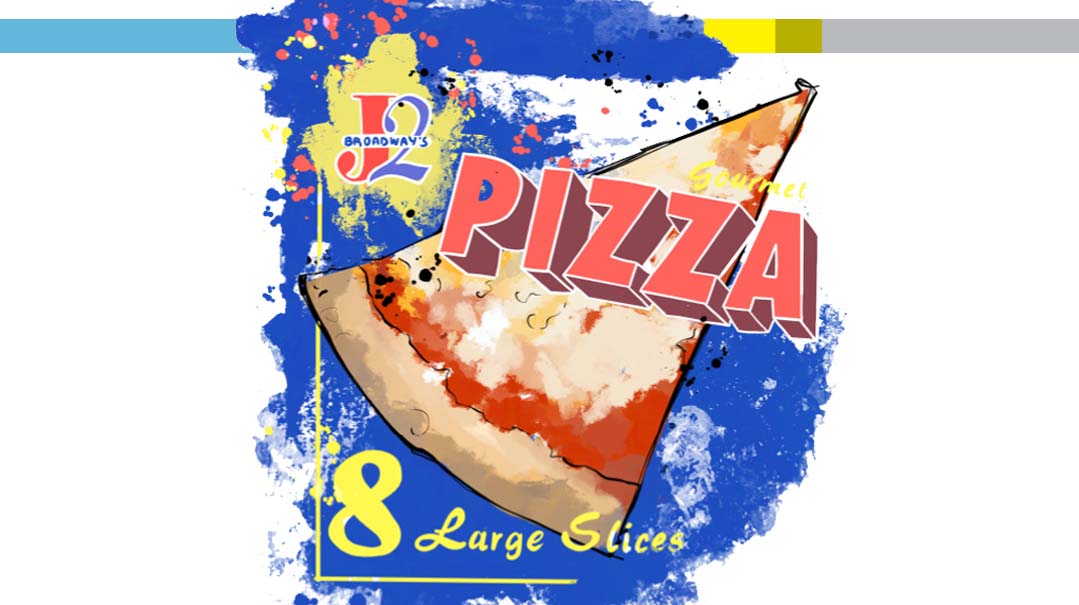 Illustrations: Marion Bellina
Named for: a yearning for Yerushalayim, of course
It's hard to find someone who hasn't heard of Broadway's J2 (BJ2) Pizza in Manhattan. The original Jerusalem Pizza was located in Far Rockaway, New York, named by its Israeli owner for his homeland. In the early '70s, Eddie Fishbaum bought the floundering pizza shop. With the help of his brother Ari a"h, Fishbaum worked hard to turn the restaurant around, bringing in local yeshivah bochurim to create murals of the 12 shevatim on the freshly painted white walls. After a year, Fishbaum handed management over to his brother Ari and rented a shop on Avenue J in Brooklyn that he called "Jerusalem 2."
But Fishbaum wanted something even bigger and better, and he had his eye on Manhattan. In 1974, he leased a storefront on Broadway and 36th street and opened Broadway's J2 Pizza. Five years later, BJ2 had outgrown its space, and the pizza shop moved to a location that could host hundreds of diners at a time.
Word spread quickly, and BJ2 became the go-to spot for nearby fashion industry (NYC garment district) workers and anyone who wanted to enjoy great food and great vibes. On a typical weekday, BJ2 served 1,500 to 2,000 people; busy days saw upwards of 3,000 customers passing through.
Singer Sandy Shmueli, Fishbaum's friend, hosted a kosher nightclub with him on the mezzanine level called "Upstairs at J2." He would bring in world-famous Jewish singers from Israel such as Avi Toledano and Svika Pick. On many Saturday nights, Shlomo Carlebach would come into BJ2 to see his friend Fishbaum, often sitting upstairs, telling stories and singing a song or two, kumzitz-style.
"Eddie was a great operator, and he had great products," says Shmueli. "People would come from all over to J2 — from Brooklyn, New Jersey, the Bronx."
At one point, Fishbaum opened the freight area on Saturday nights to add more seating — and there would still be a line out the door. Word on the street was that BJ2 pizza was worth the wait.
Fishbaum kept thinking big, and he found a way to ship his pizzas around the world. With his wife Shainy handling the marketing, Fishbaum continued to see great success with BJ2. His "flying pizza" concept really took off when the Associated Press picked up a front page news article from Calgary, Canada, titled "Hungry Rabbi Receives Flying Pizzas" accompanied by a photo of Rabbi Jonathan Sacks receiving ten J2 pizzas in the mail.
Shortly after that, an AP photographer showed up at BJ2 and announced that he had been on his way to photograph the Clintons at the Hilton but was rerouted to J2 to pick up the story. Fishbaum fed him a hot slice of pizza and showed him the FedEx boxes the pizzas were shipped in.
The boxed pizzas business was a hit, and in 2000, Fishbaum sold the BJ2 shop and focused on making his boxed pizzas in a much larger Brooklyn factory. Several years later he retired, handing the reins of the BJ2 co-packing business to his son Doron, who continues to make sure people around the world can enjoy a hot slice of BJ2 pizza any time they want.
Did you know
The NYC Daily News called BJ2 pizza the best pizza in New York City.
Eddie Fishbaum and BJ2 earned recognition from the Guinness Book of World Records for delivering a kosher pizza to a customer in Osaka, Japan. A few years later, BJ2 delivered a pie to Path, Australia, exactly halfway around the globe from New York City.
Famous customers included Abba Eban, Jackie Mason, and David Letterman, who had Fishbaum as a guest on his show; as well as Kirk Douglas and Larry King, who ordered their challos for Shabbos from the BJ2 bakery.
(Originally featured in Mishpacha, Issue 878)
Oops! We could not locate your form.
>