| Lifestyle |
Package of Joy
| August 14, 2019
Today, many families are opting for packages that won't wipe them out

In Israel there's a famous joke — if you hear an ambulance siren, you say "Mazel Tov," because either someone's having a baby or someone's marrying off a child. But does making a wedding really have to give the mechutan a heart attack? Today, many families are opting for packages that won't wipe them out
"I would say that 80 percent of Lakewood opts for takanah weddings today," says Shloimy Friedman of Lakewood, New Jersey. "Even people who could afford a very lavish affair will make a takanah wedding, in order to help set the tone and convey the message that there is nothing to be ashamed of in making a modest simchah. These wealthy families may go on to spend triple the cost of their chasunah on Shabbos sheva brachos, when the participants are more limited and private; it's about helping set boundaries for the night of the wedding. Lakewood has become such an attraction for baalei simchah that people come from other cities to make a chasunah here."
In Montreal, the difference between the takanah plan and the standard prices is significant. "Ninety percent of people use our wedding plan, which ranges from $13,000 to $19,000," says Mrs. Ettie Oberlander, who runs a takanah package called "The Royal Wedding Plan." "One person who didn't enlist us told me her wedding cost exactly double that of our higher-end plan."
The package covers what Mrs. Oberlander describes as a very balabatish affair and, since being introduced, it has brought down the general standards of weddings in Montreal so that things have become much simpler.
"When I married off my eldest 18 years ago," she says, "the caterer alone cost me $20,000, the price of our top-plan wedding today. And if that wasn't enough to break the bank, we got a bill a few weeks later of $11,000 for the rental dishes used at the sweet table! Granted it was a higher-end affair, with ice sculptures and waterfalls, but that was the norm then. So today everyone's thrilled with the status quo."

The yeshivah-based community of Gateshead has developed its own approach to keeping down wedding costs — a unique system that allows everyone a share in the simchah. As a small 600-family yeshivah-oriented community, there are not enough families in town who can afford to support a full-time caterer. So Gateshead has an established, if envious, system whereby a ladies' committee cooks the wedding meal in an exclusive commercial kitchen, charging cost price for everyone — no matter their status — with the opportunity to upgrade the menu for an extra charge. More recently, further subsidies are offered if a wedding is smaller than 300 couples.
Gateshead's system of "one for all" extends to the single wedding hall (a new one is nearing completion). "Although our menu is prepared and cooked by volunteers — assisted by high school and sem girls — the end product is as professional and well presented as any caterer's," says a volunteer cook. "The only critique we ever got was that someone had burned her tongue on the soup — and we took that as a compliment for our efficiency!"
Gateshead residents might feel comfortable in traditional chareidi circles in Israel, where the standard wedding is quite simple, and even those with means take pride in a restrained affair. "Most people, at least in my circles, don't have the means to go lavish, nor would they even want to," says Rochel Greenzweig, a mother of eight marrieds from Jerusalem. "Making a low-end chasunah is something baalei simchah are actually proud of. On the contrary — a fancy chasunah is sometimes even poked fun at. Many people have a trimmed-down seudah after the chuppah for family and close friends, and then the big crowds come later for dancing and a nosh at the bar.
"For one of my children, I will admit, the mechutanim wanted to go all out — but it was at their expense. My friends gasped when they came to wish me 'mazel tov' — they couldn't believe that simple me pulled off this lavish affair, and I was actually a bit embarrassed by the whole thing. I told my friends, 'Don't worry, I'm a guest here just like you.'
"Just to show how people really don't care, I was at two weddings recently, made by two sisters who happen to be relatives of mine. One was a high-end affair at City Tower in Ramat Gan, where rich VIPs make their weddings, and the following week, the other sister made a wedding in the subsidized Gutnick Hall in Jerusalem. Same crowd, same joy, just as beautiful a kallah — no one cared."
Buenos Aires, Argentina, is a smaller community with fewer weddings, and these rare occasions become community celebrations where everyone takes part. It's understood that you have to invite basically everyone — and they all feel personally invested enough to come. But with recent growth, paired with the country's current economic crisis and the very low salaries, baalei simchah are feeling the pinch.
A "simchas chassan v'kallah" arrangement that limits sit-down guests and allows for unlimited drops-ins would seem like a perfect solution. Can it work? "I don't see it happening so soon," says Mrs. Rivka Gunblatt, a Chabad shluchah in Beunos Aires. "It seems that baalei simchah are embarrassed by how they will be viewed. Also, they're worried about hurting other people's feelings."
It's a shame, though. "Celebrating this way would give an opportunity for everyone to take part in some way, without putting undue stress on the baal simchah. Meheirah yishama."

So How Much Will It Cost?
We tracked down prices for average and, where applicable, takanah-based simchahs around the world so you can crunch the numbers yourself.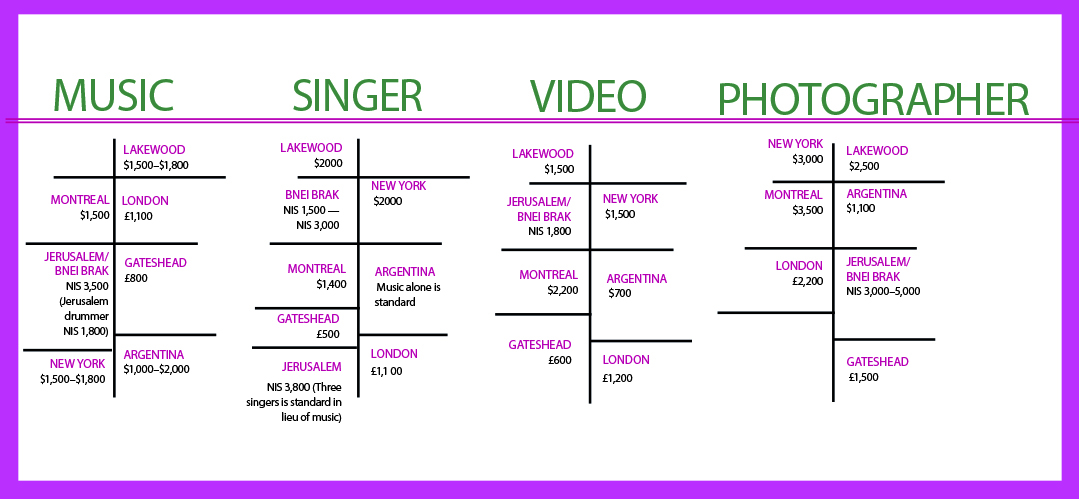 Hall & Catering
"To spare you legal costs, read your hall's fine print beforehand — even though it can be six pages, double sided. Something as trivial as throwing confetti can earn you a fine of up to £1,000 if prohibited. Don't expect that the service providers will be liable for damage, such as a short circuit or floor damage, even though they have insurance — it's the baal simchah who signs the contract. Case in point: A caterer's wash station tub broke and the water spilled and flooded the lavish carpet. The hall sued the baal simchah — not the caterer — for £17,000. The client had not taken out insurance and ended up having to pay most of that cost out of pocket."
—Moshe Davis, events coordinator, M&C Events, London
"There's a new trend in Bnei Brak and Jerusalem — to use heimishe waiters and waitresses instead of young people whose conduct and attire can compromise the kedushah of the simchah. They are hired through a private business, not the caterer, and come with an added price for the baal simchah (NIS 7.50 per portion).
The whole concept is a matter of taste, though — and not everyone is comfortable being served by a familiar face from the community, someone who might otherwise be a guest there. Still, it's becoming increasingly popular in chassidishe circles, and those who have opted for it say that what their simchah may have lacked in finesse, it gained in sanctity.
Then again, the uniqueness of an Israeli wedding — with clunky baby strollers and toddlers as VIPs in the hall — is not about finesse anyway. It is about pure joy with a focus on the most important element, the building of a holy binyan adei ad."
—Rochel Greenzweig, Jerusalem
"Using the services of an event coordinator enables you to come as a headache-free guest to your own affair. People think it's an extravagance, but you actually save — as opposed to spend — extra money. An event coordinator has the right know-how and connections that work to the client's advantage, like upgrading even the simplest hall and menu for much less than taking an upscale hall to begin with, saving you thousands of dollars. A ritzy hall I called recently charges NIS 180 for a standard menu, whereas a very upgraded menu in a standard hall — which the fancier hall does not even offer — comes out to NIS 130. The difference is so glaring that people tell me, 'If this is the service and class we get here, why do we need that high-end hall?'
"Tip of the day: Waiters expect a tip of around NIS 2.5 per portion, which is often added to the cost of catering. Put away the tip money before the simchah, and stick to it. Waiters might try to squeeze more from you when you are exhausted after the chasunah."
—Chaya Stern, Events coordinator, C-Hafakot, Bnei Brak

Flowers
"I went all out with flowers at my daughter's wedding. As a florist, you might say I'm entitled! The flowers were specially grown from the day she got engaged and, of course, I got everything wholesale from Holland. The supplier, whom I give continued custom, even gave me £9,000 worth of orchids for free. But still, with all my protektziya, I had a budget and I stayed with it. Fresh flowers are expensive, even wholesale. People should realize that flowers are a luxury item and not something you have to have."
—Miri Moses, Florist, Flowers by Miri, London

Photographer
Video
"Living in an ir Torah like Lakewood, I have had the zechus of photographing Torah giants at their family simchahs. I photographed the wedding of Rav Avigdor Miller's grandchild. I'll never forget how this humble gadol stayed behind, alone, in the yichud shtieb waiting patiently for the family pictures that he knew would follow. He knew what the pictures meant to the chassan and kallah. He said nothing while waiting — besides his lectures, he was not a man of words — but that action spoke volumes."
—Yossi Tesser, Tesser Studios, Lakewood

Music
Singer
"The Minchas Elazar wrote that the music at a wedding has the power to bring an elevated level of simchah to the chassan and kallah. With such a hashpa'ah, it's therefore important that the music have a true Yiddishe taam. Rav Shmuel Kamenetsky, rosh yeshivah of Philadelphia, came over to me after he heard my band perform Avraham Fried's 'Aderaba,' a song with a profound message of ahavas Yisrael, and told me, 'Yasher koyach, I don't know if everyone heard what you were saying but I heard every word of the mussar shmuess.' "
—Shloimy Friedman, Shloimy Friedman Productions, Lakewood
(Originally featured in Mishpacha, Issue 773)
>