| Lifestyle |
Bread, Milk, and Belonging | October 10, 2019
We looked around the Jewish world and found some beloved mom-and-pop shops that are still holding their own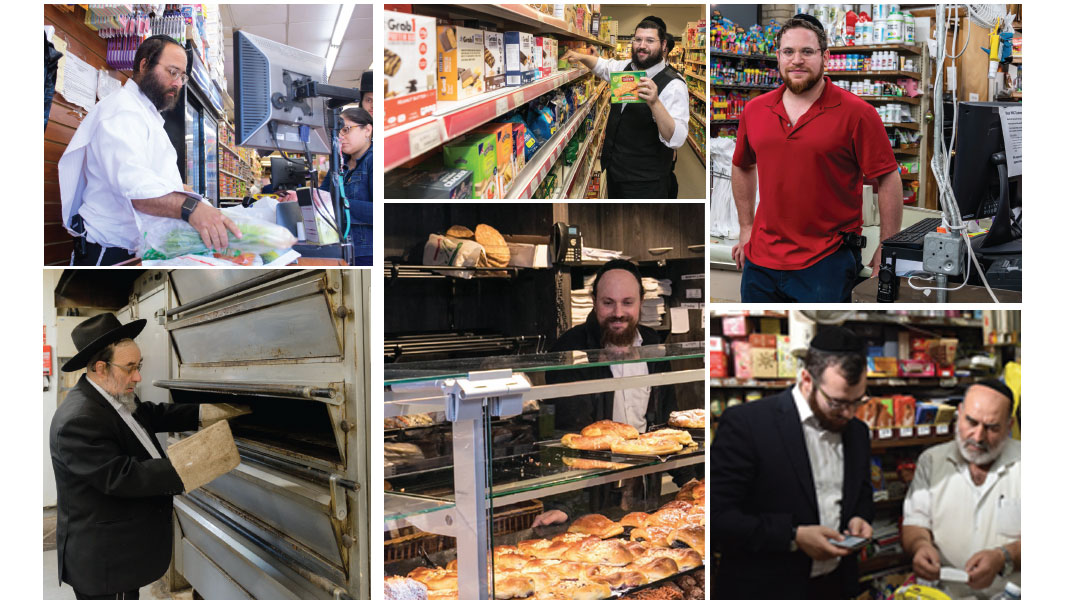 Project Coordinator: Gedalia Guttentag
Sanhedria
Small Store, Big Heart — Yechezkel's Makolet Est. 1977
By Gedalia Guttentag | Photos: Pinchas Emanuel
"Everybody loves Yechezkel — he's a fixture of your life," says a distinguished-looking Yerushalmi customer paying for his morning bread and cottage cheese.
"Tell you about Yechezkel?" asks a young chassidic man with a mischievous grin. "All you need to say is Yechezkel — that says everything."

It's Tuesday morning, and the customers who've made their way into the cave-like entrance of Yechezkel's makolet in Jerusalem's Sanhedria neighborhood immediately notice something unusual.
This little superstore-in-a-box has stood virtually unchanged for more than four decades. Rows of dusty wine bottles rub shoulders with shampoo, and boxes of half-a-shekel candies beckon children at eye level, as they called out to their parents a generation ago. But in all 43 years of his reign, no cameraman has ever disturbed the orderly chaos that is Yechezkel Daliah's makolet, and the customers are eager to share their thoughts about the man behind the desk.
In a world of soulless supermarkets, gleaming stores with sushi counters and wine-tastings, one small makolet holds out against the tide of so-called progress. Spurning the relentless rise of silicon, Yechezkel manages cash flow on rolls of paper, Rolodex cards, and brain power. Crusty yet kindly, he's already onto his third generation of customers.
Part grocery store, part social hub, part chesed empire, the best way to define this place and its owner is in the pithy words of a shopper on the run. "Yechezkel? He's family."
(Excerpted from Mishpacha, Issue 781)
Gateshead 
Come Rain or Shine — Stenhouse Est. 1940
By Yoni Klajn | Photos: Ruskin Photograhy
The shtetlach of prewar Europe, with their distinct character and charm, may have long been consigned to the annals of history, but in the northeast of England, Gateshead might be the last remaining vestige of that model.
Home to close to 600 families as well as numerous yeshivos and two seminaries, it is devoid of the trappings of typical Jewish communities. Restaurants? You're in the wrong place. A gourmet kosher shopping experience? Try London. This is a town where the mesorah is staunchly upheld and the legacy and vision of its founding fathers live on, strong as ever. They were unyielding firebrands, people who put their Yiddishkeit first and material comforts an unquestioning second.
And, nestled at the heart of this small but vibrant hamlet, sits the original grocery shop and bakery, Stenhouse. If you're on the hunt for an old-time grocery store with a story to tell, you've hit the jackpot.
That small-town feeling hits you the minute you cross the threshold of this store. Sitting behind the checkout across the aisle from where boxes of tuna cans are piled high alongside cartons of mayonnaise, a short man with a graying, bushy beard and hat firmly fixed on his head taps away at the screen as he processes an order. This is the proprietor of 30-plus years, Mr. Rabinowitz, known simply as Tully by young and old alike.
A Gateshead veteran, Tully is a man whose kevius ittim l'Torah is sacrosanct and whose avodas hatefillah is suffused with sincerity and good old Yiddishe taam.
That sincerity and sense of purpose extends itself to the way the Rabinowitzes run the business too. A choleh's family will find a delivery of bags bursting with food on their doorstep, gratis; elderly patrons with limited mobility get their choice of weekend newspapers delivered to their door on Erev Shabbos, their Shabbos reading taken care of by the proprietors. And although the shop has modernized and expanded over the years, it has never been at the expense of its old-time charm and personal touch.
(Excerpted from Mishpacha, Issue 781)
Antwerp
Minding the Store — Hershkovitz-Katz  Est. 1981
By David Damen | Photos: Daniel Benjamin Photography
Reb Yechiel Hershkovitz, clad in his blue overalls, still personally arranges products on the shelves, checks price tags, supervises lines at the cash registers, and does everything to make his supermarket operate with maximal efficiency.
Despite the massive size of his store, with its tens of thousands of products and seemingly endless lines of shelves, Reb Yechiel operates as if he were still running the tiny makolet he opened 38 years ago. He still maintains the homey atmosphere and personal relationship with customers that characterize a small communal grocery store. He knows each of his customers, knows when to extend a mazel tov and when, chalilah, to offer condolences, and also when a customer's financial situation isn't very good.
Hershkovitz, a Belzer chassid, grew up in Rehovot, but moved to Antwerp after his marriage to Miriam (née Katz). When he decided to leave kollel and enter the workforce, he considered trying his hand in the diamond industry, but it was already showing signs of decline. That's when he got the idea to open a makolet.
His father, Rav Pinchas Zelig a"h, was a bit nervous about that idea, and went into the Belzer Rebbe for advice. "The diamond industry is not for your son," the Rebbe told him. "He'll have parnassah from a different source. Each person is born with his bread in his hands."
Reb Yechiel took that answer to its literal level. Now he sells bread (and other baked goods from the Kleinblatt bakery), literally walking around "with his bread in his hands."
(Excerpted from Mishpacha, Issue 781)
Williamsburg
Like a Personal Pantry — Lee Gardens Supermarket  Est. 2002
By C.L. Hershkowitz | Photos: Naftoli Goldgrab
The sun has not yet risen as Williamsburg slowly awakens from its slumber. Men and teenaged boys hurry to shul for the early minyan. School buses rumble toward their first route of the day. Beyond the windows and doors of large, sprawling apartment buildings and four-family houses are the muted sounds of mothers and schoolchildren in various stages of wakefulness.
On Flushing Avenue, just off Lee Avenue, Menachem raises the iron shutters of Lee Gardens Supermarket. He unlocks the front door, turns off the alarm system, and starts setting up the grocery store for the day. He knows the drill by heart. The first customers of the day will undoubtedly be the high school girls grabbing bagels and chips as they rush to school. Next will come the working men and women fortifying themselves for their long day. By ten o'clock, the school buses will have finished their rounds, and mothers will troop in to fill up shopping wagons with produce, baking ingredients, and staples to fill their pantries. Tuesdays are relatively quiet; on Wednesdays the store is a madhouse; Thursdays are extremely busy; on Friday you cannot move an inch without jostling the scores of men and boys doing last-minute Shabbos shopping. And no matter the day of the week, as the clock inches closer to three o'clock, when the preschool buses return their precious cargo home, the frenzied rush by harried mothers racing to beat the clock intensifies.
Menachem may be the manager of the store, but Mr. H. Prero, an affable Klausenburger chassid in his forties, is the real force behind its success. He helped establish this grocery store 17 years ago, and is still running it with equal doses of professionalism and heart.
(Excerpted from Mishpacha, Issue 781)
Chicago
Absolute Trust — Kol Tuv  Est. 1987
By Beth Perkel | Photo: Raya Zigun Photography
Devon Avenue is a street in Chicago that literally spans land, sea, and air and links three of the city's largest old Jewish neighborhoods. Stores have come and gone over time, gracing the avenue with smells of steaming cholent, fresh challah rolls, and at one point, even kosher Chinese food, but most of these aromatic delights have wafted away with time. A small heimishe grocery store smack in its center is one of the few vestiges remaining of the bustling Jewish life that once was Devon Avenue. From the outside, it is a rambling stretch of several storefronts pieced together over the course of three decades under a unifying blue awning bearing the simple, yet cheerful name of "Kol Tuv."
Every inch of the store is crammed with products: Shabbos lamps peek out from the top of a refrigerator filled with deli, and bug-checking light boxes watch over the pickles. Bottles of Jack Daniels crown the hummus-and-dips fridge, and spelt flour and organic coconut milk powder somehow don't seem like foreigners right around the corner from the candy bracelets and fizzy straws. Jewish music wafts in peppily from the stained ceiling boards.
The store space has grown over the years as neighboring storefronts were abandoned, and Kol Tuv annexed them to its empire of everything heimish.
(Excerpted from Mishpacha, Issue 781)
>