| Family First Feature |
New Toys on the Block | March 25, 2020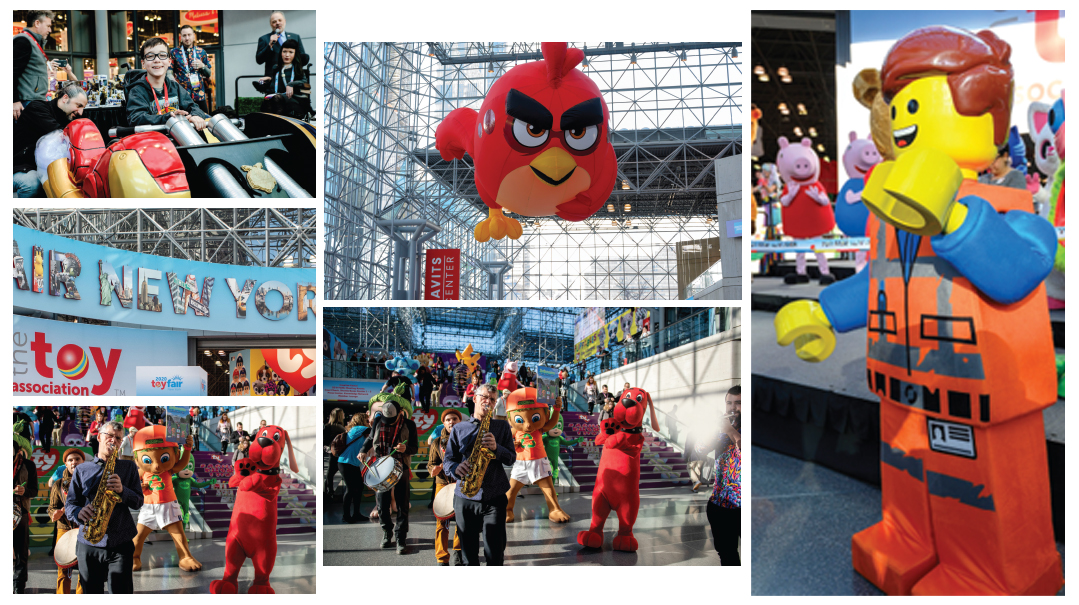 The business of play is large — as in $27 billion in the US alone — and the New York Toy Fair is the place to explore it. The largest toy trade show in the Western Hemisphere, it's the place to find the latest releases, check out current trends, and make useful business connections.
It's not open to the public, but luckily, there's an intrepid reporter with really good walking shoes prepared to suffer a day of play for your sake. It's a tough job, but somebody's gotta do it! That is, if they can get past the first challenge: registering for the fair.
Attendees must submit multiple credentials for approval, and I was attending with two different hats: business and press. So yes, I would have loved to bring you with me, but no, I couldn't.
And the Winner Is …
The Toy Fair takes place in the Javits Center, which occupies six blocks' worth of space in New York City. I checked in at the automatic kiosk, affixed my very official-looking badges onto sponsored lanyards (Ty and Crayola, in case you're wondering), and accepted my sponsored tote bag. (Also from Ty and featuring sequined slippers and improbable animals with unicorn horns. I have yet to comprehend this trend and wonder what you call a horned lion.)
There are a few sample toys rattling around the bottom of the tote, which I mentally assign to appropriate family members. But the Toy Fair isn't sample-heavy — the totes are more for catalogs and order sheets than loot.
I hurried down the stairs — time was a-wastin'! — but I paused at the wall of TOTY winners. That's Toy of the Year, to the uninitiated. Then I pouted, because almost all of them are licensed, and I tend to avoid character-themed products, both for the toy store I manage and in my writing. In our world, being associated with a specific digital or TV-themed trend limits the market instead of expanding it, and small toy stores can rarely compete with the corporate giants for pricing of licensed items.
But for the curious, here's an overview: L.O.L. Surprise! won three of the multiple categories, including Doll of the Year, Collectible of the Year, and overall Toy of the Year, each with a different product. (If your kids have been bitten by the bug, you'll understand.) Baby Shark was License of the Year, and their Song Puppets won Plush of the Year. (Another bug to avoid. This one's an earworm.) Lego won three different categories, too.
Game of the Year went to Pictionary Air, which involves drawing in the air with an electronic pen. Teams see the "invisible" drawing on their smartphones or tablets and guessing proceeds like classic Pictionary. Yeah, it's cool, but it's also exceedingly muktzeh and unlikely to catch on with my Lakewood-based market. Also super cool, but requiring smartphone use, is WOW Stuff Collection's Harry Potter Invisibility Cloak. No, it won't make you disappear in real life, but the matching app will make it appear that you did on screen, which makes for some pretty cool video possibilities.
I do some disappearing myself and set off in search of awesome stuff to share with the frum world.
Launch Time
I've been to the Toy Fair before, so I know how easy it is to get lost in the maze of folding-table booths. That's why I map out where I need to go, highlighting destinations of interest — and then completely ignore my map. Hey, I'm a kid in a very large toy store. Don't judge me!
I did follow my plan to begin at the Launch Pad. This section is reserved for new vendors, and it's a great place to scope out what's doing in the world of toys. It's also a curious mix of fancy-schmancy, professionally staged, extra-large display "booths" and little 6 x 6 booths displaying new and innovative but not-yet-large-scale products. That mix is echoed in other sections too, but here, the little guys are even scrappier.
I was surprised to find multiple European companies looking to expand to the American market, because Asian contributors are more common. We associate European toys with classic quality, and I wasn't disappointed. The toys I saw were attractive, minimalist, and beautifully crafted.
I was particularly impressed by Gigamic, with their gorgeous, solid-wood strategy games, and Scratch Europe, which has some of the best quality children's puzzles and games I've seen. I loved their magnetic puzzle line — two small puzzles in a sturdy magnetic folder, perfect for travel.
I was also really excited by I'm A Girly, a line of trendy 18-inch dolls with — get this — long, gorgeous wigs, perfect for styling play. They're not heat safe, but the length and ability to switch the wigs out means that aspiring sheitelmachers can experiment with cutting as well as styling. They're also not cheap (roughly $135, and extra wigs range from $20 to $35), but I can see these taking off as a popular afikomen or Chanukah present. Unfortunately, they won't be available in the US until later this year.
There's also a range of styling heads (around $100) with extra wigs available (about $45) called I'm A Stylist. These are made to be used for makeup as well as for hair. The newly introduced I'm A Wow line features more affordable 14-inch dolls. The hair on these is not removable, but it's photosensitive and will change colors in the sunlight.
STEM is still a huge trend, and I was delighted to see a crop of kits clearly marketed toward girls. STEM stands for science, technology, engineering and mathematics; all are famously neglected subjects in the American education system, but very stylish in toy design. A lot of the STEM products I saw made a point of including a crafts component, even the ones without pink packaging.
Crayola, for example, introduced a range of science kits — space, liquid, and paper flowers ($20, age 7+). I particularly loved the "Just Add" kits from Griddly Games, which combine crafts and science activities. Each kit is centered around a different household ingredient, like the "Just Add Baking Soda" box, which includes supplies and directions for 18 different activities, including invisible ink and DIY clay ($20-$30; price and age vary per kit).
There were also a lot of toys and games that involved apps. PIXIO is an addictive kit of tiny, colorful magnetic cubes; their app provides directions and diagrams for building different structures and worlds. Komarc's games use apps instead of spinners or dice, but they get major points for also including cards, so they can still be played on Shabbos. (Or during the week, if for some strange reason you choose not to give your children unlimited access to Internet devices. Seriously, I was starting to feel a bit left out at this point.) Check out their Shoppin' Blowout for a find-and-grab game that will appeal to a wide range of ages. (Price not available.)
After exploring the Launch Pad, I headed out to see what my favorite, more established companies were introducing. But first I went back to the coat check. There are only so many catalogs my poor shoulder can handle. Good thing multiple companies were handing out tote bags for the next batch!
From Brainy to BUILDZI
Fat Brain Toys, with its tremendous range of innovative products, knocked my socks off. I've been searching for stimulating-but-not-electronic baby toys for a while, and Fat Brain has an impressive line. Their toys are carefully engineered to include movement, colors, and appealing textures. The InnyBin ($25, 10 months+), Shape Factory ($25, 2+), and Wobble Run ($20, 12 months+) were particular favorites. Yes, I know there are cheaper options available. But I'm an avowed penny-pincher, and I still stand by the recommendation.
For older kids, I adored Jixelz, which aren't new on the market but were new to me. The idea is similar to Perler beads, but the colorful "pixels" are shaped like tiny puzzle pieces, and there's no iron required. The pieces fit together tightly enough that you can lift the finished creation, but they can still be disconnected easily. That means they're reusable — and since you connect them as you work, there are no tantrums when someone jostles the table (starting at $10 for a two-project pack, 6+).
I made it a point to visit my current games suppliers too, and my first stop was FoxMind, makers of Bermuda Pirates, Stinker, ConeZilla, and Match Madness — some of my favorite games on the market. They invited me to join them for a few rounds of their newest releases, which is pretty typical at the Toy Fair. As awkward as it is to play games with strangers, it's the best way to get a feel for a product. So I donned my professional persona and jumped in.
We started with Kabam!, a visual-perception-and-reflex game that has you make a series of odd sound effects as you match icons on cards ($15, 7+, 2-6 players, available this summer). Fun and smart, but not very dignified. And I, my dears, am very dignified. (Ignore the laughing sisters. And husband. And friends and parents and… They're just jealous of the fact that I play games and write wacky stuff for a living.)
I also very much liked Tac Tac Jack — think Jenga, but with a lumberjack theme, axes, and pieces with negative points. It's hard to describe, but easy to understand, and even easier to play. It's also one of those games that your five-year-old child can play, but your 12-year-old will be happy to join ($25, 5+, 2-7 players). Selfie Speed ($25, 6+, 2-4 players) was another quick-to-learn, quick-to-play, great-for-all-ages option — and the rep made sure to let me know that it was designed by their Israeli sister company. (That was the first of many such pronouncements. Israelis are an innovative bunch.)
TENZI Games was my next stop. These guys seem incapable of producing anything that won't win awards, and their BUILDZI, which will be out in a few months, seems to be a sure bet for more. For the uninitiated, they produce the insanely popular SLAPZI — seriously, go buy it — along with the classic TENZI. BUILDZI involves colorful wooden pieces in Tetris-style shapes and arrangements; as always from this company, it allows for multiple game formats and levels of play. The party game variation was a particularly smart touch — and a challenge to my communication skills. I lost to the company rep but beat the nice toy store owners from Los Angeles who joined our game.
Flip, Stack, Bounce
Jabuka, a smaller company, is another winner. If Anagrams and Crazy Letters (both great games) had a baby and raised it in the local Starbucks, that baby would be Jabuka ($20, 8+, 2-8 players). I admit I absolutely love word games, but this is no fusty old Scrabble or Boggle. Is that letter an "m" or a "w"? Whichever you like. That bean with the two-letter combo could be "ng" or "bu," which is why when I steal your word and flip some letters and add an "a," your word "but" becomes my word "fang." (If you got that, wanna play?)
The company Jabuka has a bit of a hipster vibe, which may explain the coffee-bean game pieces. It's also won an impressive collection of awards for a game released only a year ago, and it's a great option for word game enthusiasts.
Blue Orange (makers of the notorious Dr. Eureka) had some great new offerings. Cupcake Academy ($20, 8+, 2-4 players) is yet another game where you race to have your pieces arranged to match a card, but in this version, players work together to beat a timer instead of the other players. I'm curious to see how a collaborative game does with the frum market. I certainly found the game play interesting, and it might be nice to see kids collaborating and communicating instead of competing. Just don't tell them that's what they're doing.
Slam Cup, on the other hand, is super competitive and super speedy. Players race to get rid of their cups by matching the inside color of each piece with the outside of whichever cup tops the communal stack. It sounds like yet another cup-stacking speed game, but I liked the focus and reflexes required to respond to the constantly changing stack ($18, 6+, 2-4 players). This one will appeal to a wide range of ages, especially because each game takes just minutes. And yes, I enjoyed playing it even though I was competing against three Blue Orange reps and wearing wrist braces. (Don't ask.)
Fish Club ($20, 5+, 2 players) may be for little kids, but I'll freely admit that I enjoyed playing it — and that's an excellent sign for mommies everywhere who hate Candyland. Think Connect 4, unchained. There are no neat little rows and columns here. The goal is to have five pieces touching each other in any arrangement, but the pieces shift every time another fish is added to the board. And they bounce! So, there's an element of skill and strategy, but enough left to chance that your littles can win even without you rigging the game.
Apparently, Blue Orange also has an Israeli game designer, and I'm beginning to wonder if someone tattooed a Magen David on my forehead when I wasn't looking.
Top Toys
I head over to Melissa & Doug. Like many of the big-name manufacturers, they'll allow you in only by appointment, and it's time for mine.
The "booth" is essentially a mini toy store. Every Melissa & Doug item already available, and some that haven't yet been released, is on display. This particular toy store, though, features a snack bar and coffee station and mini bar tables. I hoist myself into a chair with a grateful sigh.
I love sitting. I should do it more often…
I love Melissa & Doug. They produce a huge variety of top-quality toys without pandering to electronic or licensing trends, and they have great customer service. Also, their hold music is always a feel-good classic like "The Lion Sleeps Tonight."
Unfortunately, I do have to stand back up to explore the stuff I came to see. This year, they've released a tremendous number of new products. The Poke-A-Dot books ($12.99, 3+) add sensory feedback to the classic counting and color stories for kids (they feature little plastic circles on every page that "pop" when you poke them). Magnetivity ($25, 4+) sets are an awesome riff on the ol' magnetic tiles, with lots of accessories and specific location sets for more sophisticated play than Magna-Tiles.
The geek in me sat up and took notice of the Innovation Academy line, Melissa & Doug's foray into STEM. These beautiful kits let you build working mechanical toys, from pinball machines to pinhole cameras and spiral doodlers. I'd noticed them in a catalog but had expected them to be cheap cardboard. I should have known better. They're solid wood, meaning that the finished product will last as a functional toy. That's just so cool that I wished I had an excuse to buy it. They're not shipping out just yet but will be available soon.
Amigo Games was my next stop. Their Clack! has been ridiculously popular the last few months ($18, 5+, 2-6 players). The rules are simple: Players race to stack pieces with specific shape/color combinations. But the game is surprisingly engaging, and it plays to our long-standing obsession with magnets, which makes stacking really satisfying. (I won. I wonder if the reps do that intentionally?)
I also liked their Fruit Punch ($10, 5+, 2-6 players). It's a cute card game with a sneaky math component. But the fact that it involves punching a squeaky banana may have something to do with my affection. And you'll never guess where their game designer comes from. He's Israeli, of course, and by now I'm wondering why the Toy Fair didn't hand out Bamba in the totes.
Next, I head over to the Mary Meyer booth. They make really pretty baby toys that are perfect for gifts. While saying hi to my supplier, I learn he's my mother's first cousin. Yes, I've met him multiple times before. I'm ashamed by my fail in Jewish Geography. Forgive me, Bubby…
He doesn't mention Israel (glory be!) but he does say he put together a minyan for Minchah. Considering there are a lot of long peyos and sheitels milling around, not to mention a fair number of frum people running booths, that probably wasn't as challenging as some of the games on display.
In fact, there are so many Jews here that when a representative for Stanley Jr. asks how I'm doing, I automatically answer, "Good, baruch Hashem!" He blinks, and I wonder if I've lost my mind. Then I see that he's wearing a yarmulke — and apparently my brain saw it before I did.
He shows me Stanley's product line for kids, and I'm impressed. They offer top-quality building sets, and the tools are just smaller versions of their famous ones for adults. (Before anyone freaks out, these are meant to be used with supervision. Please don't hand your son a handsaw just because it's "for kids" and then walk away.)
"My son took a building chug, and he liked these much better than the full-size tools they had there," said the representative, because he's from — surprise!—Israel. (Prices vary).
I was also super excited by Identity Games' Escape Room The Game kits. No, they don't come with a fully staged room or a guy watching you on his camera and offering helpful hints. But they do offer a similar series of puzzles and codes to solve before a one-hour timer runs out. Each kit comes with multiple challenges and refill packs are available. And before you complain about spending $35 on a game that you'll use three times, you may want to check the cost of a traditional escape room near your home.
Yeah, I thought so. Take one of these to the park or bring it to your next family get-together. Most of the games are for ages 16 and up, but they just released a family version for the 10+ crowd.
Even after eight hours at the fair (yes, I love my readers that much), I haven't come close to visiting every booth. But I'm satisfied with what I've seen. There are so many games I'm excited about, so many positive trends — like better quality toys and more engaging STEM games. I'm exhausted, but I'm thrilled to be part of a market that wants nothing more than to make kids happy.
Now, anyone wanna play Jabuka?
A Century of Toying Around
The first American International Toy Fair —Toy Fair, for short — took place in 1903. Only ten companies displayed their wares, and electric trains were the ultimate cool toy of the day.
From those humble beginnings, the annual Toy Fair now brings together more than 1,000 exhibiting manufacturers, distributors, importers, and sales agents, who show off their 100,000-plus products to 25,000 attendees from more than 100 countries.
This year's event was sold out. Next year's fair is scheduled for February 13-16, at New York City's Javits Convention Center.
(Excerpted from Family First, Issue 686)
Oops! We could not locate your form.
>