| Hostable |
Hostable: Aviva Abramowitz
| March 15, 2022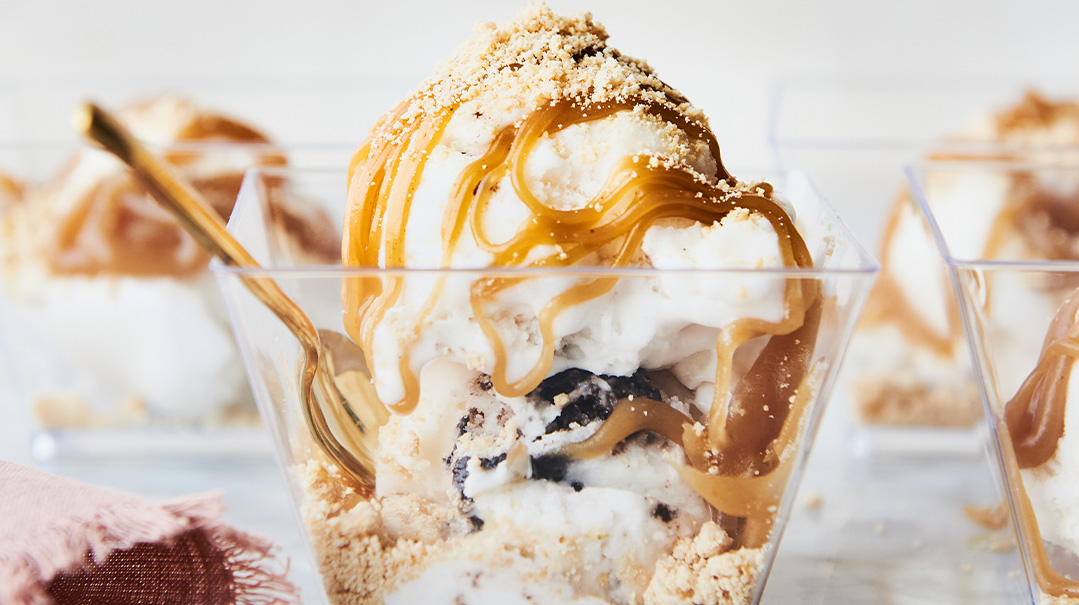 Photo Credit: Sina Mizrahi
Aviva Abramowitz
Chicago, IL
"Just Us" Shabbos Menu 
Ever since I was a kid, gefilte fish has always been a favorite. It brings me back to the cozy Friday nights at my Bubby's house. It never gets old, and my husband agrees. So we always start with warm challah; fresh homemade techinah; eggplant, garlic, and jalapeño confit; chummus; Israeli salad; and, of course, gefilte fish. 
Next we have chicken soup — I always make sure to put in a bunch of chicken bones and turkey necks. For the main, I like to try something new every week, whether it's meat or chicken with a side of couscous or roasted potatoes. My go-to favorites are sesame chicken on the bone with white rice and broccoli or ribs with roasted red potatoes. For dessert, we love Mini Magic ice cream bars and candy. 
How Do You Challah?
I've been trying challah recipes for years to find the best one. We've finally settled on Danielle Renov's recipe in the Peas Love & Carrots cookbook. It's by far the best recipe I've ever tried. Since my son likes it topped with Everything seasoning, I like sweet crumble, and my husband likes it plain, I've done something I like to call "shalom bayis challah." I make a pull-apart round challah with each circle its own flavor. That way everyone's happy!
My Cooking Style
I feel like this is a loaded question, since I have so many different approaches! I love going all out and being fancy — it's where the creative side of my brain gets into the action. But who doesn't like a simple homey chicken and rice? While I do try to balance healthy, easy, simple, and fancy, I love playing around with plating and recipes — it's almost a hobby for me. 
3 Things I Love to Serve to Guests
If it's Friday night — always a big bone-in rib eye steak. The presentation is magnificent and never fails. I cover it with oil or margarine and Montreal steak seasoning, then broil it on each side for 10 minutes. Then I turn the oven down 350°F and bake uncovered for 15 minutes per pound. I plate it on a wooden board with a head of roasted garlic, a bowl of gravy, some more gravy reduced with flour and red wine, low-and-slow fried onions, fresh rosemary, and roasted tomatoes on the vine. Always a showstopper.
For Shabbos day, I love a good taco board. Sauté an onion, then add ground beef, a generous drizzle of soy sauce, and duck sauce. Plate over homemade guacamole with tortilla chips all around, and top with diced red onion, jalapeño, and tomatoes with a drizzle of garlic aioli. Sometimes I switch it up and serve the meat over fresh chummus with a side of pita chips.
PSA:
I find when the kids are happy, the adults are happy, so I always have kid-friendly options when hosting. Giving kids fun cups with lids and straws is a good way to keep them happy and save you from cleaning up spills! I also make sure to have toys for girls, even though we're a house of boys.
Peanut Butter Ice Cream Balls with Peanut Butter Sauce
Reprinted from The Bais Yaakov Cookbook 2, with permission of the copyright holder, Feldheim publishers. 
YIELDS ENOUGH FOR WEEKS!
 Put the extra crumbs and sauce in the freezer and you have enough to pull out for next time.
Peanut Butter Crumbs
1 cup creamy peanut butter

2½ cups confectioners' sugar 

½ cup Rice Krispies, crushed

½ cup cornflakes, crushed 
Peanut Butter Sauce 
1 cup brown sugar 

½ cup light corn syrup
1 Tbsp margarine
¾ cup creamy peanut butter

¾ cup pareve whipping cream, defrosted 
Mix all crumb ingredients in a large bowl until crumbs form. Set aside.
For the sauce, place brown sugar, corn syrup, and margarine into a saucepan over medium-low heat and cook until sugar is dissolved and smooth. Add peanut butter and whipping cream and mix until smooth. 
Serve in one of two ways:
Pre-make individual cups, layering them with vanilla ice cream, crumbs, and sauce.
Place three scoops of vanilla ice cream on a dessert plate or in a martini glass. Top with a sprinkle of crumbs and a big drizzle of sauce.
Tip: I always bring extra sauce and crumbs to the table. My guests can't get enough of it!
(Originally featured in Family Table, Issue 785)
Oops! We could not locate your form.
>