| Family Room |
Looking for Office Space
| September 9, 2020
Here are some concepts to get you from WFH to WFH: We Feel Harried to Working From Home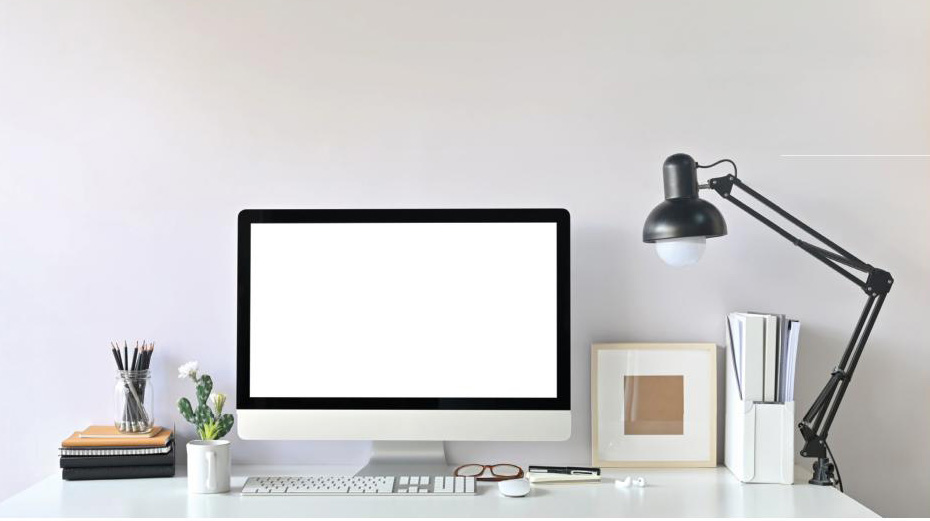 W
hen your home is your office and your o­ffice is at home, it's a challenge to keep thoughts centered and items organized. Here are some concepts to get you from WFH to WFH: We Feel Harried to Working From Home.
Dining Room Desktop
I work from my dining room, and it looks like I'll have to do so for the foreseeable future. I want to create a system so that I can stay efficient and not spend time and effort focusing on the clutter around me. Plus, my family needs a place to eat!
When you live in a small space, your dining room table can become a bit of a free-for-all. It's not all bad; the space can be super inviting because it's that central location that everyone wants to congregate in. It might even be a great spot to work in because you have an expansive "desktop" on which to lay out your work. On the down side, however, the dining room also tends to clutter up very quickly.
Since clutter leads to distraction, put on your timer for five minutes before you start your workday and focus on clearing the table fully, then wipe it down so you're working on a clean surface. This will give you that fresh start to boost your workday.
Now let's talk about a few products that will help you with your workflow.
> Buy some file folders for your paperwork. When papers aren't stacked in a pile, they're much more accessible. Categorize the papers depending on your work needs. Label the outside of each file holder (for example: "to file," "to do," or "bills"), and at the end of the day or week, go through any unfiled papers and put them away in the right folder.

> Use an office caddy to hold basic work supplies that are used regularly, including miscellaneous items like envelopes, stamps, or Sharpies.
> Keep a daily planner or an organized note on your phone so you can keep track of what you need to accomplish.
> Set up a file system for papers you need to keep. I recommend fi ling everything to your computer by scanning and saving fi les to clearly labeled folders. If that method doesn't work for you, create a fi le binder! It's a great storage solution, plus it's easily transportable.
With these systems in place, all you'll need to do when the workweek is over is fold up your laptop, grab your planner, file folders, and caddy, and find a relatively small place to store them until Monday.
If you need the dining space clear daily, create a portable office by buying a small rolling cart to hold all your essentials. If the cart height is comfortable for you to sit at while working on the computer, great! Otherwise, unload it onto your table and load everything back up at the end of the day. Once 5 p.m. hits, tuck the cart into a safe spot behind closed doors so no little hands can get to it.

Home Office Horror
I have a home office, but by nature I'm super disorganized. Behind the closed door, the space is a wreck, and it's starting to make me crazy. What do I tackle first?
Goodbye to messy drawers and hello to an inviting, organized workspace!
Determine the essential supplies you use all the time, for example, highlighters, paper clips, or pens. Place those essentials into your top drawer. Use the magical invention known as drawer containers to keep your supplies from flying around the drawer. Measure your space and buy the ones you need so each type of item can have its own designated spot.
If you're constantly grabbing paper, fill your next drawer with a neat stack of papers. Whatever you grab often should be at your desk zone.
The same principles that work for a tabletop workspace work here too: keep loose papers in upright paper containers and fi le bills and other documents electronically whenever possible. If you can, use binders for a neat look that won't take over your desk. Any supplies that aren't used daily should be stored in a closet.
And remember, regardless of how you facilitate your workspace, give yourself a pat on the back for working from home — that in itself is not an easy task!
Shira Weinstein is a professional organizer who specializes in integrating luxury organizing into high-end design for her clients, especially those who are moving or setting up new homes. Shira's clients love her full-service approach to living an uncluttered life. She also handles moves from A to Z: packing, unpacking, and rethinking the functionality of your home. Reach her at shiraweinstein1@gmail.com to plan your perfect space!
(Originally featured in Family Room, Issue 008)
Oops! We could not locate your form.
>