| Magazine Feature |
Live and Learn
| March 7, 2023
America's community kollel trend takes root in Europe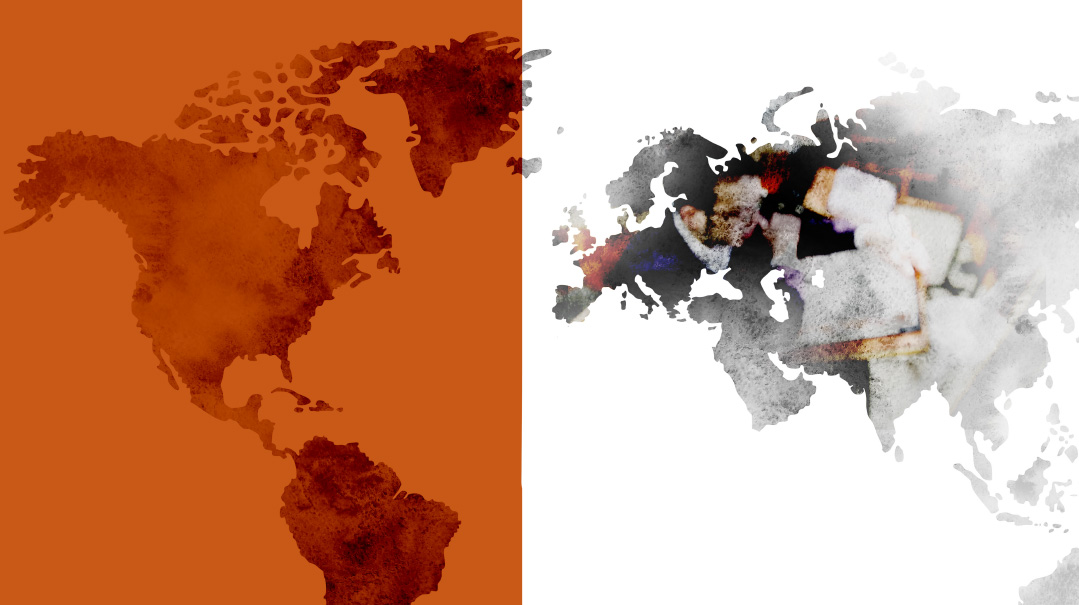 Photos: Daniel Benjamin
The wooden sign swinging gently in the wind is about as out of place as the building it's attached to — a pub-turned-shtibel in the middle of a London suburb called Elstree.
The owner, Mr. Mendy Tajtelbaum, moved from the chareidi stronghold of Golders Green to the neighborhood of many unaffiliated Jews 11 years ago. When renovating the building, he replaced the swinging cat and fiddle with the image of a man wrapped in a tallis.
In the years since, the shul has created a quiet revolution in the local community, providing a non-judgmental place for people to daven and learn. Many locals, even those nominally connected to an area shul, opt to mark lifecycle events at the shtibel.
Reb Mendy thinks that the secret ingredient on offer is the community kollel that he hosts morning and night.
"Although many of the locals were not brought up religious, they appreciate that this shul has something serious going on. They are struck by the learning and the menschlichkeit of the avreichim, and that has a transformative impact."
The tale of Elstree's start-up shtibel came up on the sidelines of the inaugural European Conference of Community Kollelim held recently in Amsterdam, which brought together representatives of institutions from London to Rome.
Community kollelim, which combine intensive Torah learning for avreichim, along with learning for the broader community, and at times outright kiruv, aren't new to Europe, where various kollelim have opened over the past decades — and have become major anchors for their cities.
But unlike in America, where the community kollel was created in the 1970s by  Lakewood Rosh Yeshivah Rav Shneur Kotler, the European model has never become widespread enough to develop into a cohesive movement.
Intended to start a conversation about the value of the community kollel, the first ever European Conference of Community Kollelim was a meeting of continents, bringing together avreichim and veteran kollel leadership from Europe and America, including Rabbi Aaron Kotler, President Emeritus of Beth Medrash Govoha, who is focused on continuing his father's community kollel revolution.
Rabbi Kotler cochaired the conference with his close partner, Rabbi Sroy Levitansky, Director of International Community Development at Beth Medrash Govoha and an expert at the creation of community kollelim, with involvement in more than 50 kollelim and 100 communities worldwide.
Joining them was Lakewood Rosh Yeshivah Rav Aryeh Malkiel Kotler.
"We came together to celebrate your successes but also to recognize your challenges," Rabbi Aaron Kotler told a packed audience at the Motzaei Shabbos plenary. "There are struggles and they are very real. We're here to tell you that you are not alone."
Manchester-born Rabbi Menachem Marmorstein, founder of a network of community kollelim in secular cities, towns, and moshavim across the length and breadth of Israel and one of the convenors of the conference, identifies with the difficulties.
"These are very complex enterprises," says Rabbi Marmorstein, "and the chemistry needs to be just right to make it work. Securing funding is only part of the challenge — the other parts cover recruiting the highest quality rosh kollel, engaging community involvement, and, at times, issues like schooling and planning programs that will make the kollel the anchor of the community."
But while a community kollel has its challenges, he adds, the combination of growth for avreichim and engaging a community in Torah learning is the natural outlet for a surplus of talent across Europe.
"So many avreichim have huge kochos and can become major marbitzei Torah," says Rabbi Marmorstein. Sometimes living in Yerushalayim or Gateshead will not provide them the opportunity to grow and to give. So many avreichim have unrealized talent and have so much knowledge to give but lack the platform or opportunity to do so — and in a community kollel setting, they can."
Coming Alive
Rabbi Jonathan Guttentag smiles as he recalls the day in 1988 when a letter arrived in the mail. It contained a check for the princely sum of £100, plus a note.
As rabbi of Whitefield, an Orthodox community of 700 families in Manchester with a traditional but non-observant membership of the type that makes up the bulk of Anglo-Jewry, he had a dream of opening a kollel in the shul.
It was a radical idea for a mainstream United Synagogue-affiliated shul. "I wanted to teach and influence the community, but I felt like a school principal with no staff to help."
An encounter with Torah was, the new rabbi felt, the best way to deal with the assimilation that British Jews faced. If they wouldn't go to yeshivah, the yeshivah would have to go to them.
Rabbi Guttentag shared his dream with Rabbi Simcha Bamberger, a prominent Manchester maggid shiur, whose son Rabbi Mordechai headed Britain's first community kollel in Glasgow, Scotland.
"I said to Rav Simcha that my dream was an impossibility. I wrongfully thought you need to have a million pounds in the bank to do something like that," says Rabbi Guttentag.
A few days later the response came in the post. It was a check made out to a non-existent "Whitefield Kollel."
"You don't need all that money," Rabbi Bamberger wrote, "you just need to start."
Thus was born one of Europe's most successful community kollels, one which has been the inspiration for others down the line, including those at the Amsterdam conference.
"In the beginning, my Whitefield community did not understand what a kollel was. Sometimes there was active tension," Rabbi Guttentag remembers, "and some young avreichim felt intimidated in the shul beis medrash."
But planting avreichim in a shul was more used to hosting life-cycle events than Torah learning proved successful beyond expectation. People were struck by the genuineness and warmth of the avreichim and began warming to the daily learning opportunities and programs offered by the kollel.
Some supporters of the kollel within the community rarely stepped foot inside the kollel themselves. But they saw and felt the burst of sheer energy, the vibrancy and the noise of Torah learning in a building that, apart from its daily minyan, was quiet during the day. There was a sense that something had come alive in their community.
Over the years, many members of the shul experienced spiritual growth, and the community sent off many of its young men to yeshivah — ranging from a year in Israel to stints in Gateshead and Mir.
Simon Fogal, now 45 and living with his family in the chareidi community of Prestwich in Manchester, was around bar mitzvah age when the kollel started.
"The cohort of avreichim were a really impressive bunch," says Simon, "and our family was interested in getting involved." He was especially drawn to the one-to-one learning that took place every evening before Maariv, when he had the opportunity to learn Gemara with one of the avreichim — his first real exposure to Torah learning.
Like other community kollels, spin-offs from the core learning programs developed top outreach to different demographics. "The 'Lads and Dads' Tefillin Breakfast program encouraged us to come to Shacharis on a Sunday before we turned bar mitzvah, in the hope that we would continue afterward," says Simon. "I still remember my dad frying eggs in the kollel kitchen."
Simon remained engaged with the kollel throughout his teens, taking learning more seriously. Rabbi Malcolm Herman, a kollel member and later director of education, encouraged Simon to progress to yeshivah — which he did, spending time in Mir, Chevron, and then Lakewood.
Today he has sent his sons to learn in yeshivos in Gateshead and Israel. "The life I lead today is down to the influence of the kollel," says Simon. "It had a massive impact on who I am today."
Rocking Success
Another member of the first generation of European kollels can be found in Gibraltar, a British Overseas Territory that shares its border with Spain.
In this small, primarily Sephardic kehillah in the shadow of the island's famous Rock, where people speak a mix of Spanish and English, the kollel has influenced the entire outlook of the community. Nowadays, Torah learning is a collective communal goal rather than a nice ideal that is the province of a select few.
Perhaps the secret of the kollel's success is the extent to which the kollel integrates with the local community.
"We ask avreichim to help teach in the boys' school if they can, and many wives are also involved in chinuch. We aren't a separate entity from the shul," says the rosh kollel of 25 years, Rabbi Yechiel Bayles. "We don't have our own kollel minyan. We daven with the kehillah and blend in with them. That's where the influence happens."
When the Bayles's arrived, there were just two formal learning opportunities each week in the form of shiurim and chavrusa learning. "The community was always very erlich, and their davening has always been something special to observe," he comments, "but there wasn't much Torah learning going on."
Today, the scene has changed unrecognizably. In the kollel's building, all three floors are full of people learning, with activity spanning the full day. Little by little, the town's entire attitude has pivoted towards a greater appreciation of Torah, and with it, a wholesale upgrade in mitzvah observance.
Gibraltar has one advantage that sets it apart from other community kollelim, due to the Sephardic background of many the locals: the natural respect that people have for the avreichim. "The moment a yungerman lands here he's automatically called a rabbi," says Rabbi Bayles. "This makes them more receptive to us, but also places an increased responsibility on the avreichim to be true to who they are."
Alongside these veteran institutions, a second generation of community kollelim was created in Britain and continental Europe.
About an hour away from Manchester is Leeds, a city in central England which is home to three-quarters of a million people, which hosts a community kollel that was founded much more recently.
Like many provincial cities, Leeds's Jewish population has been in long decline since a post-war peak. At 8,000 mainly traditional members, the community is the country's third largest after London and Manchester.
According to US-born rosh kollel Rabbi Aharon Kramer, around 6,500 people hold shul membership, but of that number, only around ten percent attend on Shabbos, many driving in and parking at a distance.
But notwithstanding many community members' estrangement from religious life, it's a good home for the kollel because people have warm feelings for Yiddishkeit. "As someone said to me," says Rabbi Kramer, "the people are on your side, they're happy to see you there."
The community kollel in Leeds is a relatively young effort and is based in the Beth Hamidrash Hagadol shul in the center of town. It draws in locals for learning sessions, discussion groups, and social events. In this setting, a community kollel serves to reinforce a local community.
Oliver Cowan is a staunch supporter of the kollel. "It's fantastic to have a group in Leeds who are happy to work with us, with something educational aimed at families," he says. "They want to work with the community, and they make sure to work with all the shuls, which is why they're still here."
Another success story is the Borehamwood Kollel, in a London suburb near Elstree, founded by Dayan Chanoch Ehrentreu ztz"l. The area boasts five shuls with hundreds of members each, but most aren't shomer Shabbos. Moshe Baddiel — a Manchester-born avreich learning in the kollel — estimates that in the local Jewish school, Yavneh, 80 percent of students don't recite Shema Yisrael.
The kollel maintains two regular sedorim, and in the evening, opens its doors to the local community, with around 50 regulars attending each week. Moshe learns with seven people during the week and has enjoyed seeing the impact that the teaching has on his partners. One teen, Nathan, has learned with Moshe for three years, and the spiritual impact of their connection and weekly half-hour Mishnayos session was evidenced when Nathan came to choosing a 6th-form college.
"Part of our conversation revolved around which place would have a less negative impact on his Yiddishkeit," says Moshe.
But with all the community learning and kiruv work they do, Moshe is clear that it's the kollel that keeps their efforts going. "As a group we are aware of the need to remain motivated, so each avreich has agreed to give a chaburah every month, and the afternoon learning is fast paced with regular written tests. We need that high level of learning to power us up to influence others."
Lost in Translation
Running a kollel far from the centers of religious life is not always simple, as the Berlin Kollel shows. Akiva Adlerstein is the sole remaining avreich who was part of the Lakewood Kollel set up by Rabbi Aaron Kotler and Rabbi Sroy Levitansky in Berlin, Germany, with the assistance of the Lauder Foundation. They'd had a strong group of avreichim who made a major impact. The group undertook to spend three years in Berlin. That three-year cycle ended just as Germany entered a severe lockdown due to Covid. Germany was from the last countries to reopen, and now there will be an effort to bring in a new group.
While the kollel was fully staffed, Akiva remembers wondering what impact he was having and whether he was making a meaningful contribution. "Apart from the cultural struggle in acclimating to Germany," he says, "we would start a certain initiative but would struggle to keep people's interest in it. I would prepare a shiur and have few show up."
Now without that first group of avreichim in Berlin, he realizes the remarkable impact the first group had made. "We used to produce a kollel newsletter with riddles, and kids could be entered in a raffle for a prize for submitting the right answer. On Chanukah we gave the Beis Yosef's famous question and challenged them to find answers, and I recently came across the pieces of paper on which they had written their answers.
"Seeing a group of German Jewish kids excitedly trying to find an answer to the Beis Yosef's question may seem trivial to frum people but to me it was a very big deal."
The Berlin kollel resulted in many of the high school boys who were connected to the avreichim and their families deciding to go to yeshivos in Israel or the US and girls to mainstream seminaries. There are also a number of individuals who were very loosely connected to Yiddishkeit and are now learning every day.
Akiva is awaiting the recruitment of a new chaburah, and in a sobering moment at the Conference's Shabbos day meal, made his pitch for people to join the community kollel movement and breathe life into communities across Europe.
Numbers Game
One challenge faced by some community kollelim is when they start off with a very small chaburah. For an avreich who's used to learning in Lakewood or Mir, sitting among many thousands of others in a pulsating beis medrash, staying motivated while learning with just a handful of peers is difficult after the initial enthusiasm wears off.
Between family simchahs, a few days without a chavrusa for whatever reason, and the wife's job not working out, it's simple to see how the easily the boat can be rocked, disrupting the kollel's equilibrium.
Motti Gottlieb is part of the six-man community kollel in Rome. Originally from Israel, he felt he wanted to go out and make a difference and joined. "Just deciding what to learn requires that we think things through well when our group is small," he says.
Rabbi Marmorstein appreciates the difficulty. "Every avreich has good days and better days," he says, "and in such a small unit it can easily impact the rest of the chaburah. You need charismatic couples to make it work in a small kollel. Both the husband and wife need to be on fire about what they're doing, powerhouses of energy that can keep them going."
Yitzchok Katz, originally from Golders Green and currently in the Leeds Kollel, says that when every avreich feels that he's central to the survival of the kollel, that gives an enormous sense of responsibility. In parallel, if an avreich feels he can only function in a large chaburah, a community kollel might not be the place for him.
"Being in a small chaburah helps you learn because you want to learn, not because everyone else is doing it," he says. "It helps me to live with a sense of purpose."
When the question, "Why join a community kollel?" was raised, Rabbi Yehuda Boruch Lieberman, rosh kollel of Borehamwood, was quick to respond.
"A yungerman needs to feel that he's achieving," he says. "When you're one of hundreds in a group of avreichim,  although you're spending your day involved in the highest calling possible and your every word of Torah learning is holy, that feeling can sometimes be difficult to come by, because nobody would know if you disappeared one day.
"A community kollel gives its members the opportunity to shine and bring out their individual strengths."
Made in the US
Like many American innovations that have made their way across to the Old World, the community kollel model is a US export, and the kollel conference was organized in a way that would enhance sharing of practices that have worked in America with the European counterparts.
The fathers of the concept of a community kollel were Lakewood rosh yeshivah Rav Shneur Kotler, who together with his mashgiach Rav Nosson Wachtfogel, created a new concept in Klal Yisrael.
"My childhood memories bring to mind lots of moving trucks," says Reb Aaron, "because young couples were regularly being sent out from Lakewood by my father to all kinds of far-flung places, including Melbourne, Australia, Mexico City, Toronto, Los Angeles and many other cities."
Moshe Reichman of Toronto was the first person to agree with Rav Shneur  to host a community kollel in Toronto, and others followed suit. Rav Shneur's reach soon extended across the globe, as he dispatched his talmid Rav Binyamin Wurzberger to Melbourne, Australia where the city's Lakewood Kollel today forms a central pillar of the kehillah's infrastructure.
"A few years ago, we did a study of the Lakewood Kollel in Los Angeles," says Rabbi Kotler. "We looked at the klei kodesh in the town, and found that 80 percent came through the kollel. The kashrus organizations, the school rebbis and morahs, the rabbanim, the heads of the chesed organizations, the kiruv organizations — by and large they grew out of the kollelim."
That level of impact comes with a struggle. Speaking at the conference, Rav Malkiel Kotler recounted an anecdote describing the time when a Lakewood talmid, Rabbi Moshe Rubenstein, ventured out to spend Shabbos in Los Angeles to explore the possibly of opening a kollel there. He was approached by someone in shul on Friday night. "You've come to open a kollel here?" the fellow inquired. Reb Moshe replied in the affirmative.
"Well, I have a marvelous piece of advice for you," the man continued. "There's a red-eye flight back to the east coast tomorrow night. You should take it." Today Los Angeles hosts some ten community kollels, which have transformed and anchored the city.
Some 15 years ago, Rabbi Aaron Kotler, whose responsibilities for the yeshivah itself went with a commitment to building the kollel movement, realized that Beth Medrash Govoha needed a full-time team to build kollelim. He hired Rabbi Yaaky Shulman and Rabbi Elimelech Mitnick to work on recruitment, and he asked St. Louis rosh kollel Rabbi Sroy Levitansky to lead the effort.
Today the yeshivah maintains a fully- staffed community development office to take care of building and maintaining community kollelim across North America and overseas. The scope of the kollel project in its American heartland is vast: Just a week after the European conference, Rabbi Levitansky hosted a conference for 80 roshei kollel from North America.
The kollel division's full-time director, Rabbi Levitansky, became an early proponent of the community kollel model when he saw its effect on his hometown, Chicago.
"When I was a child growing up, the concept of limud haTorah was very limited," says Rabbi Levitansky. "Sure, it was a frum town and there were shiurim, but for me as a bochur there was no beis medrash to call home during bein hazmanim. There was very little active learning going on."
The arrival of the Lakewood Kollel and Rabbi Moshe Francis changed all that. A talmid of Rav Shneur Kotler, he was sent by Rav Shneur 41 years ago with a group of courageous yungeleit. They setup shop in a basement. "All the shuls in Chicago were closed at night," reminisced Rabbi Francis. "Balabatim weren't used to going out to in the evening to put in a night seder. It just didn't happen."
Veteran Chicagoans Ricky Rothner and Gershon Bassman, who were honored guests the European Conference, were early supporters of the Chicago efforts and remember those days well. "Rabbi Francis and his yungeleit drove people crazy to come learn," says Ricky. "They would call and nag people, almost begging them to sign up for a chavrusa."
Eventually, their efforts bore fruit as more and more people came on board. As people were exposed to the beauty of Torah learning, the word spread, and it became more and more fashionable to be kovei'a itim.
"I saw what the kollel did for my hometown," Rabbi Levitansky reflects, "and that gave me a passion to do what I do today. It created the Chicago that we know and showed me that you can't grow a community without a kollel."
Now responsible for the building of 100 kollelim across the continent, the movement has impacted many North American communities. "Thousands of yungeleit are in turn engaging tens of thousands of local balabatim every day," he says. "Mexico alone has 400 yungeleit. Thousands of balabatim are learning daily for hours, all because of the Lakewood Kollel which Rav Shneur started in Mexico 40 years ago."
Although the community kollelim have become the central anchor for frum life in their cities, for some, it's an unknown concept, and it's here that the Lakewood experience can offer a roadmap.
"You can't just go to a place and drop a kollel in," says Rabbi Levitansky. The methodology he has developed ensures that the kollel becomes an organic part of the kehillah. He works at an early stage to bring on board local rabbanim, balabatim, and the schools.
"Effective and meaningful community engagement is important to help them understand that value and get them aligned," he says. This includes fully engaging local stakeholders in understanding how the kollel will aid the community's growth alongside understanding what the financial undertaking entails. It's also important to provide the reassurance that it won't interfere with or disturb the community's existing dynamics.
"It's a complex thing and there are a thousand pieces to fit together," says Rabbi Levitansky, "but when we work as partners, we're able to play a powerful role in working through the challenges."
Call to Arms
So far, success in Europe has been far more modest than in America, and part of the reason, says Leeds Kollel's Rabbi Kramer, is a lack of manpower.
He notes that while the number of community kollelim around Europe has grown, supply has not kept up with demand and in some locales, has failed to attract the number of avreichim necessary to make the operation sustainable.
He hopes that the conference will shine a light and create a greater awareness of what avreichim can gain in a community kollel and how much they can give.
"Avreichim emerge from a community kollel immeasurably enriched," declares Rabbi Kramer. "They are so much more experienced in teaching and sharing, in public speaking, in interacting with people from different backgrounds, and in organizational skills too. They become much more rounded and better developed as people."
But much success depends on the attitude that change can't forced on people, but works by example.
"We're not here to change people or create success stories," Gibraltar's Rabbi Yechiel Bayles says. "We're here to lay the groundwork and provide a conducive environment so that people can make their own choices about engaging in spiritual growth."
"For that to happen," he adds "the yungeleit have to genuinely care about the community, to get personally involved in their lives. Celebrate with them, and be there for them in the difficult times."
As Europe's community kollel advocates try to develop individual projects into a movement, Rabbi Marmorstein says that it's passion for the cause that is ultimately key.
"We are surrounded by Jews so far from Judaism through no fault of their own," he says, "and through Torah learning and meaningful personal encounters we have the tools to change lives. We have diamonds to share for free — so we have to do it."
Holland Hub
The Schiphol Airport Hotel in which the conference took place has already hosted two European Torah Umesorah conventions, with another planned for after Succos.
That's thanks to the largesse of Mr. Boruch Van de Kamp, a stalwart of the local Amsterdam kehillah and international hotelier whose appreciation of Torah and chinuch helps to make these events possible.
A man with a vision, he has a keen understanding of the need to connect frum communities across the globe, providing a platform for discussion, sharing tips and networking.
The Van de Kamp family has been in Holland for over 400 years and through his work, Boruch sees an opportunity to attract more families and yungeleit to further strengthen the Amsterdam kehillah. "With the investment we have made," he says, "we now have a world-class cheder, a kollel, and all the amenities of other European communities."
In Amsterdam the impact of the kollel is especially evident. The menahel of the cheder is a product of the kollel, as is the rav of Khal Chasidim, a rapidly growing community. "Locally grown talent is now supporting the community to grow and develop," says Mr. Van de Kamp, "but there is so much more we can do."
(Originally featured in Mishpacha, Issue 952)
Oops! We could not locate your form.
>