| For the Record |
Leo the Lion
| July 18, 2023
Tishah B'Av marks the 88th yahrtzeit of Dr. Leo (Shmuel) Deutschlander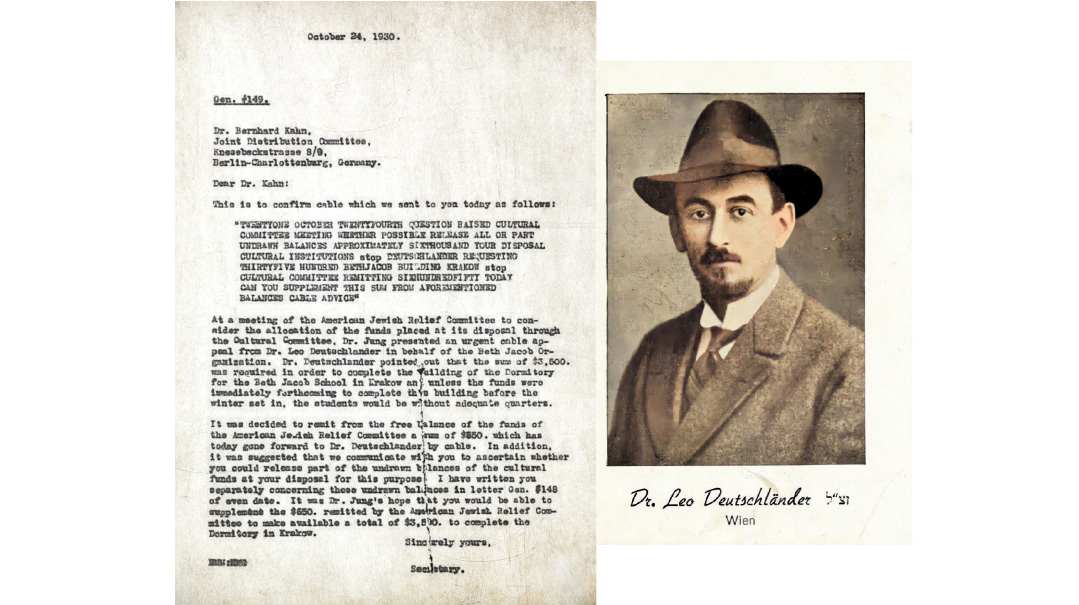 Title: Leo the Lion
Location: Krakow, Poland
Document: Letter from the JDC
Time: 1930
The Gerrer Rebbe [the Imrei Emes] is reported to have said, "I have thousands of bochurim amongst my followers, but I'm not sure whether there exist even for ten of them girls who are fit and willing to share their lives. What will become of our future families?"
The day when Leo Deutschlander met Sarah Schenirer and agreed to take charge of the development of the Beth Jacob movement was a historical day. Here, a union of vision, ecstasy, and practical efficiency was created which was to bring about the fulfillment of a great plan. Sarah Schenirer, the daughter of Chassidic Jewry, entrusted the furthering of her ideals to the educationist reared in Western Europe, in the schools of Torah im derech eretz. Leo Deutschlander gave his heart, his soul, his strength, his methodical care, and perhaps most of all his genius of human relationship to Beth Jacob and helped it to grow into a world-wide movement of such driving force that even the demons of hell that tried to annihilate our Jewish World could not weaken it.
—Dr. Judith (Rosenbaum) Grunfeld
Shmuel (Leo) Deutschlander was born in 1892 in Berlin. His father, Rabbi Nathan Deutschlander, had been the first director of the religious school of Congregation Adas Yisrael. Orphaned of both parents by age seven, Leo was taken in by his sister and brother-in-law, Rabbi Dr. Chaim Biberfeld. He received a religious education before studying in the universities of Berlin, Warburg, and Giessen, where he received his doctorate. He later graduated from Berlin's Rabbinical Seminary.
During World War I, Deutschlander was conscripted into the German army. He was appointed as Jewish cultural advisor in Kovno during the German occupation, and together with Rabbi Joseph Tzvi Carlebach, he liaised with the Jewish community, establishing the Yavneh religious school system in Lithuania. He stayed there in the Jewish Ministry from 1919 to 1922, supervising the school system and beginning his lifelong commitment to Torah education. Following the war, he married Resi Lindberger, whose family was a pillar of the Berlin community. The first Knessiah Gedolah in Vienna in August 1923 saw the establishment of the Keren HaTorah to fund religious education. Dr. Deutschlander was appointed to oversee its operations.
The following year, at an Agudas Yisrael conference in Krakow, Dr. Deutschlander met Sarah Schenirer. Impressed by her work, he became an enthusiastic supporter, and shortly thereafter joined her in that effort. He saw Bais Yaakov as the solution to the crisis of Jewish education for girls, and he worked tirelessly to promote it. He also recognized the importance of professional teacher training and helped establish the first Bais Yaakov Teachers Seminary in Krakow in 1925.
Dr. Deutschlander, in his defining role, managed to raise financial aid that secured the future of the Bais Yaakov network. His unwavering dedication helped drive the rapid expansion of this school system across Europe. By 1933, the Bais Yaakov network boasted over 200 institutions educating more than 35,000 students.
Despite the growth of Bais Yaakov, and with it his influential role, Dr. Deutschlander stayed in touch with his humble beginnings as an orphan. Any school receiving funds under his aegis had to enroll a quota of orphan girls who were only charged half the standard tuition. He hoped to shield these children from the difficulties he had faced. In Dr. Deutschlander's vision, Bais Yaakov was to be a sanctuary of inclusivity, rather than a fortress of exclusivity.
Dr. Deutschlander's impact extended beyond his fundraising and admission policies. He was pivotal in the conception of the Bais Yaakov Journal, a monthly digest that served to connect the various schools within the network and facilitate an exchange of educational resources.
On 26 Adar 1935, the mother of Bais Yaakov, Frau Sarah Schenirer, passed away. Dr. Deutschlander resolved to double down on his efforts and continue to grow the now unstoppable movement. But it was not to be. Five months later, on Tishah B'Av, the father of Bais Yaakov, Dr. Leo Deutschlander, passed away childless in Vienna at age 47. His final words are his eternal legacy: "Take care that whatever was accomplished be perpetuated."
Tishah B'Av marks the 88th yahrtzeit of Dr. Leo (Shmuel) Deutschlander.
The Other Leo
Dr. Deutschlander's fundraising efforts in North America were helped greatly by Rabbi Leo Jung. When the ground was broken for the Krakow seminary in 1927, Rabbi Jung attended and delivered a rousing speech. Rabbi Wolf Jacobson paid tribute to this partnership in his account of the event:
I witnessed all the stages of construction, from the groundbreaking in 1927 to its completion. I saw Dr. Deutschlander's suffering and devotion to try and fund the expenses. And the world was so cold and indifferent. Only Rabbi Dr. Eliyahu Jung of New York was a loyal supporter. When the building was begun, they prepared it for use for decades ahead; but by the time it was built, it was already packed with girls from cellar to attic. There was so much brachah in this endeavor, as all those involved meant it solely l'Sheim Shamayim!
Herr Doktor the Teacher
Students at the Teachers Seminary relished the classes he delivered on Tanach and Tehillim, primarily taught at the summer retreats (which he initiated) in the Carpathian Mountains. Mrs. Sabine Kohn-Pinter recalled listening spellbound to his Tehillim lessons. She remembers how her father, Rabbi Chaim Pinter, answered an extremist who challenged him for sending his daughter to Bais Yaakov that had a "Herr Doktor" teaching Tanach: "I've seen this 'Herr Doktor' in our beis medrash, I've seen his davening, I've seen his humility, his deference to and respect for the scholars of the Talmud. To such a man I can safely entrust my child."
(Originally featured in Mishpacha, Issue 970)
Oops! We could not locate your form.
>