| Magazine Feature |
It's in the Bones | August 17, 2021
New Jersey's beloved devar torah doctor Raphael Levine shares the gift of healing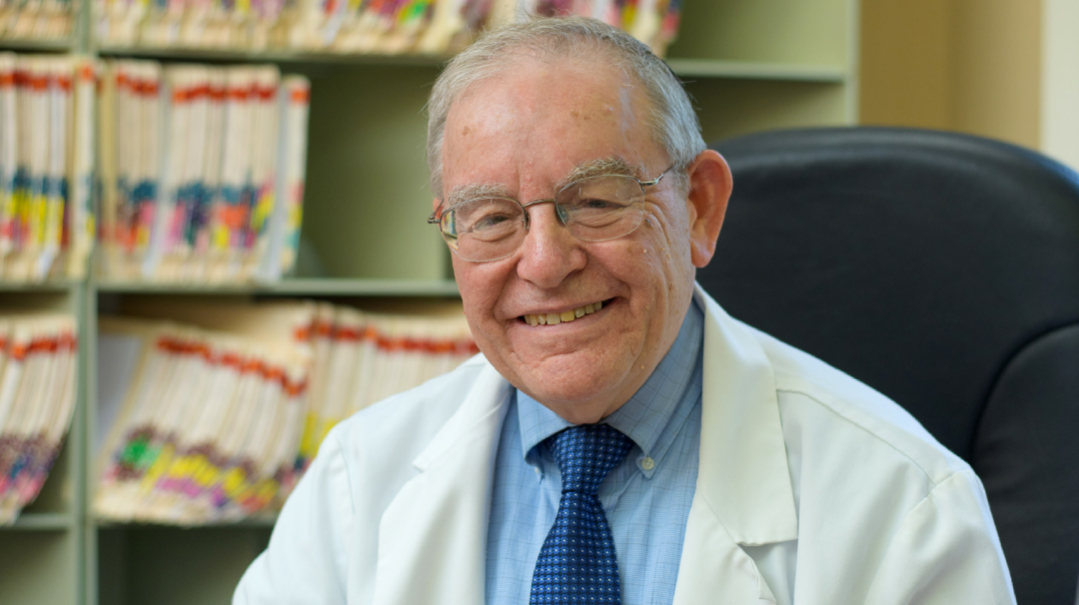 Photos: Naftoli Goldgrab
For renowned orthopedic surgeon Dr. Raphael Levine, his work is more than just connecting bones.
It's about connecting with people. Dr. Levine is not only a highly skilled medical professional who has cared for many rabbanim and chassidic rebbes over the decades. He is also charming, warm, approachable, and sees himself as a partner with Hashem in healing the people who come across his threshold.
While many of his contemporaries have long retired, the joy and dedication that Dr. Levine finds in his work, his patients, and in the deep relationships that he has built, are still keeping him and his long-standing practice in Westwood, New Jersey, busy and dynamic.
Dr. Levine attributes his wide-ranging, multigenerational patient roster to the basics: "To be a good doctor, you have to be interested in people, " he says.
Dr. Levine's focus on the human element, coupled with his broad education and his many years of experience, has developed into a unique approach to treating patients that has earned him their loyalty and trust.
Dr. Levine, who lives with his wife Letha in Englewood, New Jersey, isn't shy about promoting a Torah agenda either. In fact, many know him as the "devar Torah doctor." Whenever he meets a new patient or has a visit with an "old friend," an exam won't begin without some warm, friendly conversation. For his younger patients, Dr. Levine's expectations at entry are somewhat more distinctive: If that patient has an appointment on a Monday or Tuesday, he'll be expected to give a devar Torah from the previous week's parshah. If he visits on a Thursday or Friday, the devar Torah must come from the upcoming parshah. And if the young patient shows up on Wednesday, he can choose from either parshah.
Once, a young boy came in for treatment with a hip problem that would require several surgeries. He approached Dr. Levine after his second visit and explained that they would be seeing a lot of each other in the future, and he just couldn't provide so many divrei Torah. Dr. Levine gave it serious consideration and then granted him a dispensation. On subsequent visits, he would either offer a devar Torah or remain quiet, as he chose. But even after his course of treatment was complete, Dr. Levine would yet hear more from him. The boy grew up and went to yeshivah in Israel — and for the next three years, every Thursday, Dr. Levine's office manager would pick up on a call from Israel and connect Dr. Levine with his former patient who would share a devar Torah on the parshah with him.
Dr. Levine's longstanding practice of asking for divrei Torah hit a roadblock one day when his daughter's student visited for an orthopedic issue. His daughter Shoshana Schechter, associate dean of Torah studies at Stern College, was teaching Tanach to high school girls at the time, and her student reported that she had been seen by Dr. Levine.  Being well familiar with her father's unique tradition, she asked, "What devar Torah did you give him?" When the student claimed that she hadn't been asked for a devar Torah, Shoshana followed up with her father.
"But I never ask the girls, only the boys," Dr. Levine told his daughter in his defense.
This didn't sit well with Shoshana, who humorously recalls the exchange. "My father brought all of us up to be educated, professional, and passionate people. How could he exclude asking girls for a Torah thought, especially considering that they know Tanach so well?"
After that, Dr. Levine upped his game — and now female patients are invited to share their thoughts on the parshah, too.
American-born Dr. Raphael Levine comes from a distinguished rabbinic family line — his grandfather was Rabbi Shlomo Zalman Krevsky of Allentown, Pennsylvania, who had previously been the leader of the Russian Jewish expat community in Harbin, China.
After graduating from Jefferson Medical College in Philadelphia and completing an internship at Beth Israel Hospital in New York City, Dr. Levine served in the US Navy as a medical officer during the Vietnam War. After his discharge, he completed his orthopedic-surgery residency at Columbia-Presbyterian in New York. He remained on the medical school faculty for 15 years at Columbia's affiliate, Helen Hayes Hospital, while practicing orthopedics privately in Westwood, New Jersey.
Though Dr. Levine is respectful of his patients' privacy and won't divulge whom he has treated over the years, his reach has been long — including sports figures, politicians, businesspeople, and rebbes. Among his many interests, Dr. Levine is an avid sports fan. One of the highlights of his childhood was when he was a kid back in 1951 and visited the Florida spring-training home of the Brooklyn Dodgers. He was welcomed by none other than Jackie Robinson, who showed him around and posed with him for a picture, which now hangs in his office. Dr. Levine was once asked to be the team doctor for the New York Giants, which would have been a dream come true for him, but it was incompatible with Shabbos observance. His daughter Shoshana says it was "the moment he was 'koneh Gan Eden.' "
Aside from the adults and children that consult with him, many of Dr. Levine's patients are well-known and prominent people. A referral coming in with the statement "My rebbe sent me" is pretty standard in his practice. His daughter recalls once going to a chassidish wedding and recounting the details of the event to her father. When she described the highlight of the wedding and how the esteemed rebbe of the chassidus danced, he responded familiarly with a shake of his head, "Oh, no, he shouldn't have been dancing like that…"
When Dr. Levine was doing his internship at Beth Israel, he spent every month in a different specialty and gained extensive exposure. "It was the best year of my education," he shares, lauding the old-school practice. "Today, most doctors are technicians. They choose their specialty early in their education and limit their study to that one specialty. They don't acquire a broad, comprehensive knowledge. In my day, they dissuaded us from choosing a specialty early on. They wanted us to get a broad education."
During his residency at Columbia, the student doctors would assemble in a big room with patients' X-rays lined up along the surrounding walls. The residents would walk along the wall and assess each X-ray, diagnose, and suggest a protocol. Eventually, Dr. Levine went on to teach at Helen Hayes Rehabilitation Hospital, but this wasn't the method he subscribed to.
"Too many health professionals base their treatment purely on studies and scans," he says. "But no two injuries are the same, even if they look identical on a scan.  You must find out about the patient's lifestyle. Who is he? Does he walk to work or drive? Does he lift or sit at a desk? What are his resting habits? You have to look at the whole picture."
Dr. Levine's comprehensive approach has solved many mysterious ailments. Once a Broadway actress was having pain in her wrist and arm. She went all over the city seeking relief. She finally consulted with Dr. Levine, who sat down and had a long talk with her about what she did on stage and how she spent her free time. It turned out that every night she appeared on stage, and in one scene, vigorously peeled potatoes. This repetitive motion was the source of her pain. The scene was modified, and her mobility was restored without additional pain or surgery.
Though he's a surgeon, Dr. Levine is not quick to suggest surgery at the outset, even when new techniques promise quick relief. He believes that a doctor must look at the indications the patient is exhibiting when deciding whether to do surgery and not base his decision on his own abilities.
"When doctors attend seminars and learn new techniques, suddenly many of their patients seem to need that kind of surgery — because the doctors are eager to try their hand at it," he says a bit cynically, qualifying that when it comes to the doctor's role in healing, "we are just shluchim. Our job is not to put obstacles in Hashem's way."
One of Dr. Levine's most fortuitous saves was at his own grandson's recent wedding. The chassan and kallah had just emerged amid a burst of lively music and cheering guests. Suddenly, as they entered, the chassan somehow wrenched his shoulder, doubled over in pain, and had to be carried away from the crowd. But instead of spending his wedding night in the emergency room, his grandfather came to the rescue. Taking him aside, Dr. Levine expertly moved the dislocated bone back into place. Then he tied together a few napkins to form a makeshift sling and sent the chassan back out to the dance floor.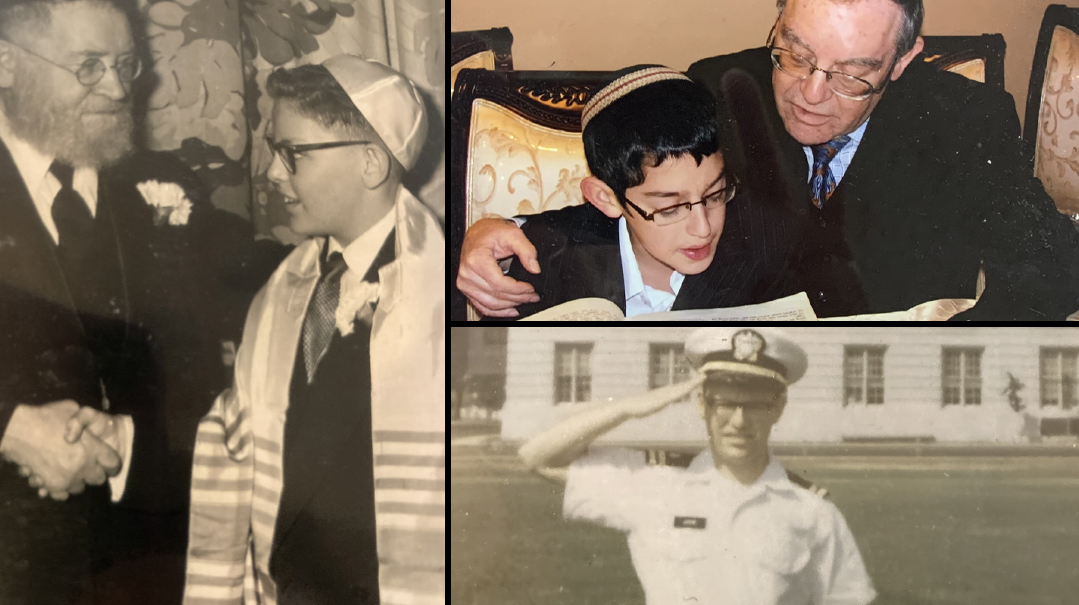 Over the years, Dr. Levine has played his part — sometimes voluntarily and sometimes reluctantly — in several pivotal Jewish and events. When Dr. Levine was accepted to medical school, finances were a big challenge. What could a scrappy American kid in the early 1960s do to win a student loan? He could join the military. With the promise of med school funding, Dr. Levine signed up for a military program that would pay for his education in return for three years of service, to begin after his internship year. Enlisting in the military was a risky though because it was the beginning of the Vietnam War, and no one knew to what extent America would be involved.
Dr. Levine had met his wife Letha at the home of a friend and fellow student from Brandeis University, where he had completed his undergraduate work. They married in Dr. Levine's final year of medical school, and within a year Dr. Levine was shipped off to the US Naval Academy in Annapolis, Maryland, to be made into a military officer. He was billeted at Bancroft Hall, the largest building at the Naval Academy and the largest male college dormitory in the world. Legend had it that no woman had ever stepped over the threshold of Bancroft Hall, but this reputation would be inadvertently upended by the young Mrs. Levine.
Expectant with their first child, Mrs. Levine decided to surprise her husband with a visit. After an arduous train and bus trip, she appeared in the dorm and asked for her husband. Dr. Levine was walking down the hall when he heard noise and commotion and found a crowd of navel cadets surrounding a lone, flustered woman. They escorted her out, but not before swearing her to secrecy about her brief visit and preserving their reputation.
A few weeks later, Dr. Levine was dispatched to San Francisco where he would join his shipmates on the USNS General Simon B. Buckner, a troop transport ship that transported soldiers and equipment to the frontlines of Vietnam. The ship was equipped with a full hospital facility where Dr. Levine would serve as a shift doctor.
In 1987, Dr. Levine was securely ensconced in his private practice, but was concerned over the condition of the Jewish refuseniks held in Soviet Russia. It was two years before the fall of the Iron Curtain, and if someone voiced a desire to emigrate or was caught learning Hebrew or about Judaism, he was stripped of his job and suffered many other restrictions. They couldn't get medical care, and many were suffering from serious medical conditions.
Dr. Levine joined six other doctors on a mission to the USSR to help alleviate their dire lot. The team of doctors were mentored by the Student Struggle for Soviet Jewry and Chabad, who provided Jewish items for the refuseniks, stocking them up with mezuzahs, menorahs, siddurim, and some pairs of tefillin. At the time, under Gorbachev, tourists were allowed into the USSR but not visitors to specific people, so the doctors couldn't admit they had come to see anyone.
At entry, the group went through customs, and, as Dr. Levine wryly recalls, "Six doctors sailed through… and I got stopped." Officers and translators removed him to a side room where they rifled through his luggage and interrogated him.
As advised, he stuck to one story, claiming to be an innocent tourist, and repeated his responses robotically. When they found and questioned the Russian-Hebrew siddurim he brought, he told them they were for his own use and showed them that he could read the Hebrew. This stalled them, but they pushed forward. When they opened the many American candy boxes he had packed, out tumbled blood pressure pills, diabetic medications, and other drugs instead of the expected M&Ms and Good & Plenty. They questioned him closely, but he insisted that all the drugs were for his own use.
The agents conferred in a huddle, returned, and told him, "We don't think you look so sick that you need all these drugs!"
But Dr. Levine responded mildly, " I always travel with a lot of medicine in case I get sick."
Finally, the frustrated Russian agents, unable to get Dr. Levine to admit any guilt, threw his luggage and all his belongings on the floor of the terminal and told him to leave.
"They followed us throughout our trip, and we had to be careful what we wrote down and what we said in the hotel," he remembers. "Everything was bugged. We had Russian guides who were members of the Jewish underground, and they took us around. We treated whomever we could."
The Levines' connection to Eretz Yisrael is strong and longstanding, but a brutal terrorist attack brought that connection even closer to home. In April 1995, the Levine's middle daughter Chavie was in Israel attending Nishmat and planned to travel with two friends to spend Pesach in the popular Palm Beach Hotel in Gush Katif, on the sea. When they boarded the bus, Chavie let her friends sit together in the seat ahead of her. On the way to Kfar Darom, a Palestinian suicide terrorist rammed their bus and detonated a bomb, killing eight passengers, including Chavie's friend Alisa Flatow who was sitting in the seat directly in front of her. Chavie and the other friend were wounded by shrapnel but survived and returned home.
Dr. Levine describes this turbulent time, grateful for his daughter's survival on a personal level, but angered over the senseless loss of life and the unbridled terrorism that threatened Jewish life in Israel. After his daughter's return, newsmen and journalists camped out in front of the Levine home, hoping for a statement for the family. They got plenty of material from Dr. Levine, who was passionate and outspoken in his support for Israel's rights and railed against the newly implemented sweeping "land for peace" Oslo Accords.
As a result of the publicity, Dr. Levine was contacted by Dr. Joe Frager, the organizer behind the longstanding Israel Day Parade and the concert in Central Park that followed. Having heard Dr. Levine on the news and impressed by his thoughts and eloquence, he wanted Dr. Levine to speak at the concert. But Dr. Levine demurred, and although Dr. Frager kept calling, he remained unsure if he should participate.
Meanwhile, one late evening, he got a call from a "Dr. Frager." Dr. Levine still didn't have an answer for him but reluctantly took the call. It turned out to be a man named Dr. David Frager, who was calling because his young son had sustained an injury.  Dr. Levine always put the patient first, even after hours, and ended up performing surgery on him that night. It turned out that Dr. David Frager was Dr. Joe Frager's brother, which led Dr. Levine to conclude, "If Hashem sent his brother after me, I guess I should speak." The 1995 Israel Day Concert included Dr. Levine on its program.
With his sons Zalman and Yehoshua becoming physicians specializing in reproductive medicine and cardiology, respectively, his daughter Shoshana serving as associate dean of Stern College, and his daughter Chavie trained as an attorney, Dr. Levine has given over to the next generation the values of hard work, a strong ethic of communal responsibility, and an open heart for empathy to others' pain and suffering. That was especially sharpened by their personal family tragedy, the unexpected and untimely death of Batya, the Levines' fifth child. She was married and was a nurse practitioner by profession.
Batya's death was mourned by the family as well as those who loved Dr. Levine. When they were sitting shivah, they had an unexpected caller. Once, many years earlier, a young boy from Monsey came in complaining of an elusive pain. While other physicians weren't able to pinpoint the cause, Dr. Levine correctly diagnosed his illness as bone cancer. The boy had to have his leg amputated, but his life was spared. He attributed his survival to Dr. Levine's skill and acuity in diagnosing correctly where no one else could. The boy grew up and became engaged to be married. On his wedding day, dressed for the chuppah, he stopped at the Levine home, where the family was sitting shivah. Before going to the wedding hall, he was menachem avel Dr. Levine and his family, and thanked him again for saving his life.
Dr. Levine has faced his challenges with unwavering emunah and simchas hachayim, and continues to forge on in life using his medical expertise to help people. And to his patients' gratification, he has no immediate plans to retire. Dr. Levine is modest about his successes in diagnosing, treating, and healing people's infirmities and attributes those successes to his overall thoughtful approach and his natural love for people.
But in the end, he is quick to ascribe success to the best partner in medicine, "I don't remember any operation I've ever done where I didn't walk out and say 'Baruch Hashem.' "
(Originally featured in Mishpacha, Issue 874)
Oops! We could not locate your form.
>