| From My Table |
From My Table
| August 19, 2020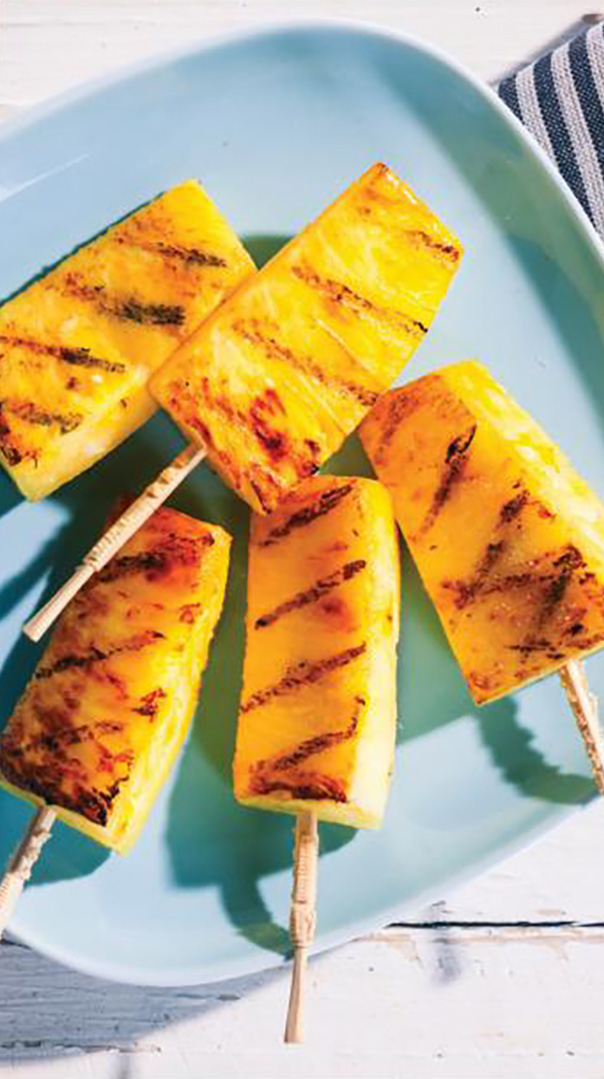 Quick; throw fruit on the grill! Peaches and pineapple do particularly well with some smokeyness
It is a truth universally acknowledged that people love to talk about food.
Lately, however, there seems to be a common thread. Whether I'm on the carpool line, in shul on Yom Tov, or at the supermarket checkout, I hear the ever-popular refrain: "I just need some healthy recipes." Almost in the same breath comes the predictable second half of that sentence: "But healthy food takes so much time…"
Cooking healthfully somehow has a reputation for being time-consuming and laborious. You picture yourself cleaning endless vegetables and checking a never-shrinking pile of herbs. But I don't get it. To me, it doesn't seem any more time-consuming than hand-grated potato kugel, or making apple crisp. It's just di­fferent.
Here's what I answer in the carpool line, in shul on Yom Tov, and in the grocery store checkout. "What happened to a side dish of simple zucchini, sliced, sprinkled with salt and olive oil, and roasted on a baking sheet in a hot oven?"
Friends: "Wait, what? How should I slice it? How long should I roast it? I need the recipe, let me get a pen." No matter how much I emphasize the cooking method over the actual recipe, the same thing happens every time. Eventually I've come to realize that people want recipes. We need to be formulaic, and break it down as much as possible so that anyone can recreate it and not be stressed by improvising.

This week, the sisters make four healthy sheet-pan dinners extremely approachable. If you just follow the recipes step by step, that's great. But if you love this kind of healthful dinner, pay attention to the method and try winging it next time with a new vegetable, protein, or flavor provider. The sky's the limit!
Chanie Nayman
Food Editor, Family Table
DIY Personal Shawarma
I had this idea to recreate the shawarma concept but in individual portions. It was a huge hit in my house! Toss cubed (somewhat flat) deboned chicken bottoms in your favorite shawarma spice. Skewer them relatively tightly onto a skewer.
Grill on medium heat on a grill or over a cast-iron grill pan indoors. Cut the chicken off the stick the way you would with a real shawarma and serve.
Add This to That
Some great face-lifts for an ordinary dish when company will be walking through the door in a minute:
Add corn off­ the cob to a green salad.
Add thinly sliced celery to coleslaw.
Add jícama to guacamole.
Add toasted sesame seeds to red cabbage salad.
Add chopped raw string beans to a green salad.
(Originally featured in Family Table, Issue 706)
Oops! We could not locate your form.
>