| From My Table |
From my Table: Tishrei 5783
| September 13, 2022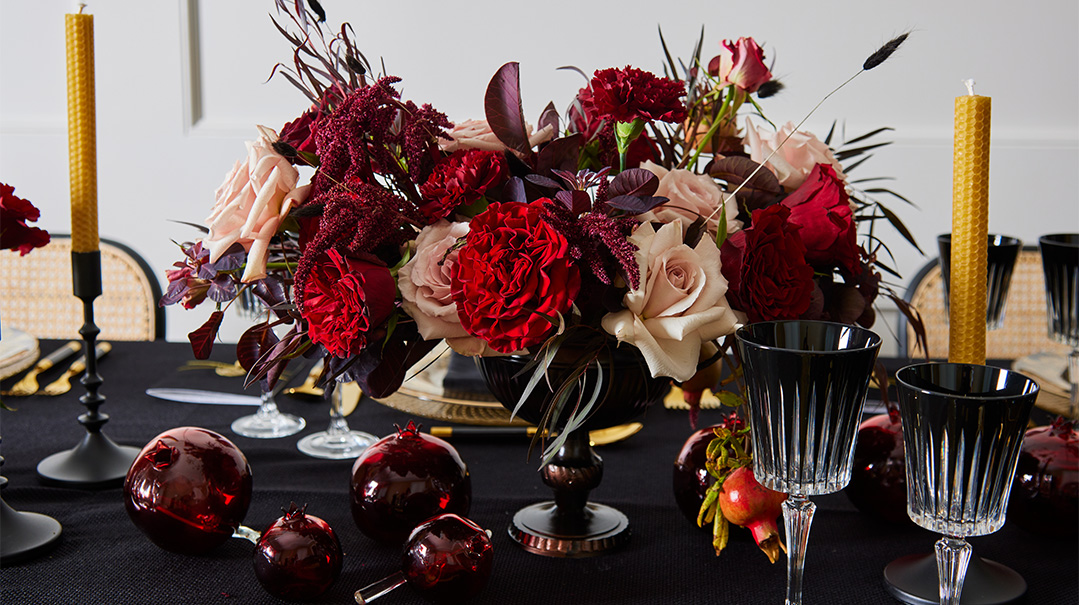 Food and Prop styling Goldie Stern
Photography Felicia Perretti
There's a bonus project I like to take on in addition to all the regular things I have going on at this indisputably busiest time of year. It's a project that deserves all the attention in the world, and that is bringing a gift to my kids' teachers before Rosh Hashanah.
I always feel strongly about expressing appreciation to my kids' teachers, yet each year I run into the same catch-22. I enjoy pulling these gifts together, but I don't really have the time to give them the personal touch that I'd like to. I know, I should lower my standards, give anything, it's the thought that counts, because this time of year is busy enough as it is, but the internal tug-of-war doesn't change, and some years I can get to it, but other years I don't.
Because really, it's underrated how busy this time of year is. We pull off so much in the span of six weeks between the end-of-summer/back-to-school season and the Yamim Tovim. It's a massive annual undertaking, and it's happening while we're simultaneously preparing for the most awesome days on the calendar — the days that would seemingly require the most advance preparation, brain space, and a daily schedule free of extra distractions. And yet, here I am creating "shalach manos" for my kids' teachers, making a batch of challah for the freezer, and trying to locate composition notebooks with unlined pages (let me know if you have any luck with that one!).
And here's the thing I'm always amazed by. So many of you anxiously wait for the ideas we offer in these issues to do with your children, to create a Yom Tov spirit in your home, and produce something tangible to engender this positive connection. How do we all find the time for it?
We tend to fill the nooks and crannies of our lives with the things we feel passionate about. This entire season has an adrenaline rush that includes all the Yom Tov shopping and cooking and somehow, miraculously, even the energy to prepare for the holiness of this time of year before we run headlong into Succos, which is just around the corner. We manage to pack so much into this one-month period, it's remarkable.
With all this in mind, the supplement you hold in your hands isn't meant to add to your to-do list. Instead, our goal is to help you narrow down the options and focus on making a few new dishes that will give your Yom Tov table that special feel. I hope we just took a massive project off your head and made it into a mini project, so you can get back to the rest of this season's scheduled programming — with or without the extras.
CHANIE NAYMAN
Food Editor, Family Table
Editor in Chief, Kosher.com
(Originally featured in Family Table, Special Tishrei Issue 810)
Oops! We could not locate your form.
>