| From My Table |
From my Table: S'mores Bites
| May 16, 2023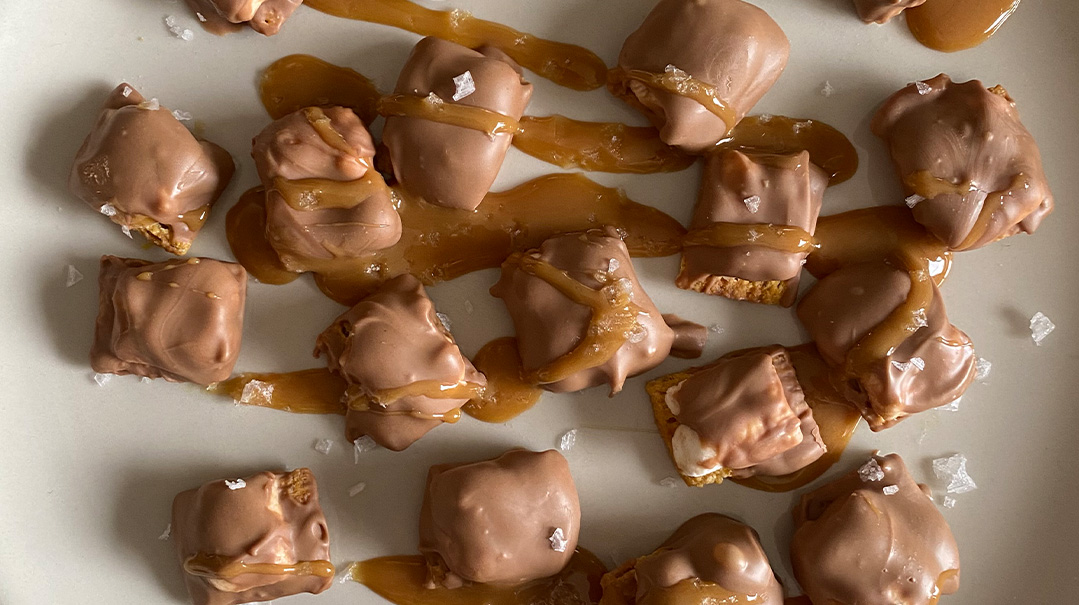 A few years ago, my daughter's incredibly dedicated and thoughtful teacher put together a Shavuos cookbook for her students, with each girl contributing a recipe. My second grader had a lot of opinions on which recipe of mine she wanted to contribute, and requested a recipe for a milchig chocolate cake with four steps, requiring four bowls and four layers of chocolate. The recipe is delicious but time consuming, and I definitely don't make it every year. As I was writing it up, I kept thinking about how it was an exercise in futility, because who has time for this kind of recipe!
I laughed out loud when the cookbook came home and the other recipes were mostly five lines each. I imagined the teacher thinking how classic it was that my daughter's recipe is the longest, and reflecting on the irony of the fact that I rarely make it myself.
We're in the age of giving our kids more say in general. More independence, and more space to make their own decisions. Over the years I've really reworked my thought process to make room for this approach and to move away from micro-managing as much as I can. But sometimes redirection is appropriate, and the case of the chocolate cake may have been one of them. I think collaboration would have been the bridge between directing and giving space.
In this week's issue, you'll find a beautiful article on flower arranging by our food stylist and in-house expert florist, Shiri Feldman. Months ago, when we were discussing this article, Shiri had a really good point. I had in mind a simpler article of tips for commonly used Shavuos flowers, but Shiri wanted to show them in action, and she was right. In this case, I was redirected, and the collaboration made the result so much better.
CHANIE NAYMAN
Food Editor, Family Table
Editor in Chief, Kosher.com
S'mores Bites
10 oz (280 g) chocolate (I tried it with dark chocolate and with milk chocolate, as shown here in the picture. For the milk chocolate I used 3 3½-oz/100-g chocolate bars.)
1 8-oz (225-g) bag marshmallows (either mini or regular size)
2 cups cereal (I used a pareve version of Golden Grahams, but I also tried it with Life cereal.)
caramel, for drizzling (optional)
Cut the mini marshmallows in half or in a size that will fit on top of your cereal. Place them cut side down on the cereal. Melt the chocolate in a double boiler or microwave in 30-second intervals. Then dip the cereal and marshmallow in chocolate and place on a parchment-lined baking sheet. Allow to cool in the freezer for 15 minutes before stashing away (if there are any left, that is!).
The Easiest Way to Melt Chocolate
Place chocolate in a ziplock bag and place in a glass. Pour boiling water into the glass and allow the chocolate to sit until it melts. (It might need a second round of hot water if not fully melted.)
(Originally featured in Family Table, Issue 843)
Oops! We could not locate your form.
>