| From My Table |
From my Table: Slice-and-Bake Hamantaschen
| February 28, 2023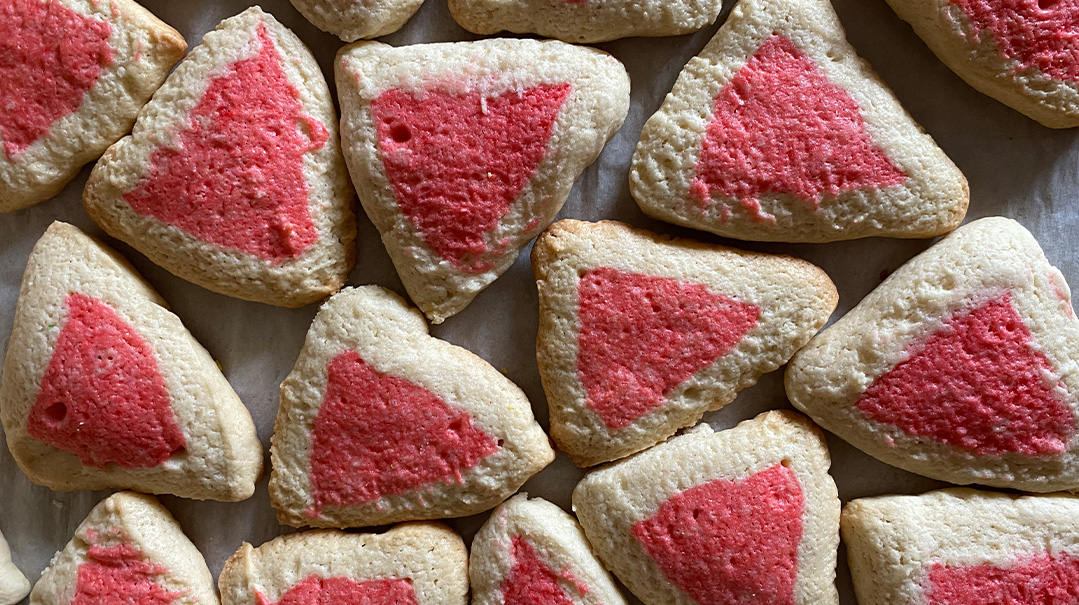 I remember the winter that my mother signed me up for an intensive art club. It was the kind of class that comes with a long list of supplies, expensive paints and the like, and this was before Michaels existed in our area. One of the goals of the class was to learn how to create something that's the same, but different. The teacher had a prototype for everyone to copy, but each participant of the group had to produce something slightly varied. Of course, there was a lot of looking over shoulders throughout the classes, and it took a lot of confidence to be able to say, I'm proud of my version.
I think there's a natural tendency, to try to create something different. Something that stands out and that presents well, especially if you have a creative streak. But there is definitely an advantage to staying within some kind of confines too. We each have a responsibility to our circles and our communities, so even if creativity is our impetus, we need to be aware of the norms around us.
Maybe I'm wrong, but I wonder if Purim is really the time to exercise our creativity. Meaning, if Purim is the only time of year that we have the opportunity to get creative, maybe we need to be on the lookout for other opportunities throughout the year — specifically the times that aren't quite as hectic.
In this issue we have some fun ideas, some beautiful ideas, and some delicious ideas. All are new and some version of different. But more important than incorporating all of these ideas into our plans this year, I hope we can strike the right balance of creative versus doable that we'll truly feel proud of.
CHANIE NAYMAN
Food Editor, Family Table
Editor in Chief, Kosher.com
Slice-and-Bake Hamantaschen
YIELDS ABOUT 20 COOKIES
¾ cup Mehadrin Margarine (1½ sticks), softened
1 cup sugar
1 egg
½ tsp vanilla
2 cups flour
½ tsp baking powder
food coloring and/or sprinkles
Beat margarine and sugar on medium-high speed until pale and fluffy, about 3 minutes.
Beat in egg and vanilla. Reduce speed to low and add dry ingredients, mixing until just combined.
Separate two-thirds of the dough and add food coloring and/or sprinkles to it. This will become your center. Form it into a 12-inch (30-cm) long triangle, about 2 inches (5 cm) wide at the base. Wrap it in parchment paper and set aside.
Roll the remaining dough over a piece of parchment paper into a 12x8-inch (30x20-cm) rectangle. Wrap the rolled dough around the inner wrapped triangle and refrigerate overnight, or until very firm.
Preheat oven to 375°F (190°C).
Unwrap the outer dough, then the inner dough, and place the inner triangle in the center of the outer dough. Fold the outer dough around the inner triangle and make sure the sides are smooth so it cuts into a smooth triangle. Cut 1⁄4–1⁄2-inch (1⁄2–1-cm) slices and place on a baking sheet. Bake for 10–15 minutes.
Thank you to themondaybox.com for providing the inspiration for these hamantaschen!
(Originally featured in Family Table, Issue 833)
Oops! We could not locate your form.
>