| Family Room |
Curate Your Home
| August 12, 2020
Shop online, shop vintage for one-of-a-kind results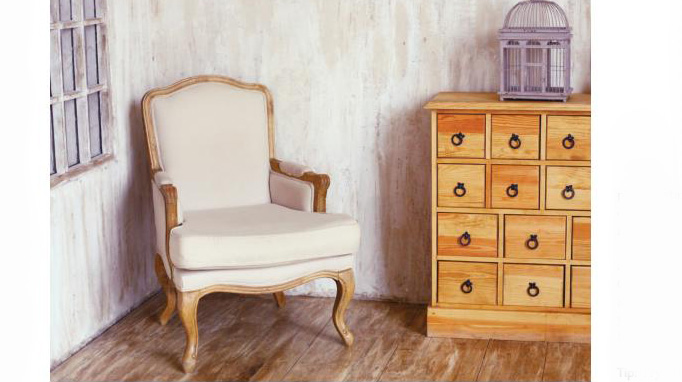 T
here's a misconception that I encounter on a regular basis in my line of work, and that is that interior designers have a fun, easy, and slightly frivolous job. While I recognize that we aren't emergency room doctors, we do run regular businesses just like everyone else. We manage clients, projects, budgets, and expectations just like everyone else in a service-based industry does. Yes, designing a home involves creativity and looking at pretty things, but the majority of the time we're just doing regular business stu­ff, and it isn't always fun and games.
Okay, now that I've gotten that out of the way — I do have some pretty things I would like to show you.
I appreciate that while someone may have a budget for new furniture, they may not also have a budget to hire a designer to put all the pieces together for them. If that's you, listen up: I'd like to give you some insider tips to purchasing furniture online, or remotely, with a designer mindset. There are so many stores that have websites or shop-at-home options, such as Living Quarters in Brooklyn, which even o­ffers WhatsApp meetings.
Here are some key things to look out for and to avoid when navigating the Internet for decor and furnishings.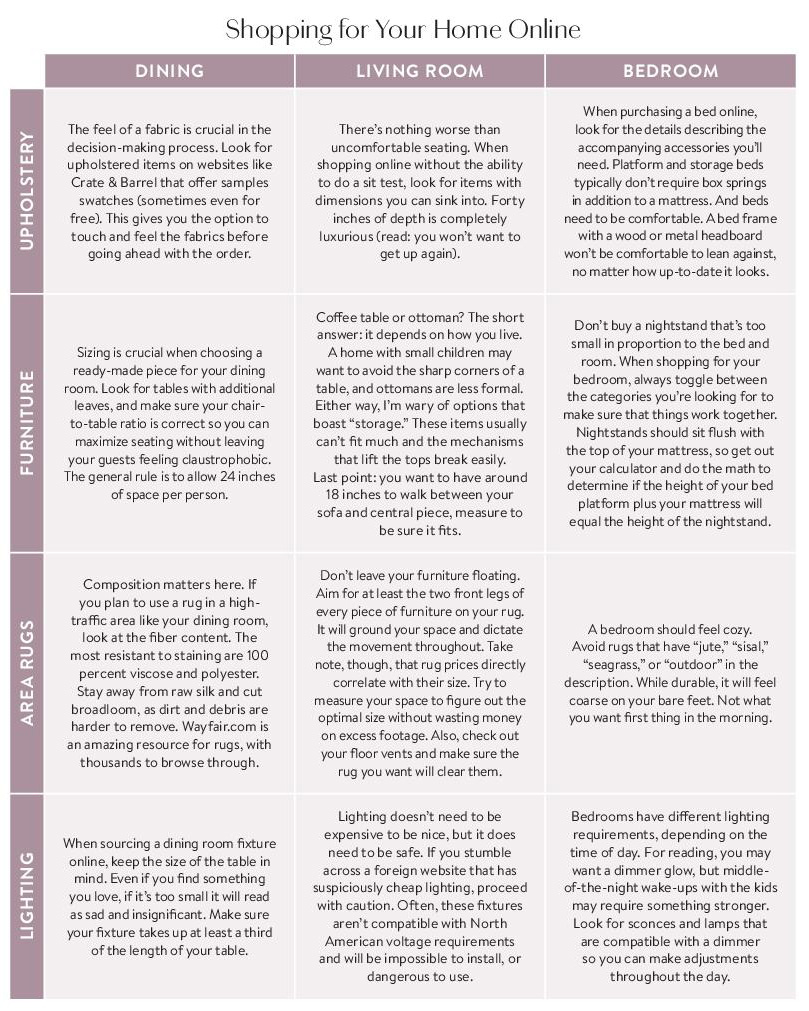 Opening Up Your Mind to Shopping Vintage
Interior design school is a funny place. It's a rigorous curriculum aimed at instilling technical skills. You're taught principles of color, history, textile composition, technical drafting programs, building code, and everything in between. But there's one thing you're not actually taught: style. There's no syllabus on how to create an inspiring interior space. No textbook with a step-by-step guide for infusing warmth, luxury, and comfort all in one room. There are no exams to judge if you actually know what looks good, and where.
It's ironic, but I think this is because there are no right or wrong answers when it comes to style. A discerning space has no rules. Except this one: Fill your home with what you love. Your rooms should feel collected, not decorated. A space that tells a story of what inspires you is far more interesting to the eye than a space made up of items that "match."
One of the ways to achieve this vision is simple. Go vintage.
Before I scare you away — I'm not talking about your great-aunt's old dining room set that's been sitting in her basement collecting dust since the '80s. I'm talking about those hidden gems that have the potential to be something special. Vintage anything tends to get a bad rap for being old, worn out, and dirty, but it doesn't have to be. With a little creativity and an open mind, you can be the proud owner of a beautiful new statement piece at a fraction of the cost. Let me show you how.
1 Identify Your Strengths
When beginning your search for pre-loved furniture, try to hone in on items that you have the ability to restore. If you've got an artistic streak, a dresser or credenza in need of a fresh coat of paint is a great place to start. If you (or your husband) are good with electrical work, a light fixture in need of some rewiring is a no-brainer.
Personally, I love finding pieces that are "boring" at first glance but have the potential to be dressed up. Craigslist.com is a great resource for finding furniture at a ridiculously low price. Just be sure to search within your area — there's nothing worse than scoring a great find only to realize that it's located in another state.
Tip: Try Aptdeco.com for browsing pre-owned furniture on a website with a retail feel. They also offer delivery services, which takes the hassle out of coordinating it on your own — super-helpful when shopping for larger items!
2 Figure Out Your Scope of Work
Once you've got that piece in your possession, make a real-life assessment (after all, when does anything ever look how it appears online?) and a checklist of what you'd like to do to improve it. Some things to consider:
> Stain or paint? If the piece is the same wood throughout, stain is a great choice for a long-lasting, rich-looking refurbishment. Keep in mind that you'll need to spend some time sanding it down first for an even application. Use a soft terry towel for best results. If your furniture appears to be constructed of a few different materials, paint will easily cover up any variances and offers the most options in terms of color choices.
> Can you add new hardware? One of my favorite ways to spruce up anything with doors or drawers is by adding unique hardware to it. Take note of the existing drill holes. Knobs are easiest to replace, since there's a single hole and there will generally be a universal fit. Pulls are a bit more difficult to match up, since there are two holes. Measure the center-to-center distance between the drill hole in order to find the correct size replacement. I love Anthropologie.com and Zarahome. com for inexpensive and eclectic hardware.
Do you want to get really fancy? If the answer is yes, consider adding an applied molding profile to existing cabinetry. This is an inexpensive way to add character and "lived in" charm to something boring. Myoverlays.com is a great website that provides profiles for furniture of any shape and size that you can finish off and apply yourself. (They also make trim for all lines of Ikea furniture.)
3 Get DIY-ing
Time to get down to business. Set yourself up properly to ensure best results.
> Clean the piece thoroughly before you begin.
> Do all your work in the most open indoor space you've got. Unless you live in the perfect climate, it's not worth the risk of leaving something outside to dry overnight. If you've got a garage, that would be ideal. Otherwise, use a room in your house that is mainly unoccupied, and leave doors and windows open for air circulation when working with products like paint or stain that contain fumes.
> Set aside enough time. These things tend to take longer than we think. Repainting requires at least two coats with sufficient drying time in between, while staining can sometimes take four to five coats to achieve the depth you're looking for.
Get the entire family involved! I find anything with repetition and concentration extremely therapeutic and enjoyable for kids. If a family furniture fiesta is not your thing, let your kids "be in charge" of a section that may not be as visible, like the back panel of a credenza that sits against the wall or the interior shelves of a cabinet. Taking the time to engrave names and dates on the underside of the piece you're working on as a family is always a special touch to creating your very own family heirloom.
4 She's Ready for Her Debut!
You are now officially the proud owner of a beautiful piece of furniture that you worked hard to create. Invite friends and family over to show off your "new" piece. Take the stigma out of pre-loved furniture, and take pride in the sweat equity you've put in. Chances are your all-in cost is way less than a readymade alternative, and you might have even had a little bit of fun doing it.
Just as Beautiful
We can all agree that 2020 has brought tremendous change to the way we live our lives, both big and small. And yet, while we're all trying to navigate this new normal, life continues to press on. Chairs break, rugs rip, kids outgrow their cribs, and expenses don't stop, just because we have.
I hope that I've been able to ease some of these small but not insignificant stresses in your day-to-day life. It's more than okay to choose secondhand to replace that table whose legs have finally given out because that's just what the budget allows for this month. It's more than okay to furnish your newlywed apartment online because you don't feel comfortable going out retail shopping in stores just yet.
Our world may look a little different than it did last year, and that is okay. It can still be just as beautiful.
The Do's & Don't's of Shopping Vintage
DO: Try to negotiate. Remember that these items are not new brand-name pieces, and therefore the value is subjective.
DON'T: Be afraid of imperfections. Consider pieces that just need a little love to make them yours. Any solid-wood item (like a dresser or side table) that looks a bit worn can be easily sanded down and restained or painted to give it new life.
DON'T: Purchase items that fall into the "heavy use" category. I'm talking headboards, linens, upholstered kitchen chairs, slip-covered sofas, and anything related to kids. Some things just aren't meant to be shared.
DON'T: Purchase from an online seller who won't send additional photos upon request. There could be hidden damage they don't want you to see, and people like that will disappear into cyberspace as soon as you report an issue.
DO: Look for clues of quality. Terms like "dovetail construction," for example (which refers to the tongue and groove interior drawer construction in cabinetry), are a sign of quality craftsmanship and not mass production.
DO: Check for fraying. Especially in rugs. Chances are if you find one section with an untied edge, it's only a matter of time before the whole thing unravels.
DO: Professionally clean any fabric-related item you bring home. As pristine as something may appear, you won't regret getting it cleaned.
DO: Take note of where you plan to place the item in question. The mix of old and new lends an eclectic, gathered feel to your space that's simply stunning. An example of this would be a vintage Persian rug paired with contemporary seating and furniture living atop of it.
Leia Whitman Karoly is the principal designer at Gowans Whitman Design Inc., a full-service interiors firm located in Toronto. Having graduated from the New York School of Interior Design, Leia has eight years of design experience in New York and Toronto in high-end design, staging, and construction. Contact her at leia@gowanswhitman.com.
(Originally featured in Family Room, Issue 007)
Oops! We could not locate your form.
>