| For the Record |
Commander in Chief / Yeshivah Denver Chairman
| September 14, 2021
The relationships between these mosdos haTorah and the Oval Office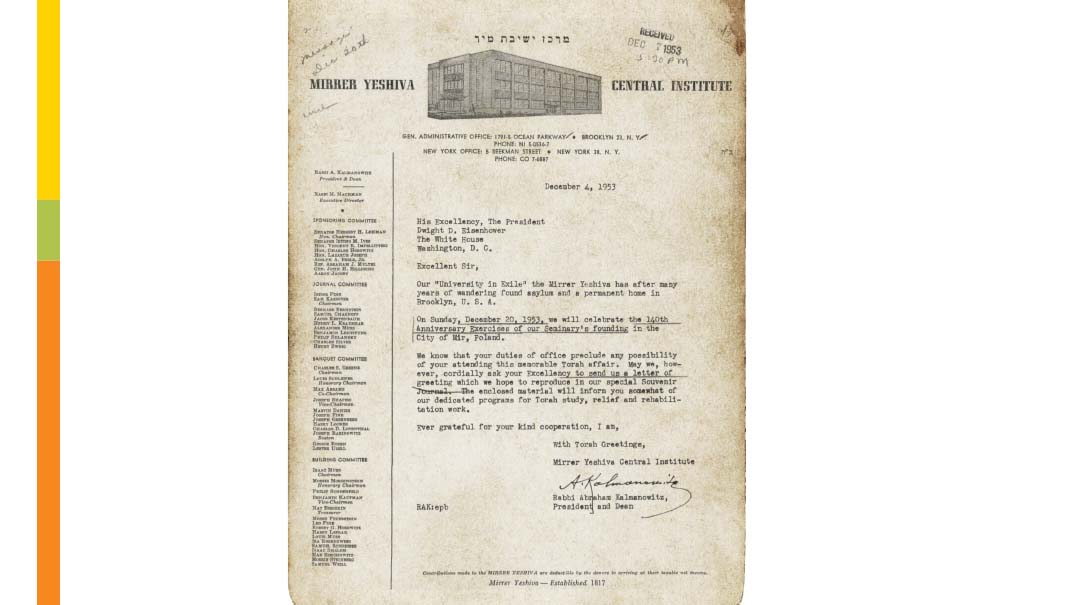 While the mosdos haTorah of 2021 exert tremendous efforts to procure high-quality dinner chairmen and honorees, there was a time and era when much "bigger names" graced the invitations and advertisements for such events. In fact, some of the names that once graced the letterhead of various mosdos are so impressive that they come off as perhaps a bit preposterous.
Is it possible that with the Battle of the Bulge raging in Europe in December 1944, President Franklin Delano Roosevelt had the time to serve as chairman of Mesivta Yeshivah Rabbeinu Chaim Berlin's "Mesivta Dedication Week"? Perhaps President Roosevelt felt obligated to "pitch in" on Chaim Berlin's behalf after "personally" penning a "hearty greeting" to the thousands gathered at the 1941 dedication of Mesivta Torah Vodaath, an institution he deemed "the center of constructive activity in preserving and disseminating Jewish tradition and learning."
In order to better understand the relationships between these mosdos haTorah and the Oval Office, we did some investigating. Were American presidents even aware of the existence of these institutions? How were such letters and greetings obtained in the long-ago days before White House Chanukah parties and Jewish liaisons?
The Dwight D. Eisenhower Presidential Library and Museum is home to perhaps the most enlightening collection of correspondence on this subject. In its archives are lengthy exchanges between the Eisenhower White House and yeshivos such as Ner Israel, RJJ, Yeshiva University, and Tomchei Temimim–Chabad, but the lengthiest file is labeled "22-C: Mirrer Yeshiva Central Institute."
Beginning in 1953, Rav Avraham Kalmanowitz made an annual request to the White House, asking President Eisenhower to pen a congratulatory letter for the yeshivah's dinner journal; something he believed would enhance the yeshivah's appeal in the eyes of less affiliated donors.
With his request heeded, Rav Kalmanowitz was emboldened for his next request. On October 9, 1956, Rav Kalmanowitz requested a congratulatory letter in honor of the yeshivah completing the construction of its new third floor, writing:
Since its re-establishment in this country, the growth of our Institute has been phenomenal. A third floor has recently been added to our beautiful edifice of Torah learning to provide adequate educational and dormitory facilities to accommodate our American students and even greater influx of young students from the turbulent Middle Eastern countries, whose rescue was made possible through the efforts of our Institute, which has also assumed the responsibility of their education and maintenance.
We would feel both proud and honored to receive a personal message to appear in a Journal which will be published in conjunction with the Dedication of the new addition to be held in the very near future.
A week later, White House replied in the affirmative: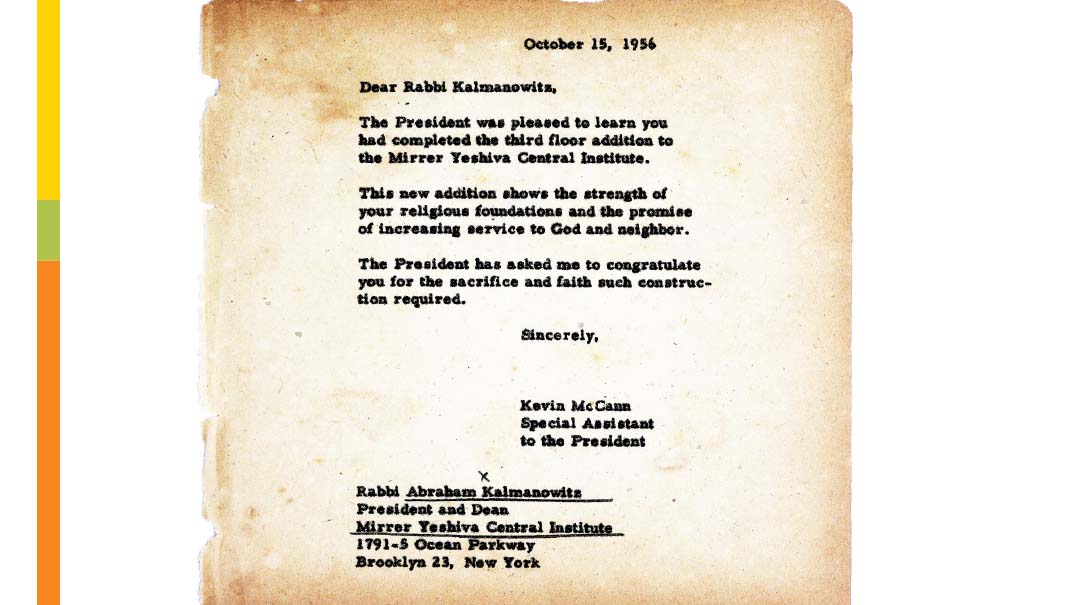 By 1958, however, it seems that Rav Kalmanowitz's luck was beginning to run dry. That year he decided to aim even higher, hoping that the president might join the dinner in person:
"I am enclosing a copy of an invitation to our beloved President, Dwight D. Eisenhower which I extended to his Excellency to attend the dedication of the Mirrer Yeshivah Central Institute to be held in the auditorium of the Yeshivah at 1795 Ocean Parkway, on Sunday, December 14, 1958, at 2:00 P.M. Also enclosed is a copy of a telegram which the President sent to our Institute in 1957."
Sensing that the president might not be able to join in person, he added as follows
"A telegram or letter sent by the President would be deeply appreciated. Enclosed you will find a suggested text which may be of assistance to you."
At this point, the White House staff began to grow weary of these requests and an internal message was penned from White House Appointments Secretary Tom Stephens to Eisenhower's Special Assistant Frederic Fox:
I hope the President is not compelled to congratulate this organization every time it installs a new plumbing fixture or paints the ceiling of its kitchen. Can't you just extend congrats, perhaps quoting one of its previous messages?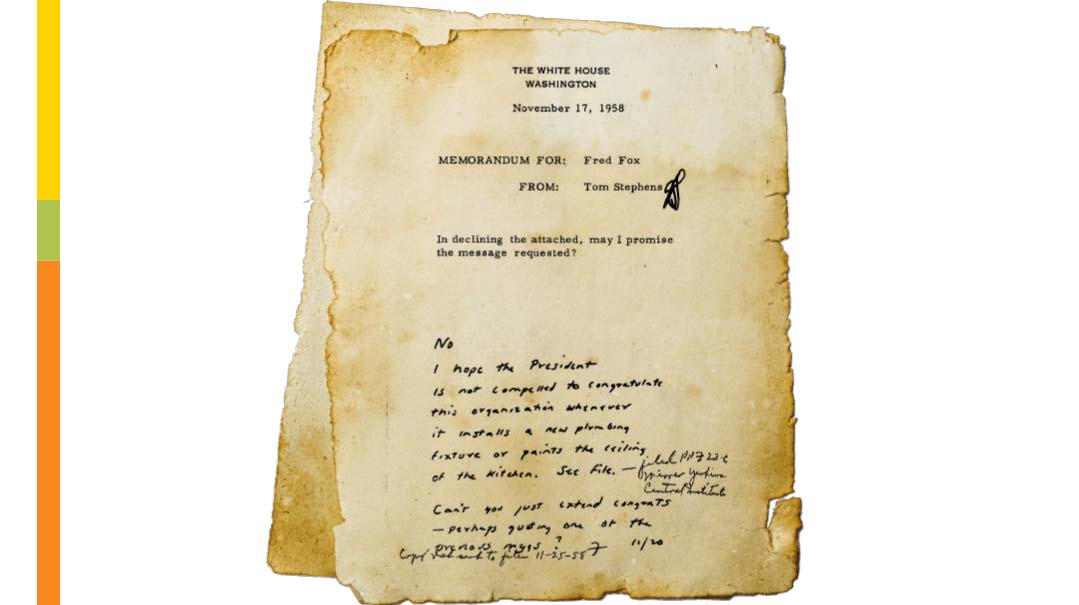 Well Wishes from Washington
The first known such correspondence came when the Touro Synagogue in Newport, Rhode Island, wrote a letter of well wishes to President George Washington in August 1790. Washington responded in kind, emphasizing, "May the children of the stock of Abraham who dwell in this land continue to merit and enjoy the good will of the other inhabitants — while every one shall sit in safety under his own vine and fig tree and there shall be none to make him afraid." This reply was a stark reversal from the typically ambivalent or hostile relationship that Jews shared with their leaders in other diasporas.
Gore a Groisse Tribute
Perhaps the most memorable contemporary example of such an event is Vice President Al Gore's attendance at the annual dinner of Agudath Israel of America in 1998. Several hours earlier, the legendary Agudah leader Rabbi Moshe Sherer had passed away and VP Gore's planned speech was transformed into a eulogy, where in front of thousands of somber attendees at the New York Hilton, he remembered his close friend as "a remarkable force for the understanding and respect and growth of Orthodox Jewry over the past 50 years."
Israel Has (a Couple of) Friends in the World
A rare warm relationship was said to have been enjoyed by the Jewish community of the Austro-Hungarian Empire with Emperor Franz Jozef I during his long reign. This was illustrated during his 1869 visit to Jerusalem. In the Middle East to attend the grand opening of the Suez Canal, he was greeted by Galician and Hungarian Jews of the Old City led by Nissan Beck. The emperor was shown the unfinished Tiferes Yisrael shul, and even made a donation toward its completion. Legend has it that when he asked why the dome of the shul was missing, Beck responded, "The synagogue itself has doffed its hat in your honor!"
(Originally featured in Mishpacha, Issue 878)
Oops! We could not locate your form.
>