| Bakeaways |
Build Your Best: Fruit Crisps
| July 10, 2019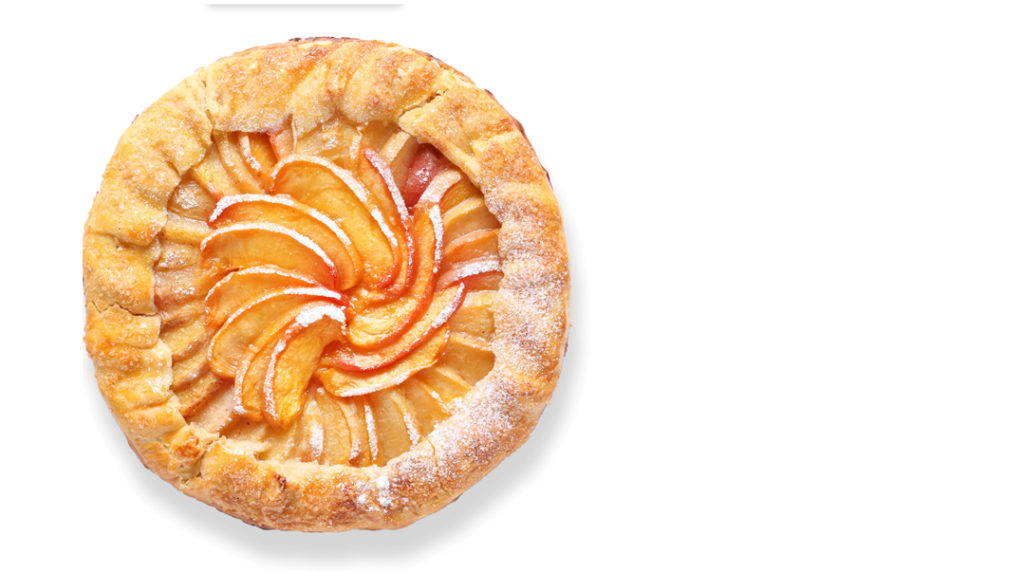 I'd like to introduce you to a group of vintage fruit desserts you may have never heard of.
I present to you: 1. the fruit buckle, 2. the slump or grunt, and 3. the pandowdy. (And no, that last one is not how we greet each other in the South.)
They may be vintage, but they sure are awesome! The vast amount of fruit in a buckle would make a lesser cake batter do just that, so this batter is extra dense, but your buckle may still buckle. The slump (also called a grunt) may not stand tall on your plate, but it's got delicious sweet dumplings on top, and is made on the stovetop — so it may be a good dessert option if your oven is occupied. A pandowdy is a very old American recipe traditionally made with apples and covered with a pie crust topping.
After baking, the pandowdy crust is to be broken up, absorbing the sweet, spiced liquid and turning it into a more pudding like consistency. And that's it for the history lesson, folks. Now let's talk current culinary affairs.
COBBLERS, CRUMBLES, AND CRISPS — OH MY! 
Have you been interchanging these terms (gasp) without realizing there are actually differences?

A good old fashioned cobbler will have biscuits or pie dough baked over the fruit (reminiscent of a cobblestone street). A crumble has a layer of streusel-like crumb topping; while fruit crisps typically have a thicker, crispier topping and may include oats and nuts. And see, when I explain it that way, it just makes so much sense, right?
DEFINE THE DOUGH 
From the other side of the ocean, we get these beautiful, fruit-filled oversized dough pockets — galette is the French term, while the Italians call it a crostata. But they're both basically a round sheet of dough topped with fruit, and the edges either get folded toward the middle for a thick crust or stretched out over the center of the fruit.
The filling can be stone fruit, figs, citrus slices, or almost any fruit cooked with sugar and flour or cornstarch and then brushed with an egg wash and sprinkled with turbinado sugar for a beautifully glazed sweet finish.
KEEPIN IT CRISPY
Isn't it a shame when you put time, effort, and love into making a beautiful crispy fruit dish and the top gets soggy? Avoid this by making sure the dish is completely cool before covering it, and always reheat your crisps uncovered. If it's gotten moist on top, you can usually restore some of the crispiness by heating it uncovered in the oven.
To keep your galette from getting too soggy on the bottom from the fruit juices, you can put a layer of cookie crumbs at the bottom of the crust or brush the dough with egg white or apricot jam. Pre-cooking the fruit to release and strain some of the juices can also help prevent sogginess.
CHOOSING CHEWY 
Adding an egg or two to your crisp topping will help bind the ingredients and make the topping chewier and less crispy. Think of those recipes you have for chewy fruit bars — they typically call for eggs as a binder.
GOURMET GALETTE 
You can make a simple galette into a gourmet wonder by adding lemon or orange zest; exotic spices such as cardamom, cinnamon, and freshly ground nutmeg; or even trendy fruit-herb combinations, such as basil and blackberry; peach, strawberry, and thyme; fig and mint; or blueberries and lavender.
CRISP SCIENCE 101 
Baking powder or baking soda combined with the flour contributes to the Maillard reaction — an effect which helps the topping brown and can also enhance flavor. And unlike what eggs do, the baking powder or soda helps to bring in some crispiness.
Apricot-Ginger Crisp 
SERVES 8 
12 large apricots
2 Tbsp vanilla extract
1–2 Tbsp minced fresh ginger
2 cups white whole wheat flour
 2 cups oats
1 ⅓ cups brown sugar
1.5 tsp salt
4 tsp cinnamon
1.5 cups coconut oil or unsalted butter
3/4 cup chopped pecans (optional)
vanilla ice cream, for serving (optional)
Preheat oven to 350°F (175°C). Slice apricots, cut slices in half, and toss with vanilla and ginger. Place apricots into 8 ramekins or a large pie pan. (Or, you can make it in a 9x13-inch [20x30-cm] baking pan). Mix flour, oats, brown sugar, salt, cinnamon, and coconut oil until coarse crumbs are formed (a gloved hand is the best way to accomplish this). Add pecans, if using. Sprinkle over apricots, and bake for 30 minutes or until crumbs are golden. Serve warm, with ice cream if desired.
Four-Ingredient Summer Fruit Crumble 
SERVES 8 
1 1-lb (.0.5kg) bag frozen berry mix
4 peaches
0.5 cup butter or Earth's Balance
1 box white cake mix
Preheat oven to 350°F (175°C). Pour frozen fruit into a round ceramic pie pan or 9*13-inch (20*30-cm) casserole pan. Slice peaches, and add to fruit mixture. Slice butter into thin slices, and mix with dry cake mix until coarse crumbs are formed. Sprinkle over fruit. (You can set aside half of the crumb mixture for another time, or use it all now.) Bake for 1 hour and 20 minutes or until crumb topping is firm and golden.
TIP: To prevent sticky spills in your oven from juicy fruit overflowing the pan, place a large piece of aluminum foil on the oven rack under the pan.
(Originally featured in FamilyTable, Issue 650)
Oops! We could not locate your form.
>