| Branding Together |
Stage 1: Branding Together
| July 13, 2021
Why not do what she knew how to do best, using the same strategies she used for her Anelis Group clients, for one struggling business?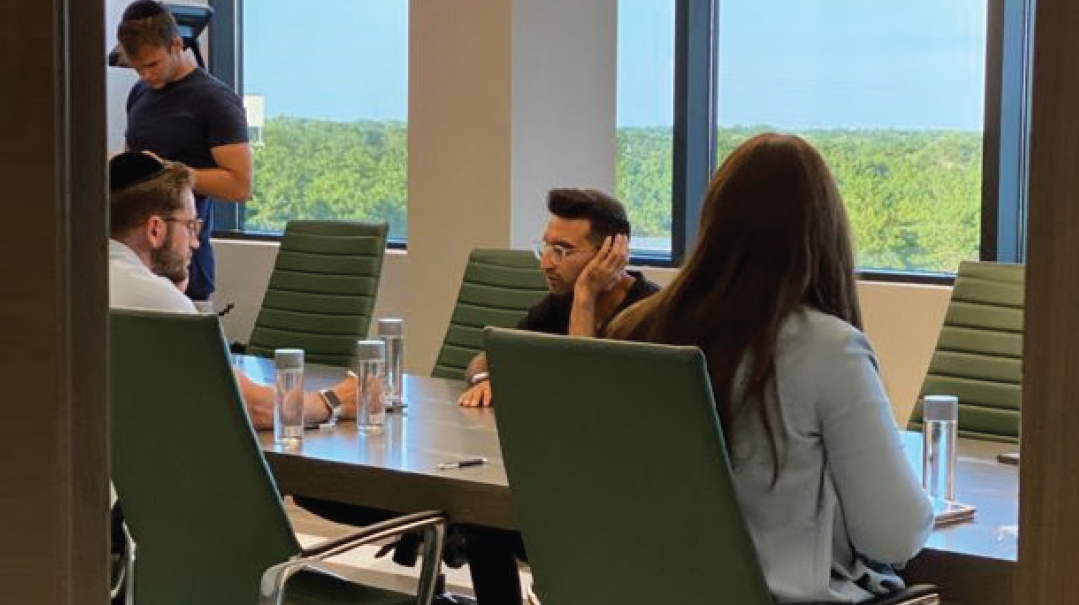 Name: ELISHEVA PERLMAN
Occupation: BRAND LEADER, The Anelis Group
Most small businesses are built on blood, sweat, and tears. When the world as we knew it came to a screeching halt in March 2020 and the pandemic dragged on, many were hemorrhaging badly.
Elisheva Perlman, founder of The Anelis Group, a boutique marketing firm, couldn't get the plight of the many small business owners she'd worked with out of her head. She knew there had to be a way to use her experience and creativity to be part of the solution.  The only question was how.
Having always had a gift for transforming out of the box ideas into successful marketing campaigns, it didn't take long for Elisheva to hit pay dirt with a relatively simple concept: Offer struggling small businesses a ray of hope by running a campaign providing a complete marketing package to one lucky winner, with an uber-talented team giving them the tools to start fresh, get back on their feet, and maximize their potential in a very big way.
And with that, Branding Together was born.
Twinkle in the Gloom
Elisheva's flair for the creative and her passion for helping others have been a common theme even before The Anelis Group came into existence. As a sixth grader she ran a donut sale that raised more than $100 and she pulled many an all- nighter creating school newsletters, laying out the yearbook, heading plays and choosing themes for many an occasion. A Parsons School of Design graduate who also has a bachelors in education, Elisheva also earned a marketing and business degree with a concentration in design and public relations, and has taught high school limudei kodesh, acted as NCSY New York's program director, and served as Ohr Naava's director of marketing and communications. As founder of The Anelis Group, she shares her branding and marketing expertise with clients, typically forging close relationships along the way.
Like so many others, Elisheva found herself personally and professionally impacted by Covid's ripple effect. With the pandemic spreading rapidly in New York City as winter drew to a close, she made the enormously painful decision to pull the plug on the highly anticipated Brooklyn Market semi-annual ladies' fundraiser benefitting Ohr Naava, which she describes as her "her other child for the past seven years." Scheduled for mid-March 2020, the expo had a hugely successful track record and was expected to draw 4,000 attendees to support dozens of women-owned businesses. Having to cancel the event, Elisheva told her nearly 10,000 Instagram followers, was one of the hardest chapters of her professional life.
"It was incredibly difficult to deal with what was on my shoulders, with close to 100 businesses having to swallow this kind of loss," says Elisheva. "Obviously it wasn't in my control, but it was still hard, and it was a trigger point where we saw and felt the pain of so many business owners."
While the devastating loss of life and health issues that walloped the Jewish community were the primary concern, Covid's financial fallout was a serious problem too, and Elisheva saw companies that she had helped build slowly withering away.
"Businesses were taking big hits, marriages and children were suffering as well, and I kept wishing I could help them all," recalls Elisheva. "One night I found myself thinking that there are organizations that step up financially, but giving a person hope, the ability to rise despite the hardships, can help them flourish, with a little bit of light dispelling the darkness."
And the proverbial light bulb went off over Elisheva's head. Why not do what she knew how to do best, using the same strategies she used for her Anelis Group clients, for one struggling business? The idea of a contest began taking shape in Elisheva's mind, where the winning business would work with a team of all-star talent, giving them the ability to rise, phoenix-like, from the ashes of Covid.
"The idea was for someone to not just win, but to win in a crazy way," says Elisheva. "Not only would the winner walk away with something truly amazing, but unpacking the process would help other business owners, giving them a certain learning curve as they saw the steps toward marketing success and creating something powerful. It could be a teaching point and an inspirational tool for others, making it a win-win for everyone."
A Contest is Born
For the project — dubbed Branding Together — to work, Elisheva had to assemble a team of specialists who believed in the concept enough to provide their services pro bono, something Elisheva expected to be an uphill climb. Her goal was to create a dream team, with a winning mix of talent that would bring the contest winner's brand to life in a big way.
"I reached out to some creatives I work with oftentimes on projects and pitched the idea to them," notes Elisheva. "Each one was handpicked and the cream of the crop, and I had no idea if they would be willing to donate the amount of hours that would be needed here. There wasn't a single one that I had to sell or push the idea to. As soon as I mentioned it, they all said the same thing — 'I'm in.' "
Joining Elisheva as the Branding Together team's creative strategists were logo guru Yossi Belkin, Shopify specialist Elissa Berkowitz, lifestyle photographer Dani Diamond, food and product photographer Hudi Greenberger, media strategist and buyer Chayale Kaufman, film producer Gi Orman, naming specialist Avi Webb, Mishpacha's Michal Frishman, and the Between Carpools team of Leah Schapira, Victoria Dwek, Renee Muller, Estie Waldman, and Shaindy Menzer. It took hours of strategizing to create the contest that offered one community business a complete "brandsformation," with a prize package of nearly $100,000 in services. Branding Together came to life on the pages of Mishpacha as well as on the Between Carpools website and through the Jewish Content Network., The application told small-business owners: "When the world needed you to lay low, you shut your lights and went home. Now, it's your turn to rise again, and we want you to shine like never before ."
The contest application had both existing and aspiring business owners answering a comprehensive list of questions that described their operations and their needs. More than a dozen factors were part of the equation, with each entrant defining their business's unique element, confirming they had a business plan in place, and outlining what they hoped to achieve through the contest, among other criteria, giving the Branding Together team mountains of information to analyze. Elisheva acknowledged that while running the contest as a raffle would have been far less labor intensive, that format didn't offer the same possibilities as a broad scale learning tool and had potentially less strategic value.
"Imagine if the winner would have been someone who only needed a photo shoot," muses Elisheva. "We were looking for a business where the collective 'we' would be utilized. Someone who needed just one part of the package obviously wasn't going to be the right candidate."
Elisheva anticipated receiving 200 applications, but far more than double that number of responses came in, from businesses including large accounting firms, driving schools, holistic spas, apparel companies, gyms, yeshivos, restaurants, artists, and real estate management firms, all hoping to make the cut. Choosing just one among the many impressive candidates was a Herculean task, with Elisheva, her team of creatives, and representatives from the contest's media partners reviewing each application independently and identifying their favorites. Armed with their individual top-ten lists, the group gathered in late July to advocate for their picks and to choose one business to take home the prize. The spirited debate lasted for hours.
"It was a brutal, brutal process trying to decide who we could give the most value to, and I don't think any of us realized how challenging picking a winner would be," recalls Elisheva. "We started that meeting at 7 p.m., narrowing our choices down as a group to the top five candidates before voting from there to pick a winner. We were there for hours, and it was nearly midnight when we finally went home."
But even after all that there was no winner. No single business had garnered a majority of votes, which meant that the team would need to continue pondering the top five candidates until a single winner emerged in a second vote.
Determined to do her due diligence, Elisheva set out to investigate a particular business that had been a favorite among several of the creatives but hadn't quite resonated in the same way for her, paying them a personal visit without letting on who she was or why she was there. After her visit, Elisheva came to appreciate that there was more here than she had initially thought, and that the operation had the combination of passion and business sense that she had been hoping to find. When the Branding Together team met again, Elisheva had made up her mind, her vote tipping the majority in favor of the business she had just visited, and officially moving the contest to the next stage.
And the Winner is
Leah Lowenstein never really expected much of anything to happen when she filled out the Branding Together contest application. Leah had been aimlessly scrolling on her phone when she noticed the contest and asked her husband, Yossi, if he thought they should enter.
"He told me there was no way we were going to win," recalls Leah. "But I decided to do it anyway."
Residents of Jackson, New Jersey, the Lowensteins ran Dr. Suss Stables, a 25-acre farm located a short drive from the heart of Lakewood. With both Yossi and Leah having experience in the special needs community, they shared a dream of creating a farm that would cater to that demographic in addition to the typical population. But while childhood visits to relatives in Texas and a stint shepherding goats on a Gush Etzion yishuv had left Yossi yearning for a bucolic existence, the farm life was more of an adjustment for Leah, who loved the great outdoors but found herself panic stricken when faced with actual horses. Still, Dr. Suss's proximity to Lakewood's schools, kosher supermarkets and eateries cushioned the transition, and the Lowensteins' lives are filled from sun up to sun down with feedings, managing animals who sometimes have a mind of their own, fence and field maintenance, and other farm chores on top of the everyday realities of parenting three little girls.
It was rewarding for Yossi and Leah to see their rustic dream taking shape before their very eyes as they opened for business in early fall 2018. Just days later, more than 1,000 visitors flocked to Dr. Suss on Chol Hamoed Succos to spend a few hours on the farm, and since then visitors have been enjoying pony rides, riding lessons, a petting zoo, sensory hours, hayrides, seasonal activities, and private events at the Grawtown Road property. Over the next year and a half kids had the chance to get up close and personal with the animals and enjoy fishing and hiking through Dr. Suss's many wooded trails at weekly farm clubs held on Friday afternoons for boys and Sunday mornings for girls.  But Covid hit Dr. Suss hard, closing it entirely for Chol Hamoed Pesach — a key time — and severely limiting its operations even once restrictions had eased. And being all too aware that many in the tristate area still had no idea of their existence, Leah felt that the Branding Together contest video was speaking directly to her, although the concept of winning never once crossed her mind.
A few months later, the Lowensteins got word that Dr. Suss was a Branding Together finalist.
After finishing up a full day at work that included a camp group that ran until 9:20 p.m., an exhausted Yossi and Leah logged onto a Zoom conference with the creatives, completely unaware that life as they knew it was about to be forever changed.
"At first we spoke to them and positioned it as a call for additional clarification to contestants who had made it into round two. They didn't have the slightest idea that they had won," says Elisheva. "They were stunned when we told them — Leah was completely ecstatic and Yossi was in total shock."
The creatives congratulated them for being chosen from a pool of 437 hopefuls, and the Lowensteins were both at a loss for words. Yossi and Leah both recalled Elisheva's rather unusual visit to Dr. Suss with her family, and in retrospect, her intense curiosity about the farm and its therapeutic value suddenly made sense.
"I told my husband that either she was writing an article or maybe she had come from the contest because she asked like a bazillion questions," says Leah. "Most people get pulled in and want to just relax when they come here, but she was clearly trying to get more information and I could see her taking mental notes."
Branding Together was ready to roll, and life was about to get very interesting for the Lowensteins, their 12 horses, and their assortment of mini donkeys, goats, chickens, roosters, dogs, and what Leah affectionately calls "a ridiculous amount of bunnies." It was time to start strategizing, formulating plans, and creating identities, and Yossi, Leah, and the entire team of creatives were ready to saddle up and embark on the ride of a lifetime….
to be continued
(Originally featured in Mishpacha, Issue 869)
Oops! We could not locate your form.
>