| Branding Together |
Stage 2: The Transformation Begins
| July 27, 2021
A well-chosen name tells the world who you are and what makes you unique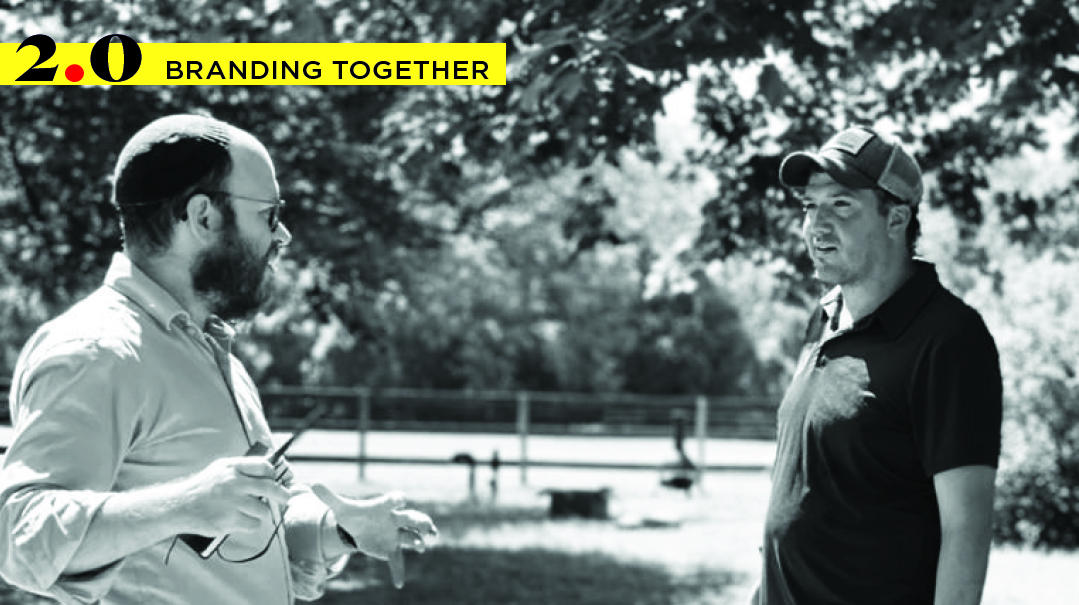 Recap
437 contest entries. 9 creatives. The number of hours spent deciding on the winner of Branding Together, giving one lucky business an all-inclusive makeover? Let's just say it was too many to count. But after multiple meetings, endless phone calls, and lots of Zoom conferences and WhatsApp messages, the Branding Together team finally came to a meeting of the minds, savoring the moment as they reached out to share the good news with the winner — Dr. Suss Stables, a family and sensory-friendly horse farm in New Jersey's Jackson Township.
Stage 2 — 

Name Development
featuring Avi Webb
Because a well-chosen name tells the world who you are and what makes you unique, naming a business is about so much more than coming up with clever verbiage that will make for memorable graphics. First up for Branding Together? Coming up with an expressive new identity for our contest winner.
It was shortly before the year 1600 when William Shakespeare pondered the significance of a name. As Branding Together creative director Elisheva Perlman explains, a well-chosen name is an essential component of any business and can actually be a significant factor in its potential success, a truism that has proven itself time and again.
"Amazon, for example, was a name that Jeff Bezos saw evoking images of a South American river so large it dwarfed all others, a concept that reflected his grand vision for his online bookstore that eventually morphed into the global marketplace that has become part of daily life for so many," observes Elisheva. "Jack Dorsey also hit the nail on the head when he dubbed his social media platform Twitter — its short, simple snippets of chatter call to mind the staccato chirping of birds."
In search of the perfect name that would embody the farm's unique vibe, Elisheva and brand copywriter Avi Webb met with Yossi and Leah Lowenstein at Dr. Suss Stables last spring, spending hours soaking up its unique vibe. Yes, the double meaning of the Hebrew word for horse combined with the appeal of a prolific and beloved children's author was catchy, but did it really capture the heart of their farm's wholesome serenity? Or was there another potential identity that could better showcase the business's true essence?
"We didn't go into the meeting with a goal of changing their name, because there's no reason to fix something that isn't broken," explains Avi. "But we did have to start with a thorough review of the name and what it communicated. Dr. Suss is a clever name for a petting zoo, but it was clear that this farm is about more than animals. It is truly a place to feel grounded and to connect with Hashem's creations, including other people. It was clear that we could do a lot better to communicate the width, depth, and relevance of what they were doing to the widest possible audience."
Elisheva and Avi took in the property's barn, paddocks, sheds, walking trails and acres and acres of woods, as well as the many furry and feathered creatures that called the Grawtown Road farm home, feeling like they'd been transported a million miles away from the hustle and bustle of everyday life.  Yossi spoke passionately about a child who might have trouble dealing with the distractions of the regular world but is transformed by spending time at Dr. Suss — the soothing reality of being surrounded by nature and animals creating a sense of stillness and peace.
"Hearing Yossi describe the sound of a horse crunching on hay being the sensory experience that a child could need planted visuals in our minds," recalls Elisheva, who listened intently while Avi doodled thoughts and ideas in his notebook.  "We listened to the unique aspects of their company, and what kept coming out over and over was that this place exudes a sense of tranquility amid the noise."
Returning to The Anelis Group's offices to collect their thoughts and share ideas, both Elisheva and Avi focused continually on a recurring theme had emerged in their discussions with Yossi and Leah.
"The common denominator was a place of calm, an almost spa-like experience, but with animals, with the unique element that it was a place for everyone," says Elisheva.  "We also identified that while Dr. Suss was used at times as a fun zoo for children, that wasn't what it was about at all. They have a unique niche that needed to be carefully positioned."
What's in a Name?
When Avi showed Elisheva a concept he had jotted down while they were still knee deep in hay, goats and horses, it took her a moment to unpack the full magnitude of its meaning. Evoking Dr. Suss's overwhelming sense of serenity while simultaneously categorizing the sensory friendly farm as a place for everyone, the name Calmin' Ground was a play on words that summed up the concept perfectly.
"'Calm' as in a place of calm," observes Elisheva. "'Calmin' as a take on a place that was 'common ground' for all. The addition of the tag line 'a sensory friendly farm for everyone' was a perfect addition that identified what the place really is."
"The idea here was shifting the business from a product, activity, or service-based concept to a destination," adds Avi. "There is so much more here than animals, rides, and Sunday fun-day. This is a place where you enter a new zone the moment you step through the gates, and everything else that exists here complements that experience and helps you feel more centered."
Still, "aha moment" aside, Elisheva asked Avi to go back to the drawing board and brainstorm other possible names to see if there was an even better way to encapsulate Yossi and Leah's dream. She had a feeling that Calmin' Ground was the way to go, but exploring other avenues was clearly the logical course of action.
"There are times when the right emotion pops in the first conversation," says Avi. "But it is just as important to be clear about what you are not as what you are, and that happens by going down different roads. We came up with dozens of finalists and this kept rising to the top."
Elisheva scheduled a Zoom meeting to present the new identity to the farm team, and after walking them through the presentation and explaining how they came up with the name, the response was a definitive "Yes — you nailed it!"
"Yossi sent us a voice note after the meeting telling us that after seeing the name and the brand position we had presented, he felt very heard, like their life's work was being communicated and packed into something that they could share with the world," says Avi.
"The moment that they heard the name was like seeing them unwrap a present," adds Elisheva. "Seeing their happiness with their new identity was an incredible feeling."
Meet Avi
Name: Avi Webb
Occupation: Brand copywriter
Location: Brooklyn
Years of experience: 16
Favorite part of the job: Seeing clients recognizing the uniqueness of their own ideas
Avi recognized that many companies invest fortunes into ads and website to reach customers, while crowds of prospects pass them by after seeing meaningless or misleading names. That's where he comes in.
"Copywriting is not necessarily all that different from investigative journalism," says Avi. "You need to have a lot of patience and ask a lot of questions, so that instead of thinking what a product is, you can move past that and see what it feels like, what it does for people, and how people will feel after buying, trying, or experiencing it — that's where the real power is."
Creating a solid name can help a business tell the world what sets them apart from others, and while a name may not necessarily tell a brand's entire story, it does indicate that there is a story out there, explains Avi.
On Personal Names: Other than solo creative businesses, where the owner's personal reputation is the actual product for sale, Avi doesn't recommend naming a businesses after its owner, a concept that can potentially backfire in a big way if someone with the identical name makes headlines for all the wrong reasons, or the business is sold and the company suddenly heads south.
On Name Length: Rhythm is a key element in copywriting, For that reason, Avi finds a longer name that flows off the tongue a better bet than shorter ones that are hard to pronounce or spell.
On Sound and Sight: The sound of certain letters, satisfying alliteration and visual symmetry in spelling all help communicate a brand's vibe.
"Some people read words while others read pictures," observes Avi. "A great brand expresses a unified message with equal care for how it is said and seen, so both kinds of readers get the same idea."
On Naming Trends: "Look for the 'why' of naming trends and not the 'what,' " counsels Avi. "Take the trend of extracting an ingredient or process as your brand name — a Brooklyn restaurant that did it well is Basil Pizza and Wine Bar, because your average 'pie and fries' place just can't describe itself with the single word 'basil.' This place struck a distinctive note of luxury pizza that still works really well. Simply extracting a common ingredient of your product won't express that same element of distinctiveness."
While businesses that are all about ratings or those marketing products that don't depend on a strong reputation may not need a name, Avi believes that having a brand identity can yield tremendous payoffs. His overall philosophy is to commit to a great brand position and name that, instead of trying to come up with a great name for a particular brand.
"Whole Foods and Fabletics are great examples of basic-sounding names that are marketing rockets because they boldly express what's absolutely original about these brands within their industries," says Avi. "It's not about original words — it's about the right words to describe an original idea. Define a clear, comprehensible, and desirable difference for your business and you'll be way ahead in finding a great name for it."
Our Take
When Dr. Suss first opened for business in September 2018, Yossi and Leah may have had animals large and small, as well as three ducks named Larry, Moe, and Curly, but the one thing their business lacked was an actual identity. Having Elisheva and Avi listening to their goals as they articulated their aspirations for their farm was a game-changer, the name Calmin' Ground crystallizing their thoughts into two simple words that spoke volumes.
"It was as if Avi saw what was in my brain," says Leah. "We love the name and think it really incorporates what the farm is all about and everything we want it to be."
Being chosen as the winner of Branding Together is giving the Lowensteins the ability to fine-tune their operation in ways they never could have managed on their own, the team's collective talents giving them the ability to go beyond their individual areas of expertise.
"These are skills that don't come naturally to us, and while maybe we hadn't seen them originally as part of our dream, they are just as important," notes Leah. "This experience is motivating us to step up our game, and knowing that people looked at Dr. Suss and felt that it was a winner gave us a fresh burst of confidence and a real sense of credibility."
(Originally featured in Mishpacha, Issue 871)
Oops! We could not locate your form.
>