| Job Search |
So, You Want to Be a… Physical Therapist        
| April 26, 2022
Physical therapists diagnose and treat patients whose function and movement are limited due to illness, injury, weakness, or other causes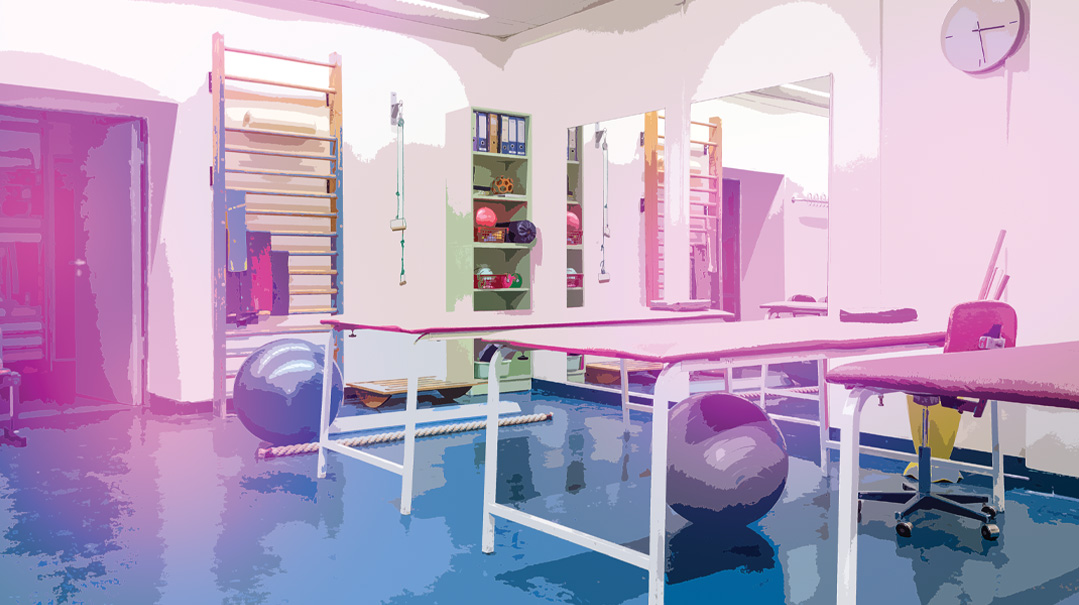 How much money can you make?
What type of training will it take?
And what does the job actually entail?
Read on to find out whether this is the job for you
What will I be doing all day?
Physical therapists diagnose and treat patients whose function and movement are limited due to illness, injury, weakness, or other causes. They help patients improve their functioning and manage their pain through a variety of techniques, including exercises, massages and stimulation, and assistive and adaptive devices. A PT's responsibilities include evaluating, establishing a therapy plan, administering therapy, monitoring progress, and educating patients and their families.
What kind of schooling do I need?
To qualify as a physical therapist, one must graduate from a postgraduate physical therapy program. Today, most programs award a doctor of physical therapy degree (DPT), though some programs give a master's degree (MPT). Programs typically take three years and require a bachelor's degree in order to be admitted, including certain prerequisite science courses. After graduating, you must pass a national exam in order to become licensed.
Many physical therapists choose to become board certified in a specific clinical specialty, which requires passing another exam.
What will my work environment be like?
Physical therapists work as part of a health care team, together with physicians and other paramedical professionals like occupational therapists. Typical work settings include hospitals, outpatient clinics, rehab facilities, schools, sports and fitness facilities, nursing homes, and home health agencies.
Some specialties within the field:
Orthopedic physical therapists work with the musculoskeletal system, dealing with injuries to the muscles, joints, tendons, and bones.
Geriatric physical therapists help older patients retain their mobility and independence while accommodating physical limitations.
Pediatric physical therapists treat babies, children, and adolescents with mobility limitations due to health conditions, neurological disorders, injuries, or developmental delays of gross motor skills.
Neurological physical therapists treat patients with neurological conditions such as brain injuries, spinal cord injuries, Alzheimer's, or Parkinson's.
Cardiopulmonary physical therapists concentrate on patients with cardiovascular or pulmonary conditions, helping them improve their overall health, endurance, and functional independence.
What can I expect to make?
The average starting salary is $65,000–$75,000.
Median salary in the US is $91,000. With experience, salaries can reach $100,000–$120,000.
Do I have the personality for it?
A good physical therapist enjoys working with people, and is empathetic, patient, hard-working, and a good motivator. A physical therapist also needs to be physically fit, since they're engaging in exercises all day.
TALES FROM THE TRENCHES
JAMES NUSSBAUM, PT, PhD, SCS, EMT Upper West Side, Manhattan
Clinical and Research Director, ProHealth & Fitness PT OT, Manhattan, Inwood, and the Bronx
Touro College of Health Sciences
Years in Field: 22
My Typical Day at Work
As a clinical researcher, administrator, and clinician, my job entails a lot of juggling between patient care, overseeing staff, and handling the financial aspects of the business. I love treating patients, but over the years, it's become a smaller part of my day.
In the research department, I spend time working on outcome measures, looking at how the patients are doing from an objective standpoint, and often work on the establishment of new measures with which to measure function and dysfunction, and the effect various interventions have on different patients and patient populations. I also make sure to maintain regular contact with my colleagues in other specialties, so I can stay up to date on developments in their areas of expertise and patient populations.
In 2014, I also "partnered" with APOS Health, an Israeli medical start-up, and I spent a lot of time working on growing this aspect of our service delivery. We are the first private practice to provide insurance covered APOS therapy in the US. APOS is a non-invasive therapeutic intervention, invented by two Israeli doctors, which uses a three-pronged approach to promote pain-free function, involving customized therapy shoes as well as a dynamic biomechanical therapeutic intervention, based on the particular way the patient walks and reinforced with neuromuscular input. After a thorough assessment, patients are provided with a customized pair of therapeutic shoes to wear for a relatively short period each day. It's been proven to be an amazing treatment option that has helped prevent surgery in thousands of patients with knee and back pathologies.
Another important part of my job is speaking with professionals from different medical facilities and physicians from other practices about mutual patients, which helps create trust, appropriate follow-up, and opens potential avenues for mutual growth and success.
How I Chose the Profession
I was always very interested in human performance and function. From an athletic perspective, I'd wonder why one person runs faster, jumps higher, and performs other functions better than another. Later, my interest took a personal turn, from the perspective of dysfunction, as I suffered my first major injury and surgery in 1988 — an ACL reconstruction; the anterior cruciate ligament is a major ligament in the knee — and saw firsthand what PT is all about during my long course of rehabilitation.
How I Chose My Specialty
I have a board specialization, which is an advanced credential within PT, as a Certified Sports Specialist. However, my true specialty is in the analysis of function and dysfunction — understanding the specifics related to functional dependence and independence and developing, finding, and utilizing objective ways to measure function and dysfunction.
A very practical example of this is falls and fall prevention. Each year in the US, about one-third of people over 65 and half of those over 80 experience a fall. Statistically, around 45 percent of those over 65 who fall and break a hip will never come home after that — 25 percent will be institutionalized for the remainder of their lives, and 20 percent will die within the year post the fall and hip fracture. There are some simple, fast, and cost-effective ways to screen for fall risk, one being the Sit-to-Stand test (measuring the ability to rise from a chair without using one's arms for assistance). The inability to perform as "normal" identifies lower extremity weakness, which is not just the most significant risk factor but also a modifiable one. But, too often, physicians and other health care providers don't know or don't have time to look for the factors which place their patients at risk for dysfunction and refer them for testing and skilled care.
I'm passionate about educating the medical community and the community at large about what physical and occupational therapists do, and that we are the experts in human function. Professionals in other specialties, medical and otherwise, do not have the education, training, or experience in the assessment and treatment of function and dysfunction. As the experts of physical function and dysfunction, OTs and PTs should be the ones to evaluate and treat anyone who is not functioning optimally or is at risk for dysfunction.
Physical therapy is, in essence, about using objective tools to evaluate, assess change, and measure functional effects of different interventions (OT/PT, medical, pharmacological, holistic, or otherwise) as well as implement evidence-based and well-thought-out therapeutic intervention programs.
What I Love Most about the Field
The privilege to make a meaningful difference in people's lives, and helping patients regain independence and community access. Here's an example: Picture the intersection at West End Avenue and 66th Street in Manhattan. The street is 71 feet wide and the light is 28 seconds. How fast must someone be able to walk in order to safely cross the street?
Someone suffering from a chronic illness, a period of deconditioning (loss of physiological function following a period of inactivity such as hospitalization or bed rest), or even an injury, knows that he won't be able to get across the street before the light changes, and will often decide that it's not worth it to leave the house at all. For these people, good intervention can literally open the world back up for them.
Giving people improved independence and enhanced quality of life is, I believe, what health care should be all about. I try to do this, while still making a living — it isn't always easy.
What I Find Most Challenging about the Field
Poor reimbursement rates from some insurances and challenges on authorization for visits for skilled therapeutic intervention. In addition, many patients are limited, officially or unofficially, by their insurance companies in the number of visits they're allowed. For example, Medicare no longer officially limits PT or OT, but there is a threshold after which they can and will recoup payment, sometimes as long as seven years later, when they deem the care not medically necessary or appropriately skilled — two areas that they do not define clearly.
Another challenge, particularly during the Covid era, has been finding reliable staff, specifically administrative personnel.
I'll Never Forget When
TJ was 78 or 79 when she was referred to us for treatment. She'd been completely independent and active, enjoying shopping or getting together with friends. After a bad stomach virus caused her to lose a lot of weight, her physician recommended she be hospitalized for tests.
She spent only about four or five days in the hospital — but left radically changed. She'd become almost completely functionally dependent, was now homebound, and felt weak and fearful.
We started treating her in her home, and, eventually, in the clinic, evaluating her areas of dysfunction using measurable outcomes, and slowly helping her back to her original level of function and independence. Today, she's going out again, managing and enjoying her life.
Something I Wish People Knew About Physical Therapists
As I mentioned, physical therapists are the experts in physical function and, as such, seek them out when a loved one is having a difficult time with a physical act that shouldn't be that challenging. While people are aware of the role PTs play for someone who sustained an injury, many don't realize that people with illness and disease processes can benefit from a PT's expertise as well.
How I've Seen the Field Change Over the Years
Reimbursements have gotten lower, recoupments have increased, and compliance has gotten harder. Still, my focus remains providing good care while being conscious of the business of health care.
My Advice for People Starting Out
Pay attention in school and in all clinical interactions. The more you truly understand, the less you'll need to commit to memory. Develop and cultivate relationships from day one; find mentors, and never think you know too much. There's an endless amount we can learn to improve our skills and help more people.
Also, realize that the most important quality for a clinician to have is a good personality. Know how to relate well to every one of your patients. That's the number one thing I look for when I'm hiring a therapist. Clinical skills can be taught much more easily than caring, good communication, and empathy.
LOU EZRICK
Surfside, Florida
Owner, Evolve Physical Therapy, Brooklyn, New York
MPT, SUNY Downstate Medical Center
Years in Field: 18
My Typical Day at Work
I see my job as identifying what's most important to people, finding out what motivates them and tailoring programs to help them meet their goals. I massage, stretch, strengthen, advise, and recommend, but more than anything, I'm there to motivate clients and keep them on track. I do that by being available to them at any time, day or night.
I gained my early experience in the field working in a premier boutique PT clinic in Manhattan. I left that position to explore Judaism in Israel, where I learned in Ohr Sameach and Aish HaTorah. I returned to Brooklyn an observant Jew, and, in 2010, opened a PT practice with a spa-like environment that would offer Manhattan's highest-end services in Brooklyn.
At Evolve, we treat patients with a range of issues: complaints of back, neck, shoulder, hip, foot, hand, elbow, or jaw pain, as well as headaches and other common issues. Our patients include children who aren't meeting developmental milestones; post-knee-replacement surgery patients; people with vertigo and balance issues; neurological patients such as those with ALS or Parkinson's (Parkinson's patients are a specialty of ours) and amputees. I personally have a lot of experience with amputees as I did some of my training in Israel's Tel Hashomer Hospital prosthetic rehab department, working with patients who'd lost limbs during the Second Intifada.
My job has changed dramatically since the pandemic. When I first opened Evolve, I was the sole therapy provider, which meant I'd treat patients from 8 a.m. until 8 p.m. and then start working on billing, finances, marketing, and any other business-related tasks.
As our company grew, I hired another PT.  Now I wasn't just a PT and business owner, I was also a boss. I was responsible for payroll, scheduling, training, and providing him with opportunities for growth.  It was a big learning curve for me.
Today, we have a staff of ten therapists in three different locations with a fourth one about to open.  I've recently moved to Miami, and I now run my company completely remotely. Most of my days are spent on Zoom calls connecting with our teams and finding new ways to improve our patient experience. I'm very lucky to have an incredible team of honest, caring, loving people. We only hire people with huge hearts.
How I Chose the Profession
I grew up very overweight and always struggled with my body image.  My best friend took me to the gym for the first time on my 18th birthday and I got hooked. Over the next year I lost 70 pounds and developed a love for exercise. My general health, well-being, and self-confidence improved dramatically as a result.
Having discovered the transformative power of exercise and health on my life, I wanted a career where I could stay active and learn everything there was to learn about health and fitness. As a physical therapist, you are trained in all aspects of health: nutrition, anatomy, exercise physiology, rehabilitation, and even neuroscience and developmental psychology.
How I Chose My Specialty
I specialize in manual therapy, which is fixing pain in the body by using my hands to increase range of motion and release pain and dysfunction. At Evolve, we specialize in Parkinson's rehabilitation. I am a trained LSVT therapist  — a therapy that helps Parkinson's patients improve their movements to more easily perform daily activities such as getting up from a chair or walking. I'm also a Rock Steady boxing coach, which is a group boxing class exclusively designed for people with Parkinson's disease.
What I Love Most about the Field
I love helping someone who is suffering and confused finally find a solution to his difficulty. It's extremely rewarding to help a person stand again after a serious trauma; it's equally rewarding to give a hug to someone who needs one. We're blessed to be in a profession that enables us to help people through human contact. It's a beautiful thing to be a part of someone's life and to provide them with something they look forward to doing every week.
What I Find Most Challenging about the Field
Paperwork! We have to document every little thing we do, just in case we get audited. The documentation requirements continually increase; when I first started working 18 years ago, each patient note took me about 20 seconds; now we can spend over an hour a day typing our documentation.
I'll Never Forget When
I love treating the older members of our communities. I've had the incredible opportunity to treat and become very close with some very important rabbis and businessmen. People whom I'd never have had the opportunity to get close to otherwise have become like family. They've given me dating advice, marriage advice, and business advice, even recipes!
Something I Wish People Knew About Physical Therapists
We love to help people. We're trained to help people get off the floor, into a tub, out of a car, walk with a cane, and so much more. And we love to correct your posture! Even when I meet people on vacation, I have an urge to help someone in pain. Just don't ask me to write notes when I'm on the beach.
We also don't judge people who are out of shape, or have never exercised. These people are like blank slates to us.
How I've Seen the Field Change Over the Years
Twenty years ago, insurances paid almost double the amount they do now for a PT visit. As a result, the copays have risen dramatically; today, copays can be $70 — and often a visit isn't covered at all. Overall, insurance companies have limited access to PT more and more over the past two decades, and that means we have to work much harder now than we used to. On a positive note though, there's so much information out there that's accessible to people. I can recommend that someone google a particular type of exercise and watch a video. These tools have made it much easier for a motivated patient to get better faster.
My Advice for People Starting Out
Spend the first three years mastering your craft. Become the absolute best PT in the world. Immerse yourself in the field and learn, learn, learn. Once you have three to five years under your belt, everything becomes much easier — but don't try to take the easy way out; you'll pay for it the rest of your career.
BRACHA SCHOENBLUM
Woodmere, New York
Owner, Refresh Physical Therapy, Woodmere, New York; and PT at Blossom Physical Therapy, Brooklyn, New York; and board member of Ani Ledodi
DPT, Touro College
Years in Field: 7
My Typical Day at Work
As a physical therapist, my responsibility is to diagnose the patient's dysfunction and come up with a plan of action that best suits the patient's particular symptoms.
This involves, first and foremost, listening to the patient's story — validating her emotions and acknowledging any difficulties she's experiencing due to her dysfunctions.
Next, we do a physical assessment, which looks at each muscle involved. We check the ROM (range of motion) of each muscle, palpate the muscle to check the tension, and assess the muscle's strength and coordination. In our clinics, sessions range from 45 minutes to an hour, and we are with the patient the entire time. We have to make sure we take care of patients' wants and needs, and give them everything they need to be able to help themselves.
Outside of the actual therapy, as a business owner, my responsibilities include marketing, finances, and accounting. Our particular area of specialty is women's pelvic floor dysfunction, and I'm in contact with local doctors, community leaders, and other influential people to help spread the word about this vital resource. I also spend time researching and ordering the best products — medical supplies such as exam gloves and lubricants, exercise equipment, etc. — and making sure we're on top of our inventory.
Then there is the continual education — reading articles, taking classes, and discussions with colleagues to stay on top of changes and advancements.
How I Chose the Profession
I love sciences and I also love interacting with people, so I looked for a medical-based profession where I could work with people. At the same time, I wanted a field that I could use in Israel in case aliyah was in our future. As medical school was too long for me, and the position of physician's assistant was only just becoming recognized in Israel, my next available option was physical therapy. The more I studied, the more I fell in love with the detective work involved in diagnosing and treating orthopedic issues.
How I Chose My Specialty
I specialize in women's health and dysfunctions of the pelvic floor muscles. There are a host of symptoms that we treat, including incontinence, abdominal pain, pregnancy and post-partum pain, and much more.
I only heard about this specialty a few weeks before starting Touro's DPT program. As a mother of an almost two-year-old, I was intrigued. When I started asking doctors about physical therapy dedicated to women's health, I didn't get anywhere. It continued to fascinate me, and after some thought, I decided to do my last clinical in an outpatient setting that specialized in complex orthopedic cases and women's health. It was extremely empowering to help women with such painful but intimate difficulties.
What I Love Most about the Field
I love the discussions and connections you create when spending so much time with a patient, and also the knowledge that you are the person they can turn to for help with such a private problem.
What I Find Most Challenging about the Field
Like most people, my biggest challenge is work-life balance. It's hard to juggle the desire to give 100 percent to my patients while still being there 100 percent for my family. I'm fortunate to work part-time, so I'm generally home when my kids are home, but I also make sure to have some Sunday and evening hours available for women who work or are unavailable to come during the day.
I'll Never Forget When
There are so many stories! I've had women who experienced pain for years and finally found validation when they came to me — and could at last start on their path toward healing.
I remember one patient who had a history of trauma. Though when she first got married, she felt physically fine, as soon as she started working with someone to treat the trauma, her body began reacting and presenting with excruciating pain. Between treating the emotional trauma through psychotherapy, and treating the resultant physical symptoms through physical therapy, she was able to fully heal.
I've also gained a lot from my patients. I love learning and discussing Torah when working with other Orthodox women, and I've gained some deep spiritual insights into the parshah, learned about current events, and even gotten some great parenting tips.
Something I Wish People Knew About Physical Therapists
Our goal is to get you to believe in yourself and know how to work with your body so that you do not need us.
My Advice for People Starting Out
Take advantage of the help out there. For me that meant moving near my parents and going to Touro College, where I didn't need to worry about taking off for Shabbos or Yom Tov or overstepping any religious boundaries that can come up, such as when working with male patients. Having a good support system is key for the long school and study hours.
(Originally featured in Mishpacha, Issue 908)
Oops! We could not locate your form.
>