| Family Room |
ABCs of Linen: Aesthetics, Bedding, and Comfort
| June 17, 2020

W
ith the bed being the focal point in most bedrooms — the castle in make believe, the classroom when playing school, and the piece of furniture in our homes that screams, "You made it to bedtime!" — it deserves its own time to shine. Whether in accessorizing, purchasing quality linens, or pulling together a total look, there's a lot more to a child's bed than just a mattress!
Comfort First
My children all know that I am a huge believer in a comfortable bed, and they can attest to my focus on making sure that besides being aesthetically pleasing, their beds are also super cozy and comfortable. 
"Cozy," however, is an adjective that doesn't include a manual. Here are some of the tips I've compiled to break down this multi-step process.
The first thing you need to do is select the right mattress, duvet, and pillows. While there's been much hype over hypoallergenic and alternative duvets, I'm still a classic down-blanket-and-pillow type of girl. After that, I highly recommend buying a good-quality duvet and pillow insert. Not only is this crucial for the comfort of the bed, but it's also important for getting bedding to lie flat. I can't even tell you how many times I've seen lumpy duvets in the most beautiful and expensive linen sets, ruining the entire look.
Pillows and Patterns
Over the past few years, we've seen a complete shift in how bedrooms look. In the past, people bought an entire bedroom set with all the accoutrements matching.
Nowadays, they're gravitating to a more collected and layered look, extending even to the bedding and linens. Mixing and matching pieces is not just very trendy, but it can also be extremely cost effective.

Some important general rules:
 Make sure the pillow you get is the correct size for the bed. For twin beds I suggest a standard-size sham, at least two per bed plus any additional throw pillows. For full, queen, and king size beds, I recommend a kingsize pillow. Although this is a personal preference, I recommend longer pillows when possible. Besides the look, to me they're more comfortable to sleep on.

When mixing patterns, you never want to mix two patterns of the same scale . If one pattern has a smaller motif, printed close together, like a small floral, the other pattern should be more widely designed, like a large plaid or stripe. If you decide to be adventurous and mix the fi tted sheet and duvet, for example, try to pick two patterns that share similarities in theme. Themes that carry through can be in color, like a pink floral and a pink plaid, or in pattern — a small-scale blue pinstripe paired with a wide, blocked blue stripe. The key is staying consistent in ensuring that you're placing a small pattern with a larger or wider one. Otherwise, the eye won't know where to rest, and the look will feel cluttered and forced.

If you're into the more monochromatic look, try mixing different textures of the same color to maintain visual interest. For example, for an all-white cotton or linen look, adding a velvet throw blanket or a chunky knit and some textured pillows creates a layered look while staying true to the neutral aesthetic.

Don't overdo the throw pillows and blankets. A foolproof method to styling a bed is two shams per bed and a long lumbar pillow. This makes the bed look done without too many extra accessories. I also like mixing shapes, like long, square, and round, instead of using all the same. Remember, it doesn't have to be symmetrical to be visually pleasing. I then add a separate throw to the last third of the bed. Always make sure that the fringes face the floor.
Shop Right
Here are some of my favorite places to score some great finds on bedding and accessories.
> H&M Home and Zara: Both stores have great linen in washed cotton for the softer, not-starchy look. I've also found great throws and bathrobes here.
> Amara: This is a great place to buy bedding online. It's mostly high end, but there's defi nitely a range.
> Amazon and Wayfair: I've bought bedding from both of these sites here over the years. It's definitely hit or miss, but if you look for a high thread count you can usually fi nd some nice things, as well as bedding basics. (In a wide generalization, the higher the thread count, the softer the sheet, and the more likely it will wear well over time. Good sheets have thread counts that range anywhere from 200 to 800, although you'll occasionally see numbers over 1,000.)
> Marshalls, TJ Maxx, and Home Goods: These stores provide some serious retail therapy for me — I've found designer linen on numerous occasions that I was able to use in all different and creative ways. One of the companies I love is Piu Belle. They have the softest bedding imaginable, that casual look that's not supposed to be too ironed and gets softer after each wash. How can you say no to that?
Whichever way you style your children's bed — multilayered and intentionally haphazard, asymmetrical and patterned, or perhaps not styled at all, remember that comfort will always trump all trends.
Use different scales for successful pattern mixing
CYRILLUS.COM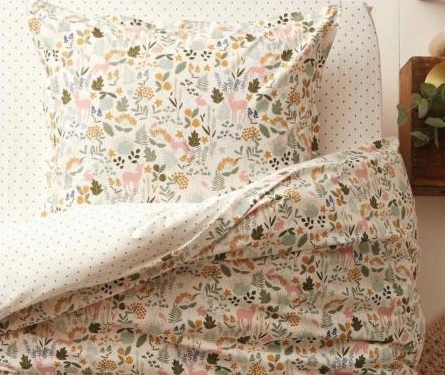 For twin beds, one or two standard size shams work best, plus any additional throw pillows
RHBABYANDCHILD.COM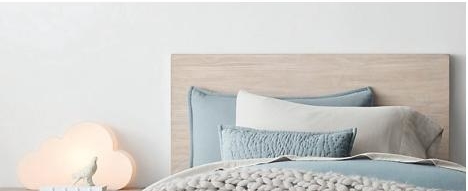 Shiri Feldman heads Shiri Feldman Interior Design, a fullservice design shop located in New York City. Having attended the New York School of Interior Design and graduated from the Jane Packard Floral Design Program, Shiri has experience in high-end fl oral design, set design, event planning, spacial design, landscape design, multifamily design, and more. She draws inspiration from her experiences and travels in every job she does. Contact her at @shirifeldmaninteriors or www.shirifeldmaninteriors.com.
(Originally featured in Family Room, Issue 005)
Oops! We could not locate your form.
>