| Magazine Feature |
A Lord and a Mensch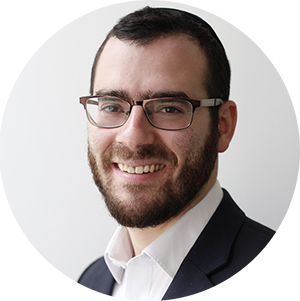 | May 31, 2022
   

Tony Blair's confidant Lord Michael Levy opens doors for his people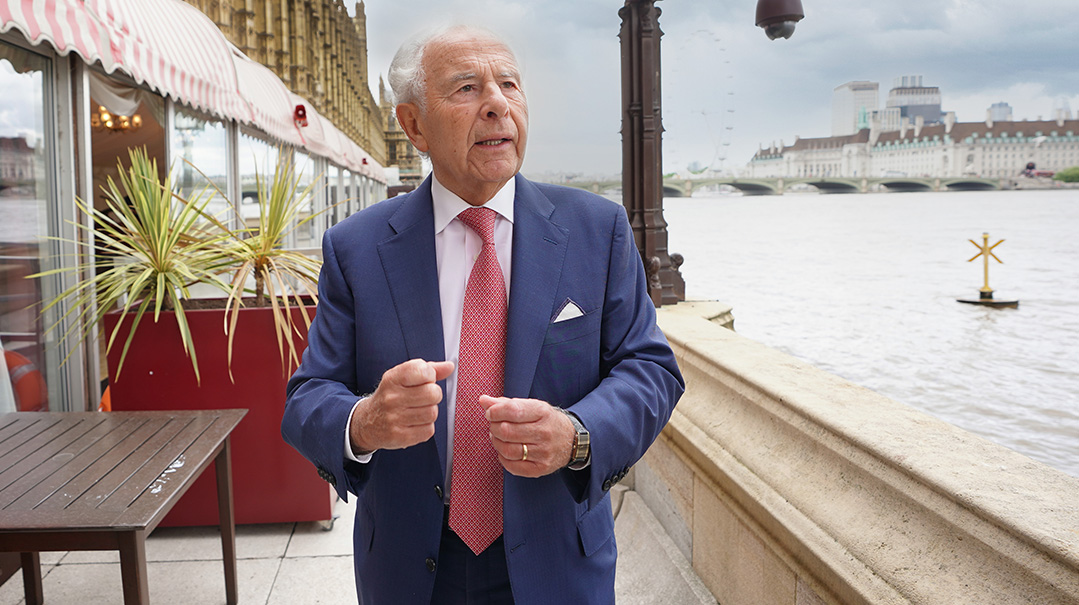 Photos: Mendel photography
IT was a big day for the Yesodey HaTorah girls' school in London, and in best British tradition, it was pouring.
The chareidi school in the Stamford Hill neighborhood, founded in 1942, had just moved onto a new campus funded by Tony Blair's government, and the star-studded line-up for the renaming ceremony  was evidence of the high-level contacts that had brought state funding to a private Jewish school.
But as the dignitaries gathered in the rain and wind, the ceremony got off to a bad start: The curtain over the dedication plaque refused to budge.
It was an awkward moment for the hosts — until Lord Michael Levy took things into his own hands.
The Stamford Hill born, Shomer Shabbos peer — who'd risen from humble origins to become an entrepreneur, Labour Party fundraiser, and Blair's trusted adviser as well as tennis partner — had actually been honored with the unveiling. And true to his self-help philosophy, a stubborn dedication plaque wasn't going to deter him.
So, in front of the assembled guests, the silver-haired, dapper lord — officially styled "Baron Levy" — got hold of a ladder, climbed to the top, freed the cord, and spared the organizers' blushes.
The hands-on performance was vintage Michael Levy. His conversational references to "gelechter" and "frish meshiga" betray his Stamford Hill origins, and mark him out as a paragon of a very Anglo-Jewish type of success story, who rose to prominence without forgetting his modest roots.
Levy's rise was thanks in large part to former Prime Minister Tony Blair, who turned the entrepreneur with a warm Jewish heart into a Middle East peace envoy. In turn, Levy, a former successful record label owner, served as Blair's door to the Jewish community.
"I always joke that Tony Blair has more yarmulkes than I have," says Lord Levy "because each time I gave him one for an event, I never got it back."
Twenty-five years after his former boss upended British politics by leading his New Labour Party to a landslide victory, Lord Levy, now 78, looks back at those glory years from the House of Lords, at the other end of the Palace of Westminster from where Tony Blair once dominated Parliament.
Levy is well aware that the party he helped put in power — and that recently became a byword for anti-Semitic hate under Jeremy Corbyn — is still viewed with suspicion by many British Jews. But under Corbyn's successor, Sir Keir Starmer, British Jews can put away their passports, he says. "Yidden don't need to worry if he becomes prime minister."
Walking the corridors of the House of Lords on an early spring day, an encounter with an usher gives Lord Levy a chance to demonstrate what has taken him so far.
"Good afternoon, milord, how good it is to see you," the official greets him in a polished Queen's English.
"You see the derech eretz they treat me with?" notes Lord Levy, lapsing once again into heimish-talk. "That's what happens when you treat people with respect. I treat them with derech eretz and in the bigger picture, that opens doors and gets results."
Yiddishe Mama It was an encounter at the bedside of his ailing mother that set Michael Levy on the path to public activism.
Before getting involved in charitable work and politics, Levy had already made a fortune in the entertainment industry. Like many a Jewish boy, he began his working life as an accountant. The firm he founded attracted many clients in the music and entertainment industry and Levy became a specialist in international copyright and licence.
In 1973, Levy made the business side of music his full-time occupation, founding Magnet Records, an independent label that went on to feature many stars of the British music scene. He developed a reputation as a hard-nosed negotiator. Michael Levy's salesmanship was such that one music producer said that he "would be able to sell sand to the Arabs."
But, at the height of his success, he had a profound change of heart.
"My mother was in a coma for a few weeks, and as I sat by her bedside and sang 'A Yiddishe Mama' to her, I felt that she was sending me a message. She was incapacitated and couldn't speak, but I sensed she was telling me something about my direction in life."
Soon after his mother passed away, he paid a visit to his lawyer. "I told him I wanted to sell the business," recounts Levy. "I had an entertainment business bigger than Richard Branson's Virgin Records. The lawyer thought that I was nuts and tried to dissuade me, but I stood my ground."
Levy traces his urge to give a helping hand with his own experience as a child growing up in poverty.
"We lived in a one-room apartment. My father worked as a shamash in Walford Road shul in Stoke Newington, and we had to use the public baths," he says. "If I got a fruit once a week from Ridley Street market, that was a treat."
But, he says, he wouldn't have changed that background for anything. "It shaped my values. I realized that if I'm blessed, I should give to people who aren't as blessed."
So, at the ripe old age of 43, Levy sold his business to Warner Bros. and left the business world. "It changed my life. I knew that I was good at connecting with people, and I wanted to use those skills to help others."
Those people skills are on display as Lord Levy works the crowd in Westminster. As we talk in a busy part of the building, many passersby stop to say hello, and are greeted in return with exuberance. A consummate networker, he's unfailingly courteous to everyone around him, oozing charisma and a certain panache.
Having sold Magnet Records for a reported 10 million pounds, Levy applied his skills to fundraising for Israel, becoming involved in such organizations as Youth Aliyah and the Jewish Agency. In that role he worked alongside the late Michael Sacher, senior executive at British flagship retailer Marks and Spencer.
He also founded Jewish Care, today the largest Jewish social care charity in the UK.
As time passed, his fundraising activities ballooned. He estimates that he's raised over one billion pounds for tzedakah, charities, and Jewish education over the years.
"As far as I was concerned, if G-d blessed with me with a skill, I would use it to help for tzedakah. I treat people with the same derech eretz whether they are able to give or not — but they usually end up giving," he says with a laugh.
"There have been very few people since Sir Moses Montefiore who have devoted themselves to the service of our community throughout their lives like Michael Levy," says Shimon Cohen, director of Shechita UK and an influential community representative.
"He's always reminding himself of his frum roots and affection for the community. Once he and his wife, Gilda, took camp beds and stayed in the Brenner Community Centre in Stamford Hill over Shabbos. There are very few people who would have done that. And he's almost single-handedly responsible for the Jewish education of literally tens of thousands of young Jews because of his obsessive commitment to the JFS high school.
"At the same time," Cohen continues, "he's devoted the same amount of energy to the professionalization of Jewish Care, raising large sums of money for top facilities and professional staff. He deserves an enormous amount of hakaras hatov from the entire community."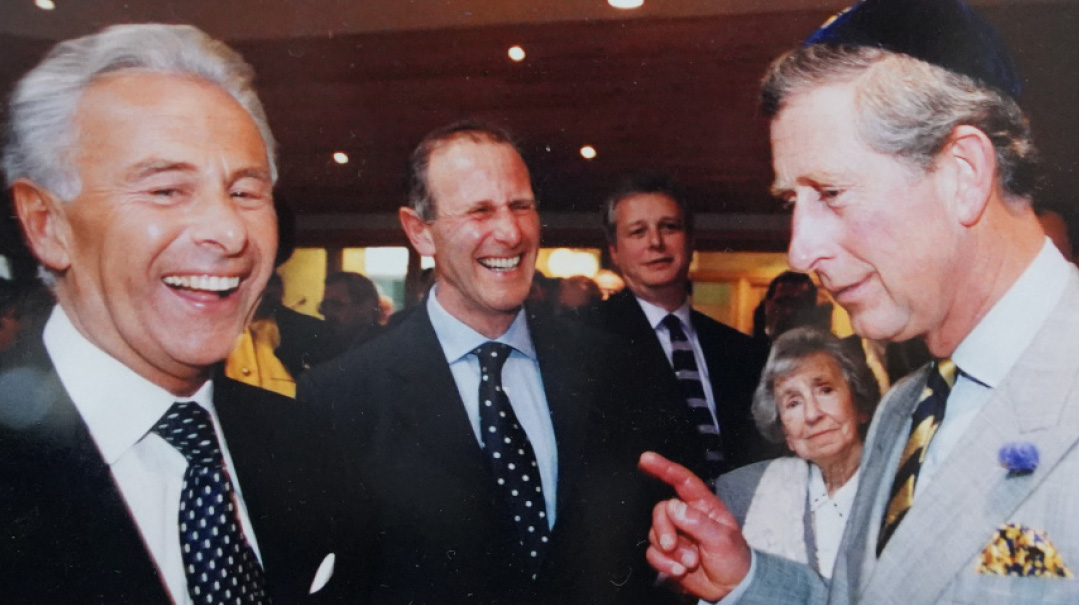 "Few people have devoted themselves to the service of our community like Michael Levy." Whether it was with Rabbi Jonathan Sacks or Prince Charles, Lord Levy was a connector
Labor of Love
It wasn't long before Michael Levy's prodigious fundraising and organizational capacities came to the attention of the rising star of British politics.
Shortly after Tony Blair became leader of the Labour Party in 1994, a mutual friend introduced him to Levy, and the pair hit it off. The party had been in opposition since Margaret Thatcher's 1979 win, and in the political wilderness, had drifted to the far-left.
The charismatic Blair refashioned the party in his own center-left image, making it a welcome home for a socially minded entrepreneur like Michael Levy.
"I've always identified with the center-left and felt comfortable in the Labour Party," he says, "and Tony and I fast became close friends. When I first got to know him, he wasn't as fit as he could have been. So, I said to him, 'Look, you're younger than me, you've got to take care of yourself. Let's start playing tennis together and get you into shape.' He agreed, and we played very regularly, before and during his premiership."
The relationship went beyond the professional. Blair has
spent Shabbos at Lord Levy's home a number of times over the years.
"He loved it," says Levy. "He took a genuine interest in everything going on around him, and used to ask for a Bible to look through."
Gearing up for the 1997 election campaign, Levy spearheaded Labour's fundraising operation, bringing on board major donors to contribute millions of pounds.
In the 1997 landslide that ended 18 years of Conservative Party rule, Blair was handed the keys to 'Number 10' — and Levy found himself firmly ensconced in the government's inner circle. His elevated status was such that he had the ability to phone the prime minister whenever he chose.
And they continued to bond over a game of tennis.
"After Tony was elected," remembers Levy, "I persuaded a donor to put in a tennis court at Chequers, the Prime Minister's country residence, so he could play at weekends."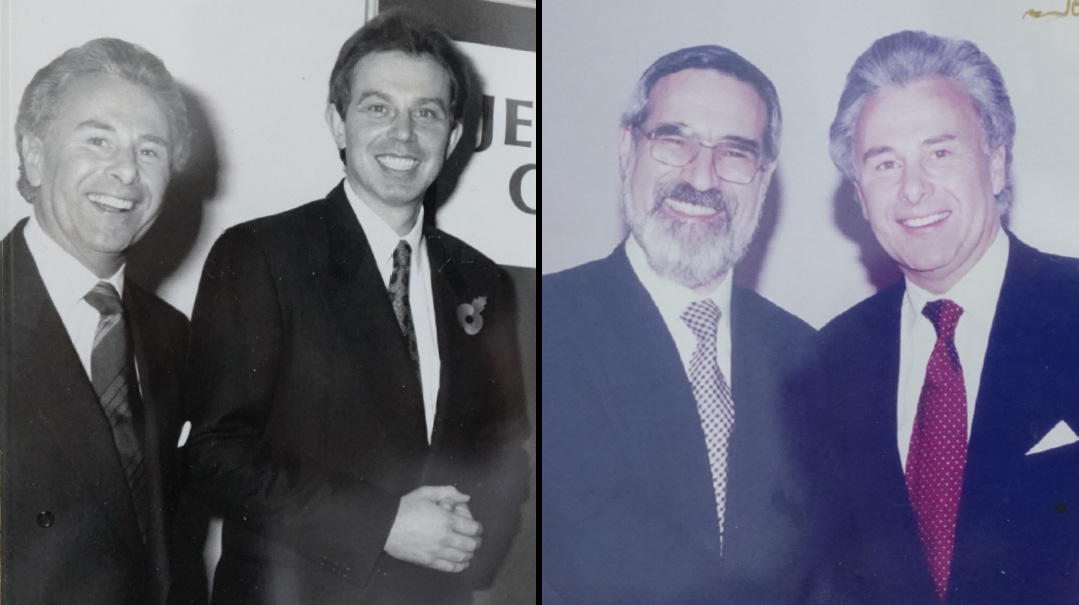 Shofar in Kazakhstan
Tony Blair wasted no time in putting his confidante's negotiation skills to use in a new area — the high-stakes arena of Middle East diplomacy.
In 1998, a year after coming to power, the prime minister — already a major international player — appointed Levy as his Middle East envoy.
The new diplomat had to contend with hostility from both media and the foreign affairs establishment who looked askance at the "American-style" new role.
Undeterred, Levy plunged into his new position. A Guardian article from the year 2000 notes that "since April last year, the unelected peer, who has no formal Foreign Office role, has visited eight states: Bahrain, Egypt, Jordan, Lebanon, Oman, Qatar, Syria, and Israel.
"When an RAF plane landed at Damascus airport just before midnight earlier this month for the funeral of Syria's president Hafez al-Assad, it carried two representatives of the British government. One was Robin Cook, the foreign secretary, the other was Lord Levy."
While Palestinian terror, not peace breakthroughs, defined the Blair era, Lord Levy says that his work helped build relations between Israel and Gulf states such as Bahrain — relations that solidified under the Abraham Accords of 2020.
His work in the Middle East led to one of the most memorable Jewish moments of his public career. Levy was in Kazakhstan to meet the president, and as it was Elul, the envoy warned his Foreign Office team and security detail that besides for his daily prayers, he had brought along an instrument that he would be blowing.
"We were staying on the top floor of the hotel, with the whole floor blocked off, and 24-hour security outside," recounts Levy. "I davened, and when I finished, I blew the shofar. The local security team came running in to the room to see what was going on. When they saw me in my tallis and tefillin blowing the shofar they must have wondered who on earth Prime Minister Blair had sent to meet their president."
On a visit to Syria, President Hafez al-Assad specially arranged for kosher food to be brought in from Turkey, a gesture that Levy appreciated. "Visiting the shul in the capital Damascus was especially emotional," he says.
In parallel, Levy put his connections to good use to help the Jewish community.
During the Blair years, shechitah came under threat from animal rights groups who wanted to see it banned.
"Tony called me in for a meeting with other Jewish leaders, and asked me for my view," recounts Levy. "I said to him, 'Tony, I got you the Jewish vote. If you ban shechitah, it's gone.' He asked me if I was serious. I said, 'Yes, deadly serious.' Whereupon the Prime Minister picked up the phone to the department involved and that was the end of the shechitah ban."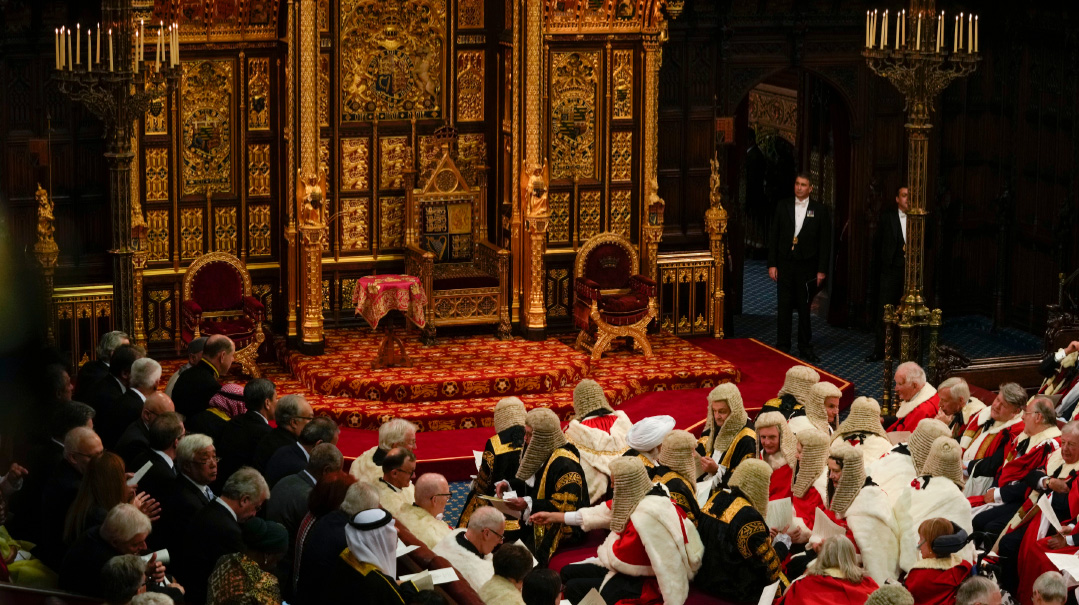 Michael Levy was elevated to the House of Lords in 2007 by his patron Tony Blair, even as Blair was on his way out
His Lordship
Towering high above the River Thames, not far from Buckingham Palace, is the UK's most recognizable landmark, Big Ben. The four-sided clock has faithfully gonged every 15 minutes for as long as anyone can remember.
But Big Ben isn't just a clock. It's actually part of the Palace of Westminster, the centuries-old seat of British democracy, and the location of our interview.
Containing over 1,100 rooms, 100 staircases, and many kilometers of passageways spread over four floors, it's the home of the Houses of Parliament where British lawmakers carry out their day-to-day business.
Within these walls, the Prime Minister faces his weekly Wednesday grilling by his opposite number, the Leader of the Opposition, in a widely viewed televised session known for its boisterous jeering and often caustic verbal sparring.
Everything about this place is steeped in tradition. Chiseled stone archways give way to palatial rooms with soaring ceilings. Formality reigns: even in a casual era, staffers wear a white dress shirt, matching bowtie, and sleek black tailcoat. It doesn't get more British than this.
Michael Levy was elevated to the red-leather upholstered upper chamber, the House of Lords, in 2007 by his patron, as Blair himself was on the way out after a decade in power just down the corridor in the House of Commons.
"When Tony offered me a peerage (to be made a Lord)," Levy remembers, "part of the process is that you need two sponsors already sitting in the Lords. I chose Baroness Jay from the Labour Party and Lord Jakobovits, the chief rabbi."
This made things difficult for Blair, because Lord Jakobovits was a crossbench, or independent peer, and by protocol, Levy needed to nominate two of his own party as his sponsors.
"So, I called the PM's bluff," says Levy, "and I said, 'Okay then, that's fine, I won't go into the Lords.' To which the Prime Minister responded, 'Are you nuts?!'"
Lord Levy explained his insistence. "I said, 'Tony, you must understand, Lord Jakobovits represents my roots and what I stand for. He's the man I want as my sponsor.' And Blair made it happen," says Levy triumphantly.
Upon induction to the House, a newly-minted lord receives a set of elaborate ceremonial robes: a full-length garment of striking scarlet wool with a collar of white fur, closed at the front with black satin ribbon ties.
Robes are worn by peers at their induction to the House of Lords as well as at the State Opening of Parliament.
Ever the chevrehman, Lord Levy finds another occasion to wear his robes — in shul on Purim.
"It's my annual gelechter," he says with a cheeky laugh, "it makes people smile."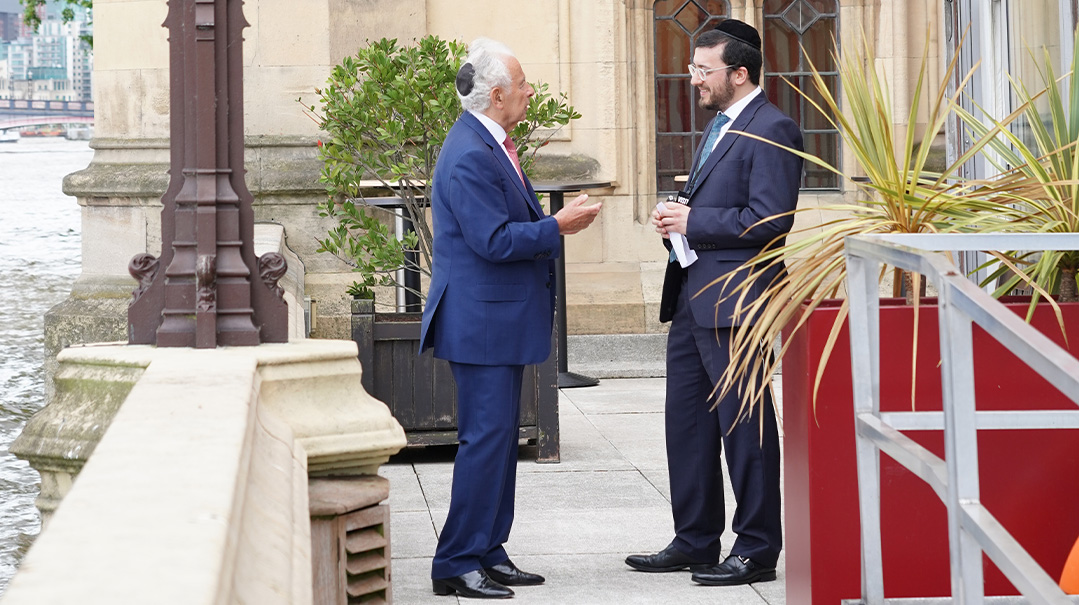 His Lordship: Mishpacha's Yoni Klain with Lord Levy on parliament's terrace
Corbyn Crash
By 2015, times were a-changing in British politics, and for the country's Jewish community, not in a good way. When the Blair years ended in 2007, power went to his long-time chancellor, Gordon Brown, and then Ed Miliband.
When Labour lost yet another general election in 2015, Labor's internal leadership contest resulted in Jeremy Corbyn being elected leader of the party.
Corbyn had a long history of extreme-left views that included strong support for the Palestinians and a visceral dislike of Israel. Lord Levy began to find that maintaining his proud Jewishness in the halls of power was becoming increasingly uncomfortable, and began questioning whether he should stay in the party he'd helped bring to power.
"I had two options: Either stay in the Labour Party, or become a crossbench (independent) peer. I could never 'cross the floor' and join the Conservatives because I had been appointed by Her Majesty as a Labour peer on the recommendation of Tony Blair, and I would always honor that commitment."
But unlike some of the most prominent Jews then serving on the Labour benches as MPs, Levy chose not to go.
"I came to the hard decision, together with my family, that Labour was our party, not Corbyn's," he says emphatically.
"We'd had wonderful years with Blair, who was a true oheiv Yehudim and oheiv Medinah, and I was proud to have played a role in that. I'd given a lot of energy and life to the party and I decided I would stay in until the Corbyn era was over, although I didn't know when that would be."
Ever the negotiator, Levy tried to reason with Corbyn. Did he find Corbyn overtly anti-Semitic?
"I had a meeting with him," says Levy, "and I found him, sadly, very ignorant and not really understanding many issues. He just didn't get the whole situation. He was set in a certain timeframe and history. He was not for change."
Eventually, Lord Levy made no bones about his contempt for Corbyn and his ideals, even at risk to his own life. "I don't think there was anyone more vociferously negative towards Corbyn than I was, to the extent that my life was threatened."
Until today, someone who made threats on Levy's life and subsequently fled the country isn't allowed reentry because of the threats he made. "It was a very difficult period and a real low point," says Levy.
Turning the Corner
In the end, it was Labor's opposition to Brexit — added to his party's embrace of economic radicalism and flirtation with anti-Semitism — that did for the Corbynite project at the national elections in 2019.
Boris Johnson was elected with a massive majority, and Labour elected Sir Keir Starmer — a former head of the Crown Prosecution Service — to rescue the party's fortunes.
In Starmer's favor was that he moved swiftly to detoxify the party. In his maiden speech as Opposition leader, he promised to rid Labour of anti-Semitism, offering a full apology to the British Jewish community for their recent years of discomfort. When Corbyn publicly defended his record on Jew-hatred, Starmer took the opportunity to throw Corbyn out of the party altogether.
But the fact remains that until the 2019 loss, Starmer — whose wife is Jewish — served as a Corbyn deputy. What does that say about the sincerity of his beliefs?
"It's a difficult one and I've had it out with him," says Lord Levy.
"Look, he's thrown Corbyn out of the party and on day one after becoming leader, he made the decision to root out anti-Semitism. I think that outweighs anything that went on when he served under Corbyn."
Whereas Levy's rapid re-embrace of the party will be greeted with disquiet by others the Jewish community, he isn't the only Labour heavyweight to do so. Louise Ellman, a veteran Jewish MP who resigned in the depth of the Corbyn horror, rejoined the party last year.
Back in Business If May's municipal elections held across the UK are anything to go by, Starmer seems to be making some headway — at least with the Jewish community. Nationally, the elections were seen as the country's chance to indicate their feelings about the "Partygate" scandal, in which Boris Johnson stood accused of attending parties at his Downing Street office in contravention of his own Covid-era lockdown rules.
The Conservatives' loss of 11 local councils were a blow to Johnson, but perhaps the biggest shock was in Barnet — home to the heavily Jewish neighborhoods of Golders Green, Hendon, and Finchley — where Labour won for the first time since 1964.
Lord Levy leaves no room for doubt: "Barnet swinging, with such a large Jewish population, is an indication that we, as Jews, now feel much more comfortable with the Labour Party, no question about that."
Levy is certainly putting other peoples' money where his mouth is. According to reports, the 78-year-old is back in the fundraising business, this time on behalf of Starmer's Labor.
Doubtless his combination of arm-twisting and charm hasn't changed, and his heimish-yet-English sales patter will be deployed in full force.
And so, Lord Michael Levy's relentless brand of charity and political activism goes on. He may be hard-charging, but as his coat of arms bears witness, the core of his philosophy is the value of being a mensch.
"It's inscribed 'Oheiv shalom v'rodeif shalom,' and it's the only coat of arms in the Lords to have Hebrew words on," says Levy proudly, "and everyone knows that that's my mantra. I treat people with respect, and that's how I've achieved things."
House of Rothschild
Michael Abraham Levy may very well be the first British baron from Shevet Levi but he missed being the first Jewish member of the House of Lords by about 120 years.
After long resisting the move, Queen Victoria ennobled baker and philanthropist Nathaniel Mayer Rothschild, as first Baron Rothschild, granting him a seat in the Lords. His father, Lionel de Rothschild, was the first practicing Jew to sit in the House of Commons. Before him, only Benjamin Disraeli — a future prime minister whose father had baptized him — had served in Parliament. Confusingly, Lionel was actually a baron, although that rank had been conferred by the Austrian monarchy, due to banking services rendered.
More recently, other notable Jewish lords included Yehudi Menuhin, the famous violinist, British business magnate Alan Sugar, and both former chief rabbis of the UK, Rabbi Immanuel Jacobovits and Rabbi Jonathan Sacks.
Although the Rothschild family no longer features in Parliament, their legacy of Jewish lawmakers in England remains alive, paving the way for Jews like Lord Levy to make their mark and use their influence to positively impact the law of the land.
Changing the Guards
In a country renowned for pageantry, the Houses of Parliament play a major part in keeping up that reputation. With hundreds of years of entrenched traditions, it has a mesorah all of its own.
At the annual State Opening of Parliament — which features the Queen's Speech setting out the government's program for the parliamentary session ahead — all of that pomp and ceremony is on proud display.
Before the speech begins, the MPs are summoned from the Commons in a ceremony during which the door to the Commons is slammed shut before the messenger — known as Black Rod — arrives, symbolizing the Commons' independence from the monarchy.
The diamond-encrusted Imperial State Crown (all 2,868 diamonds, 11 sapphires, 11 emeralds, and 269 pearls) that is the symbol of monarchy is transported under armed guard from the Tower of London and carried in on a cushion, sitting alongside the Queen for the duration of the speech.
But this year, among all the tradition and centuries-old ceremony, there was one very noticeable change. There was no Queen. Citing her "episodic mobility problems," Buckingham Palace announced that for the first time since 1963, the Queen's son, heir to the throne Prince Charles, would deliver the speech.
Arriving not in a horse-drawn carriage but a sleek black limousine, Prince Charles, wearing an admiral's uniform, was heralded by a royal piper as he headed into the cavernous building to represent his mother. Sitting on the monarch's throne at one end of the Lords, the future king read the Queen's Speech.
At 73 years old, the prince had his first try at carrying out this constitutional duty. Leaving the complex, he traveled back to his residence down streets lined with rows of soldiers wearing the famous red tunics and tall bearskin hats.
His mother, the 96-year-old queen, has seen a record number of kings, queens, presidents, and prime ministers in her 75-year reign. But a few weeks ago, in the institution seemingly impervious to change, transition seemed to be on the horizon.
(Originally featured in Mishpacha, Issue 913)
Oops! We could not locate your form.
>