| This Way That Way |
Wine
| March 22, 2022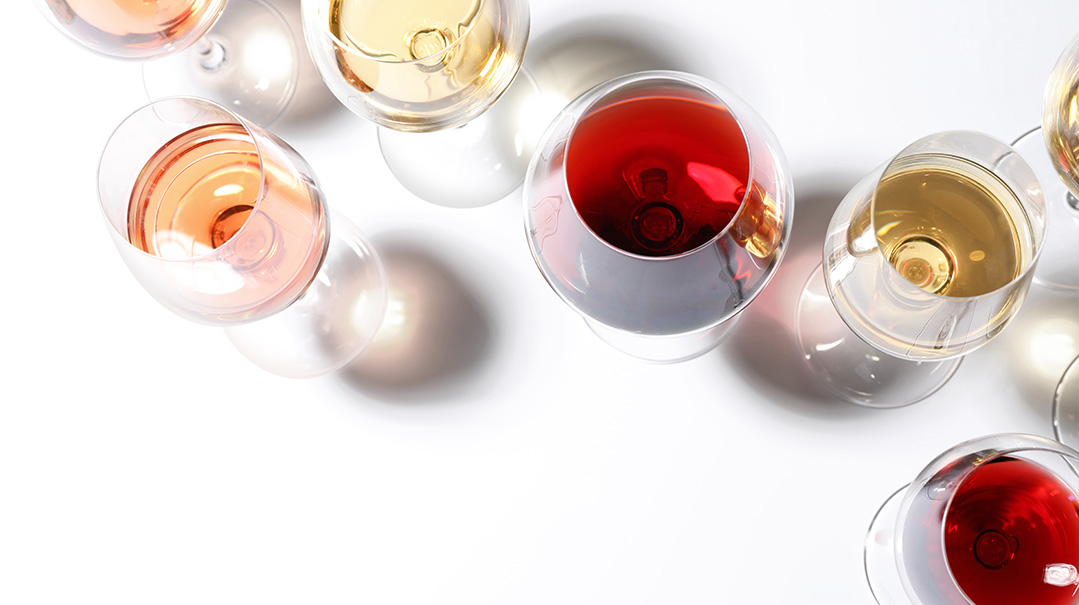 A staple in our rich heritage, wines of today have become studied, dissected, and perfected. For those of us who aren't wine drinkers, there are many other ways of incorporating its robust flavor profiles into our cooking. Here are the ways we love to use it, both on Pesach and year round.
Wine Not
Wine-Phobic
A fear of wine is called "oenophobia."
From the Depths
The oldest known wine cellar is on the Titanic. When divers went down to the wreckage, they found, surprisingly, that most of the bottles were still intact.
Antioxidant-Rich
To get the same amount of antioxidants you find in wine, you would need to drink 20 glasses of apple juice or seven glasses of orange juice.
Savory Gourmet Flanken with Red Wine
Recipe by Chavi Feldman
This gourmet flanken makes an amazing addition to your Yom Tov table! It's so soft and juicy that it literally melts in your mouth!
SERVES 8
4 pieces gourmet bone-in flanken (about 1 lb/450 g each)
salt, black pepper, and paprika, to taste
Montreal steak spice, for seasoning (omit if unavailable)
½ tsp dried rosemary (optional)
1–2 Tbsp olive oil
1 large Spanish onion, quartered
6–7 whole cloves garlic, peeled
⅓ cup red cooking wine
2 Tbsp tomato paste
½ cup chicken soup (or water)
½ cup freshly chopped parsley, for garnish (optional)
Wash flanken and pat dry. Season with salt, pepper, paprika, and steak spice, rubbing spices into the meat.
Heat oil in an 8-quart pot. Sear meat on a medium-high flame, two pieces at a time, for 3–4 minutes on each side. Add the rest of the ingredients except for the parsley, sprinkling some additional Montreal steak spice over the meat.
Cover pot and bring to a boil. Turn heat to low and braise meat for 6–8 hours. The liquid should be simmering very slightly while cooking. Check every once in a while to make sure the flame is not too high and the liquid is not evaporating.
To serve, arrange meat on platter. Drizzle with gravy and sprinkle with chopped fresh parsley, if desired.
Chicken Liver Sauté
Recipe by Rivky Kleiman
Chicken liver sauté brings back memories of Pesach in the home of my bubby, a"h. Pair it with a white wine onion sauce and viola… modernization of an old classic.
SERVES 6–8 AS AN APPETIZER
2–3 Tbsp oil
1 large onion, diced
1 lb (450 g) kashered livers, sliced
salt, pepper, and paprika, to taste
White Wine Onion Sauce
6 Tbsp oil
4 large onions, sliced into rings
2 tsp salt
1 tsp pepper
1 tsp paprika
¼ cup potato starch
1 cup semi-dry white wine
1 cup boiling water
¼ cup lemon juice
2 Tbsp sugar
To make the livers: Heat oil in a large frying pan over medium heat. Add diced onion and sauté 5 minutes. Add livers and season with salt, pepper, and paprika. Continue to sauté over medium-low heat for another 3 minutes.
To make the sauce: Heat oil in a medium saucepan and add onions. Sauté onions until golden. Add remaining ingredients and stir to combine. Bring to a boil, stirring constantly until thickened, approximately 5–7 minutes. Remove from heat.
Pour the desired amount of onion sauce over the chicken livers before serving. This recipe makes enough sauce for a double recipe of chicken livers, or use just half for the livers and reserve the rest for another dish.
Chocolate Meringue Squares
Recipe by Brynie Greisman
These are so good, you'll be making them all year round! They taste positively chometzdig, and even better straight from the freezer. Just make sure to label them "shehakol"!
YIELDS 40–48 SQUARES
Cake Layer
5 large egg yolks
2 tsp vanilla sugar
½ cup sugar
½ cup oil
¼ cup orange juice
1¼ cups potato starch
2½ tsp baking powder
pinch salt
Chocolate Filling
1½ large bars (5¼ oz/150 g) bittersweet chocolate
¼ cup sweet red wine
Meringue Topping
5 large egg whites
½ cup sugar
¾–1 cup coconut flakes or
ground nuts
Preheat oven to 350°F (175°C).
Beat egg yolks and sugars until thick and lemony, about 3–5 minutes. Add oil and mix well. Add juice, alternating with dry ingredients, and mix until thoroughly combined. Pour into a 10×15-inch (25×38-cm) baking pan lined with parchment paper. Bake for 10–15 minutes. Set aside to cool.
For the filling, melt the chocolate. Add wine and mix together. Carefully spread on cooled cake.
For the topping, beat egg whites until stiff, gradually adding sugar. Fold in coconut or nuts. Spread on top of the chocolate layer. Return to the oven and bake for 20 minutes more, until meringue is golden. Cool before cutting into squares. Freezes well.
(Originally featured in Family Table, Issue 786)
Oops! We could not locate your form.
>