| Washington Wrap |
Will Biden Side with GOP on Crime?
| March 7, 2023
President Joe Biden is giving signs that he will line up with Republicans in Congress to torpedo Democratic-sponsored crime legislation in Washington, D.C.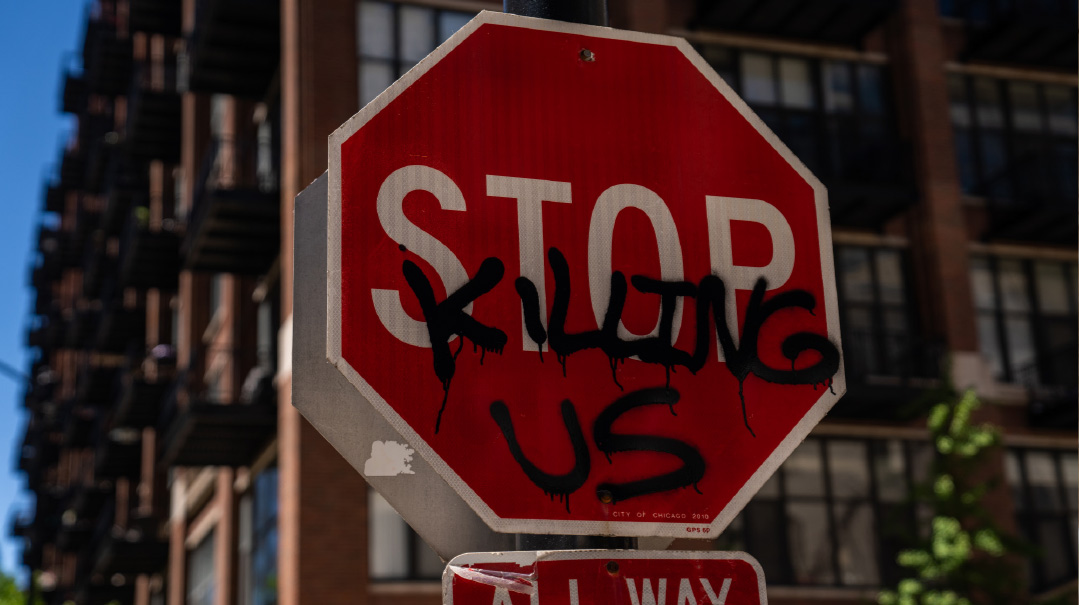 INa scenario that would have been unthinkable last year, President Joe Biden is giving signs that he will line up with Republicans in Congress to torpedo Democratic-sponsored crime legislation in Washington, D.C.
The political math for how this came to be is simple.
"The reality is the biggest vulnerability that Democrats have shown over the last three years is on the issue of fighting crime and the baggage they carry from some of their more progressive members calling for de-funding the police, especially around the time of the George Floyd killing," says Axios senior political correspondent Josh Kraushaar.
The logistics for how these almost unimaginable circumstances came to pass have a convoluted backstory.
The municipality that governs the nation's capital is run by a mayor and city council, like most American cities. But the district it sits in is subject to oversight by the US Congress. Thus, as the city completes a 16-year project to revamp its municipal criminal code, it will have to submit its legislation for approval by Congress.
The city's last criminal code dates to 1901 and stands in urgent need of modernization. The new code would lower or even cancel minimum sentences for most offenses (aside from homicide). So, for example, a person convicted of carjacking would serve a prison term of four to 24 years, rather than the current sentence of seven to 45 years. (If the carjacker is armed, the minimum sentence jumps to 15 years.)
The criminal code rewrite is a microcosm of the divisions within the Democratic Party. Passed by the Democratic-controlled Council of the District of Columbia, it was vetoed by Mayor Muriel Bowser, herself a Democrat. But the council didn't give up, instead passing it again by a veto-proof majority of 12-1.
The bill's proponents argue that with all due respect to law and order, the maximum 45 years is disproportionate to the offense of carjacking, especially taking into account that many of the offenders are minors. Should a minor who made a terrible mistake at 17 have to sit in jail into his sixties? Another point being raised is that even the minimum sentence of 15 years for armed carjackers is clearly deterring no one; 485 such cases occurred in 2022 alone. If people are committing the crime in full knowledge of the potential price, then it appears that disproportionate penalties won't solve the crime problem.
Opponents of the bill counter that D.C. is a crime-infested city, and that the municipality has failed comprehensively at tackling the problem. They argue that despite the city's massive revenue from high taxes on the tourism and hotel industries, the municipality is failing to provide government's most basic service, physical security. They point out (and they're not far from the truth) that neighborhoods once considered safe and affluent, such as Adams Morgan in the city center, are now seen as dangerous neighborhoods you wouldn't want to wander into after dark.
Now, Congress has 60 days to review the law. Congressional Republicans, backed by a number of Democrats, intend to take advantage of D.C.'s lack of statehood to block the legislation. Surprisingly (or not), none other than President Biden himself has come out in favor of the GOP position, tweeting that while he supports D.C. statehood, he won't veto Congress's decision on the matter.
Room in the Middle
In other words, President Biden, a Democrat, will allow the Republican-controlled Congress to override legislation passed by Democratic D.C. council. At first glance it seems unbelievable, but it's important to understand the broader context.
In the last midterm election, Axios's Josh Kraushaar says, Democrats largely did a good job of calling for more funds for the police and inoculating themselves in many races from these Republican attacks. "But in the races where Democrats badly underperformed, like in New York or Oregon, very, very Democratic states, those were races where you had Democratic candidates ignoring or indulging the very progressive left-wing views on criminal justice."
And if Biden had any second thoughts about this bill, he definitely made his mind up after watching the astonishing defeat of Chicago's Mayor Lori Lightfoot, who did not even advance to the runoff in her reelection campaign.
Kraushaar notes that Chicago is a city where crime is hitting historic highs. Lightfoot, who has struggled to deal with crime, only won 17 percent of the vote. "So President Biden is joining with Republicans to oppose this D.C. crime bill because he does not want to run for re-election and have to address the perception that he's soft on crime," he says. "Crime is the biggest vulnerability that Democrats have these days. And if they don't take positions that show they want to increase the number of police, that they want to take a tougher stance against criminals, they risk squandering significant political capital."
Kraushaar predicts that although all the "energy" within the Democratic Party is on the progressive left, and many party donors and activists rank criminal justice reform as one of their top issues, Biden will not suffer any backlash within his own party for opposing the D.C. criminal code revision.
"[Progressives] want to reduce the length of sentences for criminals as part of what they see as social justice," Kraushaar says. "It is not an issue that Democratic voters necessarily support, but it's an issue that their activists and their donors often do. So there is this tension between the base and the energy of the Democratic Party and the majority of their voters. Will they oppose Biden because he overruled the District of Columbia City Council? Probably not, because anyone who's in a tough race knows that even if they may disagree with what Biden did, it could hurt them politically."
This calculus also has a lot to do with Biden's own personal re-election plans, Kraushaar says. "Biden has a lot of running room to the middle. He knows that the stakes of the 2024 election are high. And if he is running for re-election, the Democrats do not want to divide the party over ideological issues when that could allow someone like Donald Trump to become president."
Although the writing was already on the wall for progressive activists, the Chicago mayor's race put the crime issue in unmistakable clarity.
"The fact that Mayor Lori Lightfoot only won 17 percent of the vote as an incumbent shows how problematic the issue of crime is for mayors in Democratic-run big cities across the country," Kraushaar says. "The mayor's runoff in Chicago will be the most powerful test of Democratic voters' desire for more safety in their community."
Seemingly Giving Up
That desire has perhaps faced no tougher challenges than in the nation's capital. That was epitomized two weeks ago by Washington's Metropolitcan Police Department (MPD) announcement of an initiative to distribute free steering-wheel locks to Kia and Hyundai model owners, to prevent car thefts.
"MPD is partnering with Kia and Hyundai corporations to combat motor vehicle theft after a social media challenge that encourages using a USB cable to steal these types of cars led to a substantial increase in Kia and Hyundai car thefts," the D.C. government said in a statement.
The MPD acknowledged that in 2022, there were 3,761 motor vehicle thefts in Washington, D.C., an 8 percent increase from 2021. A social media trend that demonstrated how to steal Kia and Hyundai cars during the summer of 2022 directly contributed to the increase in motor vehicle thefts of those makes.
Some critics might say that by handing out steering wheel locks, the police department shows it has given up, but even supporters have to concede the plan highlights the lack of any better ideas to end the phenomenon. And sadly, the thefts aren't the worst of the problem.
The constant risk of carjacking is one of the more frightening features of life in Washington, especially over the past two years. Generally, it happens when people stop to refuel or forget their keys in the car when stopping at an ATM. It's more common at night, but there have been cases in broad daylight as well.
It's an especially frightening crime because according to the MPD, 65 percent of cases involve arms. Over the past five years, the rates of carjackings have skyrocketed, especially since the Covid pandemic. Last year's 485 carjackings occurred at a rate of almost one and a half per day. And in the beginning of March, just 60 days into 2023, the count now stands at 97.
But what's even more concerning is that since the beginning of the ye`ar, 58 percent of criminals arrested for this offense have been minors. So armed kids are behind a significant percentage of car thefts in Washington, D.C.
Until 1993, "carjacking" was not even its own category of crime in the capital, with incidents being categorized either as "armed robbery" or "car theft." In that year, carjacking was made a criminal offense punishable by a minimum of seven and a maximum of 21 years in prison. In cases of armed carjacking, though, the sentence jumps to a minimum of 15 years, and a max of 45.
The seeming futility of these harsh sentences was part of what drove the city's comprehensive criminal code revision. And as voter anger over rising crime intensifies, President Biden seems content to let Congressional Republicans do the dirty work of striking down the revision. Whether either side can come up with a solution to the crime problem is a question that remains to be answered.
(Originally featured in Mishpacha, Issue 952)
Oops! We could not locate your form.
>