| Washington Wrap |
Quitting Cold Turkey
| March 21, 2023
Turkish president Recep Tayipp Erdogan surprised the world when he announced that Ankara no longer opposes Finland's bid to join NATO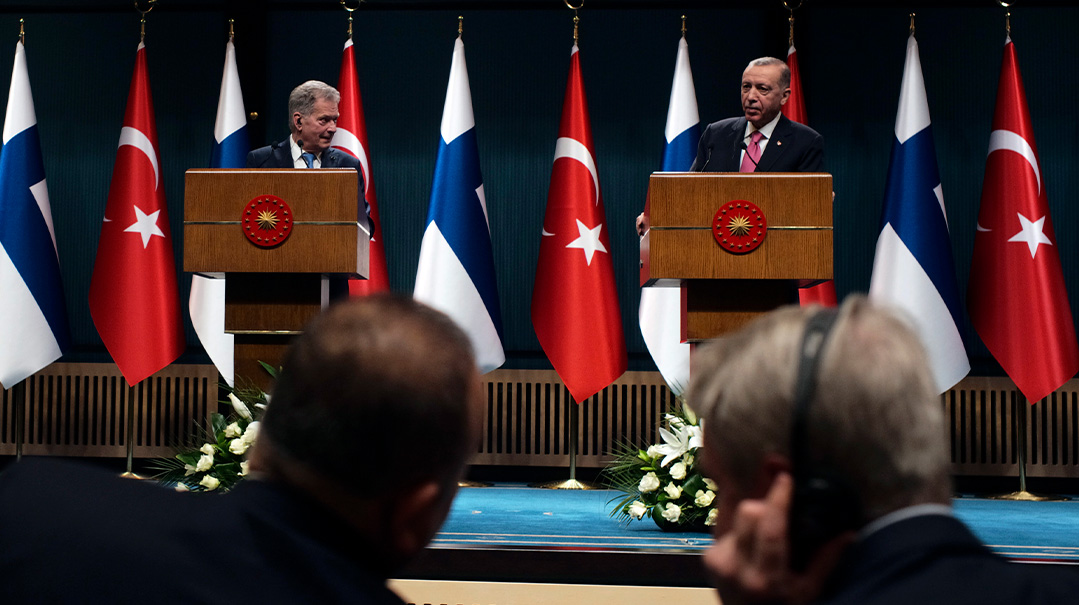 Photo: APImages
Last Friday morning, Turkish president Recep Tayipp Erdogan surprised the world when he announced that Ankara no longer opposes Finland's bid to join NATO, all but guaranteeing its admission to the alliance. Erdogan's announcement, in a joint press conference with the Finnish president, ended a ten-month delay on the admission process.
Sinan Ciddi, nonresident fellow on Turkey at the Foundation for the Defense of Democracies, and associate professor of national security studies at the Marine Corps University, said Erdogan's decision was driven less by geopolitical concerns than more mundane ones.
"Erdogan has been playing with this issue for a while, mainly because it is a domestic political election issue for him," Ciddi says. "He vilifies the West, saying they have supported terrorists seeking to undermine Turkey, such as the PKK — and by pointing to Finland and Sweden, he's basically kept this issue alive in front of voters. On the other hand, there has been considerable pressure brought upon Turkey by the West, especially in NATO, saying, 'You have to accept NATO enlargement,' because these are valuable allies.
"So Erdogan is going halfway, saying, 'Look, I'm not a spoiler, this is not just about politics, I'm approving Finland because Finland has taken into consideration our security concerns, [but] Sweden has a bit of way to go.' But sometime after the May elections in Turkey, I expect Erdogan to ratify Sweden's membership, most likely at the Vilnius summit of NATO in July."
But, Ciddi cautions, that timetable will only hold true in the event that Erdogan wins — not a sure bet, as the Turkish opposition has lately found new life. And if Erdogan loses, the timetable will likely speed up.
"If Erdogan loses, this is an easier issue for the political opposition in Turkey, because they would like to mend bridges or reset Turkey's relationship with the West as quickly as possible in areas that they can. And I would call the NATO enlargement issue low-hanging fruit."
When Finland was about to apply for NATO membership, their representatives approached the Turkish government and asked for support, which Erdogan indicated he would give. The Finns were surprised and upset when Erdogan then backtracked. He eventually relented, Ciddi says, "because there is no sizable Kurdish population in Finland." With no compelling reason to hold out further, Erdogan decided to approve Finland's NATO admission as a gesture of good will. But he is still playing his card with Sweden.
"Sweden has done a lot to address the issues that Turkey has highlighted, but Erdogan is still holding out basically until he gets reelected," Ciddi says. "At the Vilnius summit, he's going to make a big sort of grand entrance and approve Sweden. So it very much is a political stunt."
(Originally featured in Mishpacha, Issue 954)
Oops! We could not locate your form.
>