| Washington Wrap |
Costly Leaks Damage US Intel Reliability
| April 18, 2023
How quickly will US allies forget American snooping?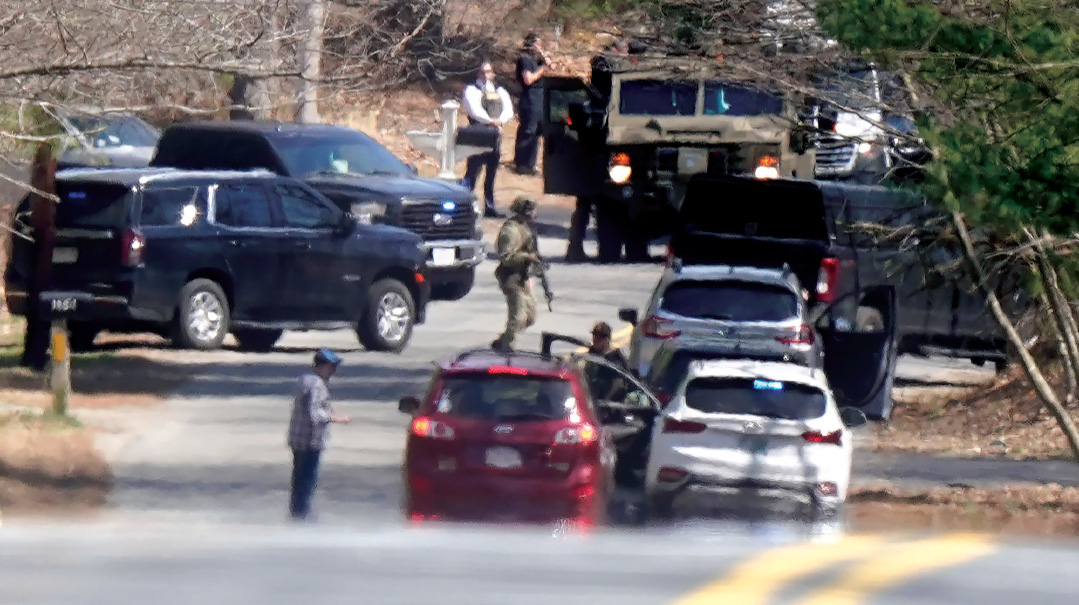 Photo: AP Images
IT
would be difficult to overstate the setback to US intelligence services and foreign policy after a series of classified top secret documents were leaked online by a 21-year-old National Guardsman.
The documents released, in what has been described as the worst breach of security since the 2013 WikiLeaks operation, revealed detailed information about the war in Ukraine, including orders of battle showing that several Western countries, including the UK, sent special forces to Ukraine without informing the public.
The documents also uncover US concern about the state of the Ukrainian air force, and divulge that Egypt planned on supplying Russia with rockets. There was also information relating to China, Iran, Russia, and yes, Israel, with apparent confirmation of the report that the Mossad has encouraged the protest movement against judicial reform.
The National Guardsman, Jack Texeira, laid his hands on physical documents, which he photographed and uploaded to a small group on the chat platform Discord. The documents remained inside the group for weeks before migrating to other groups and websites, taking the Internet by storm.
This incident once again raises questions about the United States' reliability concerning classified information and data security. And why is this so important? Because almost all Western democracies share intel with the US in one form or another. This includes intel concerning rival countries such as China, Russia, or Iran, and to have allies reading their own intel about adversaries on social media can't increase their confidence in the US.
"I think there could be some short-term chilling effect on intel sharing with certain allies," says John Hannah, a senior fellow at JINSA's Gemunder Center for Defense and Strategy and a foreign policy veteran of both Democratic and Republican administrations. "But once the dust clears, I don't anticipate that you'll see too many countries choosing to significantly reduce their cooperation with the United States."
Jonathan Schanzer, senior vice president at the Foundation for the Defense of Democracies, is not so sanguine. "The entire episode is not a great look for the United States. At a time when Washington is looking to rally its allies and counter revisionist powers, this embarrassing intelligence leak sends the wrong message."
That message is all the more damaging given that the alleged leaker is a US person, and demonstrably not a Russian. That tends to lend greater credibility to the documents, and Hannah believes US behavior in the wake of the leaks only confirms that credibility.
"From early on, the reaction of the US government to the leaks seemed to indicate that most of the materials were probably authentic," he says. "Only a few of the documents were openly disputed as having been altered in some way. If more of them were clearly forged, we would have almost certainly heard about it by now. The US government had a clear interest in discrediting them as fakes, but for the most part it hasn't been able to do that."
Given that the documents contain some uncomfortable revelations about Israel, officials in Jerusalem were likely squirming, Hannah says, but he doubts there will be long-term repercussions to the US-Israel relationship, including in the intelligence sphere.
"If the documents show the US listening to the communications of Israeli officials, I'm not sure the Israeli government will be terribly surprised, but it's still awkward and embarrassing, especially since the US government has for decades cast aspersions on Israel's intel community for allegedly aggressively trying to steal US secrets. Nevertheless, do I think for a minute that Israel is about to turn its back on the US or severely circumscribe its intel partnerships with America? No way. It's just too valuable to both of them to have access to Washington's enormous intel gathering resources and capabilities. In many cases, it's helping to save the lives of their citizens."
Schanzer takes a more jaundiced view, though, pointing out that some of the leaked documents could endanger future Israeli military missions that are of existential importance.
"The recently leaked report about the Israeli exercise simulating an attack on Iran's nuclear facilities is the one that is likely to have a more significant impact on US-Israel ties," he says. "The leaked reports about the Mossad and domestic unrest or missile defense and Ukraine, while not welcomed in Israel, are unquestionably less sensitive, given the centrality of the Iran threat to Israel's security."
As to the question dominating the headlines — how does a 21-year-old soldier have access to so many damaging documents? — Hannah and Schanzer offer different approaches.
"He was apparently part of a military intelligence unit, helping support top-secret computer systems," Hannah says. "By definition, he himself would have had to have top-secret clearances. The US national security apparatus operates on a global basis. It is vast. It requires tens of thousands of people to function. Militaries, in particular, whether in the United States or Israel, are organizations filled with very young men and women doing incredibly important jobs with huge responsibilities. The chances that a handful of people over the years will abuse that responsibility and do something evil or just plain stupid, as seems to be the case here, is just an unfortunate reality."
Schanzer's response is more terse. "This is a question that many people are asking. I have not seen a good answer."
(Originally featured in Mishpacha, Issue 957)
Oops! We could not locate your form.
>