| Washington Wrap |
Will Bennett's Iran Deal Strategy Bear Fruit?
| July 6, 2021
The Netanyahu government had a very clear strategy on the Iran deal: no negotiating with the Americans at all on the issue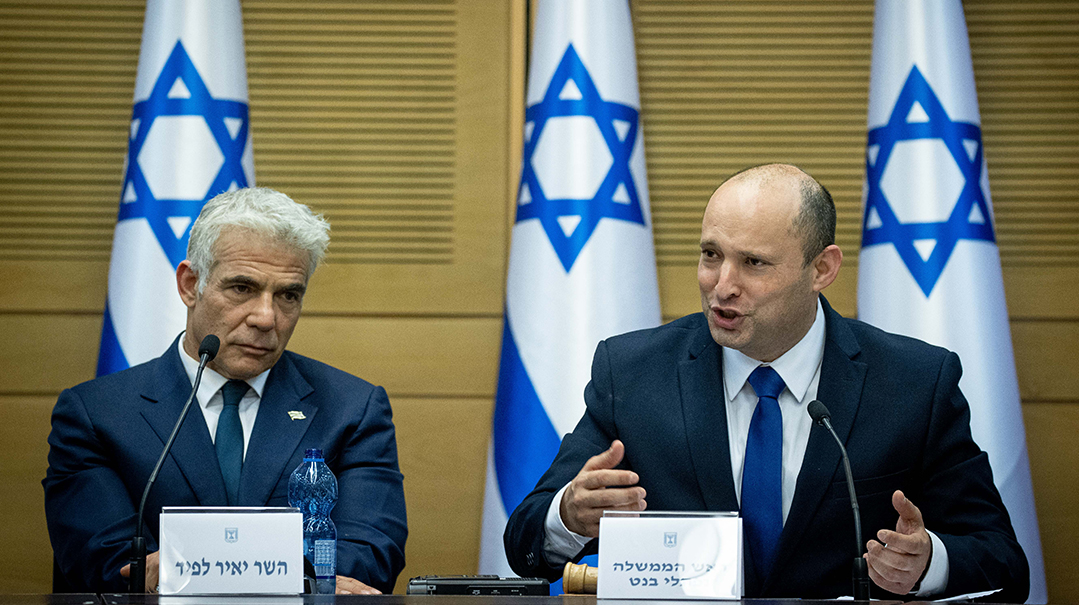 Three weeks after a political earthquake dislodged Binyamin Netanyahu from power, it's clear that the new leadership team of Naftali Bennett and Yair Lapid are realigning Israel's relations with the US in ways likely to cause more tremors.
The Netanyahu government had a very clear strategy on the Iran deal: no negotiating with the Americans at all on the issue, on the premise that if Israel asked to improve a clause here or an article there, it would effectively grant acceptance to the rest of the deal, which Israel couldn't grant. Thus, Jerusalem's policy was to ignore the deal, to remain uninvolved, and maintain the position that Israel reserves the right to counter Iran in any way it sees fit.
Bennett and Lapid are re-evaluating that strategy. If there's going to be an agreement anyway, say advocates of a dialogue with America, shouldn't we try to improve it as much as possible?
Among the changes Israel will demand in an "improved deal" are the extension of the sunset clause (currently set for 2031), stepping up international inspections of Iranian nuclear facilities, and addressing Iran's ballistic missile program and sponsorship of terror in the region. The question is if there's any real chance of getting these changes into the deal, or whether the administration's zeal to reach an agreement has pushed the deal past the point of no return.
David Makovsky, director of the Koret Project on Arab-Israel Relations at the Washington Institute, tells Mishpacha that Tehran's position remains inscrutable.
"We don't know if Iran is engaged in brinkmanship before the end of its [government's] lame duck period in early July, or if it has upped the ante in such a way that a Vienna deal is not reachable," he says. "While we need to be humble in saying we know for sure what Israel has raised during visits of Gantz, Kochavi, Lapid [with Blinken in Rome last week] and now Rivlin, I think we can point to the constancy of Israeli themes.
"Specifically, Israel asks, if you frontload lifting all the hard currency sanctions so Iran can access its assets abroad, export oil freely, and be reintegrated in the international banking system, then what leverage does the US have for follow-on negotiations?
"Coming back from Israel now, I sense a disbelief that there is a roadmap for Washington to a follow on 'longer and stronger' negotiations with Iran," Makovsky says. "It appears to [the Israelis] to be merely aspirational, so Vienna looks like a 'one and done' negotiation. If this is not what's happening, the administration needs to make its case, but it has not done so."
Mark Dubowitz, chief executive at the Foundation for Defense of Democracies in Washington, told Mishpacha that the Biden administration is fully committed to going back into the JCPOA.
"They will give up almost everything to do so," he said. "Only [Ayatollah] Khamenei can decide that he doesn't want a deal. Israel will have no influence on anything that is being decided in Vienna."
Dubowitz paints a gloomy picture of Washington's direction.
"Anyone in Israel who thinks that they can have influence through engagement with the current administration is deluding himself," he cautions. "If there's a long and stronger deal, and there's a low likelihood that it will ever happen, Israel may have an opportunity to influence some of the terms, but only in less material ways. What Israel needs to focus on is everything outside the deal, including other methods to stop Iran's patient pathways to nuclear weapons."
(Originally featured in Mishpacha, Issue 868)
Oops! We could not locate your form.
>