| The Search: Pesach 5782 |
Why Was This Night Different? | April 11, 2022
Nine writers recount their search — and what they found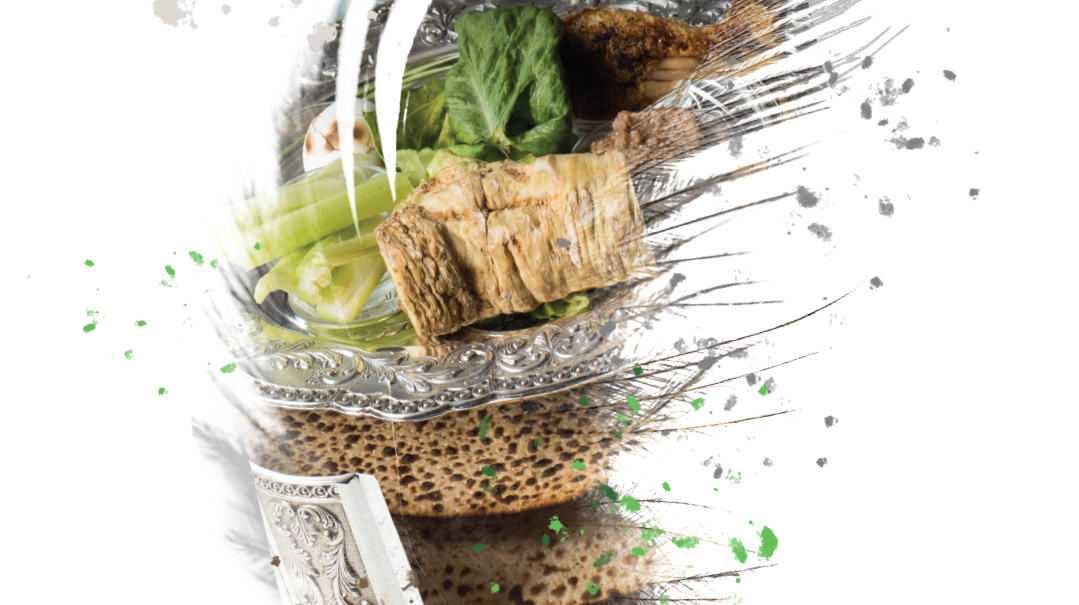 W
hile I'd been making Pesach since we'd gotten married six years earlier, Pesach of 1973 would be the first time we were actually hosting the Seder in our own home.
My widowed mother-in-law lived a few short blocks away, and until now we'd always joined her Seder night, with my husband Abby or one of his brothers leading the Seder. This year, however, things would be different. My father had passed away the previous year, and my mother and sisters would be joining us in our home.
We're a "mixed marriage." Abby's parents were Hungarian on his mother's side and (sort of) American on his father's side, while my parents were both survivors from Poland.
In line with our Chassidic roots, my parents' family traditions dictated that we not eat gebrochts. This rule was enforced so strictly that no matzah crumbs were even allowed on the tablecloth. Period. Each person had their own individual matzah pouch at their place setting. Please don't ask what happened if a crumb touched a plate.
When Abby grew up, though, matzah meal — verboten at my house — was a mainstay, and if there were no knaidlach at the Seder it just wasn't Pesach! His mother's recipe for rokutpaskeh, a Hungarian delicacy of matzah soaked in wine layered with finely chopped nuts that had been folded into stiffly beaten egg whites (along with some secret ingredients), was three pages long. Her chremslech were legendary.
Once we married, I adopted Abby's family customs, and I thoroughly enjoyed cracking matzah into the hot soup, among other things. (I made certain to lose the rokutpaskeh recipe.)
Because my mother and sisters would be joining us for the Seder, Abby graciously agreed that I wouldn't use matzah in any of my cooking. I made delicious lokshen instead, substituted potato starch anywhere I could (gluten-free in the years before gluten-free), and there went the matzah-in-the-soup.
This first year of our hosting the Seder felt significant. We understood that this would set the tone for the way we would celebrate the Festival of Freedom for years to come. Our respective family customs and songs had to blend. We had to make it meaningful, for both my mother's sake as well as our own.
That year coincided with the major influx of Russian Jews into the United States. We volunteered to host a "New American" family for the Seder and felt privileged to do so. We had no idea what to expect, neither did they, nor was google around. We only knew that they recently arrived (good), they spoke English (better), and they were Jewish (best).
When our guests arrived, we met Marek (a doctor), his attractive wife Natalia (another doctor), their pretty seven-year-old daughter Marina, and their grandmother, Irina, who still had a few faded Pesach memories from her childhood. None of them had ever experienced a Seder and certainly not the kind they were going to be attending that evening.
The table, complete with place cards, silver-stemmed perfectly sized matching goblets, satin pillow cases, lovely linens, and Seder objects, looked beautiful. Because I wanted there to be as much inclusion as possible, whatever I prepared for Abby, I prepared for Marek as well: Seder plate with all the accoutrements, a matzah holder, and a kittel. We had even bought a large, shiny blue, hard-cover children's Haggadah with colored illustrations (pre-ArtScroll) that we gave to young Marina.
When I told Marek that I wanted him to have whatever Abby had, Natalia remarked, "And what does the woman get?"
"The woman wears her most beautiful clothing and jewelry," I quickly answered. At each juncture of the Seder, Natalia continued to comment, and I kept thinking fast on my (very tired) feet. For a fleeting moment I entertained the thought of running upstairs and changing between sections in the Haggadah — just to showcase said women's clothing and prove my point — and then, wisely, thought better of it.
Anyway, I didn't have that much jewelry.
I still remember how Abby began the Seder. "On Pesach,' he said, "we celebrate our freedom from Egyptian slavery. We are all free." (Poignant words for those who had just left the Soviet Union to begin life anew.) "And tonight," he continued, "we commemorate that newfound freedom with different rituals and welcome all the questions anyone wishes to ask." They didn't.
Let's face it: the Seder is long, and as the evening wore on, it kept getting longer. The small offerings of this dipped in that and that dipped in this along with some matzah and wine, plus a lot of unfamiliar sing-song, wasn't quite cutting it. My mother and sisters looked sad, Marek kept looking at his watch impatiently while jiggling the keys in his pocket (ouch), and I kept trying to get hubby's attention to move things along. He got the hint after I kicked him under the table.
Finally, we reached the most meaningful moment of this Seder — the meal.
Here's the thing. At both my parents' home and my mother-in-law's house, our Seder meal always consisted of very simple cooked food: soup, served with lokshen in my parents' home and knaidlach in Abby's; soup chicken for the main course; maybe a salad or two (just for show); and usually compote for dessert. Not exactly the kind of extravagant meal one serves company one is trying to impress.
In an effort to enhance the menu I'd prepared three different kinds of gefilte fish as an appetizer, without compromising on any of the traditions of the rest of the meal. After clearing the table of the gourmet hard-boiled egg and salt water (I made sure their eggs were the ones that had peeled nicely), I opened the refrigerator to retrieve the beautifully displayed fish platter I'd so painstakingly prepared.
As I stood in the doorway of the dining room, Abby looked up at me, smiled, and, remembering his Hungarian roots (now?) stated, "We don't eat fish at the Seder."
Arms laden with what was supposed to be our very elaborate first course, I plastered a smile on my face and replied through clenched teeth, "What do you mean we don't eat fish at the Seder?"
Then my very European rebbetzin mother glowered at him, lowered her voice, and repeated, "What do you mean you don't eat fish at the Seder?"
Suffice it to say that the soup and lokshen were delicious, and I had more than enough fish for the rest of Pesach.
Our search for a meaningful Seder has continued with each passing year, and I've found it in the varied original and unique treasures we continue to accrue, both items and people.
And after that first Seder night, hubby made sure I had more jewelry — just in case…
(Originally featured in Family First, Issue 789)
Oops! We could not locate your form.
>