| The Search: Pesach 5782 |
Finding Our Past  
| April 11, 2022
Nine writers recount their search for chometz — and what they found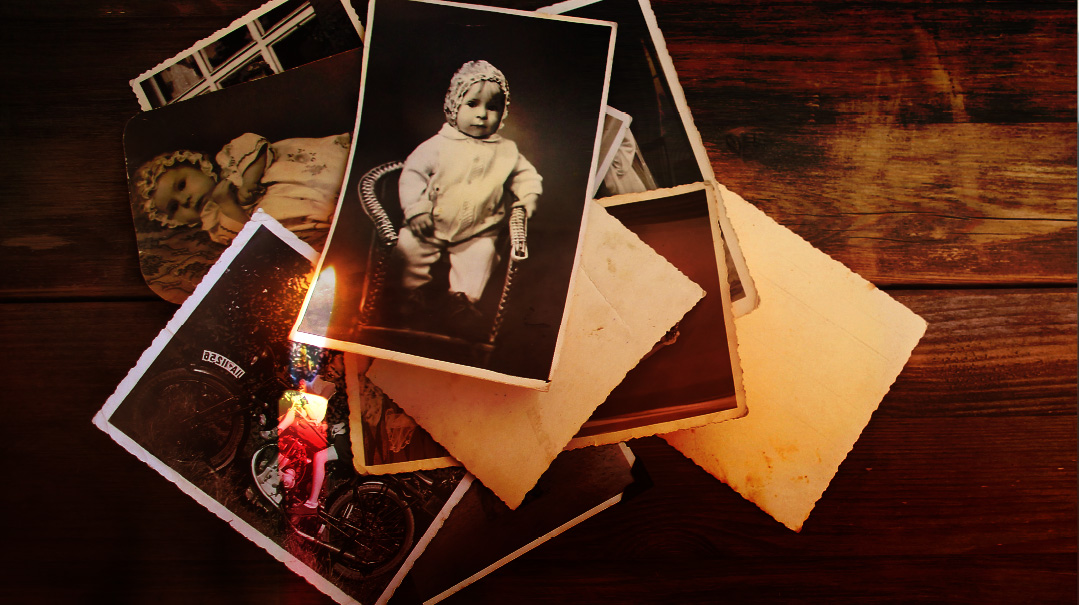 I
was raised on stories about my grandparents. These stories never got boring, because we instinctively knew this was us — who and where we came from, what made us who we were.
We never tired of hearing how all the kids would gawk as Bubby Basya's rich relatives drove down in their shmancy automobile from Long Island to Delancey Street to visit, and how she ingeniously finagled tzedakah out of them for whichever mosad or needy families she was collecting for just then.
Or how Zeidy Avraham Reuven walked off a job site for the city because he wouldn't work past chatzos on Fridays; how a customer took one look at the man at her door and yelled, "I asked for a plumber, not a rabbi!" and slammed the door in his face; how Zeidy Rothblatt could be maavir sedrah by heart because he'd leined the parshiyos so often.
And on the other side, although my grandmother couldn't speak about the war or her family who perished in 1941, over the years we were able to piece together bits and pieces, filled in occasionally by Zeidy. He spoke freely about his own parents, grandparents, and siblings Hy"d, and his experiences in multiple concentration camps. These stories built us, strengthened us, bound us to our roots.
"Tell us about when you came to America!" was an all-time favorite, in heavy competition with hearing tales of the East Side of old.
When I got married, I was eager to hear stories about my new husband's family. I was surprised to learn he didn't really know any. His grandparents were all gone by the time I came into the family, robbing me of the precious chance to get to know them and learn their histories — something I'd taken for granted in my family.
His father, too, didn't know very much; all he knew about the war years was that his parents spent them in Siberia, but no one knew how, coming from Poland, they'd ended up there. My father-in-law was patient and humored me, giving over whatever precious little he knew, a name here, and name there, but admitted that he didn't know enough; by the time he thought to ask, his parents were gone.
One of the greatest gifts given to us was a book written by our uncle about my husband's maternal grandfather, Mr. Joseph Friedman z"l, who grew up in the '20s and '30s in Chicago. I read the book in one sitting, read it again, then hounded each of my children to read it too, especially my son who was named for Grandpa Joe.
Yet the unease of not knowing anything about his father's family — what cities they came from, how they got to Siberia instead of being deported to the camps like their neighbors, how they spent the war years, and how they managed to survive with their family mostly intact — weighed heavily on both my husband and me.
As time went on, and my father-in-law lost his ability to speak, it was more and more painful for my husband that he knew nothing of the grandparents our children were named for — the very people whom he came from.
That is, until a recent simchah when a cousin mentioned in passing that his mother a"h had been interviewed by the Shoah Foundation in the '90s. I jumped. His mother — my husband's grandfather's sister! They grew up together, spent the war years together, thus her story was essentially his story! If we listened to Tanta Leena's testimony, heard about her childhood home, her experiences, her life, her family, we would be hearing Zeidy Shmuel's story as well.
Last week I applied to the Shoah Foundation to get Mrs. Leena Yoffe's testimony. Just three days, later a full, uninterrupted, three hours of our family's history popped into my inbox.
We felt as if we had won the lottery. Even my kids were jittery with anticipation. We hung onto every word she said, and our teenagers, sensing the magnitude of what it meant to finally, finally, have some history from Zeidy's side of the family, did as well. They paused the footage to ask questions, rewound it to repeat a story, and hushed the younger kids who dared disturb.
We heard about Zeidy's childhood home, stories of his father, and finally uncovered the story of how the whole family ended up in Siberia together, and what they experienced during the war years and beyond.
Finding something so precious to our family after years of fruitless digging is a gift I treasure. For my husband, it's priceless, after almost half a century of having a gap in this piece of his family's history.
I only hope my kids continue to look back at the rich, multihued tapestry of their past — from all the various branches of their family tree — and use it to create beautiful futures.
(Originally featured in Family First, Issue 789)
Oops! We could not locate your form.
>