| Washington Wrap |
Trump's Lame Duck Agenda
| November 25, 2020
What can the outgoing president accomplish until the end of his term, and which of his policies will endure even after Biden's inauguration?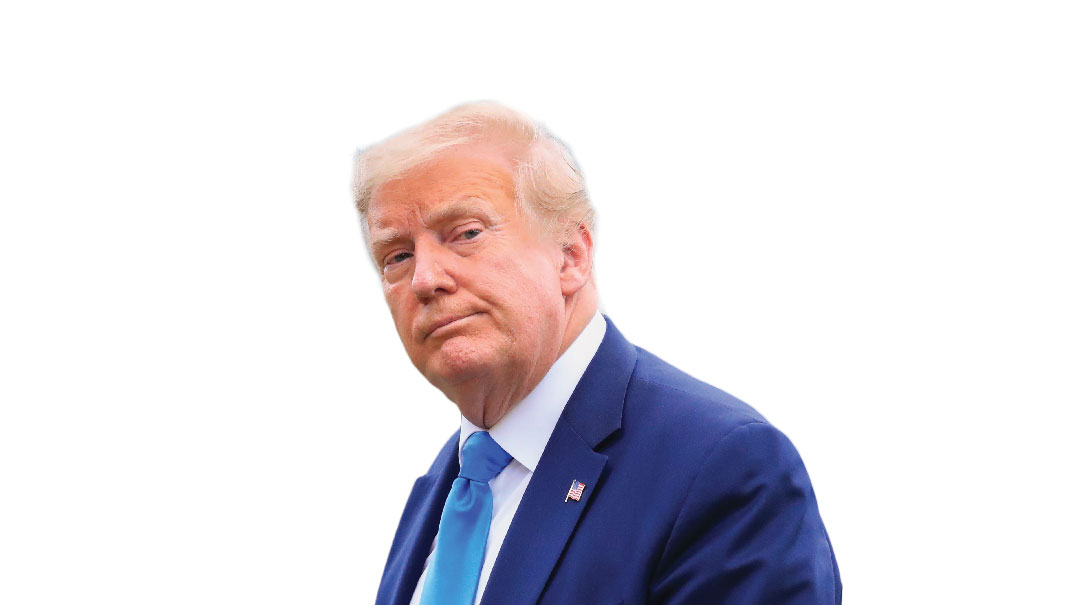 What surprises will Trump's last month and a half in office bring?
During the interval from the election to Inauguration Day in America, the incumbent president is known as a "lame duck." While in Israel the transition period is brief and concludes as soon as a coalition is formed, America has to wait 75 days after the election for the president-elect to assume his place in the Oval Office.
It's a sensitive period. Throughout history, the new president has come from a party different from the incumbent more often than not. With clear policy differences between the two, tension is inevitable. The outgoing president wants to get in as many achievements and reforms as possible before the end of his term. And now that he no longer has to worry about political considerations, he's relatively free to focus on his legacy.
On the other hand, the president-elect is looking on impatiently and promising to deliver change. It was like that in the Obama-Trump transition, and it's like that in the Trump-Biden transition.
But the current transition has another, more unusual element. Trump is refusing to concede the election, and has yet to begin talks with the president-elect's transition team. It's still unclear if Trump has come to terms with his loss, if he's preparing for a second term, or if he understands that his days are numbered and that he'll have to try to do as much as possible before January 20, 2021.
Trump's primary concern as a lame duck appears to be remaining in power. The president has made no secret of his hopes of pressuring state legislatures and election commissions in key states not to certify the results, keeping Biden under 270 electoral votes — which would throw the election to the US House of Representatives — or even gaining an outright victory himself when the Electoral College convenes in December, neither of which is a particularly likely scenario.
If Trump persists in this strategy, he won't be a lame duck in earnest till after the Electoral College vote in mid-December, and will have only one month to cement his legacy. In the meantime, the transition has yet to formally begin, and Biden is not receiving funds or access to the administration in order to prepare for his inauguration.
So what can the outgoing president accomplish until the end of his term, and which of his policies will endure even after Biden's inauguration?

1. Israel
This one is interesting because it's not exactly a case of Trump wanting to lavish more gifts on Israel — he's been lavish enough. This time the gifts are coming from his secretary of state, Mike Pompeo. And while Trump focuses on legal challenges to the election results, it seems Pompeo is acting more or less independently, in coordination with Ambassador Friedman. Last week he landed in Israel to announce a series of dramatic measures.
First, he announced that America would reverse a policy of 25 years and mark West Bank products as made in Israel. Second, he declared that the BDS movement and anti-Zionism are anti-Semitic. Neither party in America has introduced specific legislation on this issue because of the First Amendment protecting free speech. Pompeo's announcement could finally translate into sanctions against bodies that support the movement directly or indirectly.
Israeli pundits have speculated that Pompeo is not acting in tandem with Jared Kushner and Avi Berkowitz, the architects of the Abraham Accords. The UAE signed that agreement with the understanding that there would be no acknowledgment of Israeli sovereignty in the territories, and Israel indeed agreed to hold off on annexation plans. And yet Pompeo's current announcement could be construed as an implication that the West Bank territories are a sovereign part of Israel, a move that won't be well received in the Arab world. Could it be that Pompeo is launching his 2024 campaign from Jerusalem? Time will tell.
For Biden, these latest moves join a growing pile of Trump administration policies that he'll have to reverse when he comes into office. At the same time, it's hard to see him overturning dozens of measures instituted separately over a period of four years. So even if he decides to reverse Pompeo's November 2019 announcement that the settlements are not illegal per se, he may choose to keep the decision about West Bank products in place, to avoid the impression that he hurried to overturn a series of pro-Israel moves immediately upon assuming office.
One consideration from Biden's perspective is America's credibility abroad. If he reverses all of Trump's policies, the next Republican president will strike down his, and a norm will be created whereby foreign leaders can't rely on America for more than four or eight years.

2. Afghanistan and Iraq
Trump's latest move on this front got drowned out in the noise over the transition, but it's worth paying attention to. Trump has repeatedly declared his intention of withdrawing from Afghanistan and Iraq. Senior government officials were able to divert him from carrying this out under various pretexts, including concerns over regional stability and the security of American allies, and a fear that terrorist organizations will take advantage of the vacuum thus created.
But this week, after dismissing Defense Secretary Mark Esper, Trump announced another troop reduction in the two countries. This is an important move that will probably assume even greater significance in the rearview mirror of time.
Trump won on an "America First" message. He said again and again that America should reduce its involvement in the Middle East, bring its troops home, and put a stop to the "endless wars." Trump might end up being remembered as the president who pushed America to dramatically reduce its troop commitments in the Middle East, and to stop being "the policeman of the world."
3. Pardons and judicial appointments
Every president traditionally utilizes his last days in office to grant pardons, whether for convicts whose sentences have almost expired, or extreme humanitarian cases. The president reserves the right to grant a pardon, and many use it — Obama, for instance, granted over 300 pardons in his last days in office, mostly for drug-related offences.
Trump might also make use of this power. He already granted a pardon to Roger Stone, who was part of his 2016 campaign, and it's speculated that he'll pardon his former advisors Mike Flynn and Paul Manafort, as well. But the million-dollar question is whether he'll try to preemptively pardon himself, and thus avoid investigation after he leaves office. It's still unclear, but the question is being floated in the press and among political activists.
He'll also attempt to appoint as many judges as possible, up until the last minute, to cement his position as the president who led a revolution in the judicial system and tilted the balance decisively to the conservative side.

4. Aid package
The negotiations between Nancy Pelosi, Treasury Secretary Steve Mnuchin, and Trump fell through in October. Pelosi took some flak in the media for seemingly trying to deny Trump a legislative victory before Election Day. American businesses, and especially the airlines, are desperate for an aid package that will help them weather the period until the vaccine takes effect. But Trump is well aware that by the time the money reaches businesses, that will be Biden's responsibility, and he remains focused on his own affairs. Serious negotiations have not resumed since the election.
5. Iran, the Middle East, and China
"Trump appears intent upon reinforcing his policies in three key areas: Iran, Middle East peace, and China," says Dr. Jonathan Schanzer, senior vice president for research at Washington's Foundation for the Defense of Democracies. He notes that the president's continuing sanctions will influence market psychology about the risks of business with the Islamic Republic.
"Anything can be reversible," Schanzer admitted. "But Trump is making it clear to Democrats and the markets (in the case of Iran and China) that the 'rap sheets' of these countries are not easily ignored, and cannot be easily wiped away by executive order."
He argues that if Biden pursues diplomacy with Iran, this time Israel and its Arab allies will speak with one voice against it, if it does not meet their needs and expectations.
"This will be a major legacy of the Trump administration," Schanzer said.
Biden will not find it easy to reset relations with Beijing, either, says Schanzer.
"I believe Trump has already shifted the debate," he adds. "Concern over China's rise is now bipartisan. The Trump administration can be expected to produce additional reports and guidance about trade, intellectual property, and more."
(Originally featured in Mishpacha, Issue 837)
Oops! We could not locate your form.
>