| Trending |
TRENDING : CAPE TOWN
| June 12, 2019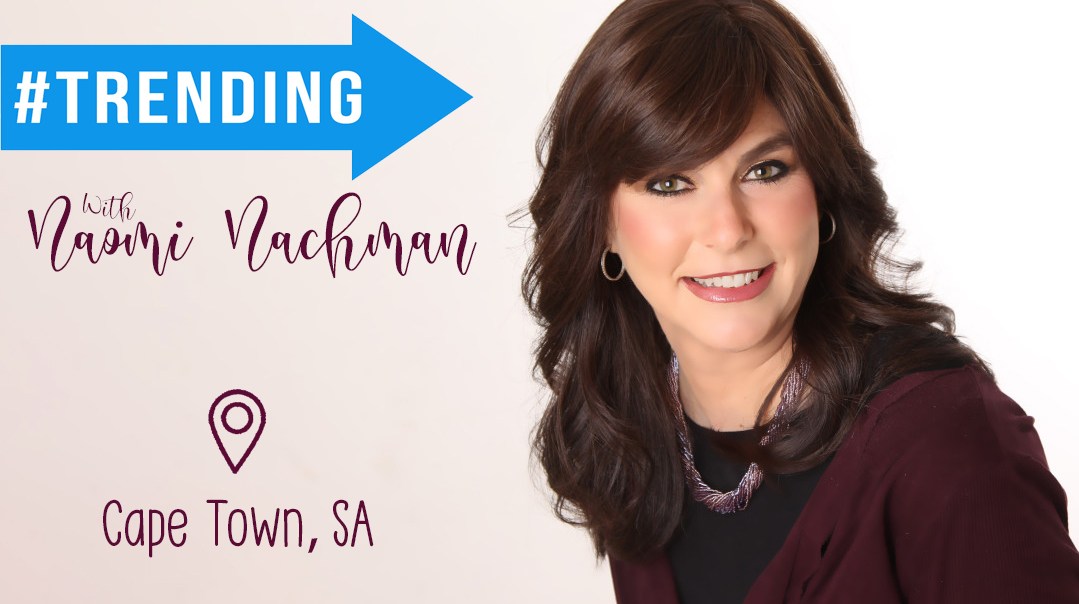 With Cindy Moritz, Cape Town
Cape Town
This past winter, we took a family trip to Africa, using points for the air travel. We visited several countries, including South Africa. One of the highlights was our visit to Cape Town, where we stayed at the Premier Hotel, in the heart of the Jewish community. Cape Town is one of the most beautiful cities I have ever visited; it reminded so much of my own hometown of Sydney, Australia, with its beaches and stunning coastline. Local tour guide Brandon Platt drove us around and gave us lots of historical information. There are also kosher wineries to visit just a short drive into the countryside.
Crumbs and Cream: This ice-cream sandwich shop was something I've never seen before. It's an ice cream store that creates made-to-order customized ice cream sandwiches for each customer. You pick the cookie, ice cream, mix-ins, toppings, and sauces, and you get your own custom sandwich.
Biltong: You can't write about South Africa and leave out biltong; it's a form of dried, cured meat, and is the go-to snack there. You can frind it in most stores as you would a bag  of chips. We ate pounds of it as we drove around on a safari. 
Goldies Deli: This hands-on family business is a long-time kosher bakery and take-out place. They also provide kosher meals to the airlines, hospitals, and hotels. We stopped by to pick up food for our day trips and extra food for Shabbos at our hotel. They have traditional Jewish foods as well as local delicacies, such as hake, a fried fish from the cod family.
Press Bar: This burger restaurant and bar is next door to — and owned by the same people as — Goldies Deli. We ordered most of the appetizers on the menu, which our family then shared. Everyone got their own delicious main course. The meat in South Africa is known to be full of flavor, and it really came through in the burgers we ordered. My husband could not stop raving about his lamb burger, on the menu listed as "Mary Had a Little Lamb." (All the burgers have names with a cute twist or pun.)
Mojo Food Court: Inside the Mojo Market Food Court, located in Sea Point, Cape Town, there are two kosher eateries, Falafel-ish (which serves delicious falafel), and Noa Hummus Bar (which serves fresh bowls of hummus with assorted toppings).
Café Riteve: The only dairy restaurant in Cape Town, this café offers a pareve version of a local food called babotie. Typically a groundbeef dish with an egg-based topping, this pareve version was amazing. Babotie originated with the Cape Malay people who were brought as slaves to the Cape in the 1600s.
Vegetarian Babotie
This recipe was given to me by Stanley Norrie, owner of Norrie Caterers in Cape Town. The dish is served at Café Riteve.
Serves 2
1 lb (500 g) vegetarian sausage mince, soaked
1 large onion, chopped
1 tsp garlic powder
¼ cup oil
1 tsp ground ginger
1 Tbsp curry powder
1 tsp mixed herbs (blend of marjoram, basil, oregano and thyme)
1 tsp turmeric
2 tsp apricot jam
½ cup water
2 tsp pareve chicken stock bullion
1 slice brown bread
1 Tbsp lemon juice
½ cup raisins
TOPPING
1 cup non-dairy creamer
1 tsp salt
pinch pepper
2 eggs
4 bay leaves
Preheat oven to 350°F (175°C). Fry onion and garlic in oil in a large saucepan until golden. Add the mince, then add the spices and jam, stirring well. Meanwhile mix bullion with water in a small bowl, and soak bread in it. Add contents of bowl to saucepan, pouring lemon juice on top. Sprinkle with raisins.Transfer to an 8x8-inch (21x21-cm) baking dish. Prepare the topping by mixing the first four ingredients together. Carefully pour on top of mince mixture, then place bay leaves on top. Bake for 30–40 minutes.
We would love to hear about your travel tips and destinations. Email recipes@mishpacha.com and fill us in! 
Oops! We could not locate your form.
>