| Trending |
Trending: Atlanta, Georgia
| July 10, 2019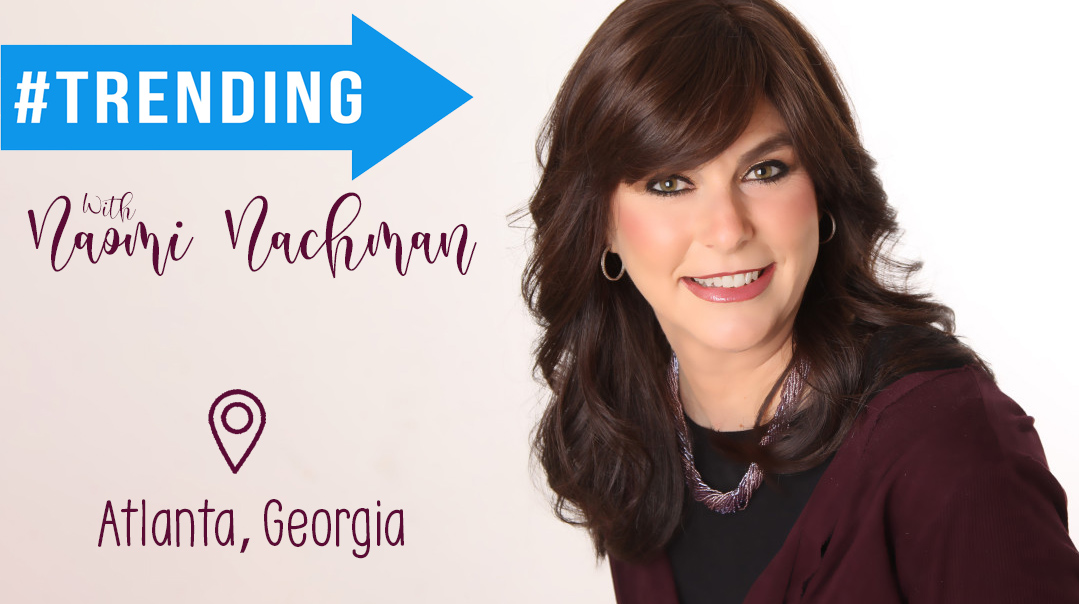 With ALEX IDOV
Several months ago, I broadcasted my radio show, Table For Two, on the Nachum Segal Network, from The Spicy Peach restaurant in the heart of the Jewish community of Atlanta, Georgia. I'd been to Atlanta before, so I know there was lots to see and do. Alex Idov, local food celebrity and food blogger from Bourbonandschmaltz.com, was a guest on the radio show along with one of the producers, Yoni Pollack of the Nachum Segal Network. I was lucky enough to have him take me on a tasting tour. When I went with my family, the trip was a two-day Atlanta adventure! Our first stop was the Coke factory. It has memorabilia and the history of Coke since its creation. We also got to try many different flavors. After the Coke factory, we walked down the block to Georgia Aquarium, which is one of the most impressive aquariums I've seen. It's the largest in the United States and has over 100,000 marine animals, including the only four resident whale sharks in North America. We took a day trip to Stone Mountain, which has a large stone monolith in the middle of the park. Both a trail and the Summit Skyride cable car lead to the top of the rock. There are buildings there that date back to 1793. The park is packed with fun-filled family activities. There are many more attractions to visit, such as CNN and the zoo.
Food Crawl with Alex Idov
Tip Top Kosher Market: The latest contender in the Atlanta kosher dining scene, Tip Top's restaurant offers a variety of modern Israeli fare, and it specializes in homemade meat and vegetarian-topped hummus plates, salads, and sandwiches. The grilled chicken hummus is really amazing. Tip Top also carries an impressive selection of imported Israeli groceries, baked goods, and health care products in their makolet-style store.
Fuego Mundo: A welcoming family-style South American fusion restaurant, Fuego Mundo specializes in healthy wood fire grilled, grass-fed meat dishes. There are many organic, vegan, and gluten-free options available. Be sure to try their Colombian hot dog.
Chai Peking: The longest reigning kosher dining establishment in Atlanta, Chai Peking has a reputation for making some of the best kosher Chinese food in the US. With over 150 menu items, including veal, fish, and American and Israeli dishes, there's someone for everyone at Chai Peking. No MSG is used, and it's mostly glutenfree. Be sure to try their dumplings and a Chinese hot dog. It's located inside the Toco Hill Kroger supermarket.
The Spicy Peach: A specialty kosher foods store with a lot of Southern heart, The Spicy Peach is artistically (and skillfully) stocked with dozens of gourmet cheeses, chocolates, and candies, and exotic international items (some of which are hard to find in even the New York area). The store is currently undergoing an expansion due to its success in the community. I brought a ton of interesting ingredients I couldn't find locally back to New York, one being pareve condensed milk.
Pita Palace: Located in the Toco Hill neighborhood, Pita Palace offers traditional Israeli street fare at unbeatable prices. Mixed combo meat platters and a generous salad bar are a great draw to this convenient lunch spot.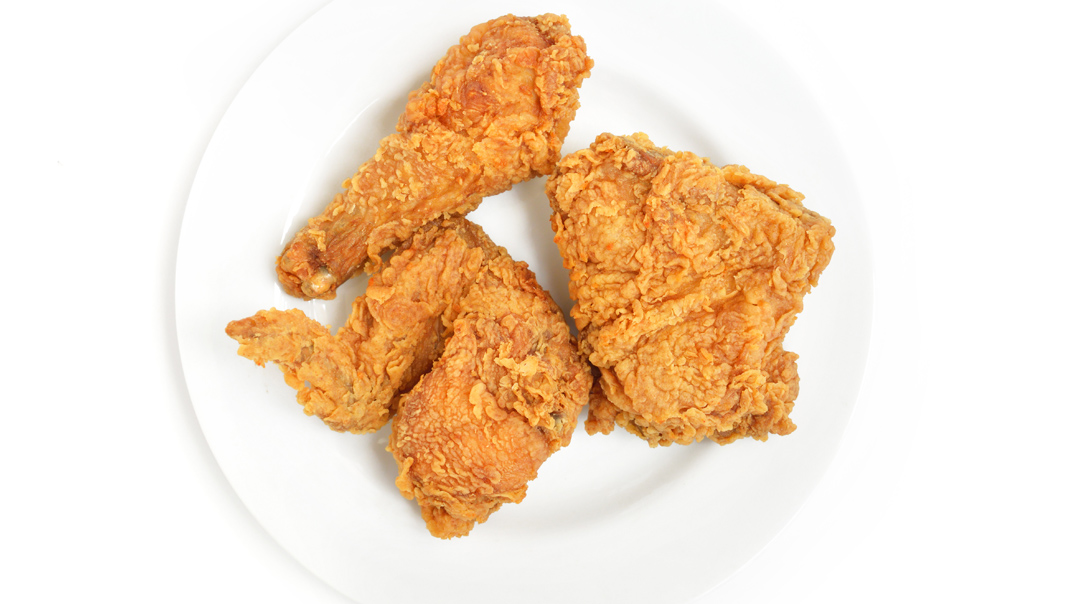 Shawarma-Spiced Southern Fried Chicken
Recipe by Alex Idov
Serves about 8
4 lb (2 kg) broiler/fryer chicken, cut into pieces
peanut oil, light olive
oil, or grapeseed
oil, for deep frying
SHAWARMA MARINADE
½ cup olive oil
4 tsp cumin
4 tsp smoked paprika
2 tsp allspice
2 tsp turmeric
1 tsp garlic powder
¼ tsp cinnamon
¼ tsp salt
¼ tsp pepper
BREADING
2²⁄ ³ cups flour + ½ cup for initial dredging
1 tsp cumin
1 tsp smoked paprika
½ tsp allspice
½ tsp turmeric
¼ tsp salt
2 large eggs
2 tsp water
HONEY-TAHINI DRIZZLE SAUCE (optional)
¼ cup clover honey
¼ cup sesame tahini
½ cup mayonnaise
Place the olive oil into a 1-gallon ziplock bag. Add the spices. Seal the bag and shake to combine. Add the chicken pieces. Seal the bag and use your hands to work the spice marinade into the chicken. Marinate in the refrigerator for at least 8 hours. For best results, marinate chicken overnight. Bring chicken to room   temperature. In a deep-fat fryer, large soup pot, or Dutch oven, heat oil to 375°F (190°C).
To make the breading: In a large ziplock bag, combine 2²⁄4 cups flour and spices. In a shallow bowl, beat eggs and water together. Dredge each piece in remaining ½ cup flour. Then, dip each piece of chicken into the egg mixture, and place a few pieces at a time into the spiced flour bag. Seal bag and shake to coat. Fry chicken, several pieces at a time, for 8–12 minutes or until golden brown and juices run clear. The internal temperature of the chicken should be 160°F (71°C) for white meat and 165°F (73°C) for dark meat. Drain on a wire rack, and let rest 3–5 minutes before serving. If desired, to add some sweetness to the fried chicken, make the honey-tahini drizzle sauce. Mix the ingredients, and drizzle over the chicken.
(Originally featured in FamilyTable, Issue 650)
Oops! We could not locate your form.
>