| No Food Left Behind |
Stay Warm with Soup
| December 7, 2021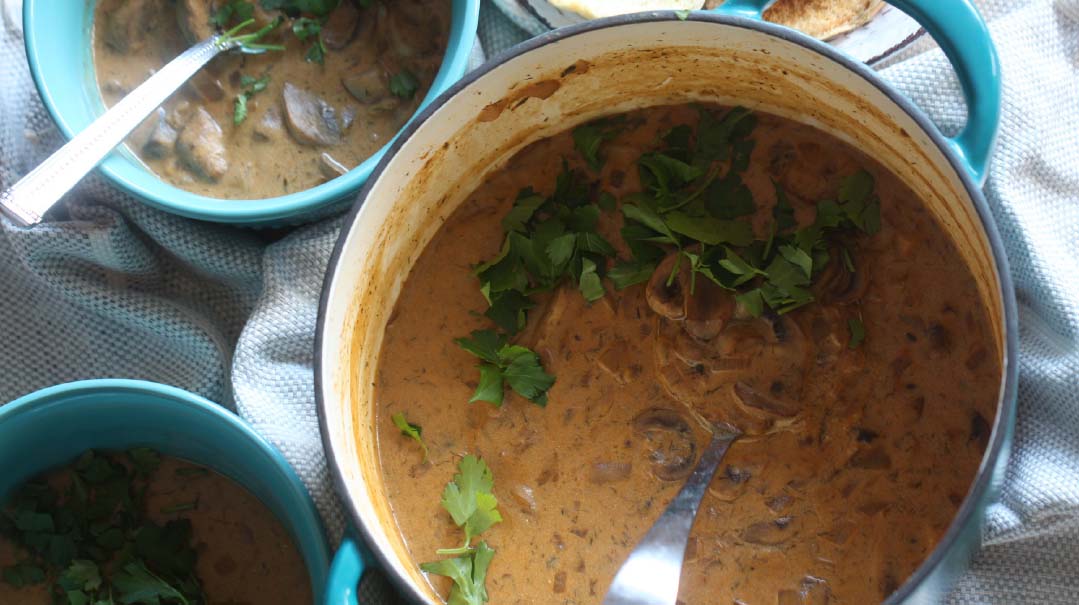 Photography by Beth Warren
Brrr, the cold front is coming. It's natural to want to keep cozy with food. Our body releases heat through digestion, but we can achieve that deliciously warm feeling with any food, including healthy ones. And what better way to add more heat than with a soup? Bonus: Mushrooms are the star in this recipe, and their immune-boosting powers will also help you fight getting sick this winter.
I chose a Hungarian flavor profile for this soup because I absolutely love this seasoning blend in soups and stews. Plus, there's a boost of protein from the milk and sour cream, with nondairy alternatives that keep it just as creamy and tasty.
My clients are always asking for a plant-based side that can help keep them full, and this soup is the perfect snack or a pairing for your meal!
Hungarian Mushroom Soup
SERVES 4–6
2 Tbsp Smart Balance butter
2 cups chopped Vidalia onions
1 lb (450 g) mushrooms, sliced (cremini, button, or a mix)
2 tsp dried dill
1 tsp dried thyme
1 Tbsp sweet paprika
2 cloves garlic, crushed
1 tsp dried mushroom powder (optional)
3 cups low-sodium vegetable broth
2 Tbsp low-sodium soy sauce
1 Tbsp lemon juice
salt and pepper, to taste
1 cup oat milk (or cashew milk)
3 Tbsp all-purpose flour
¼ cup nondairy sour cream (I use Tofutti)
chopped parsley, for garnish (optional)
In a Dutch oven or pot, sauté the onions in the Smart Balance until fragrant, about 3–4 minutes. Add mushrooms and cook over medium heat for about 7 minutes. Season with dill, thyme, and paprika and cook for an additional 10 minutes, stirring frequently. About 1 minute before the end, stir in the garlic and mushroom powder, if using.
Add the vegetable broth, soy sauce, and lemon juice, scraping the bottom of the pan to ensure no bits are stuck there. Bring soup to a simmer and then cook for about 5 minutes. Add salt and pepper to taste.
In a small bowl, whisk together the milk and flour until fully smooth. Add the mixture to the soup and cook for an additional 8–10 minutes, or until the soup thickens. Turn off the heat. Slowly stir in the sour cream and mix until incorporated. Garnish with parsley before serving.
Note: Mushroom powder enhances an umami flavor. You can easily substitute any nondairy ingredients with the dairy equivalents.
Schedule a nutrition consultation with Beth Warren virtually from anywhere or visit her in person at the Brooklyn or Jersey Shore Beth Warren Nutrition offices. You can also book an appearance or cooking demo. Email beth@bethwarrennutrition.com or call 347-292-1725. Most insurances accepted.
(Originally featured in Family Table, Issue 771)
Oops! We could not locate your form.
>