| No Food Left Behind |
Crunchy Peanut Butter Granola
| April 18, 2023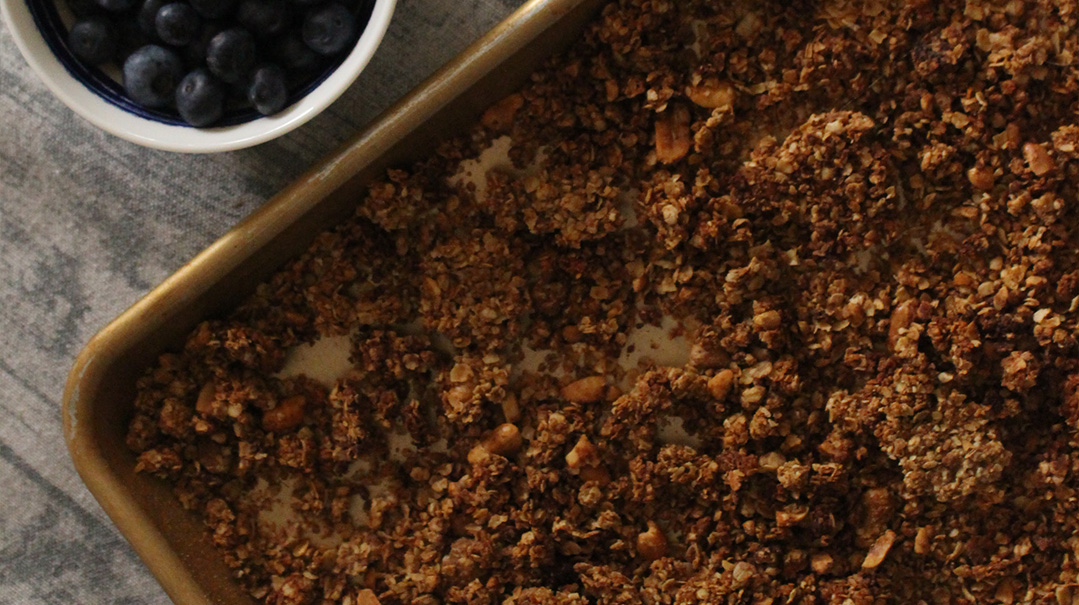 Photography by Beth Warren
After Yom Tov, many people are eager to get back on a healthful track. A reset on the basic foundations of healthy and balanced eating is key. There's a lot to say for balancing food groups, managing portion sizes, and eating at specific times as nutrition strategies. Keep track of how your meal and snack options are making you feel. You want to be sure the foods you eat are actually filling and satisfying. All too often, people think starving is the only way to manage weight and health. In reality, it's the opposite.
Granola is a great option for a whole grain that keeps you fuller longer, yet it's often controversial because the additives and portion sizes can make it less healthful. This recipe offers both filling fiber and satisfying protein with less sweetener. Try about a quarter cup as a snack by itself, in a smoothie, or paired with your favorite yogurt!
Peanut Butter Granola
YIELDS ABOUT 8 SERVINGS
2 cups old-fashioned or quick-cooking oats
½ tsp ground cinnamon
¼ tsp sea salt
6 Tbsp natural peanut butter, chunky or creamy
2 Tbsp honey or maple syrup
2 Tbsp coconut oil, melted
½ tsp pure vanilla extract
2 egg whites, beaten
2 Tbsp chopped peanuts
Preheat oven to 325°F (160°C). Line a baking sheet with parchment paper and set aside.
In a mixing bowl, combine oats, cinnamon, and salt.
Melt the peanut butter, honey, and coconut oil together until smooth, either in the microwave or on a stovetop. Remove from heat and stir in vanilla.
Stir in dry ingredients and mix to combine. Fold in beaten egg whites and peanuts.
Spread mixture on prepared baking sheet and flatten with your hands.
Bake for about 20 minutes, or until granola is lightly browned (keep an eye on it, as different ovens bake differently and you don't want it to burn). Stir it gently once halfway through the baking time. Remove from oven and let sit until cooled. (It continues to harden as it cools.) Once cooled, break apart and eat!
To store: Granola can be stored in an airtight container or glass jar with a lid at room temperature for up to two weeks or in the freezer for up to two months.
To schedule a nutrition appointment with Beth virtually, or in the Brooklyn Flatbush or Jersey Shore locations, email beth@bethwarrennutrition.com or call 347-292-1725. Most insurances accepted. Beth's book, Secrets of a Kosher Girl (Post Hill 2018), is available on Amazon.
(Originally featured in Family Table, Issue 839)
Oops! We could not locate your form.
>