| No Food Left Behind |
Plant-Based BBQ Sides
| August 29, 2023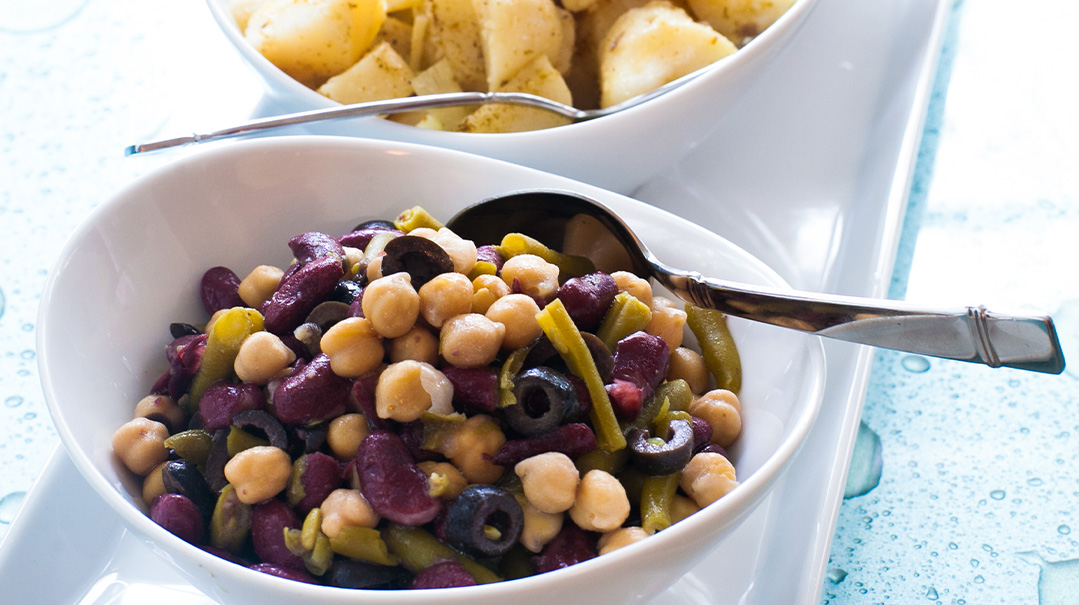 Photography by Beth Warren
As a registered dietitian and mom of six, I love barbecue season. It's one of the most fun and simplest ways to host a crowd in a way that pleases everyone. However, many people feel overwhelmed by the amount of meat served at a barbecue when they're trying to reach their health and weight goal. Let's not discount the sides to balance your macros out!
Potatoes get a bad rap in the health world, but that's a huge misconception. They're loaded with fiber and vitamin C, in addition to being budget friendly. Just remember portion control and categorize it towards your serving of a plant-based carb when monitoring your weight and blood sugar. Try this potato salad from my Syrian roots for your next barbecue. And beans are a great option too.
Syrian Potato Salad
SERVES 6
6 medium Idaho potatoes (see note)
¼ cup extra-virgin olive oil
¾ cup freshly squeezed lemon juice
1 tsp ground allspice
1 tsp ground cumin
1 tsp kosher salt
2 hard-boiled eggs, sliced (optional)
2 scallions, chopped (optional)
Boil the potatoes in a large pot until tender, about 20 minutes. Cool slightly, then cut into small squares or slices and place in a medium mixing bowl. Add olive oil and lemon juice, then the seasonings. Gently mix everything together.
Arrange sliced eggs on top of the potatoes. Garnish with scallions, if using.
Note: I leave the peels on for added fiber and nutrients. This also lowers the potatoes' glycemic index.
Bean Salad
SERVES 6
1 15-oz (425-g) can kidney beans
1 15-oz (425-g) can chickpeas
1 15-oz (425-g) can black beans
1 cup canned green beans
sliced black olives, optional
2 Tbsp red wine vinegar
1 Tbsp extra-virgin olive oil
salt, pepper, and garlic powder, to taste
Rinse and drain all canned legumes. Pour into a large bowl and combine with olives, if using.
In a small bowl, combine vinegar, oil, salt, pepper, and garlic powder and stir. Pour over beans. Adjust to taste.
Note: Rinsing the canned foods will result in 30 percent less sodium. Keep your eyes open for cans with no salt added.
To schedule a nutrition appointment with Beth in the NEW Crown Heights and Toms River locations, virtually, or in the Flatbush, Bklyn or Deal, NJ, locations, email beth@bethwarrennutrition.com or call/text/whatsapp 347-292-1725. Most insurances accepted. Beth's book, Secrets of a Kosher Girl (Post Hill 2018), is available on Amazon.
(Originally featured in Family Table, Issue 858)
Oops! We could not locate your form.
>