| Washington Wrap |
Speaker Fiasco Highlights GOP Divide
| January 10, 2023
McCarthy's mauling bodes ill for the GOP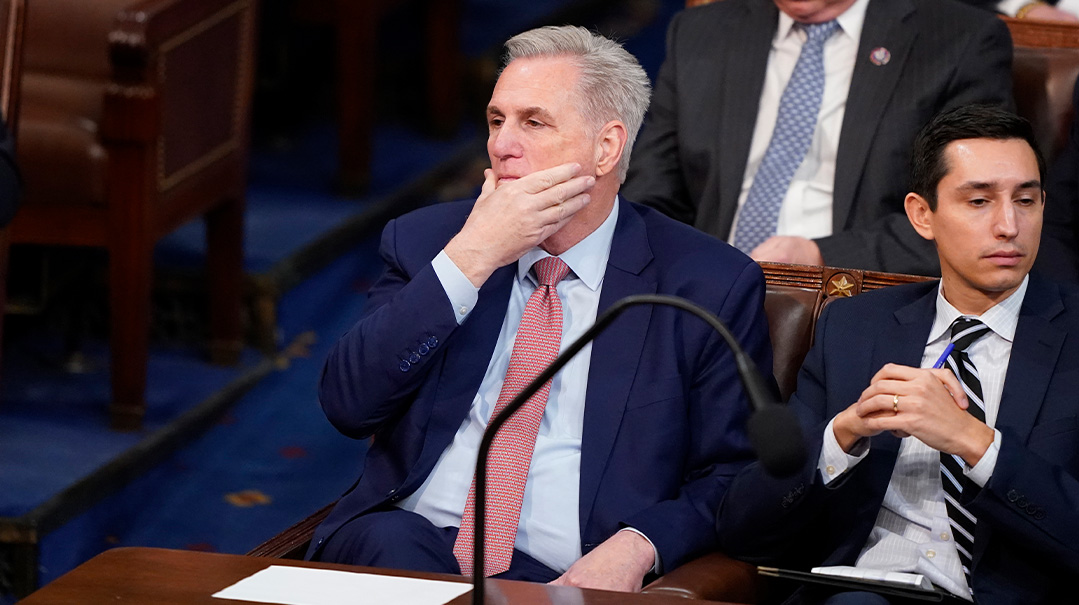 Photo: AP Images
T
he drawn-out agony of Republican Kevin McCarthy's election as House Speaker can't help but make you wonder whether two or three parties are represented in Congress.
McCarthy was tarred and feathered by members of his own party caucus even after giving in to their demands, which included a rule change enabling a single representative to force a vote on the Speaker's ouster. And in many ways, McCarthy's ultimate victory was itself a defeat, whetting his enemies' appetite and giving them a sense of power, even though they make up less than ten percent of the Republican conference — 20 out of 222 members.
The Republicans were already scarred by the recent election cycle, having won the slimmest of majorities despite ideal starting conditions: rising inflation, high crime rates, and a Democratic president whose popularity was on the wane. Despite this, the Republicans barely eked out a four-seat majority in what was meant to be a massive red wave year. The underperformance should have resulted in a sense of sobriety, with the different factions closing ranks to make maximum use of their narrow majority.
Instead, the events of the last week showed that the GOP is really two parties: a large center-right party, and a smaller faction that doesn't necessarily feel beholden to the majority. We've heard a lot of talk about the Democratic "Squad," which numbers a mere four or five lawmakers, but they end up toeing the party line in most cases.
On the Republican side, by contrast, it took massive intervention by former president Trump to persuade the rebels to climb down from the tree and support McCarthy, and even that only happened after all their demands had been met.
Tevi Troy, a senior fellow at the Bipartisan Policy Center and a former White House aide, advises Republicans that the election process is now in the rearview mirror and that the party needs to look to the future.
"Now that Kevin McCarthy has become just the fourth Republican Speaker of the House of the 21st Century, the focus will be on governing rather than his challenging path to securing the position," he says. "While McCarthy certainly had difficulty with the handful of rebels, he did an impressive job uniting over 200 House Republicans from very different factions within the party, giving him a potential pathway to success.
"If he can find a way to some pass key GOP priorities and manage effective oversight hearings, the torturous path to the Speakership will be forgotten. If he can't, it will be remembered as a preview of his short tenure as Speaker."
Rocky Road Ahead
Josh Kraushaar, senior political correspondent at Axios, says the debacle highlights the GOP's challenges. "Kevin McCarthy is showing how difficult it will be for House Republicans to legislate, given their narrow majority in the House and given the tendency of certain hard-right conservatives to act against the party's interests and in their own self-interest," he says. "This was the easiest part, for House Republicans to get the number of votes to elect Kevin McCarthy as the speaker.
"The fact that it took a week, when it should have been a merely symbolic process, shows how difficult it will be for House Republicans to pass a budget later in the year, and to show a united front against the Democratic Senate and the White House. It is not a good omen for their ability to succeed politically and unite for the next two years."
Kraushaar says the challenge now facing House Republicans is not ideological. "Primarily, it's the fact that they have a very narrow majority. They underachieved in the midterms, and you have right-wing factions fighting among each other that can't even agree on what the Freedom Caucus should be focused on. So the challenge is in these new rules that McCarthy negotiated, which empower a small number of nihilists to disrupt the House and make conducting business effectively all the more difficult."
McCarthy's challenge now is to hold the party together, but this is likely an impossible task. A stubborn handful of holdouts remain, and because of his slim majority, cobbling together a majority on almost every bill will be an uphill challenge.
Could the solution lie in bipartisanship, with moderates from both parties working together? Kraushaar doesn't think that will happen.
"I don't expect more bipartisanship," he says. "If anything, the last week shows how empowered the hard-right radicals in the Republican Party have become. McCarthy gave them a number of concessions just so he could hang on to power himself. I don't think this bodes well for business getting done efficiently. I don't think this bodes well for bipartisanship.
"This is going to foreshadow a lot of messy fights that could make it harder for the United States to conduct basic business, like having a budget and making sure its debt is paid off. There wasn't going to be much passed anyway, with a Republican House and Democrats holding the Senate and White House, before a presidential election year. But what we're seeing after the past week is the growing possibility that chaos could reign at the most critical moments for American governance."
As absurd as it sounds to say this in January 2023, all eyes are now turned toward November 2024. If McCarthy can steer his storm-tossed vessel safely, Republicans could build momentum ahead of the next presidential election. Still, their key campaign message was, "Give us control and we'll sort out inflation and crime." Democrats are now saying, "If you give Republicans control, they'll squabble and paralyze the country."
The whole debacle was a reminder that Donald Trump still casts a long shadow over the GOP. His influence was critical in convincing a dozen of the rebels to vote for McCarthy. It's still too early to count him out, and he'll certainly be a key player in the Republican Party over the coming year, possibly as a mediator between the different wings of the party. —
(Originally featured in Mishpacha, Issue 944)
Oops! We could not locate your form.
>