| Hit the Trail |
Reb Zusha's Dance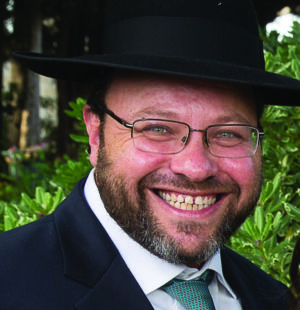 | June 5, 2019
Just us and Hashem and the Torah
T
hey are probably the two most famous brothers in chassidic lore: Reb Elimelech of Lizhensk and Reb Zusha of Anipoli. I thought I had heard all of their stories, but recently I heard a new one from Rabbi Zecharia Wallerstein. And like every good story, it has to be shared.
They were once arrested on false charges. All good chassidic rebbes of old had to go to jail. The tradition goes back to Yosef in Egypt. It wasn't a reflection on their piety, or, G-d forbid, on any negative thing they had done. It was a way of lifting up the sparks of holiness from the lowest place, connecting to Hashem from the bottom of the world and experiencing a closeness that can only be felt when you are at the lowest of the low.
The brothers were thrown into a cramped cell already full of ruffians, murderers, lowlifes, degenerates, and basically bad people. The guard, upon throwing them into the cell, laughed and pointed them to a pail in the corner, telling them that was their lavatory.
It was too much for Reb Zusha to bear. He flung himself on the floor and began to cry and bawl. Reb Meilech, his brother, was taken aback. This was not like Zusha, who always had faith that everything Hashem did was for the good. Reb Meilech turned to his brother and rebuked him. This was a chillul Hashem. Their cellmates would think that he had given up hope. Why was he crying like this?
Reb Zusha turned to his brother and told him tearfully, "How can you not cry? Don't you understand? We are stuck here in the cell with this pail, and we cannot study or think about Torah, it is forbidden to daven. What will we do? How can we go on without any Torah, mitzvos, or prayer?"
Reb Meilech pondered his brother's heartrending cry for a few minutes and then had an incredible epiphany. He explained that by not learning or davening, they were upholding the halachah that prohibits them from doing so. So in fact all of their non-learning and non-davening was obedience to the ratzon haBorei.

"It's incredible," he said, "every second that we are here, we get a mitzvah by not studying Torah. When else will we ever have such a holy opportunity to serve Hashem by not serving Him?"
Reb Zusha's face lit up. He started to smile. He started to dance. He got so excited he picked up the pail and waved it around as if it were a lulav and esrog. Ashreinu, mah tov chelkeinu! How fortunate are we that we get a mitzvah with this! How incredible is Hashem that He gave us such a commandment!
Now the cellmates, who had first thought this rabbi a little strange, at this point were pretty weirded out, as is quite imaginable when you see someone dancing and singing to G-d with a soiled bucket in his hand. He told the others that this rabbi was probably praying for a miracle to set them free from prison. The others quickly decided that they didn't want to be left out of this deal and they got up behind the rabbi and started dancing and chanting as well. It was a sight to behold.
At this point the guard heard this ruckus and came to the cell to check it out. When one of the prisoners told him what was going on, the guard grimaced. He would put a stop to this plan right away. He quickly ordered Reb Zusha to bring him the pail, then proceeded to wash it shiny clean. He flung it back into the cell and told them they were all prohibited from using it. Anyone needing to relieve himself should call the guard, and they would be directed to the nearest facility. That is that!
As he slammed the door closed, Reb Zusha turned to his brother and they both hugged the empty clean pail. They were now for the first time permitted to recite the words that were in their heart, that were in their dance, that embodied all that they stood for.
"Shema Yisrael, Hashem Elokeinu Hashem Echad."
Hashem is One when we can fulfill His commandments — and also when we cannot fulfill His commandments. He is the same. There is never a moment when we cannot be connected to Him. He is one and we are one with Him always.
I think about this story as we approach the upcoming holiday of Shavuos. At Pesach we left Mitzrayim; it was like our engagement. Shavuos is the chuppah. The Torah, and our acceptance of it, was the ring that bound us together eternally. We achieved Kudsha Berich Hu v'Oraisa v'Yisrael chad hu. And the fascinating thing about it is that we hadn't even really started to learn it yet.
In fact, only on Simchas Torah do we dance and sing with the Torah, because it is only then that we celebrate the completion of learning it. Yet there is a simchah of Shavuos that even precedes the learning of the Torah. The Gemara seems to say that the simchah of Shavuos may be even greater than that of other holidays. Whereas there is a debate on other holidays whether there should be an aspect of physical enjoyment or whether is meant to be kulo la'Hashem, on Shavuos everyone agrees one must have lachem — some physical enjoyment "for you." A good seudah, an incredible meal. We even have milchigs, so those who can't take so much meat — although I certainly can't relate — and love their pasta and blintzes, can enjoy as well.
Do you know what that simchah is? It is the dance of Reb Zusha. It is the dance we were given the gift of always being able to connect to Hashem. When we daven, we are talking to Hashem, but when we learn, Hashem is talking to us.
Every other holiday has some type of symbol connected to it. Pesach is Chag Hamatzos, Succos is our lulav and esrog and our succah. Chanukah has its menorah, and even Lag B'omer gets a bonfire.
But Shavuos we have nothing. Forty-nine days ago we were just leaving the lowest shaarei tumah. And then we counted up and we heard Hashem speak to us. Propose to us. We are the cheftzah shel simchah. We are the beloved of Hashem. By a wedding you don't need any other accoutrements, or shtick, as they call it today, to be mesameiach with. It's all about the kallah. The Kallah who is beloved, who has become one. Who was chosen. It is lachem, finding the joy and the dance within us.
The Netziv of Volozhin, the father of all yeshivos, notes that the pasuk tells us in Devarim that we need to "be very careful for ourselves and our souls" never to forget the day that we stood at Chorev. There Hashem said to Moshe, "Gather the people to Me and I shall let them hear my words." Simply read, this seems to be a command to remember Maamad Har Sinai, but the Netziv explains that Moshe is cautioning us "to watch over our bodies and souls, lest the study and pilpul of Torah cause us to forget that which our eyes saw — that Hashem spoke the Aseres Hadibros with fire on Har Sinai."
Sometimes we get so caught up in our learning, the Netziv is suggesting, that we forget that the Torah is more than just a subject of Jewish study. It is the word of Hashem. It is our wedding ring. We are the Kallah. It should bring us simchah every time we twist that ring. Every time we open that sefer. Sometimes we forget how fortunate we are to have it and what it represents.
I've heard it said that we have more Torah learning going on now than ever before in the history of Klal Yisrael. But with that plethora of Torah comes the challenge to stop and think what it truly means to us. What if we had no Torah and no mitzvos, chas v'shalom? We were locked in a cell and we couldn't learn. What would be missing? How incomplete would we feel?
Hashem gave us a holiday like Shavuos, when it's just us and Hashem and the Torah that we will embark upon staying up all night and learning like it was the first night, like it was our wedding night, so we can truly dance and appreciate how fortunate we are. How special it means to have been chosen.
Ashreinu, mah tov chelkeinu!
Originally featured in Mishpacha, Issue 763. Rabbi Schwartz, a former outreach professional, rosh kollel, and rav in New York, Iowa, Virginia, and Seattle, moved to Eretz Yisrael in 2010 where he is the rav of the Young Israel of Karmiel and a professional tour guide. His column will appear once a month.
Oops! We could not locate your form.
>