| Washington Wrap |
Putin Keeps His Foot on the Gas
| September 20, 2022
Beyond the local tragedy for Ukrainians, Putin's uniquely unnecessary war is also an economic disaster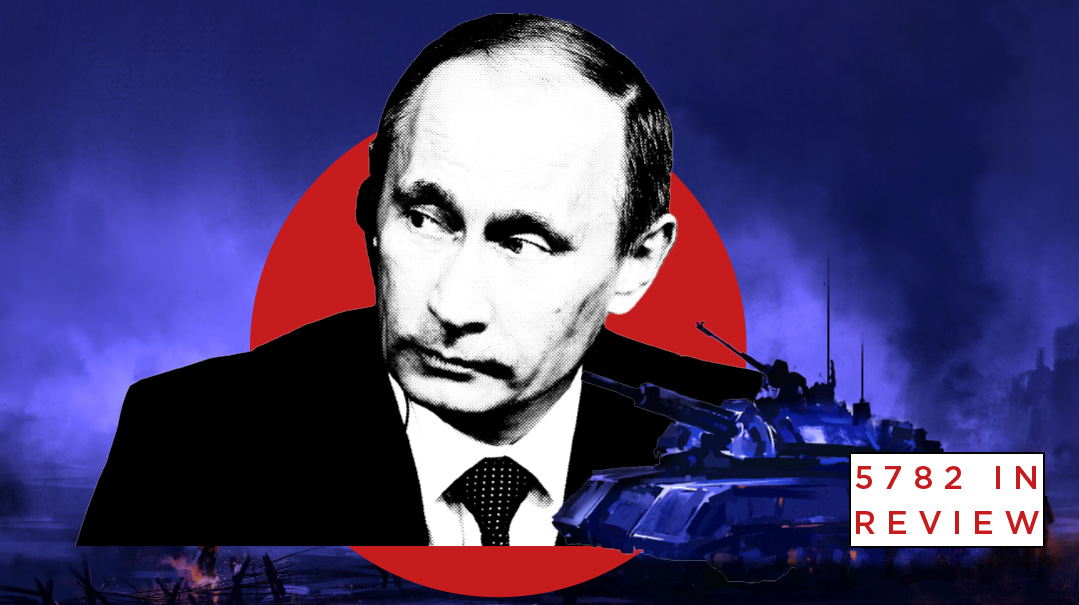 T
he past year will be remembered first and foremost for the war in Ukraine. Russian president Vladimir Putin's unprovoked and unjustified invasion of a neighboring country is above all a humanitarian disaster for the people of Ukraine, many of whom have been forced to become refugees or lost family members in the conflict.
But beyond the local tragedy for Ukrainians, Putin's uniquely unnecessary war is also an economic disaster with consequences for everything from the price of pita in Cairo to the costs of heating in London. In fact, much of this year's bad economic news — abrupt food shortages and skyrocketing oil prices — relates, albeit indirectly, to the war.
When Ukraine ("the breadbasket of Europe") lost its ability to export wheat to the entire region, this resulted in an acute wheat shortage that affected poorer countries especially severely.
At the same time, the West imposed unprecedentedly harsh sanctions on Russia, including its vast oil sector. As a result, oil prices soared. A flight abroad is now almost twice as expensive as this time last year. Filling up the gas tank, once a routine affair, has become a real expense, forcing many to reconsider whether a trip is really necessary.
For its part, Russia responded as expected, by cutting off the flow of gas to Europe. Heating costs are expected to increase dramatically in Europe. Even now, many Europeans have taken to sharing their shocking electricity bills on social media.
The New York Times, for example, reported that across France, cities and towns are turning off street lamps during the night. And in Normandy, some schools will start heating classrooms with wood-burning stoves to save on natural gas. And all this is happening in late summer and early autumn. One can only imagine what things will look like in the winter.
In the past, if you asked US or European diplomats to pinpoint the obstacles to global peace and prosperity, they would cite the Israeli-Palestinian conflict as a prime irritant. If only the conflict were resolved, they said, there would be normalization, free passage of goods and people, and rising living standards. Now it seems that this was all true — but only if you switch the blame to the Russo-Ukrainian War.
For better or for worse, a swift end to the war is a key to stabilizing the global energy market and food supplies.
Trouble is, it's not that simple. Putin is in no hurry to give in, while the West, at least for now, appears to be standing by its principles to back Ukraine, via sanctions on Russia and financial and military support to Kyiv. And the same applies to the United States, where President Biden is determined to prove that he's learned the lessons from Afghanistan. The question is how long this can last, and whether Europe will change its tune after a long, freezing winter.
$5 per Gallon
That's a number that we hope will be a distant memory, when we think back to this year. In the United States, where any price above $2 per gallon is considered extortionate, consumers were paying a national average of $5 in the summer of 2022. This greatly alarmed the Biden administration, which began drawing on the United States' strategic reserves and encouraged the suspension of gasoline taxes in various states in an attempt to stabilize the price. Of course, inflation, the economy, and cost of living issues will play a key role in the November election campaign as well.
Bright Spot
The historic slump in the values of the euro and pound against the dollar does at least represent an opportunity for a cheap trip abroad in the coming year, with the UK's currency sinking to levels not seen since the days of Margaret Thatcher, and rates hitting a historic low in the Euro zone. If we're going to have an economic crisis, we might as well get an underpriced trip to Rome or Paris.
Turning Point
The turning point with the new Iran Deal came this year in mid-August, with the European Union announcing that it had delivered the final version of a new nuclear agreement to Tehran. This announcement ended a dry patch of almost a year in the negotiations. And while it had come to seem that no deal at all would be signed, this development made that option look very real once again. Jerusalem went to battle in an attempt to prevent a final agreement. However, at least as of this writing, it's unclear how successful that struggle has been, and whether or not the outcome was a given from the start.
What's Up
Interest rates
What's Down
The stock market
November 2021 in retrospect looks like a month of euphoria. President Biden signed a $1 trillion infrastructure bill into law, the stock market soared to an all-time high, and many companies — especially start-ups and companies just listed on the NYSE — rode the wave of rosy expectations.
So when the crash came, it was swift and painful. We're now down 20% from the peak of the S&P index, and no can guarantee that we've already seen the worst.
In an attempt to help, the Fed launched a series of aggressive interest rate hikes, with the aim of calming down the market — especially the housing market. And while the housing market has indeed cooled slightly, it's still too early to say that inflation has been tamed — the latest CPI numbers from the Bureau of Labor Statistics show prices still chugging along at 8.3% higher than last year — and the concern remains that aggressive interest rate increases will bring a recession in 2023.
(Originally featured in Mishpacha, Issue 929)
Oops! We could not locate your form.
>